Online Extra: Supe Mandelman opposes call for SF Mayor Breed to resign
Tuesday Feb 18, 2020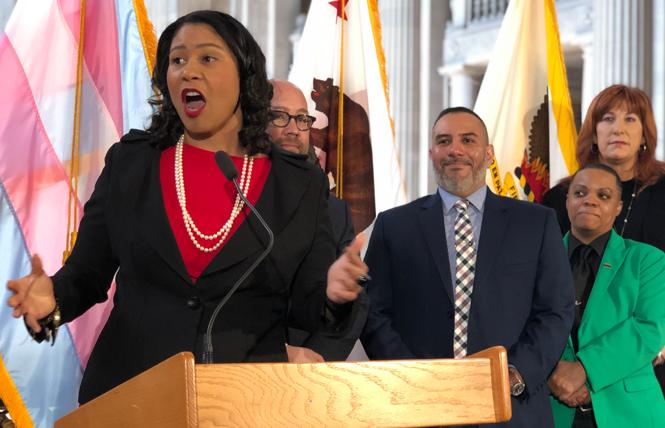 After a media event at San Francisco City Hall Tuesday to make announcements about this year's Pride festivities, gay District 8 Supervisor Rafael Mandelman said he would not support calls for Mayor London Breed to resign due to her connections to indicted former Public Works director Mohammed Nuru.
As the Bay Area Reporter previously reported, Nuru was indicted last month on charges of corruption and lying to the FBI. He resigned after his arrest and the announcement of charges against him and a business associate by the U.S. Attorney's office.
On February 14, Breed wrote in a Medium post that she dated Nuru two decades ago — but more interesting to city politicians and journalists, she also accepted approximately $5,600 worth of car repairs from Nuru, which she intended to reimburse after selling the 18-year-old vehicle.
The same day, District 9 Supervisor Hillary Ronen called on the mayor to resign, telling the San Francisco Chronicle that "we can't call out (President Donald) Trump for his corruption and ignore what's happening in our own backyard. London Breed broke the law. She should resign."
District 4 Supervisor Gordon Mar said that the mayor's actions were "likely illegal, certainly unethical" and that she "should do the right thing and temporarily step back from her duties until a full, independent investigation can be completed." Meanwhile, District 6 Supervisor Matt Haney didn't call for resignation but said "This is a deep betrayal of the public trust and likely a violation of the law."
Mandelman told the B.A.R. that he doesn't think Breed should step down.
"I don't agree with that," Mandelman said. "At worst, what's alleged is sloppiness; it's not great. But it's certainly not resignation-worthy."
Breed didn't answer questions about her connections to Nuru when asked by reporters in a press scrum following remarks celebrating the golden anniversary of the annual Pride festivities and her administration's commitment to LGBT rights and appointing LGBT officials.
"I made it very clear in my (Medium) post and so at this time, I'm just going to allow the process to play itself out," Breed said. "I'm sure that in the coming months those questions will be answered, changes will probably be made and we will deal with it at that time, but I said all I have to say in what I provided."
When asked by the B.A.R. what kind of car Nuru had repaired for her, Breed asked "does it matter?"
Breed denied taking any gifts to be in the Pride parade while she was a District 5 supervisor when a reporter for another publication asked her.
"I paid for my Pride floats and I'll go back to find the specifics," she said.
Late Friday, District Attorney Chesa Boudin announced that his office "will investigate any potential criminal liability, as we take public corruption very seriously." City Attorney Dennis Herrera has already subpoenaed eight organizations in connection with the Nuru corruption investigation.
Comments on Facebook