Concord LGBT center ED to depart for new job
Wednesday Oct 2, 2019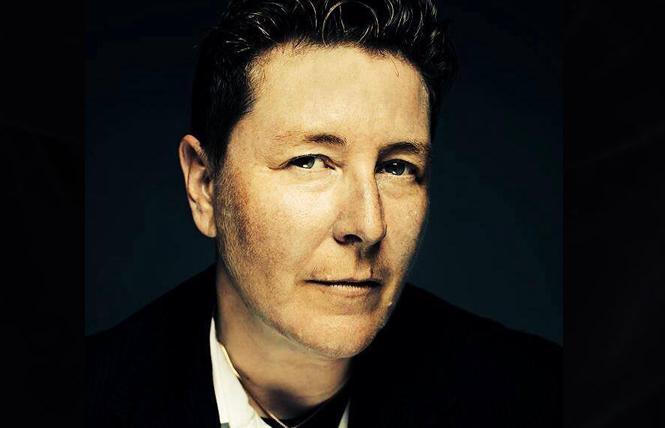 Having helmed a Contra Costa County LGBT community center through a period of tumult this year, Jack Rednour-Bruckman will be stepping down this month to take a new job in Southern California.
Rednour-Bruckman informed the board of the Rainbow Community Center in Concord of their decision to resign as executive director after accepting their new position over the weekend. Their last day will be Friday, October 18.
Dorann "Dodi" Zotigh, president of the Concord-based center's board of directors, announced the pending leadership change in an email to the agency's supporters Tuesday night. She wrote that she had greeted the news "with both sadness and appreciation."
In January, Rednour-Bruckman, 54, who identifies as nonbinary and a butch queer, joined the center's board. They were then hired as the center's consulting interim director in April following the resignation of former executive director Kevin McAllister less than a year in the job.
His leaving was sparked by an outcry over the sudden firing in February of most of the center's counseling staff. Impressed by Rednour-Bruckman's handling of the job, the center's board hired them as the executive director officially as of May 1. According to Zotigh's email, Rednour-Bruckman's employment contract was set to expire October 1 and they were in negotiations with the board to renew it when the other job opportunity came up.
"They had committed to lead the organization until at least October 1, after a year of challenging transitions and change for the organization," wrote Zotigh. "While deciding to renew their agreement, Jack was offered a dynamic position to engage in much needed political advocacy in Southern California and ultimately decided to embark on this new phase for their career and social justice work. The whole board and staff wish them well in this future endeavor!"
Rednour-Bruckman did not immediately return a request for comment from the Bay Area Reporter Wednesday morning. They have not disclosed what their new position will be or entail, only that they need to relocate to Los Angeles County and will also be traveling to Las Vegas for the job.
"It's officially Rosh Hashanah now, the Jewish New Year (year 5780) and it's coming in with a bang with a new exciting gig on the horizon starting for me in LA on November 1st. More to come soon, I haven't made an official announcement yet," Rednour-Bruckman wrote on their Facebook page Sunday night.
They grew up in Contra Costa County and now resides in Antioch with their wife, Shar Rednour. The couple, together 26 years, has three children ages 27, 15, and 14. Their oldest, adopted out of foster care, came out as gay while in high school.
As the B.A.R. noted in a profile about Rednour-Bruckman in August, they spent their first month on the job persuading various East Bay cities to fly the rainbow flag in honor of Pride Month in June and worked with center staff and volunteers to host a successful Pride event the first weekend of June.
In addition, they hired a number of new staff at the center and recruited new members to serve on its governing body while addressing the fallout from the decisions made by their predecessor and former board president Ken Carlson, who stepped down from the oversight body in the spring.
A number of people with ties to the community center who had expressed concerns about its stability and longevity amid the leadership changes had told the B.A.R. over the summer that they had been impressed with Rednour-Bruckman's leadership and felt things were moving in the right direction.
The center has churned through three leaders since Ben-David Barr, Ph.D., citing health reasons, retired in December 2017 as the center's executive director after 10 years. An interim person was brought in while the center's board conducted a search for a permanent executive director, which led to the hiring of McAllister in June 2018.
The center's annual budget had been $1.2 million last year and is set at $1.3 million this fiscal year. The last two executive directors had been paid roughly $93,000, a significant increase from Barr's $80,000 salary.
In her email Zotigh wrote that Rednour-Bruckman was leaving the LGBT center "in a very strong place for continued growth" and that the board was thankful for their leadership.
"In a short time, Jack rallied, with staff and board support, to execute a successful Pride celebration in June, has facilitated the implementation of Rainbow's new strategic plan, assured the continuation of major grants and contracts, and helped to improve and stabilize operations and organizational processes," she wrote.
The board has already posted the executive director job and hopes to hire someone "as soon as possible," wrote Zotigh. It is working with the current staff to oversee the ongoing operations of the center.
"We are confident that, with support from the Board of Directors, the staff will make this a smooth transition for our clients, partners, and supporters," wrote Zotigh.
Comments on Facebook