UPDATED: Political Notebook: Appointed education leaders seek SF voters' support
Wednesday Oct 2, 2019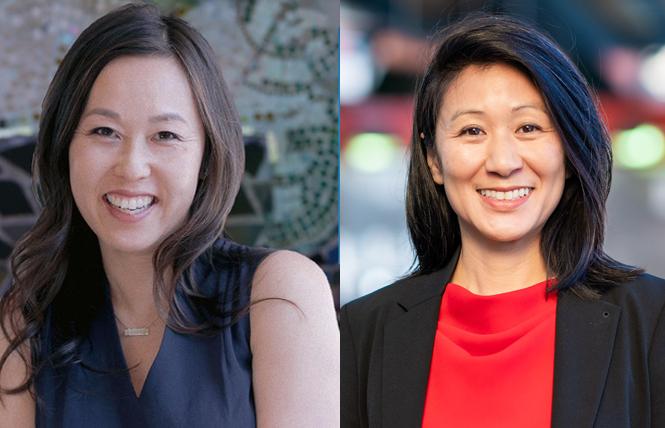 On San Francisco's November ballot will be a pair of local education leaders seeking voters' support for the first time. Both are expected to win, as they face either no to little opposition for their seats.
Community college board member Ivy Lee is running unopposed, having been appointed by Mayor London Breed in August 2018 to a vacant seat on the oversight body for City College of San Francisco. School board member Jenny Lam, appointed by Breed in January to fill a vacancy, is facing two challengers, Kirsten Strobel and Robert K. Coleman, for her seat.
Lee and Lam are both seeking to serve out the remainder of four-year terms that expire in 2020. Thus, if elected this fall, they would both need to run next November for full four-year terms on their respective boards.
In a sign of the broad political support both candidates have received, Lee and Lam each won endorsements from the Alice B. Toklas LGBT Democratic Club and the more progressive Harvey Milk LGBTQ Democratic Club. In separate editorial board meetings with the Bay Area Reporter, Lee and Lam both said they hope to have voters' support to continue serving on their respective boards in the coming years and indicated they weren't interested in running for higher office.
[UPDATE: After this story was posted to the B.A.R.'s website Wednesday, October 2, Lee contacted the paper to disclose that she has decided not to seek a full term on the college board in November 2020. As for seeking another elected office, Lee clarified that she has "no idea right now" whether she will or not.
"I'm focused on what I can do for the college over the next year. I think it's important to get the financial oversight into place," wrote Lee. "Once that's moving solidly forward, I'll think and decide what to do next."]
In their interviews with the B.A.R., the two straight allies also noted that they bring Asian American representation to boards that otherwise would not have Asian members on them. (On the school board there is now also a member with Pacific Islander heritage.)
"I wasn't really surprised that no one chose to run against me. And I think it's because the time period was just so short," said Lee, 47, who is raising three children with her husband, San Francisco Superior Court Judge Victor Hwang, in the Sunset District. "I also think there's something about the city that respects representation on bodies that make decisions."
Lam, 44, noted her appointment is a culmination of her professional work over the last two decades. She has worked for various nonprofits focused on education issues and the rights of Chinese Americans and now serves as Breed's education adviser. Over the years she also served on advisory committees for the San Francisco Unified School District.
"This is just truly a combination of both my professional and personal life, but also just embedded in my own upbringing and values around public service and particularly around public education," said Lam, who lives with her husband, Keith Parker, and their two children in Diamond Heights.
Both women have weathered public controversies since being appointed. Lam found herself and her colleagues at the center of global outrage after the school board voted in June to paint over Russian artist Victor Arnautoff's 1937 mural "Life of Washington" inside Washington High School. Students and parents upset by the artwork's depiction of African American slaves and Native Americans have clamored to see it removed.
But the public outcry over the board's decision led it to reverse course in August and vote to instead cover over the mural without destroying it. The seesawing stance upset the mural's detractors but won support from those fighting to preserve it.
"I made a decision based upon students and families who have been raising this as an issue for several years now," Lam explained when asked about her initial vote.
Lam pointed to her working with her board colleagues to implement an ethnic studies curriculum in the city's public schools that will ensure that students are learning about various cultures in their classrooms and will teach about the history of the mural. It will also ensure that, for instance, school libraries are including books written by authors of color, noted Lam, and that the district's various policies enacted over the years to diversify the curriculum are being carried out.
"I think one thing for me and my perspective around public art, is that, you know, I am supportive, completely supportive of arts in our schools, and completely supportive around ensuring that our young people have a much broader exposure to history," said Lam.
Asked about the mural controversy, Lee told the B.A.R. that she has her own "personal opinion" but didn't want to second-guess the school board members. She said if voters are unhappy with their decision, they could make that known at the ballot box.
"But we put them there to make decisions exactly like this," noted Lee, adding that the decision, like so many made by oversight panels, is never as easy as being black and white. "That's not how policy works; that's not how most decisions work. With these things, the details really do matter; the nuances really do matter. And so they investigated this, they sat through hours and hours of testimony and research and reports back, you know, so I don't want to second-guess their decision."
Her views on the issue, said Lee, are based on her previous civil rights work.
"I think the most important thing is when, when there is hateful speech or hateful imagery, I would always side on more speech, you know, versus taking it away," said Lee, who is a City Hall aide to District 7 Supervisor Norman Yee, the board's president.
Over the course of this year Lee has found herself and her board colleagues at the center of budgetary fights at the community college, which had to slash course offerings and reduce staff positions in order to resolve a $32 million budget deficit. It is the first balanced budget at the college in 10 years.
But in recent weeks it was learned the college's chancellor, Mark Rocha, had incorporated significant raises for administrators into the budget documents. It came as a surprise to students and staff, whose protests led the college board to reduce the amount of the raises. Lee was the lone vote on the board for withholding the salary boosts until an audit of the plan could be conducted.
The episode was illustrative of an issue Lee had brought up about Rocha when asked by the B.A.R. how she felt the chancellor was doing in the job. Although she expressed support for the chancellor, who was hired in 2017, Lee acknowledged he could do better in communicating with the campus community.
"I think he's doing as well as anyone could do. I think it's a very, very challenging environment for anyone to do that job," she said, adding that, "I think a successful chancellor at this school, they have to invest the time to really talk to and hear the different community groups."
The two controversies are early lessons for the two education officials, who will be facing heated issues over the next year if they continue serving on their respective boards as expected. For Lam, the school board is working to reform the hot-button issue of the district's school assignment system, while Lee will be pushing for passage of a $850 million bond for City College expected to be on the March ballot amid ongoing concerns about its enrollment and finances.
Breed appoints queer leader to women's panel
Breed last week appointed Sophia Andary to the Commission on the Status of Women. Andary, a queer activist and organizer, should be sworn onto the panel later this month. She will be one of two out women serving on the oversight committee.
A first-generation Lebanese American, Andary works as a senior analyst for Levi Strauss & Co. and co-chairs the clothing company's Levi Women's Employee Resource Group. She was a founding member and now serves as a co-chair of the Women's March San Francisco. Andary also serves as an at-large member on the board of the Harvey Milk LGBTQ Democratic Club.
Web Extra: For more queer political news, be sure to check http://www.ebar.com Monday mornings for Political Notes, the notebook's online companion. This week's column reported on the various out candidates running for CA legislative seats in 2020.
Keep abreast of the latest LGBT political news by following the Political Notebook on Twitter @ http://twitter.com/politicalnotes .
Got a tip on LGBT politics? Call Matthew S. Bajko at (415) 829-8836 or e-mail m.bajko@ebar.com
UPDATED 10/3/2019 to clarify that college board member Ivy Lee will not run for a full term next year and is undecided at this time on her future political plans.
Comments on Facebook