Founder of Sonoma LGBT youth agency needs help
Wednesday Oct 2, 2019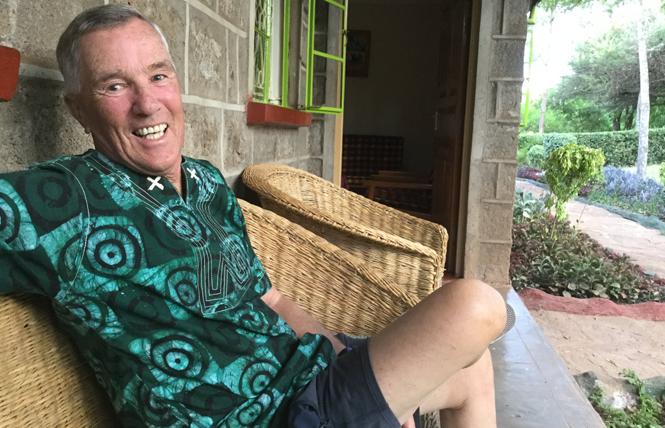 Community is not always an easy concept. In theory, the idea of having a core group that supports and looks out for each other sounds great, but in practice it can be challenging.
The LGBTQ community has often had to keep eyes out for their fellow members, and in the Bay Area, an epicenter for so much gay history, it can be hard to imagine a staple of said community struggling to find support. For Jim Foster, founder of Sonoma County nonprofit Positive Images, and his caretakers, this is the situation in which they find themselves.
Earlier this year, Foster, 77, was diagnosed with Guillain-Barre syndrome, a rare immune disease that happens when the immune system starts to attack the peripheral nervous system. People suffering from Guillain-Barre start to lose sensation in their extremities, and sometimes paralysis of the entire body. The recovery process is long, requiring extensive physical therapy and caretakers as most patients are not able to do much on their own.
"Guillain-Barre is a bit of a mystery for how long it will take someone to recover," said friend and caretaker JT Bymaster, a gay man who met Foster when he was a homeless queer youth. "Jim is totally disabled and reliant on others for care."
Foster founded Positive Images in 1990 when he felt like he was missing a sense of community in Sonoma County.
"I started Positive Images because I was just fatigued to the eyeballs of being lonely," Foster said in a phone interview. "I knew from some contacts at the junior college that there was a lot of junior college age youth that was just floundering, you know, starved for friends and friendships."
A small meeting took place in Foster's office in Santa Rosa where he worked as a marriage and family therapist. Five young gay men attended that first meeting but soon the demand grew. In a year, the groups were becoming weekly, and by 1994, Positive Images had its first official office in Santa Rosa.
Reaching the LGBTQ youth and creating a sense of community within that population was the initial goal of the nonprofit, but friend and caretaker Christopher Bowers remembers how Foster impacted him as a young straight man.
"I met Jim 27 years ago when he came to do a panel for our peer counseling class," Bowers said. "The speakers spoke candidly and movingly about their experiences with homophobia. This was really a shift for me and made me examine my own privilege and experiences."
The two started to work together as Bowers started doing workshops and panels with Positive Images.
Bowers considers Foster his mentor and has spearheaded the fundraising for Foster's medical bills. Watching the illness take its toll on someone he cares so much about has been trying for him.
"He went from being an active 77-year-old man with a thriving therapy practice, who hiked daily and went to Africa for two-three months every year to being wheelchair- and bed-bound in a matter of months," he said. "It's simply devastating."
Bowers, Bymaster, and Nancy Vogel have been working as Foster's caretakers as well as reaching out to the Sonoma County community at large for support and donations.
A GoFundMe page managed by Bowers for Foster's care has raised $9,700 out of the $10,000 goal. As the people who know Foster extend their help, Bowers wonders why it has to be so hard for someone to receive treatment for a serious condition.
"When Jim got sick I already knew how inadequate our systems of care are," Bowers said, when asked about the struggles facing Foster and his caretakers. "I also have a deep conviction that community takes care of people better than institutions."
For a disease and recovery as intense as Guillain-Barre, there's a lot that needs to be provided for beyond just medical bills: they're also looking for people to help as caretakers, which accounts for a large chunk of the money spent.
"We used much of what was raised in order to pay for the 24-hour-a-day care that Jim needed to live safely at home," said Bymaster. Like Bowers, he is upset with the quality of care Foster has received.
"Jim was prematurely released from Park View Post-Acute skilled nursing facility, even after we filed a formal complaint against his release," he said.
Park View officials declined to comment.
The length and uncertainty of recovery weighs on Foster and his friends.
"The most pressing problem has been how to deal with my impatience with me," Foster said. "Being pretty sick ... being literally shut down."
For Bowers, seeing such a respected and important member of the community struggle with an uncertain and painful future is taking its toll on him.
"The amount of grief for him and for us is sometimes unbearable," he said. "He is a cornerstone of the queer community in Sonoma County."
To donate to the GoFundMe campaign, visit https://www.gofundme.com/f/jim-foster039s-medical-fund . For more information about Positive Images, visit https://posimages.org/
Comments on Facebook