News Briefs: PFLAG to host '5B' film screening at benefit event
Wednesday Sep 25, 2019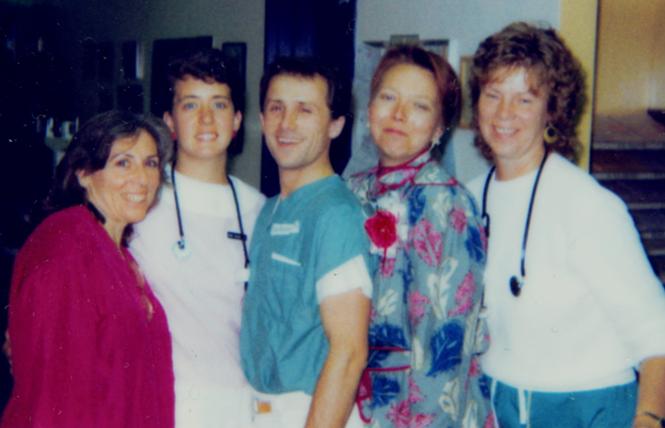 PFLAG San Francisco will screen "5B," the inspirational story of everyday heroes who took extraordinary action to comfort and care for patients of the first HIV/AIDS ward unit in the U.S. — at what was then called San Francisco General Hospital (it's now formally known as Zuckerberg San Francisco General Hospital).
The event, a benefit for the PFLAG chapter, takes place Saturday, October 5, at the Women's Building, 3543 18th Street. Doors open at 5 p.m., the film starts at 6.
John Foertsch, a board member of PFLAG SF, said that several of the film's participants are expected to attend and talk about how HIV/AIDS affected their lives and how it led them to becoming involved on the ward, which became the model for AIDS care at the time. The audience will have the opportunity to ask questions.
The documentary includes first-person testimony of the nurses and caregivers who build the ward in 1983, their patients, loved ones, and staff who volunteered to create care practices based in humanity and holistic well-being during a time of great uncertainty. According to the film's website, "the result is an uplifting yet candid and bittersweet monument to a pivotal moment in American history and a celebration of quiet heroes' worthy of renewed recognition."
According to the film production company, those who are expected to attend the screening include Sasha Cuttler, George Kelly, Harry Breaux, Guy Vandenberg, Steve Williams, Alison Moed, and Cliff Morrison.
In an email, Breaux wrote that he is looking forward to attending the local screening.
"5B" premiered at the Cannes Film Festival earlier this year as an official special screening.
The film is co-directed by Paul Haggis and Dan Krauss.
Tickets are $25 for a movie ticket and one drink ticket.
To purchase tickets and see a trailer of the film, go to https://pflagsanfrancisco.regfox.com/a-night-at-the-movies-with-pflag-sf-5b
Send postcards to politicians, biz leaders
People who are fed up with business leaders who support President Donald Trump, or politicians who oppose equal rights for LGBTQ people, can vent their frustrations at a Disco Coalition postcard party Thursday, September 26, from 6 to 8 p.m. at the Lookout bar, 3600 16th Street in San Francisco.
Drag queen Juanita MORE! and Disco Coalition members ask that interested people join "Shame on You," the postcard party, and leverage the power of the pen to publicly express a desire for a better future and opposition to their behavior. Organizers said there will also be on-site voter registration.
Postcards and postage will be provided. The bar will offer drink specials.
District 8 meeting on homelessness
The All In campaign is bringing San Franciscans from all walks of life together to support solutions to homelessness across the city. It is starting with a meeting in District 8 Wednesday, October 2, from 5:30 to 7 p.m. at the LGBT Community Center, 1800 Market Street.
According to a Facebook announcement, gay District 8 Supervisor Rafael Mandelman will be on hand, along with All In partners Brilliant Corners, the Lavender Youth Recreation and Information Center, Openhouse, and the LGBT center. A community conversation will focus on solutions and is an opportunity for attendees to ask questions and learn more about the All In campaign.
For more information, visit https://bit.ly/2kV0pbz
Shanti marks 45 years
The Shanti Project will hold its 45th anniversary gala Thursday, October 3, in the grand ballroom of the Palace Hotel, 2 Montgomery Street in San Francisco. The evening begins with a cocktail reception at 6, followed by dinner and the program at 7:30.
Shanti provides emotional and practical support to people living with HIV/AIDS and other illnesses. Founded in 1974 by Charles Garfield, Ph.D., at the UCSF Cancer Institute, Shanti was one of the first volunteer organizations in the United States to provide support to people with life-threatening illness. In 2001, it expanded its services to include women diagnosed with breast cancer, and in 2015, it began to serve women facing any cancer diagnosis. Also in 2015, it merged with Pets Are Wonderful Support, whose mission ensures that no person has to make the decision between caring for their pet or caring for themselves.
Shanti will honor philanthropist Dede Wilsey with its Lifetime Achievement Award and client Hulda Brown with the James C. Hormel Community Spirit Award. The Margot Murphy Women's Cancer Inspiration Award will be given posthumously to former board member Brisdell Hunte.
Last month, Shanti was criticized for honoring Wilsey, because her name was listed as a co-host on an invitation for a high-priced fundraiser for President Trump's re-election. Shanti renamed the award (it had been named for House Speaker Nancy Pelosi, D-San Francisco, who asked the organization to remove her name from it) and withstood pressure from gay San Francisco Democratic Party chair David Campos to rescind the award. (Wilsey has contributed to various Republican and Democratic politicians over the years.)
Kaushik Roy, executive director of Shanti, explained in last month's statement that he vigorously disapproves of Trump and noted the last time Shanti had a gala, his remarks underscored how the Shanti nonprofit represents the values that this president and the White House do not.
This week, Roy said that Shanti met with Campos and Rudy Gonzalez, executive director of the San Francisco Labor Council. It was agreed that Shanti wouldn't have additional comment.
Roy did say that they expect hundreds of attendees.
"We are anticipating 500 guests coming together to celebrate the best of San Francisco and Shanti's bedrock values of cultivating compassion, honoring human dignity, and supporting each other unconditionally," he wrote in an email Tuesday. "It will be a heart-warming and moving event where we honor three incredible individuals who have given so much to Shanti, the people we serve, and the San Francisco community."
General admission tickets are $300. To purchase tickets, visit http://www.shanti.org
Horizons gala coming up
Horizons Foundation will hold its annual gala dinner and celebration Saturday, October 5, at the Fairmont Hotel, 950 Mason Street in San Francisco.
The evening begins with a reception at 5:30, followed by dinner and the program at 7. An after-party follows.
Horizons supports nonprofits that help LGBTQ community members in the Bay Area and beyond. It also mobilizes donors and funders and inspires giving.
At the event, there will be a live auction emceed by Michael Tate, as well as a luxury raffle drawing and online auction that features a wide array of getaways, unique experiences, and dining.
Tickets are $350 each and can be purchased at http://www.horizonsfoundation.org
The online auction is live at https://bit.ly/2kQ4cXF
Temenos Catholic Worker marks 25 years
The Temenos Catholic Worker, a nonprofit that ministers to homeless youth in the Polk Street neighborhood of San Francisco, will mark its 25th anniversary with a homecoming feast Saturday, October 5, beginning at 6:30 p.m. at St. Luke's Episcopal Church, 1755 Clay Street.
Father River Damien Sims, director and pastor, wrote in an email announcement that the evening will include communion and sharing stories. The guest speaker will be Sara Solis, the daughter of author Sue Haines, who wrote "Are You Susan?"
For more information, contact (415) 305-2124.
Elections dept. looking for poll workers
The San Francisco Department of Elections has announced it is recruiting people interested in serving as poll workers for the November 5 municipal election. Poll workers receive a stipend ranging from $180 to $240, depending on the assignment.
"Each election, we recruit more than 2,000 volunteers to assist voters at the polls," department director John Arntz said in a news release. "Those who served as poll workers before as well as newly-recruited volunteers receive training and materials to make sure they are confident and ready to help voters on Election Day."
There are several ways people can apply. They can fill out an application ; call the department's recruitment team at (415) 554-4395; or apply in person at the elections department during business hours, located in Room 48 of City Hall, 1 Dr. Carlton B. Goodlett Drive.
Comments on Facebook