News Briefs: Plumas County hosts 1st Pride event
Wednesday Sep 18, 2019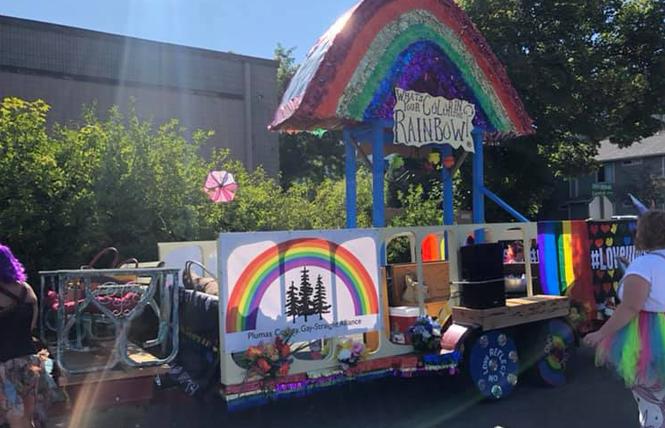 The LGBT community in and around the Northern California city of Quincy is hosting its first Plumas Pride event this weekend.
The seat of Plumas County, located in the Sierra between Lassen and Tahoe national forests, will be the site of a block party, drag shows, parade, and festival. The festivities kick off Friday, September 20, at 6 p.m. with a family-friendly block party and drag show hosted by the Drunk Brush Wine Bar and the Knook restaurant in the city's Grover Alley.
The parade will kick off at 1 p.m. Saturday, September 21, followed by a "Come One — Come All" celebration in the town's Dame Shirley Plaza at 2 with entertainment, vendors, and food trucks. The Pride event draws to a close at 9 p.m. with a 21-and-over "After Party" at the Main Street Sports Bar, which is hosting a drag show that night.
The Pride festival is being organized by the Plumas County Gay-Straight Alliance with the support of the Plumas Crisis Intervention Resource Center.
It has drawn mixed reactions on social media in the conservative county, with some residents hailing it as a sign of progress and others questioning why it is needed.
The inaugural LGBT celebration is unlikely to draw many residents from the Bay Area, as Quincy is roughly a five-hour drive from San Francisco. Nonetheless, local leaders have been helping to spread the word about Plumas Pride in a show of support for their counterparts in the rural county.
"Please support their amazing efforts in rural Plumas County. Quincy is a little over three hours from Sacramento. If you can go play in Tahoe or Reno, or SF and Oakland to support their PRIDES, then you can consider driving up to Quincy for the day and support. Make it a fun road trip," wrote transgender activist Tiffany Woods earlier this month in a Facebook post to members of the LGBT Caucus of the California Democratic Party, which she helps oversee as its Northern California co-chair. "I am hoping to go myself. We all know how critical support is to our rural LGBTQ families and communities are and how much they put themselves out there to create change and open hearts."
For more information about Plumas Pride, email mailto:plumascountygsa@gmail.com
North Bay LGBTQ vets group forms
A new group for LGBTQ veterans in the North Bay will hold its organizing meeting Saturday, September 21, from noon to 2 p.m. at the Sports Basement, 100 Vintage Way in the Vintage Oaks shopping mall in Novato.
According to an email announcement, the group will connect the community of veterans and military members in the North Bay with events, other organizations, and resources to improve their lives and empower them.
A second organizing meeting is scheduled for Saturday, September 28, from noon to 2 p.m. at the Corte Madera Towne Center, 770 Tamalpais Drive, Suite 201, in Corte Madera.
For more information, email gaypatriotveteran@gmail.com
Emeryville holds cleanup day
The East Bay city of Emeryville will hold "Clean-Up to Green-Up" this Friday and Saturday with support of local businesses and the public.
In a news release, gay Emeryville City Council member John Bauters and Jennifer Tetrick, communications director for Decathlon USA, said that Save the Bay will join with Pixar Animation Studies, Clif Bar, Ikea Emeryville, the Golden Gate Audubon Society, and others with a shoreline cleanup Friday, September 20, in which businesses and organizations will form teams for a friendly litter-pickup competition.
On Saturday, September 21, Decathlon, Clif Bar, and Ikea are organizing a "plogging" event, a time-honored Swedish tradition that combines running with picking up litter. Open to the public, the event will start at Ikea, 4400 Shellmound Street, at 8:30 a.m. and end at noon at Decathlon, 3938 Horton Street, where people will enjoy food, prizes, and giveaways, including exclusive event T-shirts made from recycled water bottles for the first 100 participants.
"I'm proud to see these outstanding businesses and organizations come together and lead an effort like this to clean the streets of Emeryville and to make a difference in our community," Bauters said in a news release.
The city is also holding Coastal Cleanup Day Saturday, where community members can help collect trash bags along the shoreline near the fire station at 2333 Powell Street. Interested people are asked to show up by 9 a.m.
To sign up for the plogging event, go to https://bit.ly/2kPlHXV
In other news and an update to last week's item about the September 21 San Francisco-Oakland friendly cleanup competition promoted by Mayors London Breed and Libby Schaaf, San Jose Mayor Sam Liccardo has issued a late-breaking challenge and joined his city in the volunteer event. For more information, and to sign up for activities in the three cities, visit https://www.battleforthebay2019.org/
South Bay hosts nighttime wellness festival
The LGBTQ-inclusive Jubilee Wellness Festival takes place Saturday, September 21, from 6 p.m. to 2 a.m. in downtown San Jose.
Project MORE is once again partnering with the Santa Clara Department of Public Health to produce what organizers said is an incredibly fun evening for local HIV/AIDS and sexually transmitted disease services and awareness.
Admission is free.
Attendees can dance to live DJs, experience live performances, explore diverse local vendors and organizations, and take charge of their health with free on-site wellness screenings.
The wellness festival is located on Post Street, between South First Street and Almaden Avenue, and along Lightston Alley.
For more information, visit http://www.poststjubilee.com
Elections dept. looking for poll workers
The San Francisco Department of Elections has announced it is recruiting people interested in serving as poll workers for the November 5 municipal election. Poll workers receive a stipend ranging from $180 to $240, depending on the assignment.
"Each election, we recruit more than 2,000 volunteers to assist voters at the polls," department director John Arntz said in a news release. "Those who served as poll workers before as well as newly-recruited volunteers receive training and materials to make sure they are confident and ready to help voters on Election Day."
There are several ways people can apply. They can fill out an application at www.sfelections.org/pwa ; call the department's recruitment team at (415) 554-4395; or apply in person at the elections department during business hours, located in Room 48 of City Hall, 1 Dr. Carlton B. Goodlett Drive.
Horizons gala coming up
Horizons Foundation will hold its annual gala dinner and celebration Saturday, October 5, at the Fairmont Hotel, 950 Mason Street in San Francisco.
The evening begins with a reception at 5:30, followed by dinner and the program at 7. An after-party follows.
Horizons supports nonprofits that help LGBTQ community members in the Bay Area and beyond. It also mobilizes donors and funders and inspires giving.
At the event, there will be a live auction emceed by Michael Tate, as well as a luxury raffle drawing and online auction that features a wide array of getaways, unique experiences, and dining.
Tickets are $350 each and can be purchased at http://www.horizonsfoundation.org
The online auction is live at https://bit.ly/2kQ4cXF
Matthew S. Bajko contributed reporting.
Comments on Facebook