Seeing in the Dark: Bi blind writer discusses the disability experience in lit
Wednesday Sep 18, 2019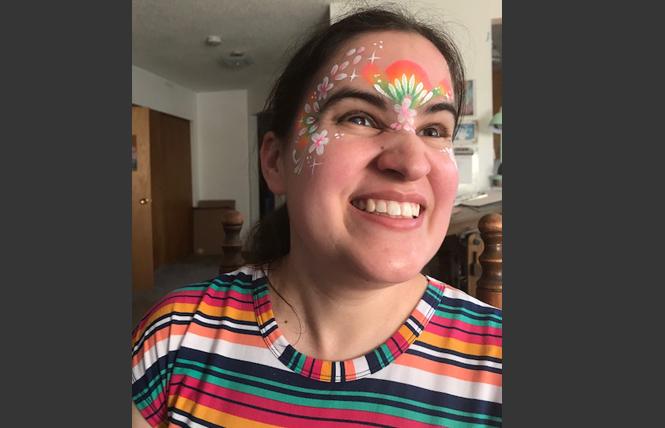 Award-winning author and bisexual, blind writer Caitlin Hernandez grew up in the 1990s — a time when adaptive technology, such as electronic Braille notetakers, were in their infancy. The web was just budding and digital accessibility was not in the forefront for many organizations.
Likewise, at an early age she discovered that access to characters with disabilities in books was scarce.
"Generally, though," said Hernandez, "I could only find disabled characters written by disabled authors in nonfiction and memoirs, such as Erik Weihenmayer's 'Touch the Top of the World,' which I read countless times just to find that disability representation."
While she could find solace in the works of young adult authors like Beverly Cleary, Lois Lowry, Bruce Coville, Judy Blume, Roald Dahl, and J.K. Rowling, in fiction Hernandez often found disabled characters to be horribly inaccurate or vaguely problematic. Today, in 2019, she is happy to see some improvements being made by the publishing world.
"I'm a big young-adult fan — it's what I love to read and write — and I'm delighted to see that #ownvoices representation of disability is on the rise. I'm currently reading and loving 'The Silence Between Us,' by Alison Gervais, and I loved Kody Keplinger's blind character of color in 'That's Not What Happened.'"
But while Hernandez, 29, admits there have been some advances made for disability inclusion in literature, she is also quick to point out there is still some work to be done.
"What we often find, unfortunately, are books which either glorify disability or make it pitiable," she said. "They're often written to make non-disabled readers, especially children, feel inspired or overly sympathetic. 'Wonder' [by R.J. Palacio] is an example which is still garnering a lot of attention, especially after the movie adaptation, which failed to cast an actor with a facial difference."
The book is about a child who has a craniofacial condition.
"Simply put," she continued, "we [people with disabilities] know our experiences best. No matter how much research an author does or how many people they know, they cannot tell a story with as much accuracy, honesty, and heart as we can. It is their responsibility, as an author, to name this truth. This isn't at all to say that authors should never write outside their own, lived experience; rather, they should use their platform to both acknowledge those marginalized folks who have done the work to educate them, and to amplify the voices of those living in the margins they're writing about."
Hernandez currently belongs to a writing group of four blind women — who meet via teleconference — that has proved to be a catalyst for her in many ways.
"They're each so warm, caring, and accomplished in multiple ways, and I absolutely love having the chance to commiserate with and learn from them, not just about writing, but about both our unique and shared experiences as blind women," she said.
Caitlin Hernandez will be reading from her work Wednesday, September 25, at 7:30 p.m. at the Notre Dame de Namur University Welcome Center, located at 1500 Ralston Avenue in Belmont, California; Thursday, September 26, at 6 p.m. at the Holy Names University library at 3500 Mountain Boulevard in Oakland; and Monday, September 30, at 7 p.m. at Booksmith, 1644 Haight Street in San Francisco.
Full disclosure: Caitlin Hernandez is a contributing author to a book edited by Belo Cipriani.
Belo Miguel Cipriani is an award-winning author, prize-winning journalist, and the CEO of Oleb Media — an accessibility firm. Learn more at www.olebmedia.com
Comments on Facebook