Online Extra: Political Notes: Wiener punts trans prisoner bill
Friday Sep 13, 2019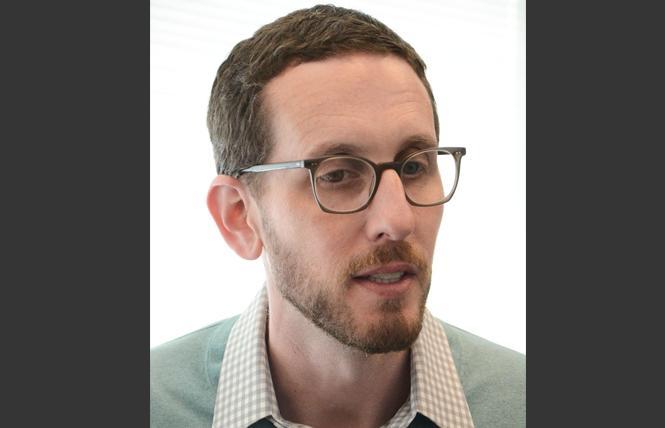 With the deadline pending Friday for California lawmakers to send bills to Governor Gavin Newsom to sign into law, gay state Senator Scott Wiener (D-San Francisco) announced he was punting legislation aimed at improving conditions for transgender inmates to the 2020 legislative session. It marked the second year in a row that the bill had failed to be approved by the Legislature.
Known as the Transgender Respect, Agency and Dignity Act, Senate Bill 132 would require that incarcerated transgender people in California jails be housed based on their gender identity, unless doing so put their safety at risk, and be referred to by their preferred pronouns, gender, and name. The bill had been quietly killed in the Assembly Appropriations Committee last summer, leading Wiener to reintroduce it this year.
It had been approved by the Senate and was awaiting a final vote by the Assembly. An ongoing concern with the bill has been its price tag.
A legislative analysis had estimated its costs would be "potentially major" for the California Department of Corrections and Rehabilitation, which would need to train prison staff and transfer transgender prisoners to new state correctional facilities. State leaders have also estimated the bill would result in additional costs in the hundreds of thousands of dollars to upgrade prison intake systems and identification cards.
In a statement his office issued Friday morning, Wiener said he was confident of passing the bill next year but allowed that he needed more time to work with advocates, state prison officials, and his legislative colleagues on fine-tuning the legislation. He intends to visit several state prisons this fall with advocates to meet with transgender inmates so their experiences and insights can help craft the legislation he plans to take up again in January.
"Transgender people in our prison system are among the most marginalized people in society, and we must protect them," stated Wiener. "This is an important issue, and it takes time to get it right. While we've made significant progress moving the ball forward this year — and while I'm 100% confident that we have the votes to place the bill on the governor's desk — we need more time to come to a solution that works for the community, for CDCR, and for the governor."
In a separate news release Friday, a coalition of LGBT and trans rights groups backing the bill said it had become clear in its discussions with state prison officials that more time was needed to work on rewriting the legislation.
"As long as transgender people are denied dignity, agency, and respect while housed by CDCR, we will continue to seek solutions and demand justice," stated the groups. "When the Legislature passes SB 132 next year, we are confident that it will increase safety and respect for incarcerated transgender Californians and serve as a model for the rest of the nation."
It is the third LGBT bill Wiener had authored this year not to survive the legislative process in recent weeks. As previously reported by the Bay Area Reporter, the Assembly Appropriations Committee last month tabled Wiener's SB 145, aimed at ending discriminatory treatment of LGBTQ young people on the state's sex offender registry. Wiener plans to push for its passage next year, as it will ensure LGBT young people are treated the same as their heterosexual peers when judges are determining if they need to register as a sex offender in cases where they are within 10 years of age of a consensual sexual partner between the age of 14 and 17.
Also in late August the Senate Appropriations Committee held Assembly Bill 307, the Homeless Youth Grant Program, co-authored by Assemblywoman Eloise Gomez Reyes (D-San Bernardino) and Wiener. It had been coupled with an appropriation of up to $100 million and estimated costs of $1.8 to $1.9 million for the state's Business, Consumer Services and Housing Agency to administer.
Other bills advance
A number of bills addressing LGBT issues did advance out of the Legislature by the September 13 deadline and now await Newsom's signature. He has until October 13 to sign or veto the legislation.
Despite estimated costs of $250,000 to $1.3 million for school districts to implement, lawmakers approved AB 493, known as the Safe and Supportive Schools Act of 2019. It requires public schools to train their staff, from teachers and guidance counselors to librarians, on LGBT cultural competency and how to address LGBT-based bullying.
Former Governor Jerry Brown had vetoed a similar bill last fall due to its price tag. But with Brown termed out of office, gay Assemblyman Todd Gloria (D-San Diego) and State Superintendent of Public Instruction Tony Thurmond, who had carried it last year when he served in the Assembly, reintroduced it this year in hopes of seeing Newsom adopt it.
"Every child deserves a caring and supportive school environment, and we must continue to work towards closing disparities in health, mental health and academic outcomes for our LGBTQ students," stated Thurmond.
State lawmakers also sent Newsom SB 159, which would allow pharmacists to furnish people a 30-day supply of the HIV prevention medication Truvada, known as PrEP. Co-authored by Wiener and Gloria, they added the one-month stipulation in response to doctors' groups who had questioned the safety of having people obtain PrEP without a prescription. Due to the change, the powerful California Medical Association dropped its opposition in August and took a neutral stance on the bill.
"With PrEP, we can end new cases of HIV in California. The challenge we face is access — more Californians should have easy and equitable access to this life-saving medication," stated Gloria after the bill cleared its final vote in the Assembly September 10. "SB 159 breaks down barriers so more Californians can access PrEP which puts us closer to eradicating HIV/AIDS."
Also sent to Newsom this month was SB 495 by Senator Maria Elena Durazo (D-Los Angeles). It would codify into state law that a person's sexual orientation or gender identity can't be used to disqualify them as being an adoptive parent or legal guardian of a child.
Newsom in recent weeks signed his first two pieces of LGBT-related legislation since becoming governor in January. The first he added his signature to was AB 711 authored by Assemblyman David Chiu (D-San Francisco). It ensures that transgender students can obtain their school records and diplomas with their preferred name and gender pronoun. authored it.
The second of the bills was SB 534, introduced by state Senator Steven Bradford (D-Gardena). It requires the state's $310 billion insurance industry to biennially report how much it is contracting with businesses owned by women, people of color, veterans, and LGBT individuals.
Gay Insurance Commissioner Ricardo Lara, a former state senator, co-sponsored the legislation, as it revives the state agency's Insurance Diversity Initiative that expired in January and would expand its scope to include LGBT- and veteran-owned businesses.
Newsom is expected to sign a similar piece of legislation, AB 962, co-authored by Assemblywoman Autumn Burke (D-Inglewood) and Assemblyman Rob Bonta (D-Oakland). It would require California hospitals to publicly disclose how much they are contracting with LGBT-owned businesses as well as those owned by women, minorities, and other disadvantaged groups.
The Oakland-based Greenlining Institute sponsored the two minority contracting bills.
Keep abreast of the latest LGBT political news by following the Political Notebook on Twitter @ http://twitter.com/politicalnotes
Got a tip on LGBT politics? Call Matthew S. Bajko at (415) 829-8836 or e-mail m.bajko@ebar.com
Comments on Facebook