Oakland marks 10th Pride festival
Wednesday Sep 4, 2019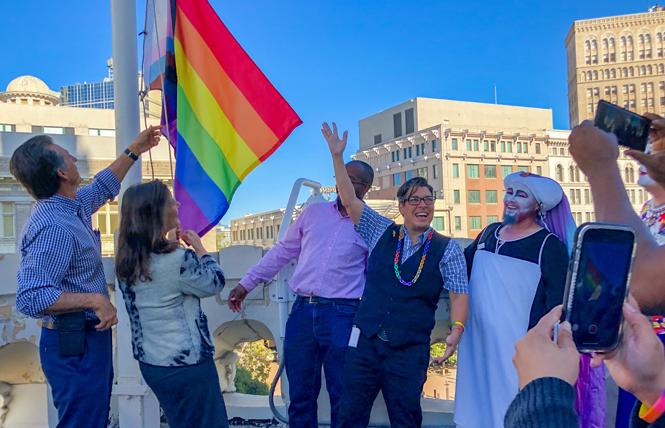 Oakland Pride returns Sunday, September 8, as this year's theme, "Power of Pride," celebrates the 10th annual festival and the sixth annual parade.
There are two new events this year: a pre-Pride party and a Trans March. Both take place Saturday, September 7.
The Trans March, according to organizers, will step off from Frank Ogawa Plaza (aka Oscar Grant Plaza) at Broadway and 14th Street at 11:30 a.m.
Organizer Socorro Moreland wrote in an email that Oakland is home to hundreds of trans people, specifically people of color, but that the city is often overshadowed by San Francisco.
"This year Oakland will host its own trans march to create visibility and bring the community together in an attempt to have our own transgender movement and celebration," Moreland wrote.
The group will march to the Lake Merritt area, where there will be a stage and mini rally for black trans lives.
Oakland Pride is holding its first pre-Pride party, set for 6 p.m. to midnight. Admission is free and people should enter at 21st Street and Broadway.
Organizers wrote in a Facebook post that there will be live music, drinks, and lots of dancing. The party takes place at the Latinx stage and all ages are welcome.
Sunday events
Parade contingents will begin to gather at 14th Street and Broadway 10 a.m. and will plan to start marching at 11. The parade is easily accessible from the 12th Street Oakland City Center BART station. People can also use the 19th Street BART station if attending the festival. Public transportation is encouraged.
The parade will have a first-come, first-serve ADA access to grandstands for those who wish to view the parade, which will be located on Broadway and Telegraph.
Oakland Pride officials did not return messages seeking comment, but according to its website, all ages are welcome at the parade and festival.
The parade is free, but the festival charges admission of $10 for adults and $5 for kids under 12 years of age.
In addition to the aforementioned Latinx stage, the festival will have four others: main, community, Club 21, and women's.
Announced headliners include Purple Madness, a Prince tribute group; Shea Diamond; and El Dasa.
Our Family Coalition will once again operate its Family Garden area for kids and their families at the festival. The popular attraction will be located at the corner of Franklin and 21st streets in the Kaiser parking lot.
For those families planning to march in the parade, OFC encourages people to bring signs, water, and the spirit for a kid-friendly environment. For any families who don't bring signs, OFC will have some "Proud of My Family" signs available. The parade is an easy, six-block walk and is stroller-manageable for families bringing young children.
The Family Garden will feature arts and crafts, bounce houses, a petting zoo, pony rides, storytime, theme park rides, contests, and a photo booth. The Family Oasis will also be open to anyone that would like to relax during the festival.
OFC's interim executive director, Sam Ames, will also be at Oakland Pride.
"This will be my first Oakland Pride with Our Family Coalition and I'm looking forward to being surrounded by people as proud to call Oakland home as I am," said Ames.
For more information on Oakland Pride, visit http://www.oaklandpride.org or check out the Facebook page. For more information on Our Family Coalition's Family Garden, visit http://www.ourfamily.org
Comments on Facebook