Bay Area Cannasseur: Cannabis retail projects head to planning panel
Wednesday Sep 4, 2019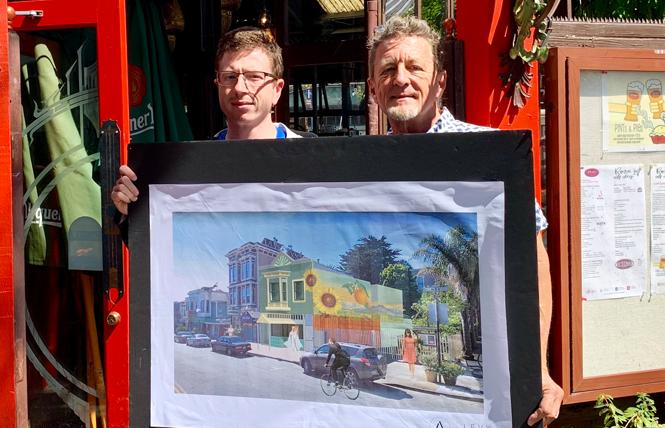 San Francisco could have several new LGBT-owned cannabis businesses, if the applicants for new companies make it through the city's lengthy, expensive, and complicated approval process.
Among the applicants, first up is the Flore Store, a proposed retail shop at 258 Noe Street, across the street from its namesake, Flore, the 40-year-old cafe where the late Dennis Peron and Mary Jane Rathbun, aka Brownie Mary, used to meet to discuss the underground cannabis scene in the city, pre-legalization.
On September 19, the city's planning commission will consider the Flore Store's application for a conditional use permit to open a retail store at a location that now houses a nail salon, Gloss 'n Glam. Flore officials signed a lease on the property in 2016.
Flore Store is partially owned by one of the city's most prominent cannabis activists, Terrance Alan, who was chair of the city's task force on cannabis legalization and before that, chair of the city's entertainment commission.
Alan, a gay man, opened the city's first cannabis cafe at Flore in 2016, but had to stop serving cannabis-infused food and drinks after regulations enacting Proposition 64 would not allow restaurants serving alcohol to also sell cannabis-infused products.
Alan said that the proposed business, which is partially owned by investors who are longtime cannabis growers from Humboldt County, will offer "a wide selection of the best farm grown" flowers as well as a selection of "cooking ingredients" such as infused olive oils.
While the Castro Merchants gave its stamp of approval to the Flore Store, the other neighborhood group — Duboce Triangle Neighborhood Association — has not yet decided whether it will back or oppose the application.
However, at its meeting Monday, September 2, the nine-member DTNA Land Use Committee voted unanimously to support the Flore Store application if the applicants agreed to a set of conditions, committee co-chair David Troup wrote in an email to the Bay Area Reporter.
When asked for specifics on the conditions, Troup declined to specify, noting that DTNA had not yet had the opportunity to communicate its position to the applicants at the time the B.A.R. went to press.
After hearing back from Flore Store owners, DTNA will communicate its decision to the planning commission and also intends to testify at its City Hall meeting this month.
"There is a great deal of distrust of the project sponsor, a long history of bad behavior by the property owner too, so I don't know what we will decide. I don't think anybody has a problem with a well-run dispensary — we supported Apothecarium when they opened, and we supported Eureka Sky just a few months ago when they were up for approval — but in this case, there is a lot of distrust and bad feelings, based on past history. So it could go either way," Troup wrote before the September 2 DTNA committee meeting.
In a telephone interview with the B.A.R. last week, Troup said the DTNA land use committee members have had a series of misunderstandings with Alan.
According to Troup, Alan's original proposal included the establishment of an Airbnb in an apartment adjacent to the dispensary; when DTNA said it was opposed, Alan said he would not establish any sort of short term housing in the space. But, according to Troup, Alan converted the apartment to an Airbnb, which was temporarily listed online, but was soon shut down by the city.
Alan said there is no Airbnb on site now.
Troup said DTNA members also want to know the names of all the partners who own the new business, but that Alan has refused to supply that information.
"He says he's being completely transparent but we don't agree," said Troup.
Alan, who held an open house at the new location for neighbors, said he believed neighborhood response has been overwhelmingly positive.
A couple of neighbors "seemed to be upset that a longtime Castro business, the nail salon, was closing," he said before the DTNA committee meeting. "Other than that, we thought we had strong support."
If approved by the planning commission, the business would then apply for a building permit and begin renovation, which could take about six months.
The tenant at 258 Noe, the proposed location for Flore Store, would not comment on the situation.
In a phone interview with the B.A.R., tenant Daniel Nguyen, whose mother, Mary Ann, operates Gloss 'n Glam, said the family preferred not to discuss the neighborhood dispute over the property they have been leasing. Nguyen did say, however, that the salon is looking for space elsewhere in the neighborhood.
Another LGBT-owned dispensary, Eureka Sky, will probably be open months before Flore Store is ready. Formerly called Sugar, the shop was approved by the planning commission to go into the former location of Wild Card at 3989 17th Street, adjacent to Jane Warner Plaza. Eureka Sky is owned by two gay men, Ray Connolly and his husband, Desmond Morgan. The B.A.R. was unable to reach them for an update on their possible opening date.
Elsewhere in the city, another LGBT entrepreneur is making plans for new cannabis-related businesses.
Amber E. Senter, an Oakland lesbian, is hoping to open a 7,000 square foot business in the Bayview at 2000 Oakdale Street, and a 2,600 square foot business in the Richmond at 2428 Clement Street, she told the B.A.R. in a recent phone interview.
The proposed locations, now under lease to Senter and her business partners, "are in the pipeline" and if approved by the San Francisco Office of Cannabis, would be scheduled to come before the planning commission. If approved, both could be open for business next year, she said.
The Bayview business is a two-story location that would include four cannabis businesses: a retail store, a lounge, a distribution business, and a delivery service. The Richmond business would be a retail cannabis store that would "try to capitalize on tourist business since it's close to Golden Gate Park" and "would be an oasis in an otherwise foggy neighborhood."
A comprehensive list of current and proposed cannabis businesses can be found at http://www.officeofcannabis.sfgov.org
Bay Area Cannasseur runs the first Thursday of the month. To send column ideas or tips, email Sari Staver at sfsari@gmail.com.
Updated,9-7-19: This column has been updated to include comment from the nail salon owner and to remove a reference that the owner is retiring.
Comments on Facebook