Political Notebook: SF LGBT Dem clubs weigh in on November ballot
Wednesday Aug 28, 2019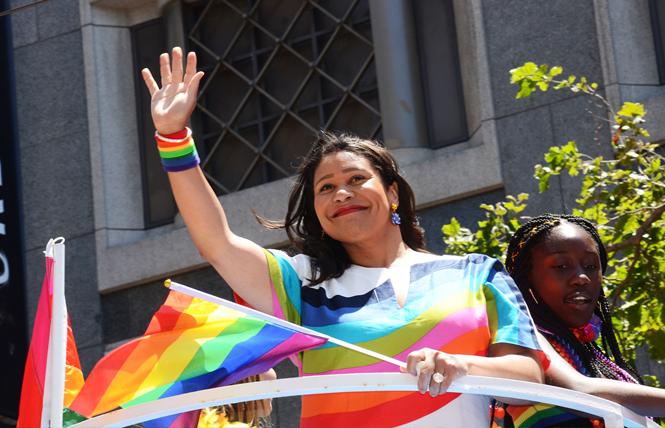 San Francisco's two main LGBT Democratic clubs found themselves largely aligned during last year's June special elections for mayor and the District 8 supervisor seat. Both the Alice B. Toklas and the Harvey Milk clubs backed gay candidates Rafael Mandelman for supervisor and Mark Leno for mayor.
A year later and the clubs find themselves diverging in several of this fall's local electoral contests. While Alice endorsed Mayor London Breed's bid for a full four-year term, Milk withheld its support in the race, which has Breed fending off challenges from six little known opponents.
In the open contest for sheriff, due to Sheriff Vicki Hennessy's decision not to seek re-election, Alice endorsed the only candidate in the race, Paul Miyamoto. Milk, however, again withheld its endorsement.
Kevin Bard, president of the Milk club, told the Bay Area Reporter that Miyamoto did not seek the endorsement. He had reached out to the candidate in several emails but never received a response.
"I don't know why. Did someone tell him to blow us off? It was really strange," said Bard, who was unsure if the club would have endorsed Miyamoto.
While he wouldn't reveal the vote count, Bard did tell the B.A.R. that Breed received hardly any votes when Milk members met August 20 to decide the endorsements in various races. Her campaign did not answer the questions that the Milk club had sent it, instead sending Bard a list of her achievements since becoming mayor last July.
He chalked up the mayor's lack of support within the Milk club to her actions during last fall's election. Breed opposed Proposition C, the local ballot measure aimed at addressing the city's homelessness crisis through a tax on large businesses. She also came under withering criticism from Milk club members for supporting a school board candidate who had spoken out against rights for transgender students in the past.
"Let's just say Milk club members have a long memory," said Bard.
Alice co-chair Gina Simi declined to comment when asked why the club endorsed Miyamoto and to characterize the deliberations on this year's mayoral endorsement.
"We don't comment on how or why PAC recommendations are made," responded Simi, referring to the club's political action committee that recommends the endorsements that are then voted on by Alice members.
In the two hotly contested races for the District 5 supervisor seat and district attorney, the two clubs are firmly in opposite camps. Alice has thrown its support behind incumbent Supervisor Vallie Brown, a former aide to Breed who appointed Brown as her replacement on the board, and former prosecutor and San Francisco Police Commission president Suzy Loftus for district attorney.
Milk, meanwhile, early endorsed tenants rights activist Dean Preston's bid to replace Brown on the board and Deputy Public Defender Chesa Boudin in the race to succeed District Attorney George Gascón, who opted not to run for re-election this year. Snubbed by both clubs in the D.A. race were Deputy State Attorney General Leif Dautch and former Deputy State Attorney General Nancy Tung, as were District 5 candidates film producer Nomvula O'Meara and Ryan Lam.
The mayoral, district attorney, and supervisorial races will all be decided by ranked-choice voting, though neither club opted to issue ranked endorsements this year. Last year, the Milk club dual endorsed Leno and former District 6 supervisor Jane Kim for mayor, while Alice gave Leno a first choice endorsement and Breed a second choice endorsement.
In the rest of this year's contests to be decided November 5, Milk and Alice see eye-to-eye on how voters should cast their ballots. Both clubs endorsed City Attorney Dennis Herrera and Treasurer-Tax Collector José Cisneros, the only LGBT citywide municipal officeholder in San Francisco. Neither incumbent drew an opponent this year.
Also securing support from both clubs was community college board member Ivy Lee and Public Defender Manohar "Mano" Raju, both of who are also unopposed. Breed appointed Raju to his position earlier this year following the death of Jeff Adachi in February, while she appointed Lee last August to Mandelman's seat on the oversight body for City College of San Francisco.
Alice and Milk also both endorsed school board member Jenny Lam, appointed by Breed in January to fill a vacancy. She is facing two challengers, as Kirsten Strobel and Robert K. Coleman both qualified for the ballot.
And both clubs came out with the same endorsements for the six local ballot measures this fall. They are supporting all of them except for this year's Proposition C, which Alice and Milk both say should be voted down. Backed by e-cigarette maker Juul, Prop C would overturn the city's ban on vaping products and instead regulate their sale in the city.
"San Francisco is fortunate to have two influential LGBTQ Dem clubs representing a wide range of voices; and it isn't unusual for Alice and Milk to take different positions — we have in the past and I'm sure we will in the future," replied Simi when asked about the clubs' positions this election cycle. "We don't consider it an indication of trouble brewing, in fact, our slates agree more than not, including on Prop C, which is looking to be a rather divisive topic in this election."
As for Bard, he told the B.A.R. that "of course there are going to be divisions there" in terms of the two clubs' endorsements. "But, overall, there are a lot of similarities."
The vaping measure was particularly controversial for the Milk club, which was convulsed by accusations that Prop C backers had stacked membership in the club in order to ensure it would endorse the ballot measure. After its PAC came out with a neutral position rather than a firm no vote on Prop C, club leaders and members opposed to the measure rallied to secure a no endorsement.
So-called packing tactics are a long tradition of San Francisco politics, where candidates or campaigns pack membership in a club with their supporters in a bid to sway the endorsement vote. The Milk club will be discussing ways to curtail the practice in September and its members could be voting on a package of reforms in October aimed at preventing its membership rolls from being manipulated by future campaigns.
Postscript
A day after being profiled by the Political Notebook column, gay San Leandro school board member James Aguilar learned August 23 that the East Bay Stonewall Democratic Club is presenting him with its Emerging Leader Award during its seventh annual Pride Breakfast. The event is held prior to the Oakland Pride parade, taking place this year Sunday, September 8.
Aguilar, 19, is aiming to run for a state Assembly seat either in 2022 or 2024. If elected, he could become the first LGBT state legislator from the East Bay, as well as the youngest out member of the Legislature.
To learn more about the LGBT political club's fundraiser event, visit https://eastbaystonewalldemocrats.org/event-3475864
Web Extra: For more queer political news, be sure to check http://www.ebar.com Monday mornings for Political Notes, the notebook's online companion. This week's column reported on a major endorsement for gay San Diego mayoral candidate Todd Gloria.
Keep abreast of the latest LGBT political news by following the Political Notebook on Twitter @ http://twitter.com/politicalnotes .
Got a tip on LGBT politics? Call Matthew S. Bajko at (415) 829-8836 or e-mail m.bajko@ebar.com.
Comments on Facebook