News Briefs: EQCA to hold womxn brunch in SF
Wednesday Aug 28, 2019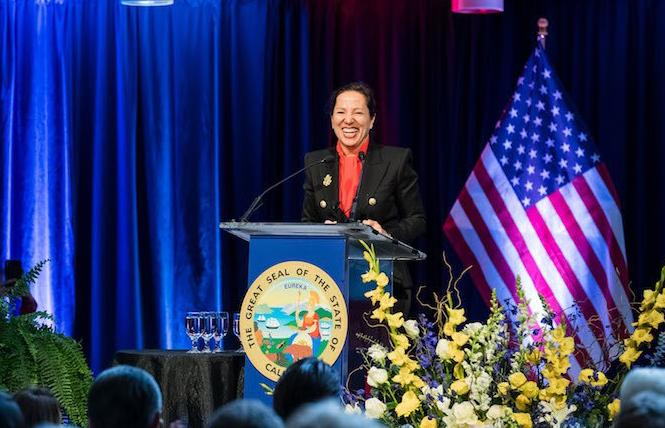 California Lieutenant Governor Eleni Kounalakis (D) will be the special guest speaker at Equality California's Womxn brunch Saturday, September 7, from 11 a.m. to 1 p.m. at Manny's, 3092 16th Street in San Francisco.
Lesbian former San Francisco supervisor and current EQCA board member Leslie Katz is co-chairing the brunch, along with Valerie Ploumpis, the group's national policy director.
This is a new series of events that the statewide LGBT advocacy organization is holding. Others are planned for Palm Springs around its Pride weekend in November and in Los Angeles next year.
Tickets are $100 and include brunch and a hosted bar. To purchase tickets, go to https://one.bidpal.net/womxnsf/welcome
Tenderloin Pride coming up
Tenderloin Pride will celebrate the unique culture of the San Francisco neighborhood and its place in queer history with a benefit reception and street fair next weekend.
Aja Monet-Ashton, an organizer of the Pride events, said the reception takes place Saturday, September 7, at the Tenderloin Museum, 398 Eddy Street.
On Sunday, September 8, the public is invited to a free street fair and festival on Vicki Mar Lane (on the 100 block of Turk Street).
Both events run from noon to 4 p.m.
Monet-Ashton said that proceeds from the fundraiser will go to the Compton's Transgender Cultural District. It is sponsored by Kima Exclusive, Krewe de Kinque, the House of W, the Cinch Saloon, Dalda's Grocery store, and Aunt Charlie's Lounge.
Tickets for the reception are $25. VIP tickets, which include beverages and an exclusive gift bag, are $50.
For more information, visit https://www.facebook.com/events/2438208679749856/.
Donation drive for LGBTQ Youth Space
The Rotary Club Silicon Valley LGBTQ (forming) is seeking support for its first project — a donation drive — that will benefit the LGBTQ Youth Space in San Jose during September.
People can make a monetary donation online or drop off items Saturday, October 5, from 10 a.m. to 2 p.m. in the parking lot at Westminster Presbyterian Church, 1100 Shasta Avenue in San Jose.
Items on the Youth Space's wish list include feminine and masculine underwear (various sizes); bras, including sports bras, in a variety of back sizes but smaller cup sizes; compression garments (aka binders), the recommended brand is GC2B; reusable water bottles; backpacks and duffle bags; tennis shoes; non-perishable food items; and monetary donations for gender-affirming haircuts.
Organizers noted that all donated items should be new and in their original, unopened packaging. Donations are tax-deductible and the Youth Space can provide a letter to comply with a company's giving standards.
To make a financial donation, visit www.youthspace.org/donate and in the comments section mention LGBTQ rotary.
For those unable to make the October 5 drop-off, contact Renee Johnson at (408) 832-8723 or renee@reneejdesigns.com with questions or to arrange a pick-up.
LGBTQ adult prom in San Mateo
The San Mateo Pride Center will hold what it said is the first LGBTQ adult prom on the Peninsula with "Somewhere Over the Rainbow — A Peninsula MasQueerade," Saturday, September 14, from 8 p.m. to midnight at Three Craft Kitchen and Bar, 50 East Third Avenue in San Mateo.
Organizers said that it will be a night of dancing and joyous celebration in support of LGBTQ people. With the success of its youth prom the last couple of years, the adult prom came about from community requests to reclaim the prom experience for people who didn't have the chance to be their authentic selves in the past and who are ready to celebrate now.
The event is for those 21 and over. Tickets are $75. For tickets and more information, visit https://sanmateopride.org/.
SF Pride annual meeting
The San Francisco LGBT Pride Celebration Committee will hold its annual general membership meeting Saturday, September 21, from 11 a.m. to 5 p.m. at the LGBT Community Center, 1800 Market Street.
According to SF Pride officials, nominees running for three open seats on the board of directors will be introduced. Attendees can hear why they want to take on this role and can ask questions.
Members in good standing (dues paid and enrolled by July 24) will be able to vote for the candidates.
In other news, SF Pride will be moving its offices to 1663 Mission Street, Suite 305, as of October 1. SF Pride's phone number will remain the same at (415) 864-0831.
Celebrate with GLBT Historical Society
Come celebrate high above it all at the GLBT Historical Society's annual gala, "Reunion: Chosen Family," Friday, October 18, from 6 to 9 p.m. on the Ohana Floor at Salesforce Tower, 415 Mission Street in San Francisco.
There will be food and drink by Betty Zlatchin Catering, entertainment by Juanita MORE! and a silent auction featuring artifacts, fine art, and unique experiences.
Attendees must purchase tickets in advance, as none will be available at the door due to Salesforce security policies.
The Bay Area Reporter is the LGBT media sponsor of the event.
Tickets are $175 per person and can be purchased at https://one.bidpal.net/reunion/welcome.
Comments on Facebook