Online Extra: Q Agenda: Hashtag campaign aims to identify queer-competent doctors
Tuesday Jul 23, 2019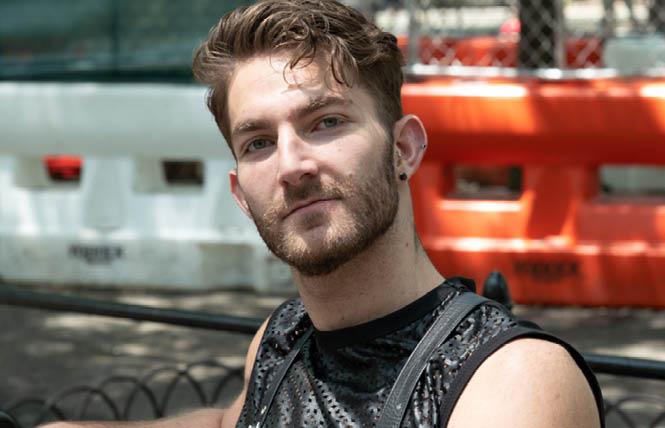 LGBTQ people struggling to find a competent, well-informed health care provider may be interested in the #weneedabutton campaign, focused on locating and identifying doctors and other professionals who are well-versed in queer health care. The suggestion is that health care providers could identify themselves with a button — another in a long series of queer visual signals used throughout the community's history.
The campaign began with an article by influencer Zachary Zane, a 28-year-old bisexual man, published in Dating Positives; a sex-positive magazine on relationships, health, and culture in the queer community. Knowing that the LGBTQ community is disproportionately affected by sexually transmitted infections and that doctors are not always equipped to deal with these realities, Zane wrote about a particular experience of his in New York City.
Zane's original essay posited that as a queer man, it might be necessary for him to seek a queer physician. He had just arrived in the city in 2017 and was seeking a doctor who would accept his insurance. When he found one, he asked for a prescription for Truvada, the trade name for pre-exposure prophylaxis for HIV known as PrEP.
"What's Truvada?" his doctor asked.
When Zane explained what Truvada was and why he needed it, his doctor suggested a bisexual man like Zane could just sleep with women and not need it at all.
"The problem only got worse from there," said Zane in a phone interview with the Bay Area Reporter. "He tried to tell me how to live my life. I asked for an STI test, and he didn't know how to order one. He told me he didn't have urethra swabs in his office. I just broke down. He's just saying all this shit that's ignorant."
Zane began to ask around, wondering if his experiences were unusual. What he learned became the basis for #weneedabutton.
"Every queer person I spoke to had a story, all the way from microaggressions to situations where a doctor would purposefully misgender a trans person," he said. "It ranges from the subtle to the terrible and outright offensive, and it's just ridiculous."
In 2019, he added, a physician should be qualified and adept to deal with LGBTQ people.
"But they're not, so we need a way to identify doctors who understand these issues," Zane added. "Who knows how to do an anal Pap smear, or knows what PrEP is or how to prescribe [hormone replacement therapy]. Any patient-matching site should be able to do this, to note which doctors are queer-friendly."
Zane acknowledged that the work ahead is daunting, but spreading the word is the first step. Some cities like New York have an LGBTQ health bill of rights and a website that offers a doctor search, but the service is limited. Zane, however, believes this kind of service should be widely accessible, considering the on-demand landscape in today's society.
"In a time when you can Google a unicorn to come to your birthday party, you should be able to find a queer-friendly doctor," he remarked.
This campaign is not the only effort of its kind to connect LGBTQ people to competent healthcare. Health Professionals Advancing LGBTQ Equality (formerly known as the Gay & Lesbian Medical Association) offers an online directory of queer-competent doctors and other professionals that specify areas of expertise including hormone replacement therapy, LGBT reproductive services, and pain management.
A search for professionals in the Bay Area on their system returns 167 possible contacts at different hospitals and medical centers . Representatives the organization did not respond to requests for additional information.
A similar organization called OutCare Health maintains a smaller directory concentrated in the Midwest, with shallower (around 50) results returned on a search for the Bay Area. OutCare did not respond to requests for comment on this campaign.
Kaiser Permanente, which is the third-largest health care organization in the country and headquartered in Oakland, has been recognized by the Human Rights Campaign Foundation for its commitment to LGBTQ in its 2018 Healthcare Equality Index, and has designated the organization a "healthcare equality leader" every year since 2010.
However, Kaiser's website does not offer a directory of queer-competent professionals, and representatives of the company were unable to tell the B.A.R. whether there is any company-wide symbol used or approved for use to designate an LGBTQ-friendly health care practitioner.
It would be interesting to see a single campaign or symbol become the unifying principle behind many scattered efforts. Those interested in learning more or supporting the #WeNeedaButton campaign should search the hashtag on Twitter and Instagram. When asked why he chose the shape of the human derriere for the campaign logo, Zane was happy to back it up.
"The butt is a queer symbol!" Zane said. "This is a cute, different symbol of sexual health issues."
To paraphrase an old saying: everybody's got one, and they all need health care.
Out Astronaut Project looking for the right gay stuff
Over 500 people have gone to space as astronauts or cosmonauts, but not one has ever identified openly as a member of the LGBTQ community. Those who protest in Sally Ride's name are only half-correct: the astronaut and physicist who was the first American woman in space was identified as a lesbian only after her death in 2012.
Why is this the case? The National Organization of Gay and Lesbian Scientists and Technical Professionals believes there is a lack of representation in STEM fields overall for queer people, and that leads to a dearth of visible symbols of achievement like a gay astronaut would be.
The Out Astronaut Project is teaming up with NOGLSTP to provide opportunities for LGBTQ people to become actively involved in space-related research, with the ultimate goal of qualifying a queer astronaut and getting them into space.
Jason Reimuller, Ph.D., runs the nonprofit Project PoSSUM, or Polar Suborbital Science in the Upper Mesosphere, which helps fund training for the Out Astronaut Project. His interest in this program is both personal and professional, as he said in a phone call with the B.A.R.
"There's been a number of surveys that show that science hasn't been an affirming space," said the 47-year-old gay aerospace engineer. "People have found that it's not safe to be out. Many times LGBTQ people end up not staying in the STEM field, or they run into a glass ceiling."
The key may be a high level of representation, according to Reimuller.
"The astronaut as a symbol is this universally loved, global person and ambassador to science. That's inspiring. It's just like the people we look up to in sports," he said. "Scientists and athletes can be heroes, and there's still a problem with seeing LGBT people as those kinds of heroes. It's not just acceptance we're after, it's leading the way and providing LGBT representation."
When asked why now, Reimuller had a variety of reasons.
"We've just celebrated the 50th anniversary of the Apollo mission," he pointed out, referring to the American scientific landmark of the moon landing that occurred July 20, 1969.
"It's a critical time for all of us to be engaged in the scientific process. There's nothing more pressing than understanding our shared climate, and looking to become a multiplanetary species," he said. "We think it's time to take this into our own hands to train and fly one of our members and inspire our community to be the astronaut that we've lacked."
There has been pushback, of course. "Resistance has frankly been straight homophobia — no pun intended," Reimuller said with a laugh. "People don't appreciate why this is necessary. They ask me, 'can't it just be the best person for the job?' I can't imagine what it would have meant to me as a young gay man to see myself represented in a space suit."
The Out Astronaut Project is running a contest through August 1 for any eligible adult in a science, technology, engineering, and math field who wants to be the first openly gay person in space. The International Institute for Astronautical Sciences has donated a grant of $6,000 for the winner's training at the Advanced PoSSUM Academy class at Embry-Riddle Aeronautical University, a private school in Daytona Beach, Florida.
The project has also been selected to present about the future of queers in space at a forum during the International Astronautical Conference in Washington, D.C. in October.
To enter the contest or make a donation, visit https://outastronaut.org/.
Out & Equal organizes Southern states forums
At the end of July, Out & Equal Workplace Advocates is offering two Southern states forums: one in Dallas and another in Atlanta. The organization is hoping these events will help it with its goals to "harness the collective power of business and tackle LGBTQ workplace equality issues in the South," according to its website.
Out & Equal describes itself as the premiere nonprofit in the world dedicated to achieving workplace equality for LGBTQ people. The San Francisco-headquartered group is particularly interested in the South for its specific challenges to queer workers.
"This program is years in the making," explained Deena Fidas, Out & Equal's managing director of global stakeholder engagement. "We've been working to connect and make more visible the members of the community and allies in the South.
"Last year at our global workplace summit, we had such a large cohort of Southern workers who came together to discuss their unique challenges, but also the richness of life in the South and what keeps them there," said Fidas, a lesbian, who described her own lifestyle as "Bangladesh to Biloxi," in a phone interview with the B.A.R.
"It's a lot of contradiction. States in the South mostly offer no workplace or civil rights protection, but they also have the highest numbers of families made by LGBTQ people," she added.
When the B.A.R. noted that advocating for LGBTQ rights in the South would be challenging, Fidas was undaunted. "We love a tall order. Especially when it's filled with sweet tea," she said.
Fidas was also particularly eager to discuss the programming for each summit.
"Texas has an exciting plenary speaker, former Houston mayor Annise Parker," she said, referring to the first out mayor of a major U.S. city who is now CEO of the LGBTQ Victory Fund. "We have a lot to talk about on the role of businesses in fighting back against anti-LGBTQ policy. There's been a rash of these bills across the South, and the business community plays a pivotal role in pushing back.
"We also have special sessions for the unique role of religion in the South and how that manifests in the workplace," Fidas said. "We're devoted across all programs to intersectionality, especially in Atlanta since the city's majority is African American. We hope to put some markers down to show that LGBTQ southerners are here and deserve respect and workplaces that offer not just inclusion but true belonging."
The conference in Dallas will take place Monday, July 22, at the AT&T facility in Irving, Texas. The conference in Atlanta will take place Friday, July 26, at an AT&T facility in the city.
To learn more about the Out & Equal Southern States forums, visit https://outandequal.org/event/southernstates2019/.
Q Agenda is a new online column that appears weekly, usually on Tuesdays. Get updates on the latest LGBTQ national news by following Q Agenda reporter Meg Elison on Twitter at http://twitter.com/megelison.
Got a tip on queer news? Call Meg Elison at (415) 875-9986, or email m.elison@ebar.com.
Comments on Facebook