Racism allegations roil East Bay drag court
Wednesday May 1, 2019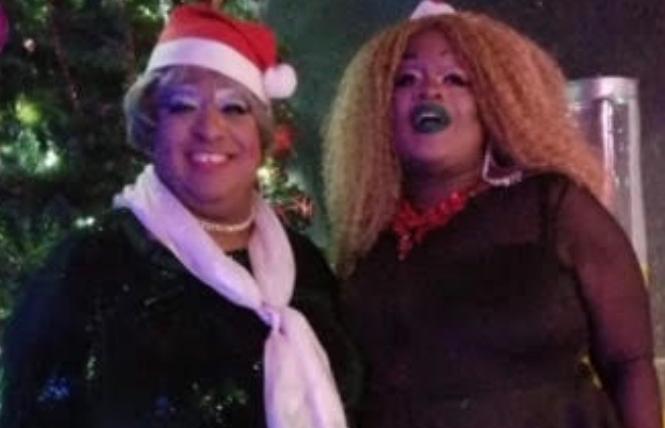 Two former board members of the Imperial Star Empire, a chapter of the International Imperial Court System that represents Alameda and Contra Costa counties, are demanding the group's elected monarch, Regent Empress XL Jessica Avalon, be stripped of her title following allegations of racist remarks she made to them in January.
Viva Commotion, also known as Monolito Wilson, and his husband, Princess Monet Sparkles, also known as Moses Green, were given the titles of Her Most Imperial Highness Imperial Crown Princess XL and Her Most Imperial Highness Imperial Crown Princess Royale XL, respectively, by Avalon in September. According to Commotion, when he asked Avalon in January about her expectations of them, she responded, "I hate to say this, but for lack of a better word, you are basically my 'stepin fetchits.'" The racist term is a reference to a 1930s African American vaudeville persona whose name was a play on "step and fetch it." Commotion and Sparkles are both African American. Avalon is white.
When Commotion and Sparkles brought attention to Avalon's comment, their titles were suspended in February and they were removed from the board in April.
"I was removed for speaking my truth," said Commotion. He added that after the incident, most of Avalon's court members — many of whom were his friends and court family — dropped out of the organization.
"Her court had about 12 people in it; 10 of them dropped out. That's part of why she initially got so mad," he said.
Deneka St. James held the title of Absolute Govern Empress XXV before it was suspended. She had been involved with the chapter for 18 years.
"I spoke up about the racism from the empress, and said we should not be dealing with this in 2019," St. James said in a phone interview with the Bay Area Reporter.
St. James added that 13 years ago, she was accused of misappropriating organization funds while she was board president. She denied the allegations, which she said involved her writing a personal check for a court event and then seeking reimbursement, which she said was the practice back then.
"They're trying to come up with any bullshit they can to try and make me look like I was inappropriate as a president, all because I called them out on their racism," she said.
The Imperial Star Empire, or ISE, was established in 1978, 13 years after the Imperial Court System was first founded in San Francisco. The court system's chapters, or empires, operate as individual nonprofit organizations that raise funds for various charitable causes through drag shows, balls, galas, and other events. Together, the court system's 65 empires make up one of the world's oldest and most extensive LGBT organizations.
When confronted about her comment, Commotion said Avalon's response was that "stepin fetchit" is customary slang among court monarchs to describe lower-position members, and that she isn't racist because she "has black family members."
"I'm friends with court members from all over," said Commotion. "I've asked almost everybody I know of, from San Francisco to New York, if that's a term we use in the court system. They all said they've never heard it."
Carlos Vargas, the Imperial Star Empire's board president, wrote a post on the chapter's Facebook page addressing the situation. "The important issues brought to our attention," the post read, "were discussed and resolved by the board of directors. But because of the board's decision and outcome this particular group of persons decided to go public, and to take it upon themselves to criticize and only stating their side of story. Gossip and rumors are never good!"
In an email, Sparkles wrote that he brought up Avalon's comment to Vargas but that he "brushed it off."
"The last meeting I attended in April is where they decided to vote us off the board," Sparkles wrote, referring to himself and Commotion.
Neither Vargas nor Avalon responded to multiple requests seeking comment.
After the April meeting, Commotion created an online petition demanding Avalon's removal as the Imperial Star Empire's head.
"Even if you say you're not racist," he said, "the fact that you even have to say that shows me you should not be head of state of an organization made up of predominantly African American and Hispanic people."
The Imperial Star Empire is celebrating its 40th reign this year.
"Forty years is a long time for a gay organization to survive," Vargas wrote in his Facebook statement, "but we know that our achievements, longevity, and successes aren't by accident. I am not stating that it has all been good, but the testimony of our loyalty to the communities does. Our vision of working for our communities for all the people regardless of race, color, creed, gender, sexual orientation and to deliver the promise of our mission we started in 1978 and its reason of conception still holds true."
Commotion said requests for a formal meeting and public trial have been ignored.
"I'm not doing this because of a title," he said. "That doesn't mean anything to me. I'm doing this because I have grandchildren I'm responsible for. If I step down, how does that make me look if somebody says the same thing to them?"
The controversy comes ahead of this weekend's eighth annual awards gala for the Imperial Star Empire, which takes place Saturday, May 4, from 5 to 9 p.m. at the White Horse Bar, 6551 Telegraph Avenue in Oakland.
To read or sign the petition, go to https://bit.ly/2vs1s4j.
Comments on Facebook