Fiscal impact delays Milk terminal vote
Wednesday Mar 20, 2019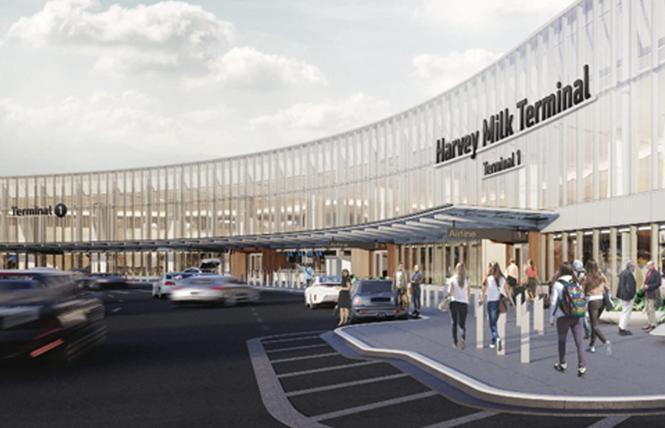 Increased fiscal impacts for renaming Terminal 1 at San Francisco International Airport after the late gay icon Harvey Milk delayed an expected vote at Tuesday's Board of Supervisors meeting on an ordinance that spells out how the signage at the aviation facility should look.

District 9 Supervisor Hillary Ronen last week amended her ordinance at the March 11 hearing of the board's rules committee, which she chairs, to require SFO officials to include Milk's name on every sign for the terminal, whether it is placed inside or outside of it. She did so after airport director Ivar C. Satero showed a mockup of the exterior signage that included Milk's name at only one of the terminal's entrances.

Due to concerns about passengers being able to navigate through the airport, Satero said SFO staff preferred using just Terminal 1 and dropping Milk's name on most of the signage so as not to confuse travelers. As the Bay Area Reporter reported last week, the airport's stance elicited furious condemnation by LGBT leaders and Milk's family.

It also resulted in Equality California rescinding an award it had planned to bestow on SFO at its local gala fundraiser in May. The statewide LGBT advocacy group told the B.A.R. it would be "premature" to do so until the airport debuts the Milk terminal, which is currently undergoing a major renovation to be unveiled in stages over the next several years.

Because Ronen's amended ordinance carries increased costs for the airport, which it estimates will total $1.6 million for the signs, the supervisors' budget and finance subcommittee must now vote on it before being taken up by the full board. That body should hear the matter Wednesday, April 3, with the supervisors expected to vote on the ordinance Tuesday, April 9.

"As per usual with the naming of Terminal 1 after Harvey Milk there has been another hiccup, even though this law passed unanimously a year ago to change the terminal name," Ronen said after the delay in voting on her ordinance was announced at the March 19 board meeting.

Gay District 8 Supervisor Rafael Mandelman, District 4 Supervisor Gordon Mar, and District 6 Supervisor Matt Haney are co-sponsors of Ronen's ordinance. The full board would need to pass it a second time before sending it to Mayor London Breed to sign. Ronen said Tuesday that Breed's chief of staff, Sean Elsbernd, had informed her that the mayor's office has instructed Satero to work with her on resolving the signage issue.

The naming honor for Milk at the airport has been an arduous bureaucratic slog. Gay former San Francisco supervisor David Campos, whom Ronen had worked for, first proposed in 2013 naming all of SFO after Milk, the city's first out gay elected leader who was assassinated in 1978.

When that proposal didn't fly with much of the public, Campos and the late mayor Ed Lee compromised on naming one of SFO's four terminals after the beloved gay leader. It wasn't until last year the choice of Terminal 1 was finalized.

Ever since Ronen has fought with airport staff over how Milk will be represented and memorialized in the terminal. In addition to the signage, an exhibit using photos and other archival materials will detail Milk's history-making political achievements. Several art pieces honoring Milk will also be installed.
Comments on Facebook