Online Extra: LGBTQ Update: National trans march set for April
Monday Jan 28, 2019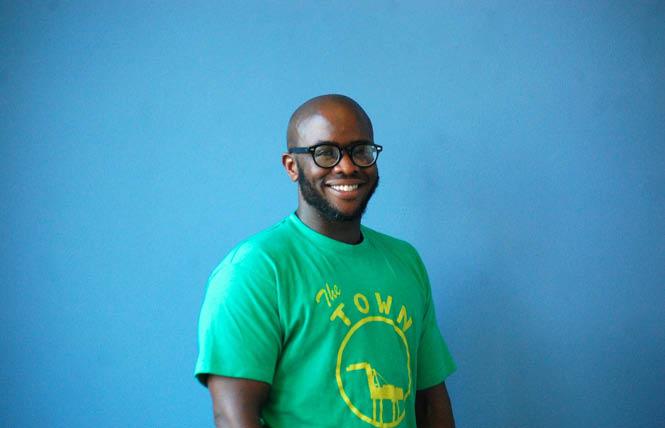 The first national transgender and gender-nonconforming march is set for March 31 in Washington, D.C. The National Trans Visibility March, organized by the National Organizing Team, invites people from all over the country to march in support of equal rights and inclusion of the greater trans community. (Organizers had originally selected April 1 for the march but changed the date this week.)
"This is long overdue," Shawn Demmons, a queer trans man and community engagement director for the coordinating team, told the Bay Area Reporter. "The level of discrimination and transphobia that the community is experiencing on a daily basis in health care, housing, and that trans people are much more likely than non-trans people to live in poverty are all policy issues we are taking to the capital."
The 53-year-old San Francisco resident said the march was spawned, in part, from the Trump administration's disregard for the trans community. Last week, the U.S. Supreme Court granted the Trump administration's request to temporarily vacate two national injunctions that have prevented a ban on transgender people in the military from going into effect. Last October, the New York Times reported that the Trump administration had prepared a proposal to limit the identification of a person's gender to include only "male" or "female" that is listed at birth.
"With this administration's deliberate and intentional efforts to roll back the policy gains we won in the previous administration, the march is a historical event," said Demmons, former board chair of the Transgender Law Center. "We are taking this to our national legislators and letting them know we are here."
Before the march, the coordinating team will also host the Torch Awards, followed by the Trans Visibility Ball. The award ceremony will honor elder and new leading voices in the fight for trans equality. Masen Davis, a trans man who's chief executive officer at Freedom for All Americans and former executive director for TLC, will be honored. He has spent the last two decades leading efforts to advance equality for LGBT people at the state, national, and global levels. Also being recognized for his education and policy consulting on transgender issues is Jamison Green, a trans man who used to live in the Bay Area and worked on the passage of San Francisco's Transgender Protection Ordinance.
The ball, the location of which has not been announced, is "a time to celebrate ourselves and how resilient we are despite the level of violence we experience," Demmons said.
Clair Farley, director of San Francisco's Office of Transgender Initiatives, said she looks forward to seeing the march take place.
"I am really excited about the march, especially with the ongoing attacks on the trans community," Farley, a trans woman said. "It's a great opportunity to show our resistance and resiliency and have our allies step up and ask the Senate and House to really move forward with the equality bill to make sure we have protections across the country."
Farley has not committed to attending the march, as it is a busy time for her with the Transgender Advisory Committee's first advocacy day, in which transgender community members will share their stories with the Board of Supervisors, and the Transgender Day of Visibility in March.
The national march is still in need of donations but did receive seed money from its presenting sponsor, Gilead Sciences, the maker of Truvada, which is used for PrEP HIV prevention. A spokesman for the pharmaceutical company said, "Our commitment to increasing health equity for some of the world's most marginalized populations, including the transgender and gender-nonconforming communities here in the United States, involves supporting efforts, like this event, that raise awareness and foster change."
Hundreds of people have already registered for the march, Demmons said, acknowledging that many trans people throughout the nation may not have the financial means to travel to D.C. for the event. He expects a couple of thousand people to march and hopes for more.
"The primary impact is visibility," Demmons said. "This is for the American people to see who we are. We are your aunts, cousins, neighbors, colleagues. People engage with trans people everyday, they just don't know it."
For more information on the march and to donate, head to https://transmarchondc.org/
CDC: More youth identify as transgender people than initially reported
A study from the U.S. Centers for Disease Control and Prevention's latest Morbidity and Mortality Weekly Report reveals that nearly 2 percent, or one in 50, high school students identify as transgender people, and more than a third of those say they attempted suicide in the previous year.
The study, "Transgender Identity and Experiences of Violence Victimization, Substance Use, Suicide Risk, and Sexual Risk Behaviors Among High School Students — 19 States and Large Urban School Districts, 2017," is one of the first of its kind conducted by the federal government. Results were derived from data collected in 2017 from 131,901 students from 10 states (Colorado, Delaware, Hawaii, Maine, Maryland, Massachusetts, Michigan, Rhode Island, Vermont, and Wisconsin) and nine large urban school districts, including San Francisco.
The report also confirms what is widely known among experts on the subject, that trans students are disproportionately at higher risk than cisgender students for violence victimization, substance use, and suicide risk. Of the students who consider themselves trans, 35 percent have attempted suicide and are bullied at school. As well, 27 percent said they feel unsafe at, or going to or from, school.
"The CDC's new groundbreaking report shows that transgender youth exist in much greater numbers than researchers previously estimated. By collecting data inclusive of gender identity, the report shows the very real health risks faced by transgender and gender-nonconforming youth," said Amit Paley, CEO of the Trevor Project, an LGBT youth organization based in West Hollywood. "The CDC's findings highlight the need for even more policies to protect transgender and gender-nonconforming youth, as well as additional support for LGBTQ-affirming organizations like the Trevor Project."
The study also looked at drug use among its high school respondents.
"A higher percentage of transgender students also reported lifetime use of all substances except marijuana than did cisgender male and cisgender female students," the CDC site states.
Cannabis use among cisgender males was shown to be more prevalent than with trans students.
The study also revealed that transgender students were more likely to have sex before the age of 13, have sex with four or more partners, and not use pregnancy prevention methods than cisgender students.
The summary of the study on the CDC's website suggests steps that could be taken to help mitigate these statistics among trans youth. It states there is a "need for programmatic efforts to better support the overall health of transgender youths," and that "taking steps to create safe learning environments and provide access to culturally competent physical and mental health care might be important first steps to improving the health of transgender youths."
To check out the study, visit https://www.cdc.gov/mmwr/volumes/68/wr/mm6803a3.htm?s_cid=mm6803a3_e.
PFLAG National names new ED
Brian Bond, who was the first openly gay deputy director for the White House Office of Public Engagement and primary liaison for the LGBT community under President Barack Obama, has been named executive director of PFLAG National. The nonprofit is the country's largest organization dedicated to serving the LGBT community and its families, friends, and allies. It is committed to advancing equality through its mission of support, education, and advocacy. Bond begins work February 1.
"I know what it is to be the scared kid growing up in a rural community feeling different and alone, struggling with accepting who I was and living in fear because I knew I was different," said Bond in a news release. "As the executive director of PFLAG National — arm in arm with the hundreds of thousands of exceptional people who are the backbone of PFLAG — it is my goal to intensify all our efforts serving our diverse families and communities."
Most recently Bond served as coalitions director for the Climate Action Campaign in Washington, D.C. He has held many prominent positions, including deputy CEO for the 2016 Democratic National Convention and executive director of the LGBTQ Victory Fund.
"For communities of color, we can make this stronger through continued cultural inclusion work and expanded outreach, listening, and tools," Bond said in a news release. "We can build on PFLAG's long and noteworthy trans-inclusive history to expand our programs for transgender and gender-expansive youth and their families. There is no question we also will find the best way forward for faith-based and more conservative families torn between loving their kids and loving their faith."
Bond's salary information was not immediately available. PFLAG National's last executive director, Jody Huckaby, made $277,945 in salary and benefits, according to the 2017 Form 990 on the agency's website.
LGBTQ Update is a weekly online column addressing issues affecting the community. It runs weekly. Please submit comments or column ideas to Alex Madison at (415) 875-9986 or a.madison@ebar.com.
Updated, 1/30/19: This article was updated to note the date change for the march.
Comments on Facebook