Newsom to name new state AIDS czar
Wednesday Jan 9, 2019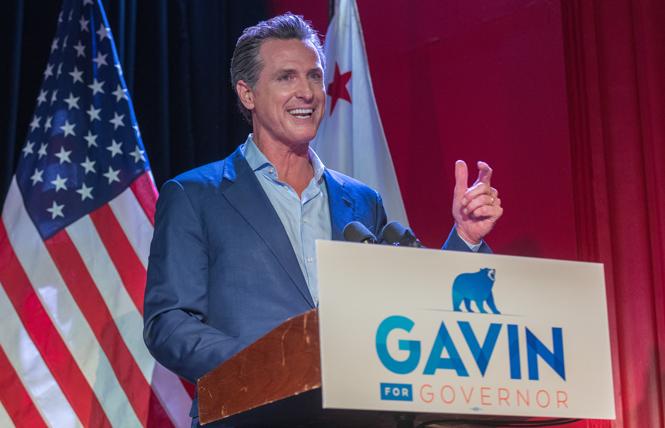 Among the many hires Governor Gavin Newsom will need to make in the coming weeks will be naming a new state AIDS czar.

Whoever the person is will be the third chief of the Office of AIDS within the California Department of Public Health within the last year. They will face calls from AIDS activists around the state to implement a statewide Getting to Zero strategy to end the transmission of new HIV cases in California along with ending the hepatitis C epidemic and reversing the growing epidemic of sexually transmitted diseases.

Nathan Click, a gay man who is a spokesman for Newsom, did not respond to the Bay Area Reporter's request for comment regarding the search for a new Office of AIDS chief.

As the B.A.R. reported in August, Dr. Karen E. Mark, a lesbian who had overseen the state AIDS office since 2011, left in the summer to become the medical director for the California Department of Health Care Services. Marisa Ramos, Ph.D., took over as the interim chief July 13.

But in December she returned to her old job as acting chief of the Surveillance, Research & Evaluation Branch in the Office of AIDS. According to an email sent December 17 by Dr. Gil F. Chavez, the state epidemiologist and deputy director for infectious diseases at the state public health agency, the state's Center for Infectious Diseases had requested that Ramos' interim assignment as chief of the AIDS office be extended.

But the state's human resources department said it could not grant the extension beyond the initially approved timeframe, wrote Chavez, thus Ramos had to immediately step down as the interim AIDS office chief.

"Dr. Ramos has done an excellent job in managing OA during her interim tenure. She successfully tackled complex fiscal, programmatic, and epidemiology challenges," wrote Chavez. "We are forever grateful to Dr. Ramos for her contributions to OA and look forward her ongoing counsel and support on data issues."

Until a new chief for the AIDS office is named, Chavez and Drew Johnson, the assistant deputy director of the state's Center for Infectious Diseases, which oversees the AIDS office, are co-managing its affairs. Chavez is taking the lead for public health, program, surveillance, and epidemiology issues, while Johnson is overseeing administrative concerns such as personnel, fiscal, contracts, and ADAP estimate issues.

Chavez, however, is serving as the interim chief of record for signature and approvals.

Contact the reporter at m.bajko@ebar.com.
Comments on Facebook