Santa Monica's revered Highways Performance Space presents Film Maudit 2.0, a truly unusual selection of feature, short and experimental films, some that blend performance and cinema, and others with decidedly queer themes, Jan. 12-24.
We kept thinking of all the folks who told us that President Trump would never instigate a coup as we watched a simple roll call vote turn into an attempt to subvert the election and kill the Vice President and Speaker of the House.
The first few moments of 'Ma Rainey's Black Bottom' are electrifying. It's 1927 in rural Georgia. Hundreds of people, all of them Black, are lined up at the entrance to a huge tent. Inside, Ma Rainey, the Mother of the Blues, is singing her heart out.
Call it serial monology. Los Angeles-based comic actor and writer Tom DeTrinis' new one-man show, 'Making Friends,' streaming through January 18, is the latest link in a director-actor trio of productions.
The always innovative Amy Seiwert's Imagery will premiere the fourth dance film as part of the Sketch Films series online Jan. 15. Choreographer Ben Needham-Wood's 'What the Body Holds,' created with filmmaker Matthew McKee, features dancer Jenna Marie.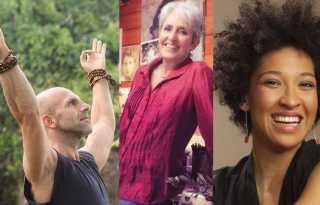 Amid tumultuous terrifying times, find relief, get informed, or just amused for a while, with arts, nightlife and community events.
Enjoying the new year yet? While most online events carried over from the 'annus horribilis,' some new events in arts, nightlife and community should cheer you.
The past year included a feast of LGBTQ characters, story lines, comings out, and media representation. 'Dispatches from Elsewhere,' 'Killing Eve,' 'Cucumber/Banana' and 'Everything's Gonna Be Okay' are among the best shows still available to watch.
Despite the absence of live concerts, LGBT musicians around the country have managed to release new music. Here is the first part of two Best of 2020 music mentions, including a few who came out of their musical closets.
LGBT themes in feature and documentary films expanded cinematic depictions this year. Here are half of our baker's dozen favorites.
Award-winning gay comic artist Justin Hall's new works visualizing the roots of various LGBTQ historical moments mark the fourth and final artist in SF Art Commission's series of poster reproductions displayed on bus stops along downtown Market St.
Enjoy your leftover cookies and rum balls, ahem, as we wind up for yet another un-doable holiday. Yes, it's almost over, 2020, that is. But you still have plenty of online events to peruse.