Holigay events: choral, cabaret, comedy and more for December fun
Monday Nov 22, 2021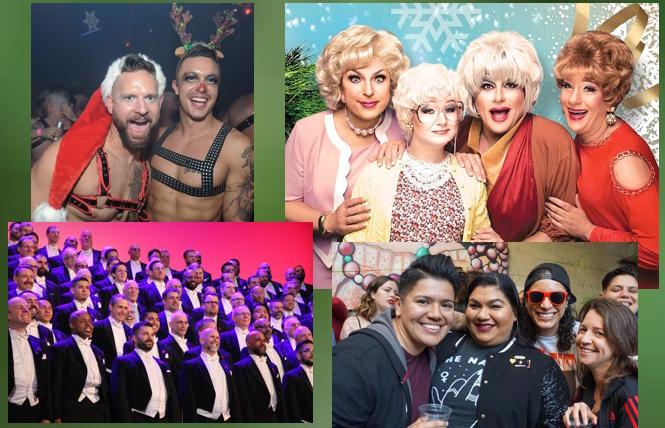 It's the most wonderful time of the year, and now that the Bay Area has reopened, there's plenty to do in December. Here are but of the few ways you can celebrate and have a joyous holiday.

Theater, Dance & Music

The Golden Girls Live: The Christmas Episodes
Those sassy retired Florida gals are back, live on stage at the Victoria Theater. Brought to you by four legendary drag queens, Blanche (Matthew Martin), Dorothy (Heklina), Rose (D'Arcy Drollinger), and Sophia (Holotta Tymes) will parody two hilarious Christmas episodes of the legendary TV show. $30-60. Nov. 26-Dec. 23. Victoria Theatre, 2961 16th St. www.sfoasis.com

Help is On the Way For the Holidays
Gay funnyman Bruce Vilanch, cabaret legend Sharon McNight, Shawn Ryan (possibly donning his Christmas tree outfit?), Leanne Borghesi, Paula West, Steve Knill will take to the stage. It's the latest holiday fundraiser from the Richmond/Ermet Aid Foundation, this year benefiting Project Open Hand. Silent auction in the lobby starting at 6pm. $45-2500.
Dec. 5, 7:30pm at Brava Theater Center, 2781 24th St.
www.reaf-sf.org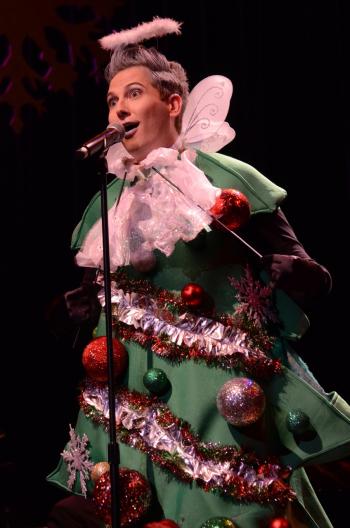 Mark Foehringer's Nutcracker Sweets
The unique 50-minute version of The Nutcracker, specifically designed for families with young children, is a treat for people of all ages. $23-$45. Dec 4-19, Cowell Theater, Fort Mason, 2 Marina Blvd. mfdpsf.org

San Francisco Ballet's Nutcracker
Helgi Tomasson's dazzling San Francisco-inspired production is accompanied by a brilliant live orchestra performing Tchaikovsky's beloved score. $19-$325. Dec. 10-30 at the War Memorial Opera House, 301 Van Ness Ave. www.sfballet.org

A Christmas Carol on Air
American Conservatory Theatre's annual popular performances of Carey Perloff and Paul Walsh's stage adaptation of the classic Charles Dickens short story is this year a radio play. Dec. 5-31. www.act-sf.org

San Francisco Gay Men's Chorus Holiday Concerts
Members of the San Francisco Gay Men's Chorus will perform 'Holigays Are Here Again,' with fun seasonal songs and sketches. Special guests include cellist Andres Vera, soloist Marcus J. Paige and nine-year-old drummer Enrique Carreon. Dec. 10, 8pm; Dec. 11, 3pm & 7:30pm. Sydney Goldstein Theater, 275 Hayes. $25-110. Also join the Chorus on December 24 at 5, 7 and 9pm at the beautiful Castro Theater, 429 Castro for Home for the Holidays. $35-45. 429 Castro St. www.sfgmc.org

Nightlife & Cabaret

Brüt SF
The Xmas edition of the popular circuit party for men should be up to its cruisy sexy reputation, with DJs Tedd Patterson and Dan Darlington. $25-$35. Dec. 10 at Great Northern, 119 Utah St. www.thegreatnorthernsf.com
Ginger Minj's Winter Wonderland Tour
Join Drag Race's Ginger Minj and her bestie Gidget Galore for a non-denominational musical romp through the holidays. Experience all of the nostalgic, wintry and cozy feels as they create magic on-stage. $30. Dec. 6 & 7 at 7pm at Oasis, 298 11th Street. $30. www.sfoasis.com

San Francisco Krampus Pageant
Join the Sisters of Perpetual Indulgence for the scary side of Christmas. Enjoy a pageant where the naughty creatures of San Francisco will parade before a panel of judges for a chance to be crowned the Krampus of 2021. The winner will receive a special effects make-up gift from Kryolan Cosmetics, plus an array of other surprises. Proceeds to benefit True Colors United, Cyndi Lauper's organization which seeks to end homelessness among LGBTQ youth. $10-20 donation. Dec. 4, 3pm-7pm, El Rio, 3158 Mission. www.elriosf.com/

Jackie Beat: Under the Tree
Join the undisputed queen of crass Christmas Carols for her nativity-knockin', Santa smackin', menorah manglin' live holiday show. Jackie promises to stuff your stocking with a delightfully deranged mix of her classless classics, plus some brand new material. $25-50 Dec. 17, 7pm at Oasis. 298 11th St. www.sfoasis.com

Also at Oasis, RuPaul's Drag Race Season 5 and Allstars Season 2 winner Alaska Thunderfuck and musician Jeremy Mikush bring you an evening of entertainment celebrating the winter season. Dec. 22, 7pm. 298 11th St. www.sfoasis.com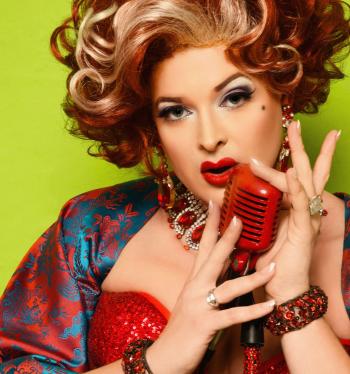 Katya: A Holiday Spectacular
Party with Countess Katya Smirnoff-Skyy as she offers a night of stories, songs, and strong cocktails sure to make the Yuletide gay! The vodka will flow, the band will play and gifts will be given. Expect to hear everything from classic holiday tunes to Disco Klezmer. $65. Dec. 17 and 18 at 8pm, Feinstein's at the Nikko, 222 Mason. www.feinsteinssf.com

Franc D'Ambrosio's Christmas in New York
The star of the long-running San Francisco production of The Phantom of the Opera will "Ring Those Christmas Bells" while performing his own special version of "Jingle Bells" and "Silver Bells," and then invite you to imagine peeking into New York's iconic window displays as you sing along to "Let It Snow," "Deck the Halls," "Frosty the Snowman" and his playful "I Saw Mommy Kissing Santa Claus." $70. Dec 21 & 22 8pm, Feinstein's at the Nikko, 222 Mason St. www.feinsteinssf.com

Meghan Murphy's Holiday Cheers
In a blend of naughty and nice, powerhouse songstress Meghan "Big Red" Murphy performs an evening of non-traditional holiday songs, stories and spirits. with songs ranging from Irving Berlin to Destiny's Child. $48-$60. Dec 23 at 8pm. Feinstein's at the Nikko, 222 Mason St. www.feinsteinssf.com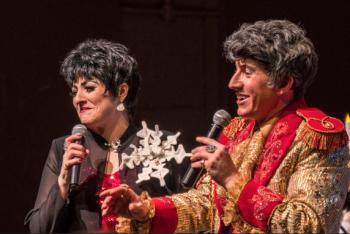 A Very Liberace & Liza Christmas
David Saffert & Jillian Snow Harris share the stage as Liberace and Liza Minnelli, creating an exhilarating night of musical and comical fireworks. Delighting in the costumes, music, and glamour of show business's wildest entertainers in a holiday-cabaret extravaganza with upbeat tunes, and Christmas carol sing-a-longs. $52-$65. Dec 28 & 29, both 8pm. Feinstein's at the Nikko, 222 Mason St. www.feinsteinssf.com

Mango at El Rio
The soul and funk women's dance party takes place on December 25 —yes, Christmas Day— from 3pm to 8pm. 3158 Mission St. www.elriosf.com

Kung Pao Kosher Comedy
Join lesbian comic Lisa Geduldig, her mom Arline, and comics Ophira Eisenberg and Jessica Kirson for the 29th annual night of Kosher Comedy in a (this time) virtual Chinese restaurant. What else are Jews to do on Christmas? Presented on Zoom and YouTube December 24 and 25 at 5pm, and Dec. 26 at 2pm. $25-50. Partial proceeds to benefit Shalom Bayit and the Marin Food Bank. www.koshercomedy.com

And planning ahead for New Year's Eve, also at Oasis, Baloney, the male comedy burlesque revue, performs their new New Year's Eve shows, Dec. 29 through Jan. 1; yes, even a New Year's Day show. $35-$70. 298 11th Street. www.sfoasis.com

Help keep the Bay Area Reporter going in these tough times. To support local, independent, LGBTQ journalism, consider becoming a BAR member.