Homing's In June 19-29
Friday Jun 19, 2020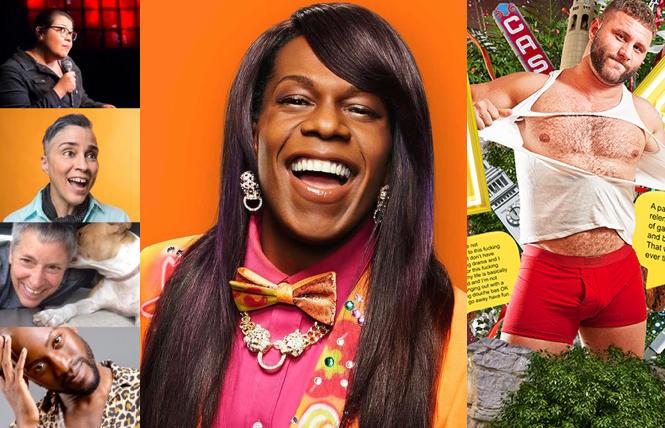 As Pride month blooms into a full-fledged festive online party, and an outdoor protest, events multiply and fly. But stay safe and wear your fab and/or functional face masks.

ARTS
50 Years of Pride
Presented by the GLBT Historical Society and the San Francisco Arts Commission (SFAC) Galleries, with the support of San Francisco Pride, 50 Years of Pride features 100 photographs to celebrate five decades of San Francisco Pride, one of the city's most beloved public festivals. View an online version of the exhibition on the GLBT Historical Society's website with the physical exhibition opening later in the year after the city's shelter-in-place order has been relaxed. Thru April 2021 at City Hall. www.glbthistory.org

Adobe Books Benefit
Trans and non binary authors Vivek Shraya, Jennifer Finney Boylan, Cyrus Grace Dunham, Meredith Talusan, Alok and Toni D. Newman read at an online benefit for the bookstore. June 19, 12pm. www.eventbrite.com

Amy Siewert: Imagery
Dance is the most vibrantly physical of art forms, and we miss it. Until we can enjoy it live, check out some amazing short dance films by Siewert's beautiful deft dancers. www.asimagery.org

Art on Market Street
Honoring the 50th Anniversary of Gay Pride, artist Win Mixter Continues the San Francisco Arts Commission's 'Celebrating 50 Years of Gay Pride' 2020 Art on Market Street Poster Series With Work That Honors the People, Places and Protests From The City's Vibrant Queer Past.https://sfartscommission.org

Author Events at Alley Cat Books
The bookstore, while physically closed, hosts online events with acclaimed authors. the store is also taking mail order book purchases. www.alleycatbookshop.com

A Boy and His Tiger
The Cartoon Art Museum pays tribute to the comic art of Bill Watterson, creator of the popular Calvin and Hobbs series. Bid on print, T-shirts, bags and more. Artwork created by professional artists, graphic novelists, illustrators and animators was created and auctioned off on eBay, and the remainder will be sold throughout the spring.
www.cartoonart.org

Broadway Performers
For Broadway fans, Tony-winning performers and the super-sexy Broadway Bares benefits, visit Broadway Cares/Equity Fights AIDS' YouTube channel for hours of amazing performances. Donation options are linked as well.
https://www.youtube.com/channel/

Contemporary Jewish Museum Events & Exhibits
View virtual exhibits (like Predicting the Past: Zohar Studios, The Lost Years) and online events. June 19, 12pm: Mike Smith on the AIDS Memorial Quilt, the Levi Strauss & Co. Panel, and the Fight against AIDS. Sunday Stories at 10am, including 'Harvey Milk's San Francisco June 28, 10am.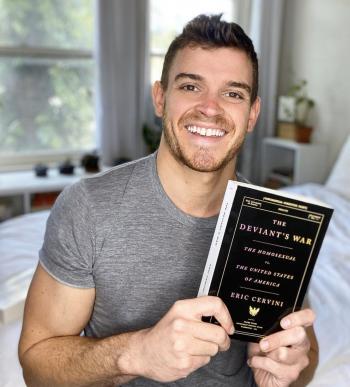 The Deviant's War
Dr. Eric Cervini, author of a new acclaimed biography of Frank Kameny and the early gay civil rights struggle, discusses his new book with a variety of other scholars, on multiple dates through June.
https://www.crowdcast.io/ericcervini

Disclosure
Sam Feder's documentary about transgender depictions in film and television, revealing how Hollywood, including Laverne Cox, Lilly Wachowski, Yance Ford, Jen Richards, Mj Rodriguez, Jamie Clayton, and Chaz Bono. Launches June 19. on Netflix. www.netflix.com

Films and Art at BAMPFA
The Berkeley Art Museum/Pacific Film Archive show online exhibits (Ron Nagle: Handsome Drifter, Folk and Modern Art in Postcolonial India) and art films, including Spaceship Earth, The Cordillera of Dreams and more. www.bampfa.org

Films at The Roxie
Watch independent and classic films online at the Roxie's virtual cinema.
https://www.roxie.com

Frameline44 Films
The LGBT International Film Festival is postponed to Fall 2020, but you can enjoy a selection of paid and free content, including on-demand Frameline Distribution films, Frameline Youth In Motion films and curriculum, the Frameline Voices catalog on YouTube, and the Frameline Completion Fund. Also, view films in the Frameline Pride Showcase June 25-28. www.frameline.org

Fresh Meat Festival
Streaming June 18-27, the 19th annual multi-disciplinary arts festival of transgender and queer performance offers five programs of dance, theater and live music. All programs will be viewable on Vimeo, and will be Closed Captioned for Deaf and Hard-of-Hearing audiences. Five different #reFRESH programs feature performance highlights from our previous festivals, and bring a feast of gorgeous, groundbreaking, bold, beautiful artistry. From vogue dancers to gender-bending boy bands, transgender opera, sizzling hip-hop, gay ballroom stars, queer bomba dance & music, wordsmith poets, disabled dance pioneers, to gravity-defying trapeze, more than 30 artists and ensembles are among the 2020 acts. http://freshmeatproductions.org/

GayBingeTV
Streaming channel for independent LGBT short, feature and documentary films.
https://www.gaybingetv.com/

Gay Men's Sketch
Mark I. Chester hosts three gay men's sketch events a week, with sexy male models posing and works shared via Zoom. Tues. Gay Men's Sketch in exile. 6:30pm. Fri. Hot Draw! in exile. 6:30pm. Sun. Gay Men's Sketch in exile aux. - 2pm. instagram.com/gaymenssketch instagram.com/hotdrawsf

Homo Say What
Acclaimed documentary explores the origins of homophobia against men that became institutionalized in the 1950s and how that continues to negatively affect all genders and sexualities to this day.
https://homosaywhatfilm.com/

Lambda Literary Does Pride
The Lambda Literary Foundation hosts multiple reading through June with authors, actors, essayists and others, including Nico Tortorella, Ryan Jamaal Swain Reads Edmund White; Kristen Arnett & T Kira Madden (June 18), Nicole Byer Reads From Her Own Work (June 23),Chani Nicholas & Jacob Tobia (June 25) Jane Wagner & Lily Tomlin in Conversation With Hilton Als (June 30); most events 5pm PST. www.lambdaliterary.org/pride-2020

LGBT Films on Tubi
The free streaming service showcases several queer films, including God's Own Country (2017) - won directing award at Sundance; Hearthstone (2016) — won directing award at TIFF; Jeffrey (1995) — starring Patrick Stewart; Latter Days (2003); Lip Service (2012, series); Love is All You Need? (2016) — starring Emily Osment; Poison (1991) - directed by Todd Haynes, Sundance Grand Jury Prize winner; Saved! (2004) — starring Mandy Moore and Macaulay Culkin, and others.
https://tubitv.com/

Lee Grant Documentaries
Hope Runs High is incredibly proud to announce the theatrical re-release of Academy Award winner Lee Grant's documentary work. Kicked off at NYC's Film Forum as part of a 13-film retrospective of Grant's work as actor and director, this series represents the largest retrospective of Grant's time behind the camera. www.hoperunshighfilms.com

The Marsh Stream
The theatre producer known for acclaimed solo shows presents a variety of programming at 7:30pm nightly on MarshStream, its newly launched Broadcast Platform, even interactive Bingo game nights. http://themarsh.org/marshstream/

Michelle Obama reads stories on PBD Kids
Got kids? Even if you don't, few things are more soothing than the former First Lady reading enchanting children' books. Enjoy her readings and more on the PBS Kids YouTube Channel.

Museum Collections
Look! It's art! Many local museums and galleries host expanded online exhibits of classic and modern art, plus short films and 'Artist at Home' interviews. Check them out.
Oakland Museum museumca.org
SF MOMA www.sfmoma.org
de Young and Legion of Honor www.famsf.org
Asian Art Museum https://asianart.org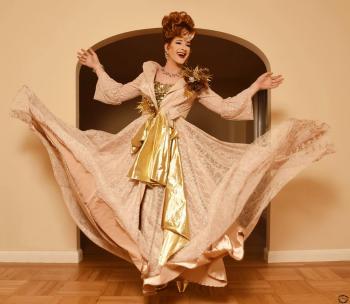 Music and Dance @ Cal Performances
Watch videos of dances (Mark Morris, Mariinsky Ballet, Meredith Monk) and classical and modern music courtesy of the Berkeley-based performing arts organization. www.calperformances.org Also on YouTube and Spotify.

New Conservatory Theater Company: Offstage But Online
Temporarily shuttered, queer theater company NCTC is now building a digital playground for your viewing pleasure that will feature actor monologues, messages from playwrights, exercises to practice mindfulness and original material from Conservatory students.
June 19: Quarantine is a Drag Trivia Night, with J. Conrad Frank (Katya Smirnoff-Skyy), drag performers Coco Buttah, Elsa Touche, and Piranha.
https://www.nctcsf.org/onstage-to-online
www.facebook.com/nctcsf
https://www.youtube.com/user/NCTCSF

NIAD Exhibits
The art studio for developmentally disabled adults shares online exhibits and sells beautiful works of art.
www.niadartstore.org

The Night Larry Kramer Kissed Me
Enjoy an online all-star cast version of David Drake's charming solo show about his early years of gay identity and AIDS activism with performances by Tony Award winners BD Wong (M. Butterfly) and Andre de Shields (Hadestown, Ain't Misbehavin'), plus 3-time Tony nominee Robin de Jesus (In the Heights, Boys in the Band), Tony-nominated star Rory O'Malley (Book of Mormon), Anthony Rapp (Rent, TV's Star Trek: Discovery), Claybourne Elder (Sunday in the Park with George, Company), Wesley Taylor (TV's Smash), Chad Ryan (Chicago premiere of The Night Larry Kramer Kissed Me), and Provincetown Theater alums Aaron Tone (Our Town,Bear City 2), Donald C. Shorter Jr. (La Cage, 4-Star Solo Show Festival) and Brandon Cordeiro (Ribbons, TV's Transparent) June 28 at 7 PM ET to benefit Provincetown Theater. https://provincetowntheater.org/

Opera online
San Francisco Opera streams productions of Boito's Mefistofele, Boito's Mefistofele (2013); Bellini's I Capuleti e i Montecchi (2012); Donizetti's Lucrezia Borgia (2011); Jake Heggie and Gene Scheer's Moby-Dick (2012). Also, 'opera is Proud,' a June series of performances and talks with the LGBT them and artists. https://sfopera.com/
Also, New York's Metropolitan Opera shares their amazing productions online. www.metopera.org

Out of Site: SoMa
Seth Eisen's 'Out of Site: SOMA,' originally an outdoor performance work celebrating the South of Market neighborhood's LGBT history, has been moved online. The performances will celebrate a wide array of queer people who populated SoMa over the years, with actors including Leigh Crow performing multiple roles. June 19, 20, 21, 26, 27 and 28, from 7pm to 9pm. See our recent feature article.
https://www.eyezen.org/

OUTstream Film Fest
Seven day virtual film festival featuring queer film, episodic, and short films from all over the world. Throughout the week, audiences will have the opportunity to view programs from any device as well as participate in interactive online Q&A's and discussions about the state of queer art, film, and media. June 1-7. https://outstreamfest.com/

Play at Home
Berkeley Repertory Theatre presents a bunch of short play scripts you can download and perform at home, featuring works by Julia Cho, Peter Sinn Nachtrieb, Miranda Rose Hall, Ricardo Pérez González and several others. www.playathome.org

Prideland
Episode 1 of a new interview series; Out, Proud & Southern: Dyllón Burnside's Story; recounts his own experience coming out in the South and travels to the heart of Alabama to meet Carmarion D. Anderson, a barrier-breaking transgender woman of color and the Alabama State Director of the Human Rights Campaign. www.pbs.org

Proud
Philippe Faucon's three-part dramatic film about French gay lives in 1981, 1999 and 2013. Opens in virtual cinemas June 19. https://kinomarquee.com/

Queen of the Capital
Josh Davidsburg's vivacious and inspiring documentary follows Muffy Blake Stephyns, a drag performer with high aspirations. Muffy and her everyday persona, Daniel, navigate the drag and bureaucratic worlds of Washington, D.C., while following her dream to lead a colorful group of philanthropic drag performers. $10 rent. https://ondemand.drafthouse.com/film/queen-of-the-capital/

A Queer Serial
New series of LGBT-themed podcasts with voice actors such as Sam Pancake (Transparent, Gilmore Girls), @lgbt_history's Matthew Reimer, Radical Faeries' Will Roscoe and Joey Cain, and Chicago performers Salvio Gado and Jon Martinez, along with real recordings of pioneers including transgender entertainer Christine Jorgensen, civil rights activist Bayard Rustin, and lesbian journalist Edythe Eyde.
https://www.mattachinepod.com/seasontwo

Queer Women of Color Film Festival
16th annual festival streams online; 31 brand new films in 3 screenings with a theme, "SafeSpace/NoPlace: LBTQ People of Color," digs up the roots of how spatial injustice on the streets and inside homes, seeds discourse and proliferates violence against oppressed communities. June 12-14. https://festival2020.qwocmap.org/

Salon Pride
Samuel ace hosts Queer Sound 2020, a weekly experimental music show, Tuesdays in June: Julian Talamantez Brolaski, Ronaldo V. Wilson; 6/23: Jai Dulani, Rosy Thowtho, Tanner Menard & Andrew Weathers; 6/30: Andrea Abi-Karam, Caroline Bergvall, Serena Chopra. https://www.atsalonisu.org/2020-event/atsalon-queer-sound-2020/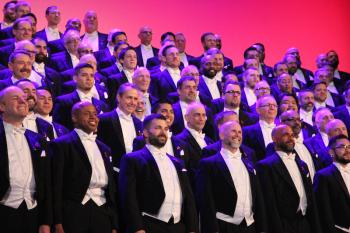 San Francisco Gay Men's Chorus
What's more inspiring than the San Francisco Gay Men's Chorus? Concerts and films, plus guest performers like Cheyenne Jackson, Laura Benanti, Billy Porter and Kristin Chenoweth, plus Chasten Buttigieg and figure skater Adam Rippon, joining their Behind the Curtain series. Upcoming, Artistic Director Timothy Seelig's memoir reading, Tale of Two Times. June 27, 2pm. https://www.sfgmc.org/sfgmctv

San Francisco Performances Presents Front Row CD Archive Online Series
After several programs in celebration of their 40th anniversary were cancelled, instead, SFP offers memorable classical concerts from the past, all recorded at the Herbst Theater between 2004-2008. Concerts are audio only. http://sfperformances.org/

SF Jazz Fridays at Five
Cool jazz will bring you good vibes. The acclaimed venue brings their concert series online with talented musicians. https://www.sfjazz.org

Smuin Contemporary Ballet
The local dance company streams notable works, including Helen Pickett's Oasis, Brennan Wall's Nocturne, Rex Wheeler's Sinfonietta and an ongoing Hump Day Ballets series. https://www.smuinballet.org/

Southern Exposure Silent Auction
Let's not forget the visual arts. Southern Exposure's annual fundraiser, now online-only, features works by more than 100 artists. That could help you beautify your home, since you're spending more time there.
https://cbo.io/bidapp/index.php?s&slug=soex

Stars in the House
Musical genius and affable host Seth Rudetsky —with his husband James— hosts Zoom chats with Broadway, film and TV stars galore. One of the first online fundraisers, your donations help performers of all kinds, from actors to lighting crew members. Broadway may be closed, but you can enjoy living room concerts and chats with favorite stars. www.starsinthehouse.com

Sundance Saloon Online Live
Sundance Saloon offers online dance lessons and dancing every Sunday night. Beginning classes are aimed at novices. Learn how to dance while you shelter in place from 6-9pm. 6pm: beginning line dance for complete novices; 7pm: intermediate line dance; 8:15pm: line dance mini-marathon. http://www.sundancesaloon.org/

Surviving the Silence
World premiere of the documentary about the pre-'Don't Ask Don't Tell' struggle of Colonel Patsy Thompson, who was forced to expel Army hero Colonel Margarethe Cammermeyer fpr being a lesbian. In addition to revealing this untold story, Surviving the Silence explores Thompson's
30+ years of a closeted life with now-wife Barbara Brass. Together, they candidly share how they wrestled with heart-wrenching choices in public and in private. https://filmfestivalflix.com

Theatre Rhino
The local gay theatre company presents online performances of solo and other plays: Jazzbos and Jezebels by SuzyJane edwards (June 23, 7pm). Doodler: The Unsolved Castro Murders, and Whahoo, (June 18, 8pm); and Frank Kameny - Eyes on the Stars June 25, 8pm; written and performed by John Fisher. www.therhino.org

Virtual Streaming Room With Cinema SF
Cinema SF, owners of the historic Balboa and Vogue Theaters, are keeping the spirit of movie-going alive with a series of virtual movie screenings and online chats. Proceeds from the screenings will go towards keeping the theaters alive so they can reopen after the shutdown ends. https://www.cinemasf.com/

We Players' Audio Dramas
the innovative site-spefici theatre company presents podcast-style audio re-interpretations of their recent productions, including Wonder Storytime with Alice and Friends, and The Odyssey. www.weplayers.org

Wild & Scenic Film Festival
Animals worldwide have reclaimed urban spaces, as you may have seen in the news. But we need to face how our damage to the environment and abuse of wild animals may have aided the spread of disease. While we contemplate that, enjoy films of animals in the wild. Peninsula Open Space Trust (POST) hosts an ongoing series of nature films and talks. openspacetrust.org

WQUR: Queer Quarantine Radio
BenDeLaCreme, Jinkx Monsoon, Peaches Christ and Major Scales perform old-time radio-style thriller detective programs. https://anchor.fm/wqur

Xena Warrior Princess With Lucy Lawless
SyFy Channel will air all six seasons of Xena: Warrior Princess every Thursday from morning until afternoon. Xena herself, Lucy Lawless, will be hosting wrap sessions after each block; special guests are expected to appear. Rumor has it that Renee O'Connor, who played Xena's love interest and stalwart friend Gabrielle, might be on hand for a reunion. Screenings are every Thursday. www.syfy.com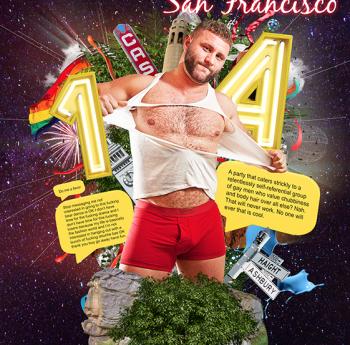 NIGHTLIFE
Bearracuda
Virtual 14-year anniversary of the bears, cubs, chubs and subs party, with DJs Matt Stands, Mateo Segade and Freddy Kingof Pants, online gogo bear dancers. $10 donation. June 19, 8pm-12:30am. www.bearracuda.com

Booty Mashup
Adriana A and guest DJs blend pop hits to danceable grooves, Wed-Sun. https://www.twitch.tv/BOOTIEMASHUP

Boy Division
DJ Xander premieres the twitch online edition of the New Wave retro-fun dance party. www.twitch.tv/deejayxander

Drag Alive from The Stud
Every Saturday night The Stud, San Francisco's oldest queer bar, will host Drag Alive. Vivvyanne Forevermore and Jillian Gnarling bring you a virtual Stud to help support the staff, performers and the goals for a future venue. Party with the crew of The Stud at Twitch TV: https://www.twitch.tv/dragalive

Drag Queen Mukbang
Online episodic mini-series of drag performers in a show sponsored by Jack Daniel's new brand, Tennessee Fire, with Patrick Starr, Gia Gunn, Eugene Lee Yang and Laganja Estranja. Saturdays, June 20 premiere. www.jackdaniels.com

Frolic Quarantine
The fun pursuit party goes virtual. Don your animal gear and enjoy a variety of DJ mixes. Monthly, first Saturdays. http://frolicparty.com/

Juanita MORE!'s ListenMORE!
Enjoy a podcast series of tales about the prolific nightlife producer, chef and activist, with Mr. David, Katya Smirnoff-Skyy, Mutha Chucka, William Martin, Voodonna Black, Dulce De Leche, Sister Roma and Traci Chambers Ross More. juanitamore.com/podcasts

The Monster Show
One of the longest running drag shows in the Castro, The Monster Show has made The Edge bar a Thursday night destination. The Monster show now comes to Twitch TV, where the performers will entertain you while they raise money for bar employees. https://www.twitch.tv/monstershowsf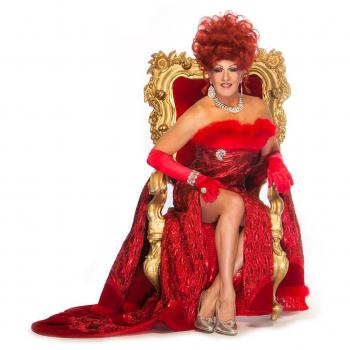 Oasis TV
The SoMa nightclub's Pride programming includes Gina LaDivina (June 21, 2pm), Vanesa Bousay (June 21, 5pm), Patty From HR (June 22, 5:30pm) Pride Makeup tutorial with Cassidy LeBlanc (June 23, 5:30pm), Amplify: a Drag show (June 24, 7pm); Paige Turner's Pride piano lounge (June 25, 7pm); Meals on Heels, Drag delivery service (June 26, 4pm-7pm. Buffy the Vampire Slayer Live (June 26, 7pm), and a Pride drag show (June 27, 7pm).
Also, archival footage from the venue's best past shows are being uploaded to Oasis TV, the club's YouTube page, such as Sex and the City Live, The Golden Girl's Live, Buffy the Vampire Slayer Live, Star Trek Live and AbFab Live. There will also be original shows like Above and Beyond the Valley of the Ultra Showgirls, Debbie Does Dallas and Bitch Slap. New content will be uploaded regularly. sfoasis.com/
And be sure to keep an eye on Drollingers's own Facebook page for info on Sextitude, his dance class which streams Sundays at 1:30pm for the duration of the shutdown: www.facebook.com/darcydrollinger

Pillows
Glamamore's long-running Monday night party at Powerhouse can also be found at Twitch TV. The party is called Pillows and has been a staple of the bar for years and is currently being hosted by Mary Vice. It's better than Monday Night Football! Check it out every Monday at 9pm. https://www.twitch.tv/cashmonetdrag

Quarant-Tea
One of the first local nightlife fundraisers, the SF Queer Nightlife Fund presents DJs spinning hours of music for your now possibly obsessive housecleaning activities. https://www.twitch.tv/sfqueernightlifefund

Quarantinis with Katya
Katya Smirnoff-Skyy sings and hosts weekly Thursdays online cocktail parties. www.facebook.com/katya.smirnoffskyy

Queerpowers.com
A new LGBTQ+ platform developed by two San Franciscans on the first day of the Covid-19 quarantine. enjoy live drag shows, queer house parties, political broadcasts and other LGBTQ content from all over the world, uploaded hourly. Founded and curated by former Google employee Katie Bush and former Apple employee Anders Howerton. https://www.queerpowers.com/

Rise Up: Polyglamorous, Mystopia
Pride edition of the groovy dance, house music night that showcases black and POC DJs: Minx, David Harness, Keenan Orr, Jason Godfrey. 100% of proceeds raised during the event will go directly to POC talent and The Okra Project, a collective that seeks to address the global crisis of violence by providing resources and meals to Black Trans people worldwide.. June 20, 9pm-1am. https://www.facebook.com/events/3339885812739357/

Russell Deason's Happy Hour in Exile
The Bestie-winning pianist and cabaret singer brings his martini bar ambiance into your home; Mondays 5:30pm-7pm. www.facebook.com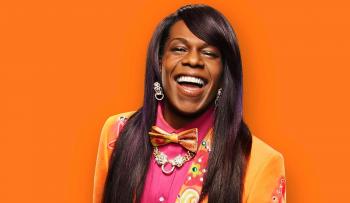 San Francisco Pride
Online entertainment for the 50th anniversary LGBTQ event, with performances by Madame Gandhi, Vincint, Elena Rose, Krystle Warren, La Doña, and LadyRyan, hosts Honey Mahogany, Per Sia, Sister Roma, and Yves Saint Croissant, as well as New Orleans-born Queen of Bounce, Big Freedia as the Saturday headliner. Rounding out the program are Australian singer-songwriter Betty Who, singer and American Idol finalist David Hernandez, a DJ set by rising pop star Dorian Electra, teenage hip-hop sensation Kidd Kenn, and Uberlândia-born Brazilian transgender artist Urias. Bright Light Bright Light, Drake Jensen, Fab the Duo, and MuMu. plus online drag chats and more. June 27 and June 28. www.sfpride.org

SF Eagle
The famed leather bar now features wacky karaoke, DJs and other entertainments. https://www.twitch.tv/sfeaglebar

Sampson McCormick
The acclaimed comic shares insightful witty perspectives of a Black gay man in short clips and "Church Boy," a new 40-minute recorded show. http://www.sampsoncomedy.com Sampson's YouTube channel

You Betta Work Comedy Fiesta (monthly)
Fresh from his second Besties win, ebullient comic Jesus U Betta Work hosts a group-chat comedy night on third Fridays, 7:30 P.M. Pacific Time. Join in the night, with their own Venmo links for tips. June 19 line-up: Kelly Doyle, Vanessa Gonzalez, Sampsson McCormick, and Marga Gomez! www.facebook.com


COMMUNITY
Can't Cancel Pride
Adam Lambert, Ricky Martin, Big Freedia, Katy Perry, Melissa Ethereidge, Sia, Kim Petras and others performs in an online concert. June 25, 9pm. https://www.cantcancelpride.com/

Castro Country Club's Virtual Gratitude Meeting and Check-in
Castro Country Club, the safe space for queers in recovery, will be holding virtual meetings on Sundays at 1 pm until they are able to reopen. The Zoom meeting room will open at 12:30 and the meeting room will remain open for at least 30 minutes thereafter for hanging out and fellowship.
https://www.facebook.com/pg/CastroCountryClub/events/
Join the Zoom meeting at https://zoom.us/794362233 Meeting ID: 794 363 233

Daily Services at Grace Cathedral
Grace Cathedral, the welcoming and affirming Episcopalian congregation atop Nob Hill, will be holding online services weekday mornings at 9am and Sunday mornings at 11am. Grace is also hosting online Bible study and other events. www.gracecathedral.org

Exploratorium Events
Talks, and demos with a science theme. www.exploratorium.edu

Fighting Back with the GLBT Historical Society
Three years ago the GLBT Historical Society launched Fighting Back, a series which brings together community leaders, experts, historians and activists to explore lessons from the past that might be useful in formulating resistance efforts today. The series is continuing online with the moniker "Fighting Back: Lessons From AIDS for Covid-19." The series hopes to find ways to transform their possible feelings of anger, despair or anxiety into action, and to find models for building community and solidarity in the midst of this pandemic. $5 donation.
Curating With Pride Sunday, June 21 2:00—4:00 p.m
Direct Action, Marching & Parading Wednesday, June 24 6:00—7:30 p.m
Online exhibits include Labor of Love about the first ten years of Pride events in San Francisco; , Performance, Protest & Politics: The Art of Gilbert Baker, Pioneering Periodicals, 1940s-1950s, Picturing Kinship: Portraits of our Community by Lenore Chinn and 50 Years of Pride. https://www.glbthistory.org/fighting-back

Fighting Racism
Join fundraising support and civil rights activism through various groups: The George Floyd Memorial Fund
(https://www.gofundme.com/f/georgefloyd, The Minnesota Freedom Fund (https://minnesotafreedomfund.org/), Black Lives Matter (https://blacklivesmatter.com/), Campaign Zero (https://www.joincampaignzero.org).

GLIDE Services
Online services with the spiritual center of healing, faith, justice and community for everyone. https://www.glide.org/church/

Global Pride
InterPride's 24-hour streaming show of music, speeches and more. June 27. www.globalpride2020.org

Keshet
The Jewish LGBTQ organization's online events include: Rainbow Challah Baking Class June 11, 1pm.
Community-wide Pride Havdalah co-hosted by Kol HaChaverim June 13, 5:30pm
Adam Eli discuss his book the New Queer Conscience, June 16, 7pm.
Pride Havdalah for LGBTQ Teens June 20 6pm.
https://www.keshetonline.org

Lavender Talks
Michelle Meow discusses LGBT rights with author-activist Cleve Jones. June 25, 12pm. www.sfpride.org

LGBT+ San Mateo County: A History
Historian and Bay Area Reporter BARchive columnist Michael Flanagan discusses Bay Area queer historical events. June 23, 7pm; hosted by the Menlo Park SF Public Library. www.menlopark.org

LGBTQ&A
Jeffrey Masters hosts a series of weekly podcasts with community notables; sponsored by The Advocate and GLAAD. https://podcasts.apple.com/us/podcast/lgbtq-a/id1151561226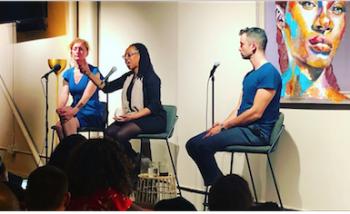 Manny's Live
Community leaders, authors, activists and politicians join online discussions. June 19, 6pm: Trivia Night: Struggle and Resistance. June 21, 2pm: Book Club: How to Be Anti-Racist by Ibram X. Kendi. June 23, 6pm: Ten DACA Recipients On What the SCOTUS Ruling Means to Them. June 25, 6pm: The Future of Queer Gathering Spaces.
https://anchor.fm/de-pueblo-catlico-y-gay|https://anchor.fm/de-pueblo-catlico-y-gay

Pink Triangle Ceremony
Look up to Twin Peaks for the first-illuminated installation of the massive Pink Triangle banner. June 27, 8pm. https://illuminatethepinktriangle.org/

Pride 50: Generations of Hope
KPIX hosts archival Pride parade footage and interviews with LGBT people. June 28, 5pm-8pm. https://sanfrancisco.cbslocal.com/

Pride Brunch
Annual fundraiser goes online, benefiting Positive Resource Center, with hosts Donna Sachet and Gary Virginia. Order pre-order cocktails and food for delivery or pick-up, and join the online gathering with live auctions and performances, Grand Marshals. June 27, 12pm. $50-$100 and up. www.prcsf.org

Queercore Podcast
The QueerCore Podcast, hosted by August Bernadicou, elucidates radical, LGBTQ activists' dark histories. It is a spotlight on the catalysts who fought in the front-lines, in the back-lines and in the trenches of civil rights. The QueerCore Podcast is an opportunity for them to tell their stories in their own words. https://www.queercorepod.com/

SF JCC Pride Month Events
Jewish Community Center of San Francisco hosts events through June: Drag King TutorialJune 20, 4:30pm); Pride Zumbafest (June 21, 10am). https://shaarzahav.org/services/|https://shaarzahav.org/services/

Trans March
Online version of the annual march and gathering. June 26. transmarch.org

Worship With Rev. Dr. Megan Rohrer
Rev. Dr. Megan Rohrer of Grace Lutheran Church, the first openly transgender pastor to be ordained in the Lutheran church, will be offering a variety of online services and events during the Covid-19 shutdown. For kids stuck at home there will be Kids Dance Parties on Zoom until May 1. Pastor Rohrer will also hold their Sunday services online via Facebook live at their Facebook page.
https://www.facebook.com/pg/meganrohrer/events/

Zoom Baking Classes
Join a variety of notable chefs for fun tutorials on baking. Fridays 10am PT/1pm ET.
www.24sixlife.com/baking-zoom-room

Do you have an event to add? Email events@ebar.com

If you liked this article, help out our freelancers and staff, and keep the B.A.R. going in these tough times. For info, visit our IndieGoGo campaign.

Comments on Facebook