Arts Events Oct. 10-17, 2019
Wednesday Oct 9, 2019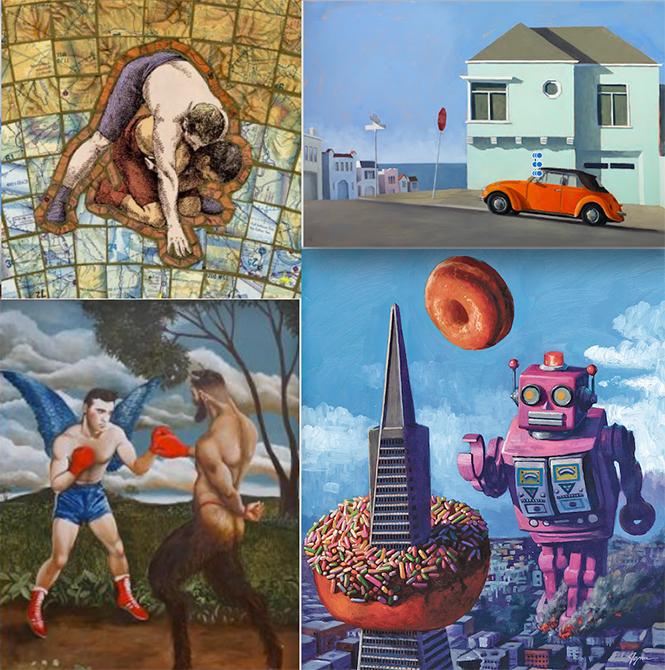 Curtain up, light the lights, we've got nothing but arts at their heights, with an extra helping of the visual, thanks to Open Studios, and the literary, as Litquake stirs up the Bay.



THURSDAY 10
Aunt Charlie's @ Tenderloin Museum
Multimedia exhibit about the historic Tenderloin drag bar, including Beautiful by Night: Photographs from Aunt Charlie's Lounge by James Hosking, Hot Boxx Girls, photos by Darwin Bell, and There Will Always Be Roses in San Francisco, by Marissa Letiman. Exhibit thru Dec 1. 398 Eddy St. http://www.tenderloinmuseum.org/

The Billie Holiday Project @ Feinstein's at the Nikko
Stella Heath invokes the vocal stylings of Billie Holiday; Neil Fontano on piano, Jason Bellenkes on saxophone/clarinet, and Trevor Kinsel on upright bass/cornet. $35-$55. ($20 food/drink min.) 8pm. Hotel Nikko, 222 Mason St. www.feinsteinssf.com

Brian Dettmer @ Nancy Toomey Fine Art
Exhibit of Elegies, the artist's amazing carved book sculptures. Reg hours Tue-Fri 11am-5:30pm. Sat 11am-5pm thru Oct. 12. 1275 Minnesota St. http://nancytoomeyfineart.com

Buffy the Vampire Slayer Live @ Oasis
D'Arcy Drollinger presents Michael Phillis and a talented crew of drag queens/kings who perform a wacky version of a script from the hit TV vampire show. $27-$50. Thu-Sat 7pm. Thru Nov 9. 298 11th St. www.sfoasis.com

Comedy @ Ashkenaz, Berkeley
Laugh wih Diane Amos, Arjun Banerjee, Nori Reed, and Lisa Geduldig. $15-$25. 8pm. 1317 San Pablo Ave., Berkeley. www.ashkenaz.com

Cells to Self @ Exploratorium
New exhibit with amazing displays showing how single cells in the human body work, portraits engineered from DNA and more (talks, hands-on workshops and nightlife events). $20-$30. Pier 15 at Embarcadero. www.exploratorium.edu

The Chinese Lady @ Magic Theatre
Bay Area premiere of Lloyd Suh's play inspired by the true story of the first Chinese woman to arrive on American soil. $15-$75. Tue 7pm, Thu-Sat 8pm, Sun 2:30pm thru Nov. 3. Fort Mason, 2 Marina Blvd. www.MagicTheatre.org

Classic and New Films @ Castro Theatre
Oct 10: Fantastic Fungi (7pm). Oct 11: Arab Film Festival opening night (7:30pm). Oct 12 & 13: Mary Poppins sing-along, with Sara Moore & friends (3:30, 7pm). Oct 14: 2001: A Space Odyssey (2pm, 8pm) and The New World (5pm). Oct 15-17: Once Upon a Time...in Hollywood (5pm, 8pm). $8-$16. 429 Castro St. http://www.castrotheatre.com/

Dance Nation @ SF Playhouse
Clare Barron's dark comedy about competitive dancers in Florida, with teenagers played by adults. $35-$125. Thru Nov 9. 450 Post St. www.sfplayhouse.org

Events @ Manny's
Oct 10, 6pm: Presidential LGBTQ Town Hall viewing. 11, 9pm: Rocky Horror Picture Show viewing. 13, 6:30pm: Fiesta Flamenca. 15, 5pm: Presidential debate viewing; SF DA debate 8pm. 17, 6:30pm: author Andrew Marantz. Free/$10 and up (donations). 3092 16th St. http://welcometomannys.com/

femMasculine @ Brava Cabaret
Kevin Seaman's solo "Queer Journey Through Digital Desire" takes on contemporary problems with gayness, queer identity and gender, also as his drag persona LOL McFiercen. $20-$50. Oct 10-12, 8pm. 2773 24th St. www.brava.org

Fragments + Resistance @ Creativity Explored
Dual exhibition of works by Joseph "JD" Green and John Iwaszewicz. Exhibit thru Nov. 7. 3245 16th St. www.creativityexplored.org

The Great Wave @ Berkeley Repertory
U.S. premiere of Francis Turnly's drama about Asian family members separated by an ocean. $30-$81. Thru Oct 27. 2015 Addison St., Berkeley. www.berkeleyrep.org

Hot Mikado @ Gateway Theatre
42nd Street Moon's new production of Rob Bowman and David H. Bell's jazz interpretation of Gilbert & Sullivan's operetta. $31-$72. Thru Oct. 13. 215 Jackson St. www.42ndstmoon.org

Jess Curtis/Gravity @ CounterPulse
The local acclaimed dance/performance ensemble performs Curtis' new work, (in)Visible. $10-$30. Oct 10-13. Thu Sun 8pm. ASL interpretation Oct 6 & 12. 80 Turk St. www.counterpulse.org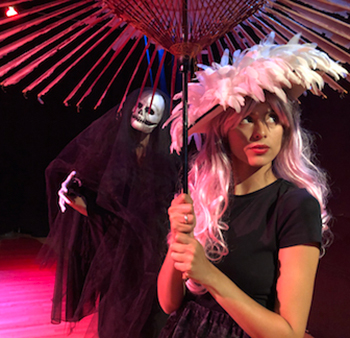 Litquake @ Multiple Venues
The 21st annual literary festival of readings, panel talks and workshops takes place at libraries, bookstores, lecture halls and even laundromats. Thru Oct 19, with Lit Crawl, Book Fair and the closing party. www.litquake.org

Michelle Meow Show
@ Commonwealth Club
Meow and cohost John Zipperer discuss LGBT issues with different prominent guests. Weekly, 12pm. 110 Embarcadero. www.commonwealthclub.org

No Regrets: A Celebration
of Marlon Riggs @ BAM/PFA
Screenings of films by the late African American gay artist and UC Berkeley professor, including Tongues Untied and Black Is...Black Ain't. Thru Nov 25. Berkeley Art Museum & Pacific Film Archive, 2155 Center St., Berkeley. https://bampfa.org

Puppets & Poe @ Theatre of Yugen
Devised Defiance, a macabre theatre work inspired by the writings of Edgar Allan Poe. $20. Thu-Sat 8pm. Thru Nov 3. 2840 Mariposa St. www.theatreofyugen.org

SF Open Studios @ Multiple Galleries
ArtSpan's annual citywide showcase of 100s of artists, in their studios, at galleries and special venues. Opening celebration, ArtLaunch, with sample exhibit of all artists, at SOMArts $25-$100, 6pm-9pm. Open studios at Hunters Point Oct 12 & 13, 11am-6pm; free. Weekend showings thru Nov. 3. www.artspan.org/visit-sf-open-studios

Terror Vault @ SF Mint
Peaches Christ's annual horror-fun invasion of the historic building includes a full-scale spooky interactive tour. $62, various tour times. Thru Nov. 10. 88 5th St. www.intothedarksf.com

Tyler the Creator @ Bill Graham Civic Auditorium
Popula rapper performs; Blood Orange and Goldlink open. $60-$70. 7:30pm. Also Oct. 11. 99 Grove St. http://billgrahamcivic.com/
FRIDAY 11
The Continuous Thread
@ SFAC Main Gallery
Celebrating Our Interwoven Histories, Identities and Contributions, an exhibit of photos of indigenous Americans, coordinated with projections on the former Pioneer Monument statue in Civic Center. Thru Dec 14. 401 Van Ness Ave. www.sfartscommission.org

Dionysus Was Such a Nice Man
@ Joe Goode Annex
Fools Fury production of Kate Tarker's modern take on the story of Oedipus from the perspective of the family of shepherds who raised him. $24-$50. Thru Oct. 20. 401 Alabama St. www.foolsfury.org

Events @ GLBT History Museum
Oct. 11, 7pm: My Dad's Closet: A Father, a Daughter and Their Secret, with author Laura Hall. Oct. 13, 12pm: Opening the Vault: a Spotlight on the Archives. Each $5. Also, exhibits Queering Familias: Building Latinx Resilience & Hope and The Mayor of Folsom Street: Alan Selby's Legacy, an exhibit of the leather culture pioneer (both thru Oct 20). 4127 18th St. www.glbthistory.org

Michael Franti & Spearhead
@ Fox Theatre, Oakland
The lively Bay Area musician performs with his band. Devon Gilfillian opens. $46-61. 8pm. 1807 Telegraph Ave., Oakland. www.apeconcerts.com

Mike Henderson @ SFAI
Honest to Goodness, an exhibit of vibrant colorful paintings by the local artist and musician. Thru Nov. 800 Chestnut St. https://sfai.edu/exhibitions-public-events/detail/mike-henderson-honest-to-goodness

Older and Out @ North Berkeley Senior Center
Weekly group discussion about problems for elders in the LGBT community. 3:15pm. 1901 Hearst Ave., Berkeley. www.pacificcenter.org

Queer Yoga @ Love Story Yoga
All-level weekly classes in an LGBT space. $11. 6:30pm-7:30pm. 473 Valencia St. at 16th. http://www.lovestoryyoga.com/

Scary Movies @ New Parkway Theatre, Oakland
The indy theatre programs a month of scary horror scifi movies for the season (Carrie, The Exorcist, Beetlejuice, The Thing, Nosferatu with live music, and many more), thru Oct. 31. 474 24th St. www.thenewparkway.com

Serge Gay Jr. @ Voss Gallery
Opening reception for P.S., I Love You, the artist's colorful pop exhibit of Palm Springs-set paintings. 6pm-10pm. Thru Nov 2. 3344 24th St. https://vossgallery.art/

Solidarity Struggle Victory @ Southern Exposure
Group exhibit of works, by Sadie Barnette, Demian DinéYazhi´, Patrick Martinez, Dylan Miner, Kameelah Janan Rasheed, Dignidad Rebelde and Jerome Reyes, that commemorate the 50th Anniversary of the country's first ever College of Ethnic Studies, established at San Francisco State College in 1969, ushering in a national movement for the transformation of higher education. Thru Nov 9. 3030 20th St. www.soex.org

This Side of Crazy @ New Conservatory Theatre Center
Previews for Del Shore's new Southern comedy about four very unusual women brought together for a family reunion. $22-$44. Wed-Sat 8pm. Sun 2pm. Thursday night preshow music and drag cabaret concerts. Thru Oct. 20. 25 Van Ness Ave., lower level. www.nctcsf.org

Top Girls @ Geary Theater
American Conservatory Theatre's new season kicks off with Caryl Churchill's modern classic drama about the cost of progress in a world divided by class, cruelty, and capitalism. Enjoy a special-made Humphry Slocombe ice cream flavor in the lobby. $15-$110. Thru Oct. 13. 415 Geary St. www.act-sf.org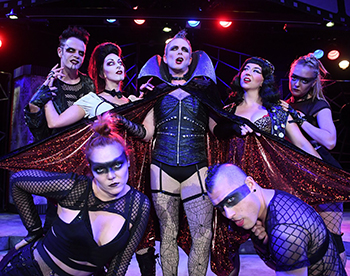 SATURDAY 12
Andy Mientus @ Feinstein's at the Nikko
The Broadway and TV singer-actor performs Joni Mitchell's Ladies of the Canyon. (See interview in this issue.) $50-$80 ($20 food/drink min.) 8pm. Also Oct. 13, 7pm. Hotel Nikko, 222 Mason St. www.feinsteinssf.com

Animation Exhibits
@ Walt Disney Museum
Mickey Mouse: From Walt to the World (thru Jan 6), and other exhibits of animation art by the prolific studio's artists. 104 Montgomery St, The Presidio. $5-$25. 10am-6pm. Closed Tue. http://wdfmuseum.org/

Beach Blanket Babylon @ Club Fugazi
The musical comedy revue celebrates its final year with fun lineup of political and pop culture icons, all in gigantic wigs. Online lottery announced for tix to New Year's Eve closing shows! $25-$160. Beer/wine served; cash only; 21+, except where noted. Wed-Fri 8pm. Sat 6pm & 9pm. Sun 2pm & 5pm. 678 Beach Blanket Babylon Blvd. (Green St.). 421-4222. www.beachblanketbabylon.com

Beth Elliot @ Plymouth United Church of Christ, Oakland
The singer-songwriter and author is featured at the women's open mic night. Potluck 6:30pm, 7:30pm p[rogram. $7-$10. 424 Monte Vista, Oakland. http://plymouthoakland.org/

The Chronicles of San Francisco @ SF MOMA
The Chronicles of San Francisco, photo-muralist JR's interactive community giant group portrait; also, Don't! Photography and the Art of Mistakes; Far Out: Suits, Habs, and Labs for Outer Space; other exhibits of Modern art. Free/$25. Fri-Tue 10am-5pm; Thu 10am-9pm. 151 3rd St. www.sfmoma.org

Events @ Alley Cat Books
Oct 10, 6:30pm: Bilingual poetry and reading open mic. 3036 24th St. 3036 24th St. www.alleycatbookshop.com

Exhibits @ Chabot Space & Science Museum, Oakland
Space, science and planetary exhibits, including planetarium shows and the Observatory; special nighttime events like meteor shower shows. Free-$18. 10000 Skyline Blvd., Oakland. www.chabotspace.org

Foglifter Contributors @ Strut
Litquake event with contributors to the local LGBT literary journal, with Amy Gong Liu, Thea Matthews, Jacques J. Rancourt, Emily Shapiro, and Summer Farah. 7pm. 470 Castro St. www.strutsf.org

Janelle Monaé @ Fox Theater, Oakland
The glorious pop-R&B singer performs at a benefit for Tipping Point Amplified, a poverty-focused nonprofit. The Roots open. $100-$500. 8pm. 1807 Telegraph Ave., Oakland. www.apeconcerts.com

Jonathan Biss @ Hertz Hall, Berkeley
The acclaimed pianist performs a 7-concert cycle of the complete Beethoven Pianos sonatas. $68. Oct 12 & 13, Dec 15, Mar. 7 & 8 (2020). Bancroft Way at College Ave., UC Berkeley campus. www.calperformances.org
Jose Villalobos @ Strut
Exhibit of the artist's work, Entre Las Fibras Culturales (Between Cultural Fibres). Thru Oct. 470 Castro st. www.strutsf.org

LGBTQ Histories from the WWII Home Front @ Rosie the Riveter Visitor Education Center, Richmond
Park indoor exhibit that showcases the lives of historic LGBT people. Open daily 10am-5pm. 1414 Harbour Way South, Suite 3000, Richmond. www.nps.gov/rori/index.htm

Other Cinema @ ATA Gallery
Weekly screenings of wacky, unusual, short, documentary and animated films; free books, vinyl, VHS and wine. $7. 8:30pm. 992 Valencia St. www.othercinema.com

The Rocky Horror Show @ San Jose Stage Company
Richard O'Brien's cult classic musical gets a South Bay production, with Keith Pinto as Frank N. Furter. $32-$60. Thru Nov 3. 490 South First St., San Jose. www.thestage.org

The San Quentin Project @ BAM/PFA
Nigel Poor and the Men of San Quentin State Prison follows the evolution of artist Nigel Poor's (b. 1963) social art practice and her collaboration with the men incarcerated at San Quentin State Prison in Marin County; thru Nov. 17. Also, Strange, a Surrealist-inspired group exhibit of works by Goya, Magritte, Cidny Sherman, Jack Smith, and many others, thru Jan 5, 2020. 2155Center St. Berkeley. www.bampfa.org

Skate Night @ Church on 8 Wheels
Wheeled fun at the former Sacred Heart Church-turned disco roller skate party space, hosted by John D. Miles, the "Godfather of Skate," including Saturday's Black Rock night (Burning Man garb encouraged). 7pm-10pm. Sat afternoon sessions 1pm-2pm and 3pm-5pm. $10. Kids 12 and under $5. Skate rentals $5. 554 Fillmore St at Fell. www.churchof8wheels.com

Superfest Disability Film Festival @ Freight & Salvage, CJM
Two days of screenings of short and feature films made by and about disabled people. Audio descriptions, accessibility and ASL interpretation. $12-$24. Oct. 12 , 12pm, Freight & Salvage, 2020 Addison St., Berkeley. Oct. 13, 11am & 2pm at Contemporary Jewish Museum, http://www.superfestfilm.com/

That Don Reed Show @ The Marsh Berkeley
The acclaimed solo performer's show about dealing with racism in show business returns for an extended run. $20-$100. Sat 8:30pm, Sun 5:30pm. Thru Oct 13. 2120 Allston Way, Berkeley. www.themarsh.org

Unhinged @ Winchester Mystery House, San Jose
Spooky fun exhibits and interactive shows at the mysterious mansion, with up-close amazing special effects, Halloween parties, gourmet dinners, and daytime kid-friendly outdoor fun. $20-54. Various times thru Nov. 2. 525 S Winchester Blvd., San Jose. www.winchestermysteryhouse.com

Wild SF Walking Tours @ Citywide
Enjoy weekly informed tours of various parts of San Francisco, from Chinatown to the Haight, and a 'radical' and political-themed LGBT-inclusive tour. Various dates and times. $15-$25. www.wildsftours.com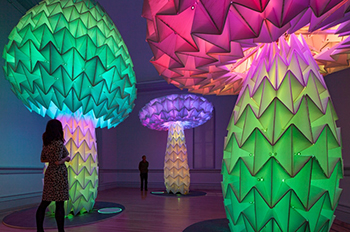 SUNDAY 13
Altin Gun @ The Independent
Unique Turkish folk-psychedelia band performs. $20-$22. 8pm. 628 Divisadero. www.apeconcerts.com

Maurice Hines & the Diva Jazz Orchestra @ Venetian Room
The singer-dancer performs with the band. $60-$75. 7:30pm. Fairmont Hotel, 950 Mason St. www.bayareacabaret.org

No Spectators: The Art of Burning Man @ Oakland Museum
No Spectators: The Art of Burning Man (Oct 12-Feb 16). Free/$15. 1000 Oak St. http://museumca.org/

Ecstatic Dance @ Sacred Heart Church
Weekly group freeform dance with a spiritual flavor at the former church-turned event space. $15. 9am-12pm. Also Wed. and Fridays in Oakland and Fairfax. 554 Fillmore St. www.ecstaticdance.org

Greetings From Queer Mountain @ Strut
Litquake event with Meghan Elison, Baruch Porras-Hernandez, Imani Sims, and Maggie Tokuda-Hall, hosted by Micheal Foulk. 6pm. 470 Castro St. www.strutsf.org

Various Exhibits @ de Young Museum
Specters of Disruption (thru Nov 10) and exhibits of Modern and historic art, including embroidery, Maori portraits and installations. Free/$28. 50 Hagiwara Tea Garden Drive, Golden Gate Park. www.famsf.org

Expedition Reef @ California Academy of Sciences
Exhibits and planetarium shows with various live, interactive and installed exhibits about animals, plants and the earth; Skin, a multi-species hands-on exhibit; Deep Reefs, Giants of Land and Sea, Gems and Minerals, and more. $20-$35. Mon-Sat 9:30am-5pm. Sun 11am-5pm. 55 Music Concourse Drive, Golden Gate Park. 379-8000. www.calacademy.org

Nicolas King @ Orinda Theatre
The award-winning jazz crooner performs classic songs with jazz legend Mike Renzi. $40-$65. 5pm. 2 Orinda Theater Square, Orinda. www.OrindaMovies.com

Plant Exhibits @ Conservatory of Flowers
Artfully arranged plant and floral exhibits; special evening events and parties, including Night Bloom evening events. 100 John F. Kennedy Drive, Golden Gate Park. https://conservatoryofflowers.org

Queer Tango @ Finnish Hall, Berkeley
Same-sex partner tango dancing, including lessons for newbies, food and drinks. $5-$10. 3:30pm-6:30pm. 1970 Chestnut St, Berkeley. www.finnishhall.org

Sprightly @ SF Public Library
Weekly hangout for LGBTQ youth, with crafts, snacks and activities. 12:30pm-2:30pm. James C. Hormel Center, 3rd floor, 100 Larkin St. www.sfpl.org

Strange Days @ Legion of Honor
Strange Days: Dada, Surrealism, and the Book (thru Nov 10), James Tissot: Fashion & Faith (Oct. 12-Feb 9); other beautiful exhibits of classical and modern art. Free/$30. Lincoln Park, 100 34th Ave. https://legionofhonor.famsf.org/

The Teen Age @ Cartoon Museum
Summer exhibition, The Teen Age: Youth Culture in Comics. Also, Surfside Girls, original work from book illustrator Kim Dwinell; other ongoing exhibits. Free-$10. 11am-5pm, except Wed. 781 Beach St. www.cartoonart.org

Tom Goss @ Hotel Utah
The gay folk singer performs with Nakia and Liz Deroche. $15-$50. 7pm. 500 4th St. http://tomgossmusic.com/ www.hotelutah.com

Tom Orr @ Martuni's
The comic playwright and composer performs his new revue, The Greatest Showqueen! $20. 7pm, 4 Valencia St. https://m.bpt.me/event/4335146

Various Exhibits @ Asian Art Museum
Changing and Unchanging Things: Noguchi and Hasegawa in Postwar Japan (thru Dec. 8). Contemporary works by Tanabe Chikuunsai IV, Kim Heecheon and Liu Jianhua; and exhibits of historic sculptures, prints and antiquities. Sunday café specialties from $7-$16. Free-$20. Tue-Sun 10am-5pm. 200 Larkin St. http://www.asianart.org/

Various Exhibits @ Treasure Island Museum
Collections of historic Golden Gate Exposition photos and memorabilia, military ephemera and more. Building One, Treasure Island, One Avenue of the Palms. www.treasureislandmuseum.org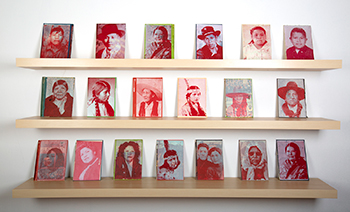 MONDAY 14
Duet + Marrow @ CounterPulse
Ian Spencer Bell's dance and poetry performance about growing up queer in Virginia; part of Litquake. $20-$25. 8pm. 80 Turk St. www.ianspencerbell.com

Keith Secola @ Café Valor
Wounds Many, an exhibit of works focusing on the artist's Northern Ute heritage. Thru Dec. 13. 401 Van Ness Ave., lobby. www.sfartscommission.org

Various Exhibits @ NIAD Art Center, Richmond
Exhibits of art by visiting professionals, and art made by developmentally disabled people. Mon-Fri 10am-4pm. 551 23rd St., Richmond. (510) 620-0290. www.niadart.org

William Blake in Color @ William Blake Gallery
Exhibit of classic plates in the new gallery of historic art by the 18th- and 19th-century poet and illustrator. Mon-Fri 10am-5pm. Sat 11am-5pm. 49 Geary St. #205. www.williamblakegallery.com
TUESDAY 15
Floral Exhibits @ SF Botanical Garden
Visit the lush gardens with displays of trees, flowers and shrubs from around the world, including the annual Magnolia bloom. Monthly plant sales, plus art exhibits and gift shop; free entry with SF proof of residency. $5-$10 for others. 7:30am-closing. 9th Ave at Lincoln Way. https://sfbotanicalgarden.org/

Various Exhibits @ The Beat Museum
Enjoy exhibits, a bookstore and gift shop that celebrates the era of 'Beatnik' literature (Jack Kerouac, Allen Ginsberg, William S. Burroughs, etc.), with frequent readings, walking tours and other events in North Beach. $5-$8. Daily 10am-7pm. 540 Broadway www.kerouac.com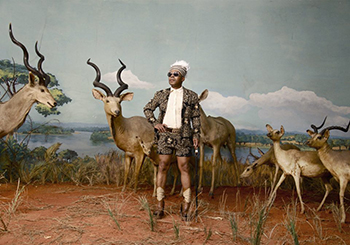 WEDNESDAY 16
Africa State of Mind @ MOAD
Traveling exhibit curated by Ekow Eshun includes 16 artists' works focusing on the idea of 'Africanness.' Also, The Sacred Star of Isis and Other Stories, photos by Adama Delphine Fawundo; also Rashaad Newsome's Stop Playing in My Face!, a Black queer multimedia installation. Free/$10. Both thru Nov. 15. 685 Mission St. www.moadsf.org

Cabaret Karaoke @ Feinstein's at the Nikko
Dick Bright MCs the new weekly karaoke night at the elegant nightclub. $12-$15. ($20 food/drink min.). thru Sept. 25. Hotel Nikko, 222 Mason St. www.feinsteinssf.com

Interior/Exterior @ Museum of Craft & Design
Group exhibit of works curated by Ariel Zaccheo; also, Dead Nuts: a search for the ultimate machined object, curated by David Cole; both thru Dec. 1. 2569 3rd St. https://sfmcd.org

Michael Longoria @ Feinstein's at the Nikko
The Broadway singer-actor (Jersey Boys, Hairspray) performs his new cabaret concert, 'Kile They Do in the Movies.' $25-$45. 7pm. Hotel Nikko, 222 Mason St. www.feinsteinssf.com

Naked Men's Sketch @ Eros
Get naked and take turns modeling at the sex club's popular weekly event. Donations/no entrance fee. 7pm-9pm. 2051 Market St. www.erossf.com

Richard Caldwell Brewer @ Lost Art Salon
Exhibit of works by the late gay artist (1923-2014). Mon-Sat 10am-5:30pm. 245 South Van Ness Ave., #303. https://lostartsalon.com/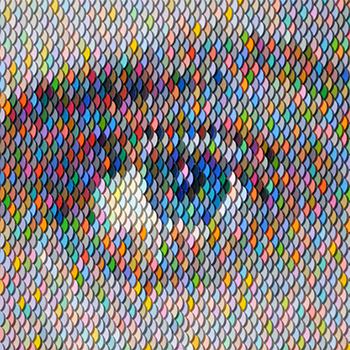 THURSDAY 17
Annabeth Rosen
@ Contemporary Jewish Museum
Annabeth Rosen: Fired, Broken, Gathered, Heaped, an exhibit of works by the Californian sculptor; thru Jan 19. Other exhibits, too. Free/$17. 736 Mission St. https://thecjm.org/

Choir! Choir! Choir!
@ Freight & Salvage, Berkeley
The Canadian duo performs & conducts with you, the audience singing along. $20-$24. 7pm. 2020 Addison St., Berkeley. www.thefreight.org

Exclusion @ Presidio Officers Club
Exhibit documenting the Presidio's Japanese-American incarceration during World War II; other exhibits show the history of the former military base and the SF peninsula. Free, Tue-Sun 10am-5pm; extended thru June 2020. 50 Maraga Ave. https://www.presidio.gov/officers-club/exhibitions/

Peter Combe @ K. Imperial Fine Art
Flawless, a solo exhibition of the Bay Area artist's fascinatingly detailed art that uses paint swatch collages. Thru Oct. 31. 49 Geary St., #440. http://kimperialfineart.com

Show Us Your Spines @ Strut
Litquake, Radar Productions and SF Public Library reading events with Danny Thanh Nguyen, Roberto F. Santiago and Jon Jon Moore. 7pm. 470 Castro St. www.strutsf.org

Various Events @ Oakland LGBTQ Center
Social events and meetings at the new LGBTQ center include film screenings and workshops, including Bruthas Rising, trans men of color meetings, 4th Tuesdays, 6:30pm. Film screenings, 4th Saturdays, 7:30pm. Game nights, Fridays 7:30pm-11pm. Vogue sessions, first Saturdays. 3207 Lakeshore Ave. Oakland. https://www.oaklandlgbtqcenter.org/


To submit event listings, email events@ebar.com
Deadline is each Thursday, a week before publication.