Arts Events Aug 15-22, 2019
Wednesday Aug 14, 2019
Curtain up, light the lights.
We've got artistic thrills and delights.


THURSDAY 15
Building the Building @ SOMArts Cultural Center
SOMArts 40th anniversary exhibition with works by 16 artists; thru Sept. 3. 934 Brannan St. www.somarts.org

Butch Voices @ Oakstop
10th annual festival of butch lesbians, with workshops, performances, panels, and more. $100-$200. Thru Aug 18. 1721 Broadway, Oakland. www.ButchVoices.com
Chosen Familias @ GLBT History Museum
Exhibits Chosen Familias: Bay Area LGBTQ Latinx Stories, and The Mayor of Folsom Street: Alan Selby's Legacy, an exhibit of the leather culture pioneer. 4127 18th St. www.glbthistory.org

Cityscape @ Creativity Explored
New exhibit of urban-themed works by artists with disabilities. Thru Sept 5. 3245 16th St. http://www.creativityexplored.org/

Classic and New Films @ Castro Theatre
Aug 15: Gloria (6:15) and Jackie Brown (8:30). Aug 16: Band of Outsiders (6:30) and Pulp Fiction (8:20). Aug 17: Star Trek II: The Wrath of Khan (7pm) with the D'Arcy Drollinger, Leigh Crow and the Star Trek Live parody cast, a costume contest, Captain Kirk impersonation contest and more space camp. Aug 18: Godspeed You! Black Emperor live concert (8pm). Aug 19 & 20: Paris is Burning (4:35, 7:45) and The Queen (6:15, 9:20) with restored prints. Aug 21: Frenzy (7pm) and The Boston Strangler (9pm). Aug 22: Blade Runner: The Final Cut (3pm, 7pm) and Tron (original 1982; 5:10, 9:10). $8-$16. 429 Castro St. http://www.castrotheatre.com/

Drunk Drag Broadway: Dizney! @ Oasis
Chyna Maykit and her crew performs classic songs with a boozy edge. $25-$50. 7pm. Also Aug. 16., 17, 22-24. 298 11th St. www.sfoasis.com

Events @ Manny's
Aug 16, 7pm: Madonna celebration. Aug 18, 4pm: Intergenerational LGBT Stories of Transformation, Courage & Power. Aug 21, 6:30pm: discussion of potential war with Iran. Aug 22, 6:30pm: Assemblymember Phil Ting. Aug 24, 2pm: Senator Michael Bennet. Free/$10 and up (donations). 3092 16th St. http://welcometomannys.com/

Flamboyance @ Berber
Wild Arabian Nights, a fundraiser for the LGBT Asylum Project, includes a delicious four-course meal ($95), wine-pairing option ($50), singer Bebe Sweetbriar, and sensual Boylesque acts Dylan Bradley, David Nguyen and Julaino Wade. 7:30pm-10pm. 1516 Broadway St. https://bit.ly/2Y40wEf www.lgbtasylumproject.org

The Gay Divorce Play @ Potrero Stage
Carson Beker, Nicole Jost and Genevieve Jessee's immersive interactive theatre ritual of a queer marriage dissolution party. $26.50. Thu-Sat 8pm. Sun 7pm, thru Aug. 25. 1695 18th St. https://www.queercatproductions.com/

The Giant Spider Invasion @ Bay Area Cinemas
Rifftrax's comedic talk-back screening of the vintage wonderfully awful horror film about giant spiders. $15. 8pm. www.fathomevents.com/

Granny Cart Gangstas @ Bindlestiff Studios
Enjoy sketch comedy delights from the all-women all Asian-American troupe. $15-$30. Thu-Sat 8pm thru Aug. 25. 185 6th St. https://bukaka.bpt.me

Interior/Exterior @ Museum of Craft & Design
Group exhibit of works curated by Ariel Zaccheo; also, Dead Nuts: a search for the ultimate machined object, curated by David Cole; both thru Dec. 1. Cocktails and artis chats, plus hands-on workshops (Aug 15, 6pm-9pm).2569 3rd St. https://sfmcd.org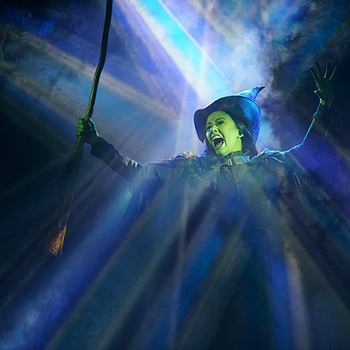 Into the Woods @ Strand Theater
American Conservatory Theatre student production of the beloved Stephen Spondheim musical that blends classic fairy tales with a dramatic edge. $20-$35. Thu-Sat 7pm, Sat 2pm. Thru Aug. 17. 1127 Market St. www.act-sf.org

Ivan Lins @ Yoshi's Oakland
The Brazilian singer-composer performs with his band at the East Bay restauratn-nightclub. $33-$79. 8pm. Aug 16, 8pm & 10pm. 510 Embarcadero West, Oakland. www.yoshis.com

Michelle Meow Show
@ Commonwealth Club
Meow and cohost John Zipperer discuss LGBT issues with different prominent guests. Weekly, 12pm. 110 Embarcadero. www.commonwealthclub.org

Month of Momentum @ Immigration and Customs Enforcement
Daily protests, performances and actions protesting ICE's cruel and abusive internment of refugees and their children; daily through August. 630 Sansome St. tinyurl.com/MonthofMomentumGroup

San Francisco Mime Troupe @ Bay Area Parks
The company celebrates its 60th anniversary and performs Treasure Island, an update on the classic tale, with a development/greed scandal as the story. Free/$20 donations; at Bay Area locales thru Sept 8. www.sfmt.org

Show Us Your Spines @ Jolene's
Radar Productions reading series, with Chibueze Crouch, Vanessa Rochelle Lewis, Anthony Veasna So and Yodassa Williams. 6:30pm. 2700 16th St. www.radarproductions.org

Wicked @ San Jose Center for the Performing Arts
Broadway San Jose presents the touring company of Winnie Holzman and Stephen Schwartz's megahit musical about Oz's rival witches, based on the Gregory Maguire novel. $62-$112. Tue-Thu 7:30pm. Fri & Sat 8pm. Sat 2pm, Sun 1pm & 6:30pm; thru Sept. 8. 255 South Almaden Blvd., San Jose. (online and in-person $25 lottery tickets available) www.broadwaysanjose.com

Woodstock 50th @ Ashkenaz, Berkeley
Stu Allen and Mars Hotel, Tammi Brown, Luna Fish, San Francisco Airship and Kyra Gordon perform classic rock hits (Grateful Dead, Janis Joplin, Jefferson Airplane) celebrating the half-century anniversary of the Woodstock concerts. $15-$50. Thru Aug 18. 1317 San Pablo Ave., Berkeley. www.ashkenaz.com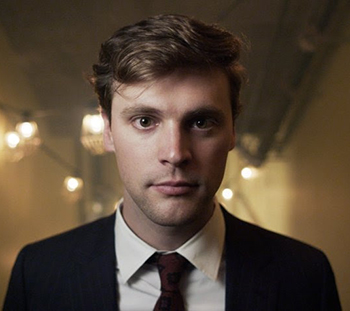 FRIDAY 16
Border People @ The Marsh
Dan Hoyle's new solo show embodies multiple characters based around the U.S./Mexico border wall controversies; extended thru Aug. 30. $25-$100. Wed-Fri 8pm, Sat 5pm. 1062 Valencia St. www.themarsh.org

Caitlin Gill @ Verdi Club
Album Release Party for th comic at a show with Jackie Kashian and Chris Fairbanks. $20-30. 8pm. Verdi Club, 2424 Mariposa St. www.verdiclub.net

A History of World War II @ The Marsh Berkeley
Theatre Rhinoceros' Artistic Director/playwright John Fisher's solo show about WWI stories, including a bungle plot to assassinate Hitler. $20-$100. Fri 8pm, Sat 5pm. Thru Sept. 7. 2120 Allston Way, Berkeley. www.themarsh.org

Kevin Blake @ Palace Theater
The illusionist's new solo show, Magic Man at the Palace Theater. $37-$63. Fri & Sat 8pm. 644 Broadway. www.boxcartheatre.org
Off the Wall @ Mission Cultural Center
Exhibit and sale of historic Mission Grafica Printmaking Studio's decades of posters and prints; main Gallery, thru Sept. 20. 2868 Mission St. www.missionculturalcenter.org

Older and Out
@ North Berkeley Senior Center
Weekly group discussion about problems for elders in the LGBT community. 3:15pm. 1901 Hearst Ave., Berkeley. www.pacificcenter.org

Queer Yoga @ Love Story Yoga
All-level weekly classes in an LGBT space. $11. 6:30pm-7:30pm. 473 Valencia St. at 16th. http://www.lovestoryyoga.com/

Rebooting the Future @ SOMArts Cultural Center
Opening reception and performances for a multimedia performance art festival curated by Sian Morson and Kolmel W. Love; opening night includes Imani Sims, Stephanie Hewett with Ainsley Tharp, Tina Kashiwagi and Jeffrey Yip, 4orplay, and Sharmi Basu and Titania Kumeh, and host Per Sia. Also Aug 17, with Astrosagas, Eddie and the Heartbeats, J.A.D.E. Kevin Seaman, Olokun and Tobias Butler. Free. 7:30pm-10pm. 934 Brannan St. www.somarts.org

The Friction Quartet with Sarah Cahill @ Old First Church
The accomplished pianist and quartet perform the world premiere of Bay Area composer Max Stoffregen's The Gila: Mesa, River, and Mountain; also, the world premiere of string quartet Family Group with Aliens, by British composer Piers Hellawell. $5-$25. 8pm. 1751 Sacramento St. www.oldfirstconcerts.org

Tony Yazbeck @ Feinstein's at the Nikko
The Tony Award-nominated actor-singer performs Both Feet Off the Ground, his musical one-man show. $45-$75. 8pm. Also Aug. 17. Hotel Nikko, 222 Mason St. www.feinsteinssf.com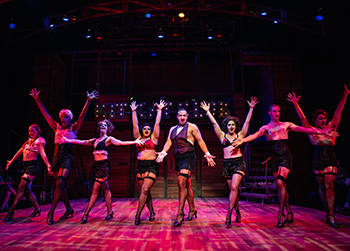 SATURDAY 17
Animation Exhibits @ Walt Disney Museum
Mickey Mouse: From Walt to the World (thru Jan 6), and other exhibits of animation art by the prolific studio's artists. 104 Montgomery St, The Presidio. $5-$25. 10am-6pm. Closed Tue. http://wdfmuseum.org/

Banda Sin Nombre, The Genie,
Shane Zaldivar @ Amado's
Three-band concert and benefit show for La Diaspora Cultural Festival. $15-$20. 998 Valencia St. www.bit.ly/amadosaug17

Beach Blanket Babylon @ Club Fugazi
The musical comedy revue celebrates its final year with fun lineup of political and pop culture icons, all in gigantic wigs. $25-$160. Beer/wine served; cash only; 21+, except where noted. Wed-Fri 8pm. Sat 6pm & 9pm. Sun 2pm & 5pm. 678 Beach Blanket Babylon Blvd. (Green St.). 421-4222. www.beachblanketbabylon.com

Charged Particles @ Mission Cultural Center
The Latin jazz trio performs at the cultural center. $15. 6:30pm. 2868 Mission St. www.missionculturalcenter.org

Cabaret @ SF Playhouse
New local production of Kander & Ebb and Masteroff's classic musical based on the John Van Druten play and stories by Christopher Isherwood, set in Weimar Germany. $35-$125. Tue-Thu & Sun 7pm. Fri & Sat 8pm. Also Sat 3pm, Sun 2pm. Thru Sept. 14. 450 Post St. www.sfplayhouse.org

Comic Exhibits @ Cartoon Art Museum
Surfside Girls, original work from book illustrator Kim Dwinell; other ongoing exhibits. Free-$10. 11am-5pm, except Wed. 781 Beach St. www.cartoonart.org

David King @ IS Fine Art and Design
The local artist's new beguiling collage/abstract works. 1100 Sutter St. http://ianstallings.com/

Exhibits @ Chabot Space & Science Museum, Oakland
Space, science and planetary exhibits, including planetarium shows and the Observatory; special nighttime events like meteor shower shows. Free-$18. 10000 Skyline Blvd., Oakland. www.chabotspace.org

Films @ BAM/PFA
Artistic and award-winning films, including international features, and documentaries about artists; ongoing. 2155 Center St., Berkeley. www.bampfa.org

Great American Sh*t Show @ Castro Valley Center for the Arts, Marin Center, San Rafael
Brian Copeland and Charlie Veron's solo shows explore 'Life in the Age of Trump.' $45-$60. 7pm, 19501 Redwood Road, Castro Valley. www.cvcfa.com; Aug 18, 7:30pm, 10 Ave. of the Flags, San Rafael. www.marincenter.org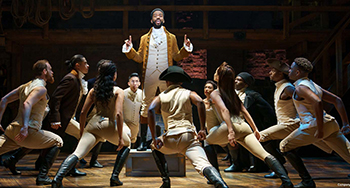 Hamilton @ Orpheum Theatre
The mega-hit Tony-winning Broadway hip hop musical revision of American Revolutionary-era history. $111-$686. Thru Sept 8. Special fundraiser Aug 22, with a portion of $175-$250 ticket sales going to the SF Gay Men's Chorus (www.sfgmc.org). 1192 Market St. www.shnsf.com

H.M.S. Pinafore @ YBCA
Lampighters' production of the Gilbert & Sullivan operetta about seafaring singing characters. $57-$72. 2pm & 8pm thru Aug 18. 700 Howard St. Also Aug 24 in Livermore. www.lamplighters.org

J. Michael Straczynski @ Cartoon Art Museum
Screenwriter and comic writer (Babylon 5, Sense8, Superman, The Amazing Spider-Man) discusses and signs copies of his memoir, Becoming Superman: My Journey from Poverty to Hollywood. $25. 7pm. 781 Beach St. www.cartoonart.org

Jason Mraz @ The Fillmore
The singer-composer hosts the 10-year anniversary Harmonic Humanity benefit concert, with Ace of Cups, Luc and the Lovingtons, Vir McCoy Allstars and other musicians. $100. 8pm. 1805 Geary St. at Fillmore. https://thefillmore.com

LGBTQ Histories from the WWII Home Front @ Rosie the Riveter Visitor Education Center, Richmond
Park indoor exhibit that showcases the lives of historic LGBT people. Open daily 10am-5pm. 1414 Harbour Way South, Suite 3000, Richmond. www.nps.gov/rori/index.htm

Mia Nakano @ CIIS
The Visibility Project, the artist's series of portraits of diverse people. Desai Matta Gallery, California Institute of Integral Studies, 1453 Mission St. www.ciis.edu

Mysteria Incarnatis @ Old First Church
Special candlelight, late-night performance of David Gordon's 2015 hypnotic work for two grand pianos (one of which is prepared), an upright piano of unequal temperament, percussion, singing glasses. $5-$25. 10pm. 1751 Sacramento St. www.oldfirstconcerts.org

Other Cinema @ ATA Gallery
Weekly screenings of wacky, unusual, short, documentary and animated films; free books, vinyl, VHS and wine. $7. 8:30pm. 992 Valencia St. www.othercinema.com

Pushing West: The Photography of Andrew J. Russell
@ Oakland Museum
Pushing West: The Photography of Andrew J. Russell, which documents the Transcontinental Railroad's western expansion; thru September 2. Also, Mildred Howard's TAP: Investigation of Memory, a powerful multimedia installation that examines themes of identity, church culture, gentrification, dance, and activism. Take Root: Oakland Grows Food and other exhibits. Free/$15. 1000 Oak St. http://museumca.org/

Roan at the Gates @ Berkeley City Club
Central Works' production of Christina Gorman's political thriller (adapted from her novel) about an NSA analyst's secret life, and his wife's possible betrayal. $22-$38, extended thru Aug 25. 2315 Durant Ave., Berkeley. www.centralworks.org

The Rolling Stones @ Levi's Stadium, Santa Clara
The historic rock band's still rollin'. $124 and up. 7:30pm. 4900 Marie P DeBartolo Way, Santa Clara. www.levisstadium.com/event/the-rolling-stones-no-filter-tour/

Skate Night @ Church on 8 Wheels
Wheeled fun at the former Sacred Heart Church-turned disco roller skate party space, hosted by John D. Miles, the "Godfather of Skate," including Saturday's Black Rock night (Burning Man garb encouraged). 7pm-10pm. Sat afternoon sessions 1pm-2pm and 3pm-5pm. $10. Kids 12 and under $5. Skate rentals $5. 554 Fillmore St at Fell. www.churchof8wheels.com

Star Trek II: The Wrath of Khan @ Castro Theatre
The cast of Star Trek Live! and host D'Arcy Drollinger pre-show a screening of the scifi classic film. 429 Castro St. www.castrotheatre.com www.sfoasis.com

Three Solo Exhibitions @ Marcury 20, Oakland
Nick Dong's Mendsmith Project, Chris Komater's homoerotic Jack & Mack, and Ruth Tabancay's Geometricity 3.0. Reg. hours Thu-Sat 12pm-6pm. Thru Sept 7. 475 25th St., Oakland. http://mercurytwenty.com/

Various Exhibits @ NIAD Art Center, Richmond
Exhibits of art by visiting professionals, and art made by developmentally disabled people. Mon-Fri 10am-4pm. 551 23rd St., Richmond. (510) 620-0290. www.niadart.org

Walk in Beauty @ Marin Center
Group art exhibit of local landscapes and wildlife paintings; thru Oct. 10. Also, Tricia George wildlife paintings (thru Oct. 10). 10 Ave. of the Flags, San Rafael. www.marincenter.org

Wild SF Walking Tours @ Citywide
Enjoy weekly informed tours of various parts of San Francisco, from Chinatown to the Haight, and a 'radical' and political-themed LGBT-inclusive tour. Various dates and times. $15-$25. www.wildsftours.com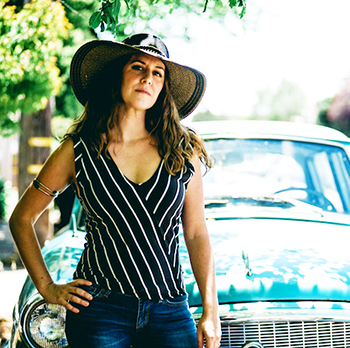 SUNDAY 18
Ecstatic Dance @ Sacred Heart Church
Weekly group freeform dance with a spiritual flavor at the former church-turned event space. $15. 9am-12pm. Also Wed. and Fridays in Oakland and Fairfax. 554 Fillmore St. www.ecstaticdance.org

Ed Hardy: Deeper Than Skin @ de Young Museum
First museum retrospective of the renowned California tattoo artist (thru Oct. 6). Also, Ana Prvac Ki: Detour (thru Sept 29), Specters of Disruption (thru Nov 10) and exhibits of Modern and historic art, including embroidery, Maori portraits and installations. Free/$28. 50 Hagiwara Tea Garden Drive, Golden Gate Park. www.famsf.org

Expedition Reef @ California Academy of Sciences
Exhibits and planetarium shows with various live, interactive and installed exhibits about animals, plants and the earth; Skin, a multi-species hands-on exhibit; Deep Reefs, Giants of Land and Sea, Gems and Minerals, and more. $20-$35. Mon-Sat 9:30am-5pm. Sun 11am-5pm. 55 Music Concourse Drive, Golden Gate Park. 379-8000. www.calacademy.org

Floral Exhibits @ SF Botanical Garden
Visit the lush gardens with displays of trees, flowers and shrubs from around the world, including the annual Magnolia bloom. Monthly plant sales, plus art exhibits and gift shop; free entry with SF proof of residency. $5-$10 for others. 7:30am-closing. 9th Ave at Lincoln Way. https://sfbotanicalgarden.org/

The Isley Brothers @ Stern Grove
Get down with the classic funk band ("Fight the Power"). BYO picnic stuff, blankets. 2pm. Free (Big Picnic VIP seating fundraiser $250 and up). 19th Ave. at Sloat Blvd. www.sterngrove.org

Loving Janis @ Ashkenaz, Berkeley
Kyra Gordan's song tribute to Janis Ian and Janis Joplin. $15-$18. 8pm. 1317 San Pablo Ave., Berkeley. www.ashkenaz.com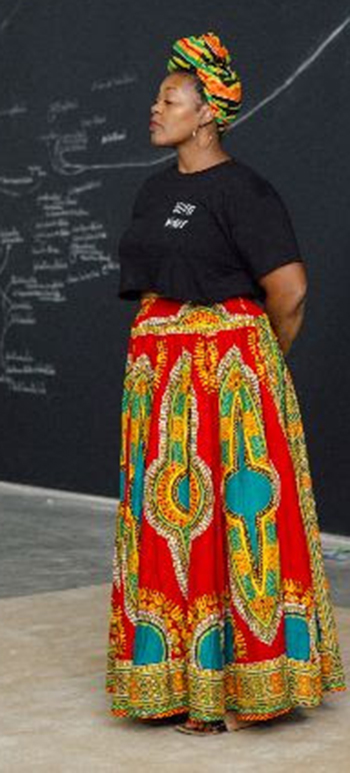 Mahogany L. Browne,
Tongo Eisen-Martin @ The Lab
Discussion and reading with the two poets (Woke: A Young Poets Call to Justice, Heaven Is All Goodbyes). $8, 8pm. 2948 16th St. www.thelab.org

Parivar Ki Azaadi @ CounterPulse
Panel discussion, performances and DJed dancing with LGBT South Asian people and their friends. Free, with wine, beer, snacks. 6pm. 80 Turk St. www.counterpulse.org

Plant Exhibits @ Conservatory of Flowers
Artfully arranged plant and floral exhibits; special evening events and parties. 100 John F. Kennedy Drive, Golden Gate Park. https://conservatoryofflowers.org

Queer Tango @ Finnish Hall, Berkeley
Same-sex partner tango dancing, including lessons for newbies, food and drinks. $5-$10. 3:30pm-6:30pm. 1970 Chestnut St, Berkeley. www.finnishhall.org

Sprightly @ SF Public Library
Weekly hangout for LGBTQ youth, with crafts, snacks and activities. 12:30pm-2:30pm. James C. Hormel Center, 3rd floor, 100 Larkin St. www.sfpl.org

Tattoos in Japanese Prints
@ Asian Art Museum
Tattoos in Japanese Prints and The Bold Brush of Au Ho-Nein, both thru Aug. 18; also, Contemporary works by Tanabe Chikuunsai IV, Kim Heecheon and Liu Jianhua; exhibits of sculpture and antiquities. Sunday café specialties from $7-$16. Free-$20. Tue-Sun 10am-5pm. 200 Larkin St. http://www.asianart.org/

That Don Reed Show @ The Marsh Berkeley
The acclaimed solo performer's show about dealing with racism in show business returns for an extended run. $20-$100. Sat 8:30pm, Sun 5:30pm. Thru Sept. 1. 2120 Allston Way, Berkeley. www.themarsh.org

Various Exhibits @ Treasure Island Museum
Collections of Golden Gate Expo postcards, military memorabilia and more. Building One, Treasure Island, One Avenue of the Palms. www.treasureislandmuseum.org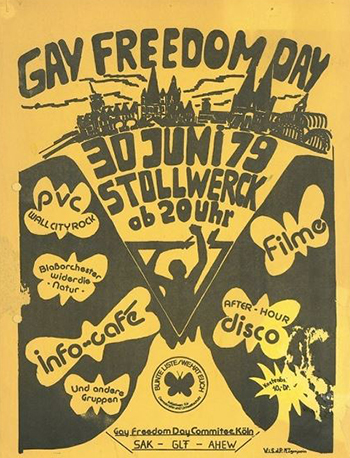 MONDAY 19
Queer as German Folk @ SF Public Library
Exhibit of ephemera and memorabilia about Stonewall rebellion commemorations in Germany and worldwide; film series Thursdays in August; additional exhibit also at Eureka Valley Branch, 1 Jose Sarria Court at 16th; both thru Sept 26. 100 Larkin St. www.sfpl.org

We Are More
@ California Humanities, Oakland
Exhibit of art by four queer comic artists; Ajuan Mance, Breena Nuñez, Lawrence Lindell, and Trinidad Escobar. Thru Sept. 538 9th St. Suite 210. Oakland. www.calhum.org

William Blake in Color
@ William Blake Gallery
Exhibit of classic plates in the new gallery of historic art by the 18th- and 19th-century poet and illustrator. Mon-Fri 10am-5pm. Sat 11am-5pm. 49 Geary St. #205. www.williamblakegallery.com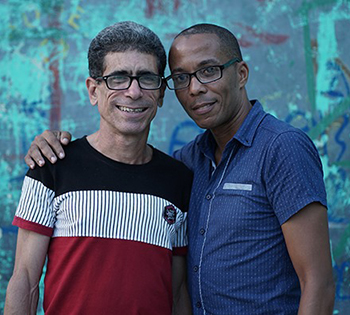 TUESDAY 20
Aunt Charlie's @ Tenderloin Museum
Multimedia exhibit about the historic Tenderloin drag bar, including Beautiful by Night: Photographs from Aunt Charlie's Lounge by James Hosking. Exhibit thru Dec 1. Aug 20: screening of the documentary Thanks to Hank, about activist Hank Wilson, with director/producer Bob Ostertag. 7pm. 398 Eddy St. http://www.tenderloinmuseum.org/

Andy Warhol @ SF MOMA
Andy Warhol: From A to B and Back Again, a new exhibition of the iconic pop artist's works, the first retrospective in 25 years; thru Sept 2. Also, Don't! Photography and the Art of Mistakes; Far Out: Suits, Habs, and Labs for Outer Space; The Chronicles of San Francisco, photo-muralist JR's interactive community giant group portrait; other exhibits of Modern art. Free/$25. Fri-Tue 10am-5pm; Thu 10am-9pm. 151 3rd St. www.sfmoma.org

Art for iQuba @ Minnesota Street Project
Art auction, film screening, performance and fundraiser for Kim Anno's feature documentary-in-progress about LGBT Cubans. Art exhibition 12:30pm-5:30pm. Auction, screening 6pm-8pm. $donations. 1275 Minnesota St., Room 200. www.wildprojects.org

Author Readings @ Octopus Literary Salon, Oakland
Aya De Leon, Benjamin Shepard, Kate Jessica Raphael, Lucy Jane Bledsoe, Liz Mariani read from their latest works. 6:30pm. 2101 Webster St., Oakland. www.oaklandoctopus.org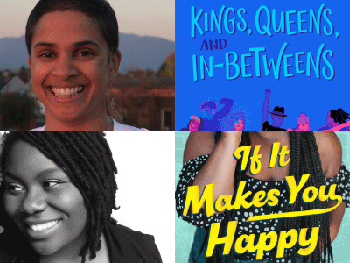 John Pizzarelli @ Yoshi's Oakland
The acclaimed jazz guitarist performs with his band. $28-$69. 8pm. Also Aug 21. 510 Embarcadero West., Oakland. www.yoshis.com

Queer Voices
@ American Bookbinders Museum
Paperbacks and Periodicals Forging Community, an exhibit of pulp fiction and early paperback books; thru Aug. 31. Tue-Sat 10am-4pm. 355 Clementina St. www.bookbindersmuseum.com

Smoke & Mirrors:
The War on Drugs @ AAACC
Exhibit of works by six muralists and 20 artists focusing on pot use, hemp, and historical elements of cannabis in communities of color. Tue-Fri 12pm-6pm. Sat til 5pm. Thru Aug 31. 762 Fulton St. www.aaacc.org

Tanya Boteju, Claire Kann @ Books Inc.
The authors of Kings, Queens, and In-Betweens and If It Makes You Happy read from and discuss their Young Adult body-positive novels. 7pm. 601 Van Ness Ave. www.booksinc.net

Various Exhibits @ The Beat Museum
Enjoy exhibits, a bookstore and gift shop that celebrates the era of 'Beatnik' literature (Jack Kerouac, Allen Ginsberg, William S. Burroughs, etc.), with frequent readings, walking tours and other events in North Beach. $5-$8. Daily 10am-7pm. 540 Broadway www.kerouac.com
WEDNESDAY 21
The 39 Steps @ Mountain View
Center for the Performing Arts
Patrick Barlow's theatrical spoof of the John Buchan book and Alfred Hitchcock film about devious British and Scottish spies gets a local production. $30-$100. Tue-Sat thru Sept 15. 500 Castro St., Mountain View. www.TheatreWorks.org

Benjamin Heim Shephard, Lynn Breedlove @ The Green Arcade Bookstore
Shepard discusses Illuminations on Market Street, set in San Francisco at the height of the AIDS epidemic; Breedlove reads from and discusses 45 Thought Crimes, with host James Tracy. 7pm. 1680 Market St. http://thegreenarcade.com/

Cabaret Karaoke @ Feinstein's at the Nikko
Dick Bright MCs the new weekly karaoke night at the elegant nightclub. $12-$15. ($20 food/drink min.). thru Sept. 25. Hotel Nikko, 222 Mason St. www.feinsteinssf.com

Naked Men's Sketch @ Eros
Get naked and take turns modeling at the sex club's popular weekly event. Donations/no entrance fee. 7pm-9pm. 2051 Market St. www.erossf.com

Rebeca Garcia-Gonzalez @ Sanchez Contemporary Gallery, Oakland
Exhibit of the artist's portraits of Puerto Rican Resilience. 1951 Telegraph Ave., Oakland. http://www.sanchezcontemporary.com/

Richard Caldwell Brewer @ Lost Art Salon
Exhibit of works by the late gay artist (1923-2014). Mon-Sat 10am-5:30pm. 245 South Van Ness Ave., #303. https://lostartsalon.com/

Summertime @ Jenkins Johnson Gallery
Group exhibit of summer-themed photos and paintings. Tue-Fri 10am-6pm, Sat til 5pm, thru Aug. 30. 464 Sutter St. www.jenkinsjohnsongallery.com/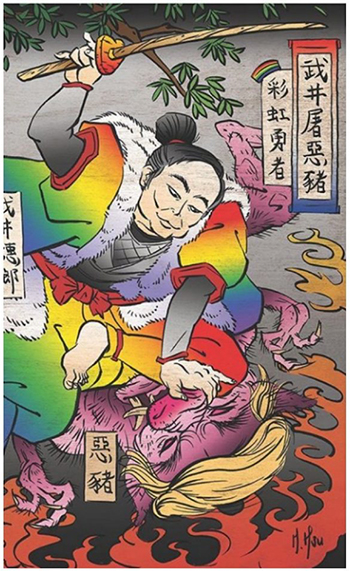 THURSDAY 22
Annabeth Rosen
@ Contemporary Jewish Museum
Annabeth Rosen: Fired, Broken, Gathered, Heaped, an exhibit of works by the Californian sculptor; thru Jan 19. Other exhibits, too. Free/$17. 736 Mission St. https://thecjm.org/

Early Rubens @ Legion of Honor
Exhibit of epic massive paintings of biblical and mythical subjects by Peter Paul Rubens; Thru Sept. 8. Also, Strange Days: Dada, Surrealism, and the Book (thru Nov 10), and other beautiful exhibits of classical and modern art. Free/$30. Lincoln Park, 100 34th Ave. https://legionofhonor.famsf.org/

Exclusion @ Presidio Officers Club
Exhibit documenting the Presidio's Japanese-American incarceration during World War II; other exhibits show the history of the former military base and the SF peninsula. Free, Tue-Sun 10am-5pm; extended thru June 2020. 50 Maraga Ave. https://www.presidio.gov/officers-club/exhibitions/

Queer Asia, BearPad @ Strut
Queer Asia: Identity [re]defined, a group exhibit of Bay Area queer Asian artists' works. Also, Woof/Grrr, X/O, BearPad's exhibit of illustrated colorful gay erotica. Thru August. 470 Castro St. www.sfaf.org

Then They Came For Me @ Futures Without Violence
Incarceration of Japanese Americans During WWII and the Demise of Civil Liberties, a touring multimedia exhibit documenting the terrifying period in U.S. history when the government scapegoated and imprisoned thousands of people of Japanese ancestry, including photographs by Dorothea Lange and Ansel Adams, alongside works by incarcerated Japanese American artists Toyo Miyatake and Miné Okubo. Free. Wed-Sun 10am-6pm. Talks and events thru the exhibit's run. Extended thru Sept 1. 100 Montgomery St. https://thentheycame.org/

Various Events @ Oakland LGBTQ Center
Social events and meetings at the new LGBTQ center include film screenings and workshops, including Bruthas Rising, trans men of color meetings, 4th Tuesdays, 6:30pm. Film screenings, 4th Saturdays, 7:30pm. Game nights, Fridays 7:30pm-11pm. Vogue sessions, first Saturdays. 3207 Lakeshore Ave. Oakland. https://www.oaklandlgbtqcenter.org/



To submit event listings, email events@ebar.com
Deadline is each Thursday, a week before publication.
Comments on Facebook