Arts Events June 6-13, 2019
Wednesday Jun 5, 2019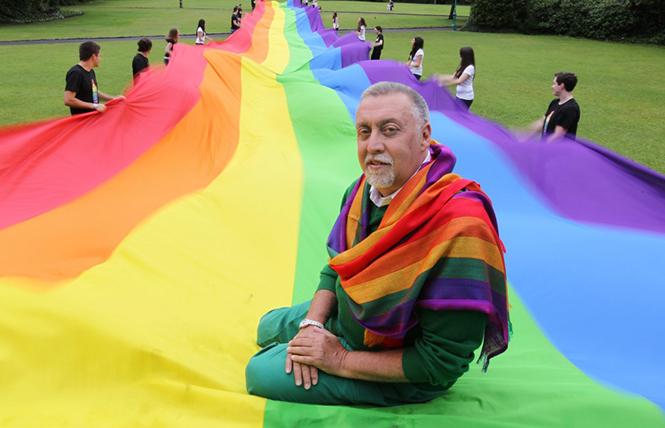 Pride month gets rainbow-licious, with a few vintage exhibits in stately black and white.


THURSDAY 6
Above Ground @ Mojo Theatre
Footloose's festival of new theater; four weekends of different short plays, solo performers and more. $15-$30. Thu-Sat andb 2 Sundays, 8pm. 2940 16th St. www.ftloose.com

Action Hero @ Phoenix Theatre
Theatre Rhinoceros' new production of John Fisher's play about an actor with Hollywood dreams. $20-$40. Thru July 6. 414 Mason St. www.TheRhino.org

Classic and New Films @ Castro Theatre
May 31: Rocketman (12:30, 3:30, 6:30, 9:30, thru June 17). $8-$11. 429 Castro St. http://www.castrotheatre.com/

Christina Bianco @ Feinstein's at the Nikko
Internationally-acclaimed singer, actor, and impressionist (What if Julie Andrews sang Led Zeppelin?) brings Me, Myself, And Everyone Else! to the elegant nightclub. $40-$70 ($20 food/drink min.). 8pm. Hotel Nikko, 222 Mason St. www.feinsteinsatthenikko.com

Documentary Film Festival @ Roxie, Brava Theaters
Fascinating documentary films from around the world; thru June 13. 3117 16th St. and 2781 24th St. www.sfindie.com

Fabric Animal @ CounterPulse
Local innovative dancer-choreographers Sonsherée Giles & Sebastian Grubb perform a new dance work. $20-$35. 8pm. Also June 7 & 8. 80 Turk St. www.counterpulse.org

Greg Holden @ Hotel Utah
The Brit/LA-based singer performs songs from his new album, World War Me, at the SoMa bar; Shwa Loseben and KTL open. $12-$15. 8pm. 500 4th St. www.gregholdenonline.com www.hotelutah.com

Michelle Meow Show @ Commonwealth Club
Meow and cohost John Zipperer discuss LGBT issues with different prominent guests. Weekly, 12pm. 110 Embarcadero. www.commonwealthclub.org
The Mueller Report Reading @ Manny's
One of many nationwide live and streamed full readings of the (redacted) Mueller Report on Trump's (alleged) corruption, with Professor Hadar Aviram, UC Hastings, Attorney David Campos, Chair, San Francisco Democratic Party, San Francisco Supervisor Matt Haney, author/activist Cleve Jones, San Francisco Supervisor Rafael Mandelman, Carol Queen, PhD, Good Vibrations, San Francisco Supervisor Hillary Ronen, Representative from the Office of Oakland Mayor Libby Schaaf, Susan Solomon, President of United Educators of San Francisco, California State Assembly Member Buffy Wicks and California State Senator Scott Wiener. Free. 7am-12am. 3092 16th St. www.welcometomannys.com

Queer as F*** III @ Bindlestiff Studio
Tickling Your Funny Bone(r), a two-week festival of comic plays with queer and trans themes, performed by the 26-member troupe of Filipino actors. $12-$25. Thu-Sat 8pm, Sat & Sun 3pm, thru June 8. 185 6th St. www.bindlestiffstudio.org

Radar Superstar @ SF Main Library
Radar Productions presents storytelling with Anastacia Reneé, Aimee Suzara, Honey Mahogany, Librexht Baker, and a farewell to Juliana Delgado Lopera. Free. 5:30pm. Koret Auditorium, lower level, 100 Larkin St. www.sfpl.org

School of Rock @ Center for the Performing Arts, San Jose
National touring production of Andrew Lloyd Weber's Broadway and West End hit musical based on the uplifting film about an aspiring rock musician who teaches schoolkids to enjoy music. 255 S. Almaden Blvd., San Jose. $45-$153. Thru June 9. www.broadwaysanjose.com

Sex and the City Live @ Oasis
The comic drag parody performances of scripts from the hit HBO show about four Manhattan women, adapted and starring D'Arcy Drollinger. $27-$50. Thu-Sat 7pm thru July 13. 298 11th St. www.sfoasis.com

Significant Other @ SF Playhouse
Joshua Harmon's witty romantic comedy about a gay men who endures all his friends' weddings. $20-$100. Thru June 15. 450 Post St. www.sfplayhouse.org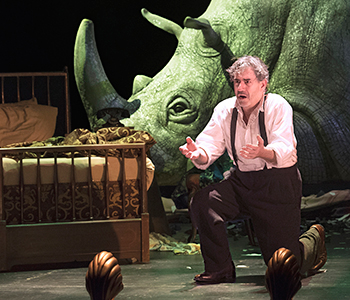 FRIDAY 7
American Psycho @ Victoria Theatre
Ray of Light Theatre's production of Duncan Sheik and Roberto Aguirre-Sacasa's darkly satiric musical based on the 1980s Bret Easton Ellis novel. $15-$40. Thru June 8. 2961 16th St. www.rayoflighttheatre.com

Bobby Caldwell @ Yoshi's Oakland
The globally known jazz vocalist performs at the East Bay restaurant-nightclub. $34-$79. 8pm & 10pm. Also June 8, 7:30pm & 9:30pm. 510 Embarcadero West, Oakland. www.yoshis.com

Border People @ The Marsh
Dan Hoyle's new solo show embodies multiple characters based around the U.S./Mexico border wall controversies; extended thru June 22. $25-$100. Wed-Fri 8pm, Sat 5pm. 1062 Valencia St. www.themarsh.org

Chosen Familias @ GLBT History Museum
Opening reception for Chosen Familias: Bay Area LGBTQ Latinx Stories, 7pm. Also, The Mayor of Folsom Street: Alan Selby's Legacy, an exhibit of the leather culture pioneer. Also, SoMa Nights: 1980s-1990s Queer Club Photography, an exhibit of prints by prolific photographer Melissa Hawkins; thru May 27. $5. 4127 18th St. www.glbthistory.org

Dan Savage @ Palace of Fine Arts
The gay author and sex advice columnist reads and pontificates. $40. 8pm. 3301 Lyon St. https://palaceoffinearts.org/

The Good Book @ Berkeley Rep
Deni O'Hare and Lisa Peterson's play about three people exploring their faith, and the very human roots of the Bible. $45-$97. Thru June 9. 2025 Addison St., Berkeley. www.berkeleyrep.org

Hamilton @ Orpheum Theatre
The mega-hit Tony-winning Broadway hip hop musical revision of American Revolutionary-era history. $111-$686. Thru Sept 8. 1192 Market St. www.shnsf.com

Matt Doyle @ Feinstein's at the Nikko
The talented Broadway singer-actor performs his new cabaret concert. $35 ($20 food/drink min.) Also June 8. Hotel Nikko, 222 Mason St. http://www.mattdoylemusic.com/ www.feinsteinsatthenikko.com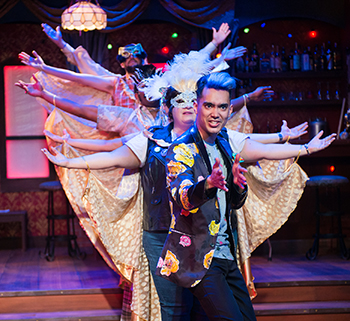 Older and Out
@ North Berkeley Senior Center
Weekly group discussion about problems for elders in the LGBT community. 3:15pm. 1901 Hearst Ave., Berkeley. www.pacificcenter.org

Polythene Pam,
Secret Emchy Society
@ The Lost Church
The queer rock-pop and Americana bands share an acoustic bill at the intimate venue. $10-$15. 8:15pm. 65 Capp St. www.thelostchurch.com

Queer California:
Untold Stories @ Oakland Museum
Multimedia exhibition documenting California LGBT lives, with contemporary artwork, rare historical materials, film, photography, sculpture; thru Aug. 11. Friday 5pm LGBT film screenings. Also, Cruisin' the Fossil Coastline, Ray Troll's colorful illustrations paired with paleontologist Kirk Johnson's research. Also, Take Root: Oakland Grows Food and other exhibits. Free/$15. 1000 Oak St. http://museumca.org/

Queer Rebel Fest 11 @ African American Art & Culture Complex
Performances by queer and trans people of color; Carolyn Wysinger, Nori Reed, Scout Tran, Greg Pond, Rene' Vaz, Hector Zavala, AhSa-Ti Nu Tyehimba-Ford, Europa and Alexa Burrell. $15-$25. 7pm. Also June 8. 762 Fulton St. www.eventbrite.com

Queer Yoga @ Love Story Yoga
All-level weekly classes in an LGBT space. $11. 6:30pm-7:30pm. 473 Valencia St. at 16th. http://www.lovestoryyoga.com/

Rhinoceros @ Geary Theatre
American Conservatory Theatre's new production of Eugene Ionesco's classic and still timely dark satire about political mendacity and cultural conformity; translated by Derek Prouse; special events thru run. $15-$110. Thru June 23. 415 Geary St. www.act-sf.org

The View Upstairs @ New Conservatory Theatre Center
Max Vernon's glam-rock gospel-pop musical, about a hipster who's transported back in time to a historic 1970s New Orleans gay bar. $35-$60. Live music pre-show Wednesdays. Thru June 9. 25 Van Ness Ave. www.nctcsf.org
SATURDAY 8
Animation Exhibits @ Walt Disney Museum
Mickey Mouse: From Walt to the World (thru Jan 6), and other exhibits of animation art by the prolific studio's artists. 104 Montgomery St, The Presidio. $5-$25. 10am-6pm. Closed Tue. http://wdfmuseum.org/

Beach Blanket Babylon @ Club Fugazi
The musical comedy revue celebrates its final year with fun lineup of political and pop culture icons, all in gigantic wigs. $25-$160. Beer/wine served; cash only; 21+, except where noted. Wed-Fri 8pm. Sat 6pm & 9pm. Sun 2pm & 5pm. 678 Beach Blanket Babylon Blvd. (Green St.). 421-4222. www.beachblanketbabylon.com

Charming Hostess @ John Coltrane Church
The duo performs a concert of folk queer-themed songs about love, work and anti-fascist struggle. $18. 8pm. 2097 Turk St. www.SFLiveArts.org

David King @ IS Fine Art and Design
The local artist's new beguiling collage/abstract works. 1100 Sutter St. http://ianstallings.com/

Films @ BAM/PFA
Artistic and award-winning films, including international features, and documentaries about artists; ongoing. 2155 Center St., Berkeley. www.bampfa.org

Kiss My Aztec! @ Berkeley Rep
John Leguizamo and Tony Taccone's hilarious multi-genre musical comedy about woke Aztecs taking on Spanish invaders. $35-$115. Thru July 14. 2025 Addison St., Berkeley. www.berkeleyrep.org

LGBTQ Histories from the WWII Home Front
@ Rosie the Riveter Visitor Education Center, Richmond
Park indoor exhibit that showcases the lives of historic LGBT people. Open daily 10am-5pm. 1414 Harbour Way South, Suite 3000, Richmond. https://www.nps.gov/rori/index.htm

Mamma Mia! @ San Jose Stage Company
South Bay production of the hit ABBA jukebox musical about romance and paternity queries on a Greek island. $32-$60. 8pm. Thru July 7. 490 South First St., San Jose. www.thestage.org

M.D.C., VKTMS, Deseos Primitivos @ El Rio
Three veteran punk rock bands share a bill. $10. 9pm-11:30pm. 3158 Mission St. www.elriosf.com

Mia Nakano @ CIIS
The Visability Project, the artist's series of portraits of diverse people. Desai Matta Gallery, California Institute of Integral Studies, 1453 Mission St. www.ciis.edu

Napa, Sonoma Pride @ Various Venues
Enjoy dances, cookouts, park parties, drag shows, youth dances, art shows and more; most Saturdays, Sundays thru June 28. www.NapaSonomaPride.org

Oedipus el Rey @ Magic Theatre
Revival of Luis Alfaro's 2009 modern update on the classic Greek tragedy focuses on incarcerated youth. $15-$75. Thru June 23. Fort Mason, 2 Marina Blvd., Bldg D, 3rd floor. www.MagicTheatre.org

Other Cinema @ ATA Gallery
Weekly screenings of wacky, unusual, short, documentary and animated films; free books, vinyl, VHS and wine. $7. 8:30pm. 992 Valencia St. www.othercinema.com
Out of Site: SoMa
@ South of Market Locales
Seth Eisen's new LGBT history walking tour covers the sexy cruisy distrcit, from Native American villages, gold miners, leather men and up to tech bros; with performances by Marga Gomez, Brian Freeman, Landa Lakes and other talents. $10-$45. June 8 & 9, 15 & 16. 12pm & 3pm. Sun 1pm. Meet at Howard Langton Community Garden, 10 Langton St. www.eyezen.org

Sacramento Pride @ Capitol Mall
Two-day LGBT festival, with performers Lizzo, Animil, Planet Booty, Ariana and the The Rose, Mayhem Miller, Brooke Lynn Hytes, Sacremento Gay Men's Chorus and multiple dJs and dance spaces, plus a parade. $10-$150 (VIP pass). 11am-5pm. 3rd & 7th St., Sacramento. https://sacramentopride.org/

Sadie Barnette: The New Eagle Creek Saloon @ The Lab
The Oakland artist's installation recreates and honors her father's history as owner of SF's first Black-owned gay bar, with archival materials and 'hosted' events; thru June 30. 2948 16th St. www.thelab.org

Skate Night @ Church on 8 Wheels
Wheeled fun at the former Sacred Heart Church-turned disco roller skate party space, hosted by John D. Miles, the "Godfather of Skate," including Saturday's Black Rock night (Burning Man garb encouraged). 7pm-10pm. Sat afternoon sessions 1pm-2pm and 3pm-5pm. $10. Kids 12 and under $5. Skate rentals $5. 554 Fillmore St at Fell. www.churchof8wheels.com

That Don Reed Show @ The Marsh Berkeley
The award-winning solo performer returns with his acclaimed show about Black media stereotypes and his own identity. $20-$100. Sat 8:30pm, Sun 5:30pm, thru June 9. 2120 Allston Way, Berkeley. www.themarsh.org

Various Exhibits @ NIAD Art Center, Richmond
Exhibits of art by visiting professionals, and art made by developmentally disabled people. Mon-Fri 10am-4pm. 551 23rd St., Richmond. (510) 620-0290. www.niadart.org

Who Killed Sylvia Plath? @ The Marsh
Lorri Holt performs Lynne Kaufman's fascinating solo play about the tragic demise of the poet. $25-$100. Sat 8:30pm, Sun 5:30pm. Thru June 16. 1062 Valencia St. www.themarsh.org

Wild SF Walking Tours @ Citywide
Enjoy weekly informed tours of various parts of San Francisco, from Chinatown to the Haight, and a 'radical' and political-themed LGBT-inclusive tour. Various dates and times. $15-$25. www.wildsftours.com

Works in Progress @ Plymouth Jazz and Justice Church, Oakland
Women's open mic with featured performer Karen Mullally. $7-$10. 6:30pm potluck, 7:30pm show. 424 Monte Vista, Oakland. http://plymouthoakland.org/jazz/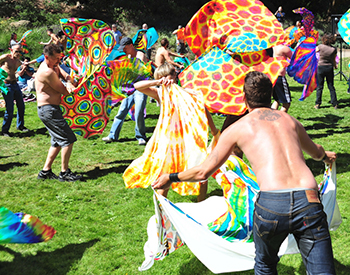 SUNDAY 9
Ecstatic Dance @ Sacred Heart Church
Weekly group freeform dance with a spiritual flavor at the former church-turned event space. $15. 9am-12pm. Also Wed. and Fridays in Oakland and Fairfax. 554 Fillmore St. www.ecstaticdance.org

Expedition Reef
@ California Academy of Sciences
Exhibits and planetarium shows with various live, interactive and installed exhibits about animals, plants and the earth; Deep Reefs, Giants of Land and Sea, Gems and Minerals, and more. $20-$35. Mon-Sat 9:30am-5pm. Sun 11am-5pm. 55 Music Concourse Drive, Golden Gate Park. 379-8000. www.calacademy.org

Flagging in the Park @ National AIDS Memorial Grove
DJ Andre Steffens plays at the popular outdoor flagging, flow arts and dance party and picnic. Donations benefit Positive Resource Center. 1pm-4pm. Nancy Pelosi Drive at Bowling Green, Golden Gate Park. http://www.flaggercentral.com/

Floral Exhibits @ SF Botanical Garden
Visit the lush gardens with displays of trees, flowers and shrubs from around the world, including the annual Magnolia bloom. Monthly plant sales, plus art exhibits and gift shop; free entry with SF proof of residency. $5-$10 for others. 7:30am-closing. 9th Ave at Lincoln Way. https://sfbotanicalgarden.org/

Gaugin: A Spiritual Journey @ de Young Museum
Exhibit of the Impressionist's great works; thru June 23. Also, Fans of the Eighteenth Century (thru June 30), Ordinary Objects/Wild Things (thru July 14), Specters of Disruption (thru Nov 10) exhibits of Modern and historic art, including embroidery, Maori portraits and installations. Free/$15. 50 Hagiwara Tea Garden Drive, Golden Gate Park. www.famsf.org

Haight Street Fair @ Upper Haight
42nd annual street fair with live bands, DJs, food, crafts and fun. 11am-5pm. Haight Street from Mason to Stanyan. https://www.haightashburystreetfair.org/

Maricela, Luis Mora @ Dance Palace
Art and photo exhibit of imagery and symbolism of Danza Azteca. 503 B St., Point Reyes Station. http://dancepalace.org

Muldoon Elder @ Laguna 500
Intimate exhibit of paintings and drawings by the local artist. 500 Laguna St. https://thelaguna500.com/

Plant Exhibits @ Conservatory of Flowers
Artfully arranged plant and floral exhibits; special evening events and parties. 100 John F. Kennedy Drive, Golden Gate Park. https://conservatoryofflowers.org

Queer Tango @ Finnish Hall, Berkeley
Same-sex partner tango dancing, including lessons for newbies, food and drinks. $5-$10. 3:30pm-6:30pm. 1970 Chestnut St, Berkeley. www.finnishhall.org

Sprightly @ SF Public Library
Weekly hangout for LGBTQ youth, with crafts, snacks and activities. 12:30pm-2:30pm. James C. Hormel Center, 3rd floor, 100 Larkin St. www.sfpl.org

Tattoos in Japanese Prints @ Asian Art Museum
Tattoos in Japanese Prints and The Bold Brush of Au Ho-Nein, both thru Aug. 18; also, Contemporary works by Kim Heecheon and Liu Jianhua; exhibits of sculpture and antiquities. Sunday café specialties from $7-$16. Free-$20. Tue-Sun 10am-5pm. 200 Larkin St. http://www.asianart.org/

Exhibits @ Treasure Island Museum
The Port Chicago Story: Lighting the Fuse to Civil Rights, thru July 7. Also, collections of Golden Gate Expo postcards, military memorabilia and more. Building One, Treasure Island, One Avenue of the Palms. www.treasureislandmuseum.org

Vanessa Bousay @ Martuni's
The drag chanteuse performs 'Blondes in a Bar' (Dinah, Doris, Dolly, Peggy) with Keta Bill; Tom Shaw and Roberta Drake accompany. $20. 7pm. 4 Valencia St. http://vanessabousay.com/

Various Exhibits @ Chabot Space & Science Museum, Oakland
Space, science and planetary exhibits, including planetarium shows and the Observatory; special nighttime events like meteor shower shows. Free-$18. 10000 Skyline Blvd., Oakland. www.chabotspace.org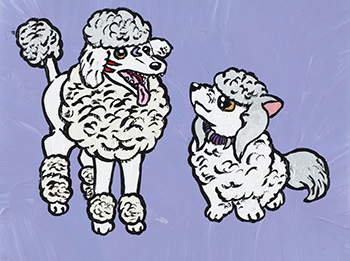 MONDAY 10
Bitchin'; an Art Show for Humans and Dogs @ Creativity Explored
Group exhibit of amusing art works of dogs by the members of the developmentally challenged artists group. Mon-Fri 10am-5pm (Thu 7pm) Sat 12pm-5pm. 3245 16th St. www.creativityexplored.org

Herb Alpert & Lani Hall @ Yoshi's Oakland
The famed trumpeter-band leader performs with the jazz vocalist. $49. 8pm. Also June 11 & 12. 510 Embarcadero West, Oakland. www.yoshis.com

Show Me as I Want to Be Seen @ Contemporary Jewish Museum
Show Me as I Want to Be Seen, the work of groundbreaking French Jewish artist, Surrealist, and activist Claude Cahun (1894—1954) and her lifelong lover and collaborator Marcel Moore (1892—1972), thru July 7; In That Case: Havruta in Contemporary Art—Oxossi Ayofemi and Risa Wechsler, thru July. Lew the Jew and His Circle: Origins of American Tattoo, an exhibit of the prolific tattoo artist's work, tools and life; thru June 9. 736 Mission St. https://thecjm.org/

William Blake in Color @ William Blake Gallery
Exhibit of classic plates in the new gallery of historic art by the 18th- and 19th-century poet and illustrator. Mon-Fri 10am-5pm. Sat 11am-5pm. 49 Geary St. #205. www.williamblakegallery.com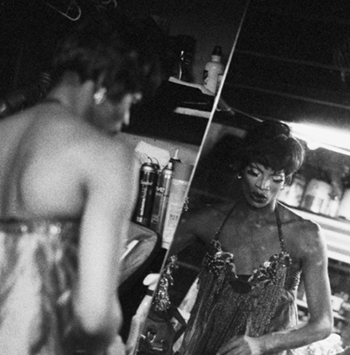 TUESDAY 11
Andy Warhol @ SF MOMA
Andy Warhol: From A to B and Back Again, a new exhibition of the iconic pop artist's works, the first retrospective in 25 years; thru Sept 2. Also, other exhibits of Modern art. Free/$25. Fri-Tue 10am-5pm; Thu 10am-9pm. 151 3rd St. www.sfmoma.org

Aunt Charlie's @ Tenderloin Museum
Opening reception for the multimedia exhibit about the historic Tenderloin drag bar, with SF Pride Grand Marshal Donna Persona (8pm). Thru Dec 1. 398 Eddy St.

Chromatics @ Mezzanine
Desire and In Mirrors also perform. $36-$40. 9pm. Also June 12. 444 Jessie St. https://mezzaninesf.com/

Early Rubens @ Legion of Honor
Exhibit of epic massive paintings of biblical and mythical subjects by Peter Paul Rubens; Thru Sept 8. Also, Small Inventions: Artist's Books by Charles Hobson (thru July 14); Mummies and Medicine (thru April 14) and other exhibits of classical and modern art. Free/$30. Lincoln Park, 100 34th Ave. https://legionofhonor.famsf.org/

Joan Brown @ Anglim Gilbert Gallery
Exhibit of figurative paintings by the late local artist. Tue-Sat 11am-6pm, thru June 22. 1275 Minnesota St. http://anglimgilbertgallery.com

Material Domestication @ Museum of Craft & Design
Exhibit of works by six design artists whose work displays repetition and craft. Also, Wanzin Zhang: the Long Journey, ceramic sculptures; both thru July 14. 2569 3rd St. https://sfmcd.org

Rainbow Warrior: The Memoirs of Gilbert Baker @ SF Main Library
Reception and book release for the Rainbow Flag creator's posthumously released memoir, with Tony Bravo (SF Chronicle) and Sister Mary Media. Free. 5:30pm. Koret Auditorium, 100 Larkin St. www.sfpl.org

Smoke & Mirrors: The War on Drugs @ AAACC
Exhibit of works by six muralists and 20 artists focusing on pot use, hemp, and historical elements of cannabis in communities of color. Tue-Fri 12pm-6pm. Sat til 5pm. Thru Aug 31. 762 Fulton St. www.aaacc.org

Various Exhibits @ The Beat Museum
Enjoy exhibits, a bookstore and gift shop that celebrates the era of 'Beatnik' literature (Jack Kerouac, Allen Ginsberg, William S. Burroughs, etc.), with frequent readings, walking tours and other events in North Beach. $5-$8. Daily 10am-7pm. 540 Broadway www.kerouac.com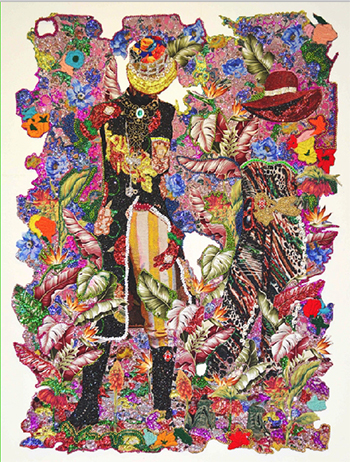 WEDNESDAY 12
Coffee, Rhum, Sugar and Gold:
A Post-Colonial Paradox @ MOAD
Exhibit of works that explore the legacy of European colonialism in the Caribbean through the work of 10 contemporary artists. Free/$10. Wed-Sat 11am-6pm. Sun 12pm-5pm. Thru Aug 11. 685 Mission St. www.moadsf.org

Exclusion @ Presidio Officers Club
Exhibit documenting the Presidio's Japanese-American incarceration during World War II; other exhibits show the history of the former military base and the SF peninsula. Free, Tue-Sun 10am-5pm. Thru Spring 2019. 50 Maraga Ave. https://www.presidio.gov/officers-club/exhibitions/

Gender Queer @ Cartoon Art Museum
Mais Kobabe's Gender Queer, thru July 1, and other exhibits. 11am-5pm. 781 Beach St. www.cartoonart.org

LGBT Book Club @ Dog Eared Books
Discussion of Emily M. Danforth's The Miseducation of Cameron Post. 7pm. 489 Castro St. www.dogearedbooks.com

Naked Men's Sketch @ Eros
Get naked and take turns modeling at the sex club's popular weekly event. Donations/no entrance fee. 7pm-9pm. 2051 Market St. www.erossf.com

Pam Ann @ Feinstein's at the Nikko
The stewardess with satiric sass returns with comic songs and in-flight service. $55-$85 ($20 food/drink min.). 7pm. Also June 13, 8pm. Hotel Nikko, 222 Mason St. www.feinsteinsatthenikko.com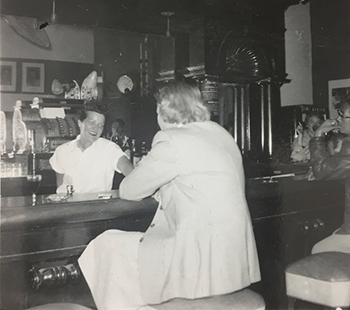 THURSDAY 13
Comedy @ Ashkenaz
Laughs at a Father's Day show with Tom Ammiano, Samson Koletkar, Jeff Applebaum and Lisa Geduldig. $15-$20. 8pm. 1317 San Pablo Ave., Berkeley. www.koshercomedy.com

Preserving SF's Queer Historic Places @ SF Main Library
Panel discussion about gentrification's effect on historic buildings and spaces, with Tania Jimenez, Gerard Koskovich, Gayle S. Rubin, Terry Beswick and moderator Carol Queen. Free. 6pm. Koret Auditorium, 100 Larkin St. www.sfpl.org

Then They Came For Me
@ Futures Without Violence
Incarceration of Japanese Americans During WWII and the Demise of Civil Liberties, a touring multimedia exhibit documenting the terrifying period in U.S. history when the government scapegoated and imprisoned thousands of people of Japanese ancestry, including photographs by Dorothea Lange and Ansel Adams, alongside works by incarcerated Japanese American artists Toyo Miyatake and Miné Okubo. Free. Wed-Sun 10am-6pm. Extended thru Sept 1. 100 Montgomery St. https://thentheycame.org/

Thrill Spot: The Raid on Tommy's Place @ GLBT History Museum
Author Katie Gilmarten hosts a lecture about the historic raid of the San Francisco lesbian bar in 1954, with rare photos and scandalous headlines. $5. 7pm. 4127 18th St. www.glbthistory.org

Various Events @ Oakland LGBTQ Center
Social events and meetings at the new LGBTQ center include film screenings and workshops, including Bruthas Rising, trans men of color meetings, 4th Tuesdays, 6:30pm. Film screenings, 4th Saturdays, 7:30pm. Game nights, Fridays 7:30pm-11pm. Vogue sessions, first Saturdays. 3207 Lakeshore Ave. Oakland. https://www.oaklandlgbtqcenter.org/

With(out) With(in) the Very Moment @ SF Arts Commission
Exhibit about LGBT lives, and surviving AIDS, with Elliot Anderson, Adam Ansell, Ed Aulerich-Sugai, Mark Garrett, Cliff Hengst, Nancer Lemoins, Mark Paron, Anton Stuebner, and featuring Alternate Endings, a series of video programs by Visual AIDS for Day With(out) Art. Thru June 22. 401 Van Ness Ave. www.sfartscommission.org


To submit event listings, email events@ebar.com
Deadline is each Thursday, a week before publication.
Comments on Facebook