Arts Events May 9-16, 2019
Wednesday May 8, 2019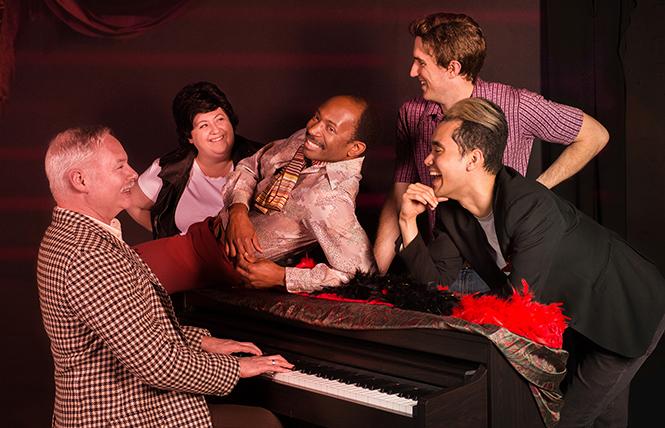 Do you know how many arts events are intriguing, fascinating and worth seeing? Asking for a friend.


THURSDAY 9
110 in the Shade @ Gateway Theatre
42nd Street Moon's energetic production of Harvey Schmidt, Tom Jones and N. Richard Nash's popular romantic musical. $30-$70. Wed-Sun thru May 12. 215 Jackson St. www.42ndStMoon.org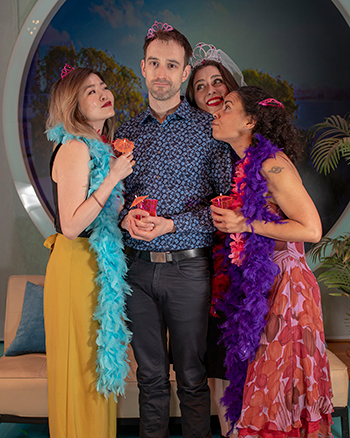 Andrea Lawlor @ The Bindery
Author of Paul Takes the Form of a Mortal Girl reads from and discusses her novel about a queer shapeshifting punk music fan/bartender. 7:30pm. 1727 Haight St. www.booksmith.com

California and the Stonewall Riots
@ GLBT History Museum
Discussion with author/historian Marc Stein (The Stonewall Riots: a Documentary History), 7pm. May 16: opening reception for The Mayor of Folsom Street: Alab Selby's Legacy, an exhibit of the leather culture pioneer (7pm). Also, SoMa Nights: 1980s-1990s Queer Club Photography, an exhibit of prints by prolific photographer Melissa Hawkins. Two-Spirit Voices: Returning to the Circle, a Native American queer exhibit of the Bay Area organization on its 20th anniversary, including the annual Two-Spirit Powwow organized by BAAITS, indigenous medicine and responses to HIV/AIDS, and Two-Spirit meaning within indigenous communities. $5. 4127 18th St. www.glbthistory.org

China Crisis @ Yoshi's Oakland
British '80s band performs. $24-$54. 8pm. 510 Embarcadero West, Oakland. www.yoshis.com

Classic and New Films @ Castro Theatre
May 9: CAAMfest opening night screening of Chinatown Rising (6:30pm). May 10: Little Shop of Horrors and The Rocky Horror Picture Show. May 11: King Kong (1:30, 7pm), Godzilla (3:25, 9pm) and King Kong vs. Godzilla (5:15). May 12: Disney's Moana sing-along. May 12: Giant (3:30) and There Will Be Blood (7:15). May 14: High Life (7pm) and The Beach Bum (5pm,9:10). May 15: The Big Sleep (7pm) and The Drowning Pool (9:05). May 16 & 17: Restored 4K prints of John Carpenter's Escape From New York (5:30, 7pm) and The Fog (8:55, 9:25) $8-$11. 429 Castro St. http://www.castrotheatre.com/

Comedy Night @ Ashkenaz, Berkeley
Laugh it up with Diane Amos (the Pine Sol Lady), Karinda Dobbins, Emily van Dyke, Brandi Brandes (Ashkenaz Executive Director making her comedy debut), and de facto Jewish mother and MC Lisa Geduldig. $15-$20. 8pm. 1317 San Pablo Ave., Berkeley. www.koshercomedy.com www.Ashkenaz.com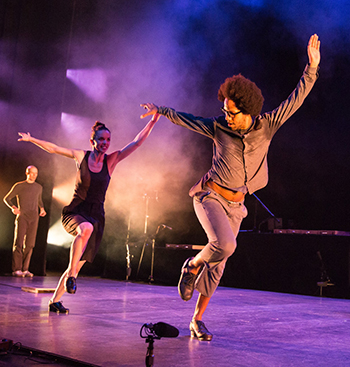 Dorrance Dance @ YBCA
Michelle Dorrance's innovative company takes tap-dance to new dimensions in ETM: Double Down. $15-$70. Thru May 11. Yerba Buena Center for the Arts, 700 Howard St. www.dorrancedance.com www.ybca.org

Ginger Minj @ Oasis
The RuPaul's Drag Race competitor performs her live show. $27-$50. 7pm. Also May 10. 298 11th St. www.sfoasis.com

Karen Margolis @ K. Imperial Fine Art
False Positives, the artist's new exhibit of abstract works. Thru June 1. 49 Geary St. www.kimperialfineart.com

Michael Feinstein
@ Feinstein's at the Nikko
The master pianist and jazz singer performs at his own nightclub, with a band. $80-$115 ($20 Food/drink min). Also May 10, 11, 12. Hotel Nikko, 222 Mason St. www.feinsteinsatthenikko.com

Michelle Meow Show @ Commonwealth Club
Meow and cohost John Zipperer discuss LGBT issues with different prominent guests. Weekly, 12pm. 110 Embarcadero. www.commonwealthclub.org

Parivar @ Strut
Queer South Asian community meeting with music, performances, video, food and more with hosts Anand Vedawala, Anjali Rimi and Sanjeev Chahl. 5pm-8pm. 470 Castro St. www.strutsf.org

Readings @ City Lights Bookstore
May 9: ZYZZYVA contributors Cate Lycurgus, Dean Rader, Jordan Kantor, Rusty Morrison, and Mira Rosenthal, 7pm. May 12: Jo Lendle (All the Land), 5pm. May 15: Saskia Vogel (Permission), 7pm. 261 Columbus Ave. www.citylights.com

Significant Other @ SF Playhouse
Joshua Harmon's witty romantic comedy about a gay men who endures all his friends' weddings. $20-$100. Thru June 15. 450 Post St. www.sfplayhouse.org

Weightless @ Strand Theater
American Conservatory Theatre's and Z Space present the Kilbanes' rock musical about sisterhood, love, betrayal and rebirth. $15-$65. Tue-Sat 7:30pm, thru May 12. 1127 Market St. www.act-sf.org

Wimples of the World @ Harvey Milk Photo Center
Group exhibit of art, portraits and photos of the Sisters of Perpetual Indulgence, who celebrate their 40th anniversary. Thru May 11. 50 Scott St. www.harveymilkphotocenter.org
FRIDAY 10
Black Love @ Strut
Poetry, storytelling and comedy celebrating queer Black artists. Wine, soft drinks; free. 8pm-10pm. 470 Castro St. www.strutsf.org

Charlie and the Chocolate Factory @ Golden Gate Theatre
Touring company of the musical stage adaptation of Roald Dahl's popular tale about a contest to tour the magical sweets factory. $40-$226. Thru May 12. 1 Taylor St. www.shnsf.com

Erasure-esque @ The Ivy Room, Albany
The Erasure tribute band performs. MILF and Steel Hotcakes also play. $10-$13. 8pm. 860 San Pablo Ave., Albany. https://www.ivyroom.com/

Hamilton @ Orpheum Theatre
The mega-hit Tony-winning Broadway hip hop musical revision of American Revolutionary-era history. $111-$686. Thru Sept 8. 1192 Market St. www.shnsf.com

Older and Out @ North Berkeley Senior Center
Weekly group discussion about problems for elders in the LGBT community. 3:15pm. 1901 Hearst Ave., Berkeley. www.pacificcenter.org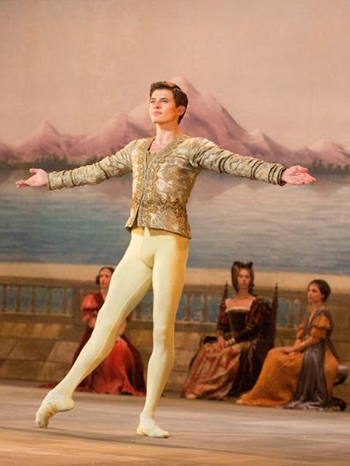 Smuin Ballet @ YBCA
Dance Series 02 is performed. $34-$81. 7:30pm. thru May 5. Yerba Buena Center for the Arts, 700 Howard St. Also May 17, 23 & 31 thru the Bay Area. http://www.smuinballet.org/

Queer Yoga @ Love Story Yoga
All-level weekly classes in an LGBT space. $11. 6:30pm-7:30pm. 473 Valencia St. at 16th. http://www.lovestoryyoga.com/

The View UpStairs
@ New Conservatory Theatre Center
Max Vernon's glam-rock gospel-pop musical, about a man who's transported back in time to a historic 1960s New Orleans gay bar, gets a regional premiere. $35-$60. Live music pre-show Wednesdays. Thru June 9. 25 Van Ness Ave. www.nctcsf.org

We Have Iré @ YBCA Forum
Pauk S. Flores' new music theatre work explores the true stories of Afro-Cuban immigrants living in the U.S. $25-$30. 7:30pm. Thru May 12. Yerba Buena Center for the Arts, 700 Howard St. www.ybca.org

The White Crow @ Embarcadero Center Cinema
Ralph Fiennes' new film about gay ballet dancer Rudolph Nureyev. 1 Embarcadero. www.landmarktheatres.com/san-francisco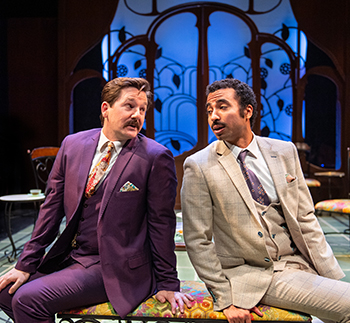 SATURDAY 11
Amy Sueyoshi @ SF Public Library
The author of Discriminating Sex: White Leisure and the Making of the American "Oriental" discusses her book's themes. 2pm, Skylight Gallery, 100 Larkin St. www.sfpl.org

Animation Exhibits @ Walt Disney Museum
Exhibit of animation art by the prolific artists. 104 Montgomery St, The Presidio. $5-$25. 10am-6pm. Closed Tue. http://wdfmuseum.org/

Beach Blanket Babylon @ Club Fugazi
The musical comedy revue celebrates its final year with fun lineup of political and pop culture icons, all in gigantic wigs. $25-$160. Beer/wine served; cash only; 21+, except where noted. Wed-Fri 8pm. Sat 6pm & 9pm. Sun 2pm & 5pm. 678 Beach Blanket Babylon Blvd. (Green St.). 421-4222. www.beachblanketbabylon.com

Films @ BAM/PFA
Artistic and award-winning films, including international features, and documentaries about artists; ongoing. 2155 Center St., Berkeley. www.bampfa.org

The Importance of Being Earnest @ Aurora Theatre, Berkeley
Oscar Wilde's classic "trivial comedy for serious people" gets an East Bay production. $35-$70. Extended thru May 19. 2018 Addison St., Berkeley. www.auroratheatre.org

The Jungle @ Curran Theatre
Joe Murphy and Joe Robertson's acclaimed drama about French refugee camp immigrants, set in an up-close immersive and intimate staging. $79-$165. Thru May 19. 445 Geary St. www.sfcurran.com

LGBTQ Histories from the WWII Home Front
@ Rosie the Riveter Visitor Education Center, Richmond
Park indoor exhibit that showcases the lives of historic LGBT people. Open daily 10am-5pm. 1414 Harbour Way South, Suite 3000, Richmond. https://www.nps.gov/rori/index.htm

Other Cinema @ ATA Gallery
Weekly screenings of wacky, unusual, short, documentary and animated films; free books, vinyl, VHS and wine. $7. 8:30pm. 992 Valencia St. www.othercinema.com

Queer Ancestors Project @ Strut
Foglifter Press' release event for a queer youth group of contributing writers and printmakers' anthology and the exhibit closing party. 7:30pm. 470 Castro St. www.strutsf.org

Queer California: Untold Stories @ Oakland Museum
Multimedia exhibition documenting California LGBT lives, with contemporary artwork, rare historical materials, film, photography, sculpture; thru Aug. 11. Also, Cruisin' the Fossil Coastline, Ray Troll's colorful illustrations paired with paleontologist Kirk Johnson's research. Also, Take Root: Oakland Grows Food and other exhibits. Free/$15. 1000 Oak St. http://museumca.org/

SF Hiking Club @ Las Trampas Park
Join GLBT hikers for a nine-mile hike in Las Trampas Regional Park. Enjoy a journey through the oak-studded Corduroy Hills, around Eugene O'Neill's old backyard, and up Las Trampas Ridge to Las Trampas Peak. Great views of Mt. Diablo and East Bay Hills and valleys. Bring water, lunch, sunscreen, hat, sturdy shoes. Meet 9:00 at Rockridge BART. www.sfhiking.com

Skate Night @ Church on 8 Wheels
Wheeled fun at the former Sacred Heart Church-turned disco roller skate party space, hosted by John D. Miles, the "Godfather of Skate," including Saturday's Black Rock night (Burning Man garb encouraged). 7pm-10pm. Sat afternoon sessions 1pm-2pm and 3pm-5pm. $10. Kids 12 and under $5. Skate rentals $5. 554 Fillmore St at Fell. www.churchof8wheels.com

Various Exhibits @ NIAD Art Center, Richmond
Exhibits of art by visiting professionals, and art made by developmentally disabled people. Mon-Fri 10am-4pm. 551 23rd St., Richmond. (510) 620-0290. www.niadart.org

Who Killed Sylvia Plath? @ The Marsh
Lorri Holt performs Lynne Kaufman's fascinating solo play about the tragic demise of the poet. $25-$100. Sat 8:30pm, Sun 5:30pm. Thru June 16. 1062 Valencia St. www.themarsh.org

Wild SF Walking Tours @ Citywide
Enjoy weekly informed tours of various parts of San Francisco, from Chinatown to the Haight, and a 'radical' and political-themed LGBT-inclusive tour. Various dates and times. $15-$25. www.wildsftours.com

Writers With Drinks @ The Make Out Room
Charlie Jane Anders welcomes Mallory O'Meara, Kate Hope Day, Andrea Lawlor, Joanna Robinson. $5-$20. 7pm. 3225 22nd St. http://www.makeoutroom.com/
SUNDAY 12
Broadway Flipped @ Gate Theatre
42nd Street Moon's two nights of cabaret fundraiser shows, with multiple performers (Darlene Popovic, John Brown, Heather Orth and more), VIP seating with complimentary wine. $35-$75. 7:30pm. Also May 13. 215 Jackson St. www.42ndstmoon.org

Ecstatic Dance @ Sacred Heart Church
Weekly group freeform dance with a spiritual flavor at the former church-turned event space. $15. 9am-12pm. Also Wed. and Fridays in Oakland and Fairfax. 554 Fillmore St. www.ecstaticdance.org

Expedition Reef @ California Academy of Sciences
Exhibits and planetarium shows with various live, interactive and installed exhibits about animals, plants and the earth; Deep Reefs, Giants of Land and Sea, Gems and Minerals, and more. $20-$35. Mon-Sat 9:30am-5pm. Sun 11am-5pm. 55 Music Concourse Drive, Golden Gate Park. 379-8000. www.calacademy.org

Floral Exhibits @ SF Botanical Garden
Visit the lush gardens with displays of trees, flowers and shrubs from around the world, including the annual Magnolia bloom. Monthly plant sales, plus art exhibits and gift shop; free entry with SF proof of residency. $5-$10 for others. 7:30am-closing. 9th Ave at Lincoln Way. https://sfbotanicalgarden.org/

Maricela, Luis Mora @ Dance Palace
Art and photo exhibit of imagery and symbolism of Danza Azteca. 503 B St., Point Reyes Station. http://dancepalace.org

Marks in Time @ Marin Center
Exhibit of the work of tattoo artists; thru May 31. 10 Ave of the Flags, San Rafael. www.marincounty.org

Monet: The Late Years @ de Young Museum
New exhibit of the French Impressionist's great later works, including Water Lilies; thru May 27. Also, modern and historic art, including embroidery, Maori portraits and installations. Free/$15. 50 Hagiwara Tea Garden Drive, Golden Gate Park. www.famsf.org

Muldoon Elder @ Laguna 500
Intimate exhibit of paintings and drawings by the local artist. 500 Laguna St. https://thelaguna500.com/

Plant Exhibits @ Conservatory of Flowers
Artfully arranged plant and floral exhibits; special evening events and parties. 100 John F. Kennedy Drive, Golden Gate Park. https://conservatoryofflowers.org

Queer Tango @ Finnish Hall, Berkeley
Same-sex partner tango dancing, including lessons for newbies, food and drinks. $5-$10. 3:30pm-6:30pm. 1970 Chestnut St, Berkeley. www.finnishhall.org

Sprightly @ SF Public Library
Weekly hangout for LGBTQ youth, with crafts, snacks and activities. 12:30pm-2:30pm. James C. Hormel Center, 3rd floor, 100 Larkin St. www.sfpl.org

Various Exhibits @ Chabot Space & Science Museum, Oakland
Space, science and planetary exhibits, including planetarium shows and the Observatory; special nighttime events like meteor shower shows. Free-$18. 10000 Skyline Blvd., Oakland. www.chabotspace.org

Walking Distance Dance Festival @ ODC Theater
Three programs, eight days in and near ODC's theater and studios. $15-$60. Thru May 19. 3153 17th St. www.odc.dance
MONDAY 13
Gender Queer @ Cartoon Art Museum
Mais Kobabe's Gender Queer, thru July 1, and other exhibits. 11am-5pm. 781 Beach St. www.cartoonart.org

Gordon Silveria @ Strut
'Queers in Space,' an exhibit of the artist's scifi comic illustrations. Thru May. 470 Castro St. www.strutsf.org

Lest We Forget @ Civic Center Plaza
Luigi Toscano's outdoor photo exhibit of 78 large-scale portraits of Holocaust survivors; thru May 19. https://bit.ly/2uSNrfO

Modern Art @ SF MOMA
Wayne Thiebaud, Etel Adnan, Alexander Calder, Donald Judd, Louise Bourgeois and many classic Modern works. The Sea Ranch: Architecture, Envioronment and Idealism (thru April 28). Vija Celmins: To Fix the Image in Memory, thru March 31. Free/$25. Fri-Tue 10am-6pm. 151 3rd St. www.sfmoma.org

Show Me as I Want to Be Seen @ Contemporary Jewish Museum
Show Me as I Want to Be Seen, the work of groundbreaking French Jewish artist, Surrealist, and activist Claude Cahun (1894—1954) and her lifelong lover and collaborator Marcel Moore (1892—1972), thru July 7; In That Case: Havruta in Contemporary Art—Oxossi Ayofemi and Risa Wechsler, thru July. Lew the Jew and His Circle: Origins of American Tattoo, an exhibit of the prolific tattoo artist's work, tools and life; thru June 9. 736 Mission St. https://thecjm.org/

Shut Up and Draw @ Strut
Free LGBT drawing space for silent drawing and sharing of works. 7pm-9pm. 470 Castro St. www.strutsf.org

Various Exhibits @ SF Public Library
In Search of the Glass Slipper, Perci Chester's '70s gay community photo exhibit; thru May 16. Immigrant Girl, Radical Woman, an art exhibition of historical research and ephemera about early twentieth century immigrant and activist Matilda Rabinowitz; thru May 19. 100 Larkin St. www.sfpl.org

William Blake in Color @ William Blake Gallery
Exhibit of classic plates in the new gallery of historic art by the 18th- and 19th-century poet and illustrator. Mon-Fri 10am-5pm. Sat 11am-5pm. 49 Geary St. #205. www.williamblakegallery.com
TUESDAY 14
Ani DiFranco
@ First Congregational Church, Berkeley
The veteran indie musician discusses her new memoirs No Walls and the Recurring Dream. $20-$35. 7pm. 2345 Channing Way, Berkeley. www.berkeleyarts.org

Perfectly Queer @ Dog Eared Books
Charlie Jane Anders, Joseph Cassara, Baruch Porras Hernandez, and Sara Cahill Marron read from their works; plus, wine, cheese and donuts. Rick May and Wayne Goodman cohost. 7pm. 489 Castro St. www.dogearedbooks.com

Smoke & Mirrors:
The War on Drugs @ AAACC
Exhibit of works by six muralists and 20 artists focusing on pot use, hemp, and historical elements of cannabis in communities of color. Tue-Fri 12pm-6pm. Sat til 5pm. Thru Aug 31. 762 Fulton St. www.aaacc.org

Survey Bay Area @ Montague Gallery
Group exhibit of Bay Area glass artists; 5:30pm-7:30pm; thru April 13. Tue-Fri 11am-6pm. Sat 11am-5pm. 445A Sutter St. http://montaguegallerysf.com/

Various Exhibits @ The Beat Museum
Enjoy exhibits, a bookstore and gift shop that celebrates the era of 'Beatnik' literature (Jack Kerouac, Allen Ginsberg, William S. Burroughs, etc.), with frequent readings, walking tours and other events in North Beach. $5-$8. Daily 10am-7pm. 540 Broadway www.kerouac.com

Westward @ City Hall
Exhibit of large-scale photos by women photographers focusing on West Coast communities, thru May. North Light Court, Ground Floor, 1 Dr Carlton B Goodlett
Place. www.sfartscommission.org
WEDNESDAY 15
Border People @ The Marsh
Dan Hoyle's new solo show embodies multiple characters based around the U.S./Mexico border wall controversies; extended thru June 22. $25-$100. Wed-Fri 8pm, Sat 5pm. 1062 Valencia St. www.themarsh.org

Exclusion @ Presidio Officers Club
Exhibit documenting the Presidio's Japanese-American incarceration during World War II; other exhibits show the history of the former military base and the SF peninsula. Free, Tue-Sun 10am-5pm. Thru Spring 2019. 50 Maraga Ave. https://www.presidio.gov/officers-club/exhibitions/

Florence + The Machine
@ Concord Pavilion
Pop musician and her band perform. $19-$400. 8pm. 2000 Kirker Pass Road, Concord. http://www.pavilion-ca.org https://florenceandthemachine.net/

Laugh the Night Away @ Oasis
Comedy night with host Sergio Novoa, Ameera Nasser, Ruby Gill and others. $15-$20. 6pm. 298 11th St. www.sfoasis.com

Then They Came For Me @ Futures Without Violence
Incarceration of Japanese Americans During WWII and the Demise of Civil Liberties, a touring multimedia exhibit documenting the terrifying period in U.S. history when the government scapegoated and imprisoned thousands of people of Japanese ancestry, including photographs by Dorothea Lange and Ansel Adams, alongside works by incarcerated Japanese American artists Toyo Miyatake and Miné Okubo. Free. Wed-Sun 10am-6pm. Extended thru Sept 1. 100 Montgomery St. https://thentheycame.org/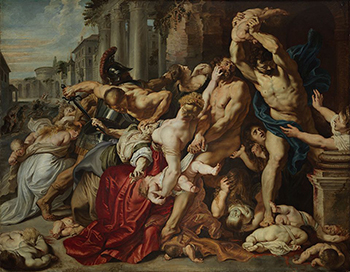 THURSDAY 16
American Psycho @ Victoria Theatre
Previews begin for Ray of Light Theatre's production of the darkly satiric musical based on the 1980s Bret Easton Ellis novel. $15-$40. Thru June 8. 2961 16th St. http://rayoflighttheatre.com/

Early Rubens @ Legion of Honor
Exhibit of epic massive paintings of biblical and mythical subjects by Peter Paul Rubens; Thru Sept 8. Also, Small Inventions: Artist's Books by Charles Hobson (thru July 14); Mummies and Medicine (thru April 14) and other exhibits of classical and modern art. Free/$30. Lincoln Park, 100 34th Ave. https://legionofhonor.famsf.org/

MAX 2019 @ Various Venues
Media Art eXploration, a space, arts and science festival of performances, exhibits, talks, and parties all over the Bay Area. Thru May 18. https://mediaartexploration.org/

New Strands Festival @ Strand Theater
New theatre works-in-progress, readings, a master class series, and special happy hours; including a new rock musical by The Kilbanes; new works by playwrights Luis Alfaro, Emily Feldman, Robert O'Hara, Jiehae Park; mentalist Vinny DePonto, and more. Free/RSVP online. Thru May 19. 1127 Market St. www.act-sf.org

Queens Read Celebrity Autobiographies @ Oasis
Second festive and hilarious night of dragsters reading excerpts from unintentionally campy celeb tell-alls, with Cruzin' d'Loo, Thee Pristine Condition, Roxy Cotton-Candy, Cristal Guysir, Intensive Claire and Carrie Fisher-Price; hosted by James J. Siegel. $20. 7pm. 289 11th St. www.sfoasis.com

Various Events @ Oakland LGBTQ Center
Social events and meetings at the new LGBTQ center include film screenings and workshops, including Bruthas Rising, trans men of color meetings, 4th Tuesdays, 6:30pm. Film screenings, 4th Saturdays, 7:30pm. Game nights, Fridays 7:30pm-11pm. Vogue sessions, first Saturdays. 3207 Lakeshore Ave. Oakland. https://www.oaklandlgbtqcenter.org/

Various Exhibits @ Asian Art Museum
Kimono Refashioned, thru May 5. Also, contemporary works by Kim Heecheon and Liu Jianhua; Tattoos in Japanese Prints and The Bold Brush of Au Ho-Nein, both thru Aug. 18; also, eexhibits of sculpture and antiquities. Sunday café specialties from $7-$16. Free-$20. Tue-Sun 10am-5pm. 200 Larkin St. http://www.asianart.org/

With(out) With(in) the Very Moment @ SF Arts Commission
Exhibit about LGBT lives, and surviving AIDS, with Elliot Anderson, Adam Ansell, Ed Aulerich-Sugai, Mark Garrett, Cliff Hengst, Nancer Lemoins, Mark Paron, Anton Stuebner, and featuring Alternate Endings, a series of video programs by Visual AIDS for Day With(out) Art. Thru June 22. 401 Van Ness Ave. www.sfartscommission.org


To submit event listings, email events@ebar.com
Deadline is each Thursday, a week before publication.
Comments on Facebook