Arts Events April 25-May 2, 2019
Wednesday Apr 24, 2019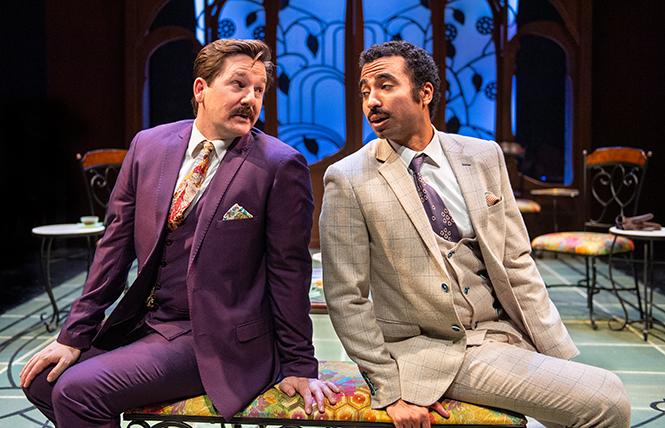 Plan it, dammit! Make your reservations now for hit plays, musicals, art exhibits and even some events that don't need any advance planning.


THURSDAY 25
110 in the Shade @ Gateway Theatre
42nd Street Moon's production of Harvey Schmidt, Tom Jones and N. Richard Nash's popular romantic musical. $30-$70. Wed-Sun thru May 12. 215 Jackson St. www.42ndStMoon.org

Adiós Mamá Carlota @ San Jose Stage Company
World premiere of Luis Valdez' drama based on events during the French occupation of Mexico. $32-$72. Thru April 28. 490 South 1st St., San Jose. www.thestage.org

Border People @ The Marsh
Dan Hoyle's new solo show embodies multiple characters based around the U.S./Mexico border wall controversies; extended thru April 27. $25-$100. Thu & Fri 8pm, Sat 5pm. 1062 Valencia St. www.themarsh.org

Bread & Rose Benefit @ Great American Music Hall
Benefit concert for programs that bring music to prisoners; with Lucius, The Nude Party, Seaweed Sisters and Matt Jaffe. $125-$350. 7pm. 859 O'Farrell St. www.slimspresents.com

Classic and New Films @ Castro Theatre
April 25: Mulholland Drive (7pm) and L'Important C'est D'Aimer (4:50, 9:35). 26: Bohemian Rhapsody (8pm). 27: Ugo Tognazzi series 10am-10pm. 28: Mary Poppins sing-along (2:30) and Bohemian Rhapsody sing-along (7pm). 29: Wings of Desire (7pm) and The American Friend (9:20). 30: Suspiria (1977, 7:30) and Climax (9:20). May 1-5: SF Silent Film Festival. $8-$11. 429 Castro St. http://www.castrotheatre.com/

An Evening With C.S. Lewis @ Marines' Memorial Theatre
David Payne plays the celebrated Chronicles of Narnia author, who tells stories of his life. $79. Thru April 28. 609 Sutter St. www.shnsf.com

Escort, Planet Booty @ Rickshaw Stop
Fun funky and disco-tronica fabulousness with the two bands. $18-$20. 8pm. 155 Fell St. www.rickshawstop.com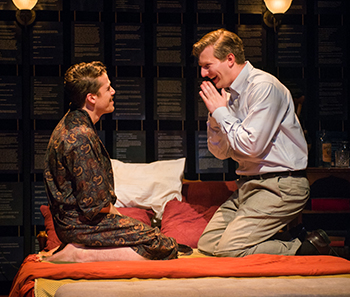 The Gentleman Caller
@ New Conservatory Theatre Center
Philip Dawkins' play explores the relationaship between gay playwrights Tennessee Williams and William Inge. $28-$44. Thru May 5. 25 Van Ness Ave, lower level. www.nctcsf.org

Hershey Felder: A Paris Love Story
@ Mountain View Center for the
Performing Arts, Mountain View
The prolific playwright/pianist performs as composer Claude Debussy. $40-$120. Thru May 5. 500 Castro St., Mountain View. www.TheatreWorks.org

Hot Draw @ SF Catalyst
Gay Men's Sketch and artist Mark I. Chester host the erotic fetish drawing group, with male models in kinky poses; all welcome. $20. 6:30pm, 1060 Folsom St. www.sfcatalyst.org

Linda Eder @ Feinstein's at the Nikko
The stellar vocalist returns for a new cabaret concert, If You See Me. $110-$135. 8pm. Also April 26 & 27. Hotel Nikko, 222 Mason St. www.feinsteinsatthenikko.com

Literary Speakeasy @ Martuni's
Readings with Rohan DaCosta, Brennan DeFrisco, Allie Marini, Jenny Qi, and Shelley Wong and host James J. Siegel. 7pm. 4 Valencia St.

Michelle Meow Show @ Commonwealth Club
Meow and cohost John Zipperer discuss LGBT issues with different prominent guests. Weekly, 12pm. 110 Embarcadero. www.commonwealthclub.org

Patty From HR Would Like a Word @ Oasis
Michael Phillis' satirical Human Resources comic solo show. $20-$50. 7pm. Also April 27. 298 11th St. www.sfoasis.com

Smoke & Mirrors: The War on Drugs @ AAACC
Exhibit of works by 6 muralists and 20 artists focusing on pot use, hemp, and historical elements of cannabis in communities of color. Tue-Fri 12pm-6pm. Sat til 5pm. Thru Aug 31. 762 Fulton St. www.aaacc.org

[title of show] @ SF State
Jeff Bowen and Hunter Bell's wacky musical about making a musical...about a musical. $18. Thru April 27. Creative Arts Bldg., 1600 Holloway Ave. www.sfsu.edu

Thunderstruck @ CounterPulse
Stina Nyberg's gizmo-filled performance work about sexism in science. $20-$35. Also April 26. 80 Turk St. www.counterpulse.org
FRIDAY 26
Actually @ Aurora Theatre, Berkeley
Anna Ziegler's new play dives into race, gender and sex on college campuses. $35-$70. Tue, Wed, Sun 7pm, Thu-Sat 8pm. Sun 2pm, thru May 5. 2081 Addison St., Berkeley. www.AuroraTheatre.org

Avery Cassell, Diane Kanzler @ CJM
Author and editor of Resistance: The LGBT Fight Against Fascism in WWII discuss their new work. 1pm-2:30pm. 736 Mission St. https://thecjm.org

Bay Area Dance Week @ Multiple Venues
The annual festival of dance includes theatre, outdoor performances, and in unusual spaces, too. Thru May 5. www.bayareadance.org

Charlie and the Chocolate Factory @ Golden Gate Theatre
Touring company of the musical stage adaptation of Roald Dahl's popular tale about a contest to tour the magical sweets factory. $40-$226. Thru May 12. 1 Taylor St. www.shnsf.com

Hamilton @ Orpheum Theatre
The mega-hit Tony-winning Broadway hip hop musical revision of American Revolutionary-era history. $111-$686. Thru Sept 8. 1192 Market St. www.shnsf.com

Helen @ NOHspace
Theatre of Yugen performs Ellen McLaughlin's updated contemporary tragicomic version of Euripedes' Helen of Troy. $15-$40. Fri-Sun thru April 27. 2840 Mariposa St. www.theatreofyugen.org

The Importance of Being Earnest @ Aurora Theatre, Berkeley
Oscar Wilde's classic "trivial comedy for serious people" gets an East Bay production. $35-$70. Extended thru May 19. 2018 Addison St., Berkeley. www.auroratheatre.org

Nigga-roo @ Exit Theatre
Dazié Grego-Sykes' acclaimed solo show exploring blackness as a social construct. $20-$30. 8pm. Fri & Sat thru April 27. 156 Eddy St. www.theexit.org

Older and Out @ North Berkeley Senior Center
Weekly group discussion about problems for elders in the LGBT community. 3:15pm. 1901 Hearst Ave., Berkeley. www.pacificcenter.org

Oleta Adams @ Yoshi's Oakland
The amazing vocalist-pianist performs jazz, folk, soul and gospel songs with her band at the stylish restaurant-nightclub. $30-$70. 8pm, 10pm. 510 Embarcadero West, Oakland. www.yoshis.com

Smuin Ballet @ YBCA
Dance Series 02 is performed. $34-$81. 7:30pm. thru May 5. Yerba Buena Center for the Arts, 700 Howard St. Also May 17, 23 & 31 thru the Bay Area. http://www.smuinballet.org/

Pippin @ Julia Morgan Theater, Berkeley
The Stephen Schwartz musical gets a local production Berkeley Playhouse. $20-$40. Thu-Sat 7pm &/or 1pm, 2pm; thru May 5. 2640 College Ave. http://berkeleyplayhouse.org

Queer Yoga @ Love Story Yoga
All-level weekly classes in an LGBT space. $11. 6:30pm-7:30pm. 473 Valencia St. at 16th. http://www.lovestoryyoga.com/

Ramon Pablo Vidali @ Strut
Castro on Canvas, the artist's historic portraits of the Sisters of Perpetual Indulgence. Thru April. 470 Castro St. www.ramonvidaliart.com www.strutsf.org

Time Sensitive @ Flight Deck, Oakland
Amy Sass' thoughtful contemplation of life and philosophical queries. $25-$75. Thru May 4. 1540 Broadway, Oakland. www.raggedwing.org

Yoga Play @ SF Playhouse
Dipika Guha's comic play about the conflict of commerical scandal and spiritual enlightenment. $35-$125. Thru April 20. 450 Post St., 2nd floor, Kensington Park Hotel. www.sfplayhouse.org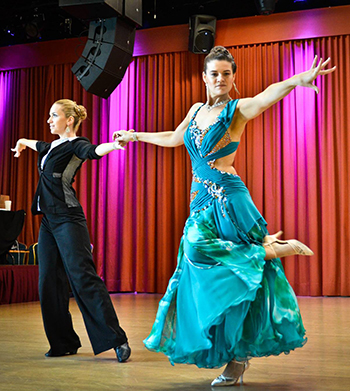 SATURDAY 27
Animation Exhibits @ Walt Disney Museum
Exhibit of animation art by the prolific artists. 104 Montgomery St, The Presidio. $5-$25. 10am-6pm. Closed Tue. http://wdfmuseum.org/

Beach Blanket Babylon @ Club Fugazi
The musical comedy revue celebrates its 45th year with an ever-changing lineup of political and pop culture icons, all in gigantic wigs. $25-$160. Beer/wine served; cash only; 21+, except where noted. Wed-Fri 8pm. Sat 6pm & 9pm. Sun 2pm & 5pm. 678 Beach Blanket Babylon Blvd. (Green St.). 421-4222. www.beachblanketbabylon.com

Crescendo @ Fairmont Hotel
San Francisco Gay Men's Chorus' 13th annual gala benefit, with a cocktail reception, silent auction, dinner and awards, featuring honorees Kristin Chenowith, Adam Rippon, plus presenters Stephen schwartz, Brian Boitano, Andrew Lippa and Honey Mahogany. $250 and up. 5pm-10pm; black tie optional. 950 Mason St. www.sfgmc.org

Dance Competition @ April Follies, Oakland
Day-long same-sex dance competition, with Tango, Swing, Latin dancers, several LGBT Gay Games ballroom couples, and novices. $35-$65. 10am-10pm. 1400 Embarcadero, Oakland. www.aprilfollies.com

Dancing in the Park @ Music Concourse
Annual dance concert features more than a dozen local companies performing excerpts and full works. 1pm-5pm. Golden Gate Park. http://mfdpsf.org/dancing-in-the-park-sf/

Dazz Band @ Yoshi's Oakland
Classic funk featuring Eric EQ Young at the nightclub-restaurant. $33-$70. 7:30pm & 9:30pm. 510 Embarcadero West, Oakland. www.yoshis.com

The Diary of Anne Frank @ Lesher Arts Center, Walnut Creek
Frances Goodrich and Albert Hackett's dramatic adaptation, based on the world-famous diary of a young Jewish girl hiding with her family from Nazis, is performed by Center Repertory Theatre. $34-$56. Thru April 28. 1601 Civic Drive, Walnut Creek. http://www.lesherartscenter.org/

Films @ BAM/PFA
Artistic and award-winning films, including international features, and documentaries about artists; ongoing. 2155 Center St., Berkeley. www.bampfa.org

Fleetwood Macramé @ Elbo Room Jack London
The Fleetwood Mac tribute band performs; DJed funk downstairs. $15. 9pm. 311 Broadway, Oakland. www.elboroomjacklondon.com

Independent Bookstore Day @ Various Bookstores
Patronize indie bookstores, including Booksmith and The Bindery, with SFSU Mazza Writer in Residence Juliana Delgado Lopera and Fauxnique. 3pm. 1644 Haight St. www.booksmith.com http://www.indiebookstoreday.com/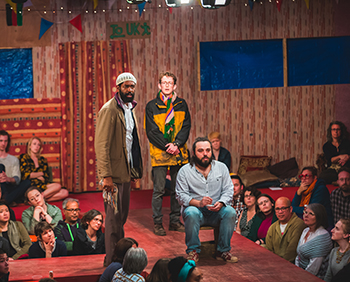 The Jungle @ Curran Theatre
Joe Murphy and Joe Robertson's acclaimed drama about French refugee camp immigrants, set in an up-close immersive and intimate staging. $79-$165. Thru May 19. 445 Geary St. www.sfcurran.com

LGBTQ Histories from the WWII Home Front @ Rosie the Riveter Visitor
Education Center, Richmond
Park indoor exhibit that showcases the lives of historic LGBT people. Open daily 10am-5pm. 1414 Harbour Way South, Suite 3000, Richmond. https://www.nps.gov/rori/index.htm

Queer Comics Expo @ Cartoon Art Museum
Dress up, draw, meet artists, mingle, buy comics, watch demonstrations, join conversations, and learn about the fierce LGBTQ world of comics and cartoons. $4-$10. 11am-5pm. Also April 28. 781 Beach St. https://www.cartoonart.org/

Other Cinema @ ATA Gallery
Weekly screenings of wacky, unusual, short, documentary and animated films; free books, vinyl, VHS and wine. $7. 8:30pm. 992 Valencia St. www.othercinema.com

Skate Night @ Church on 8 Wheels
Wheeled fun at the former Sacred Heart Church-turned disco roller skate party space, hosted by John D. Miles, the "Godfather of Skate," including Saturday's Black Rock night (Burning Man garb encouraged). 7pm-10pm. Sat afternoon sessions 1pm-2pm and 3pm-5pm. $10. Kids 12 and under $5. Skate rentals $5. 554 Fillmore St at Fell. www.churchof8wheels.com

That Don Reed Show @ The Marsh Berkeley
The acclaimed local playwright/performer returns with his hit solo show that takes on Black stereotypes and show business bias. $20-$100. Sat 8:30pm, Sun 5:30pm; extended thru April 28. 2120 Allston Way, Berkeley. www.themarsh.org

Various Exhibits @ NIAD Art Center, Richmond
Exhibits of art by visiting professionals, and art made by developmentally disabled people. Mon-Fri 10am-4pm. 551 23rd St., Richmond. (510) 620-0290. www.niadart.org

Wild SF Walking Tours @ Citywide
Enjoy weekly informed tours of various parts of San Francisco, from Chinatown to the Haight, and a 'radical' and political-themed LGBT-inclusive tour. Various dates and times. $15-$25. www.wildsftours.com

Wimples of the World @ Harvey Milk Photo Center
Group exhibit of art, portraits and photos of the Sisters of Perpetual Indulgence, who celebrate their 40th anniversary. Thru May 11. 50 Scott St. www.harveymilkphotocenter.org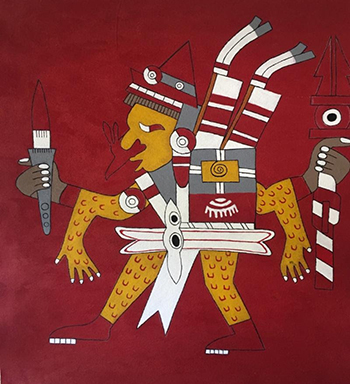 SUNDAY 28
Adam Rippon @ Commonwealth Club
The gay figure skater is interviewed by Michelle Meow and John Zipperer. $10-$25. 1pm. 110 Embarcadero. www.commonwealthclub.org

Ecstatic Dance @ Sacred Heart Church
Weekly group freeform dance with a spiritual flavor at the former church-turned event space. $15. 9am-12pm. Also Wed. and Fridays in Oakland and Fairfax. 554 Fillmore St. www.ecstaticdance.org

Expedition Reef
@ California Academy of Sciences
Exhibits and planetarium shows with various live, interactive and installed exhibits about animals, plants and the earth; Deep Reefs, Giants of Land and Sea, Gems and Minerals, and more. $20-$35. Mon-Sat 9:30am-5pm. Sun 11am-5pm. 55 Music Concourse Drive, Golden Gate Park. 379-8000. www.calacademy.org

Joshua Henry @ Venetian Room
The Hamilton star performs his new solo concert of Broadway faves and pop mash-ups. $40-$75. 7:30pm. Fairmont Hotel, 950 Mason St. www.bayareacabaret.org

Magnificent Magnolias @ SF Botanical Garden
Visit the lush gardens with displays of trees, flowers and shrubs from around the world, including the annual Magnolia bloom. Monthly plant sales, plus art exhibits and gift shop; free entry with SF proof of residency. $5-$10 for others. 7:30am-closing. 9th Ave at Lincoln Way. https://sfbotanicalgarden.org/

Maricela, Luis Mora @ Dance Palace
Art and photo exhibit of imagery and symbolism of Danza Azteca. 503 B St., Point Reyes Station. http://dancepalace.org

Marks in Time @ Marin Center
Exhibit of the work of tattoo artists; thru May 31. 10 Ave of the Flags, San Rafael. www.marincounty.org
Monet: The Late Years
@ de Young Museum
New exhibit of the French Impressionist's great later works, including Water Lilies; thru May 27. Also, modern and historic art, including embroidery, Maori portraits and installations. Free/$15. 50 Hagiwara Tea Garden Drive, Golden Gate Park. www.famsf.org

Out of Site @ Bar Agricole
Sneak preview of Seth Eisen's new LGBT walking tour, with Marga Gomez and others portraying historic Bay Area people; includes delicious food and elegant wines. $100-$250. 1pm-4pm. 355 11th St. www.eyezen.org

Plant Exhibits @ Conservatory of Flowers
Artfully arranged plant and floral exhibits. 100 John F. Kennedy Drive, Golden Gate Park. https://conservatoryofflowers.org

Queer California: Untold Stories @ Oakland Museum
Multimedia exhibition documenting California LGBT lives, with contemporary artwork, rare historical materials, film, photography, sculpture; thru Aug. 11. Also, Cruisin' the Fossil Coastline, Ray Troll's colorful illustrations paired with paleontologist Kirk Johnson's research. Also, Take Root: Oakland Grows Food and other exhibits. Free/$15. 1000 Oak St. http://museumca.org/

Queer Tango @ Finnish Hall, Berkeley
Same-sex partner tango dancing, including lessons for newbies, food and drinks. $5-$10. 3:30pm-6:30pm. 1970 Chestnut St, Berkeley. www.finnishhall.org

Rainbow World Fund @ Newmeyer Mansion
Enjoy live Cuban music, cocktails, wine and food at a fundraiser for LGBTQ Pride in Cuba, with hosts Cleve Jones, John Newmeyer and Rainbow World Fund. $50-$500. 3pm-6pm. 2004 Gough St. www.rainbowfund.org

Smack Dab @ Manny's
The queer open mic series in a new venue features Avery Cassel, writer of 2019 Lambda Literary Award finalist Resistance: The LGBT Fight Against Fascism in WWII. 7pm. 3092 16th St. https://welcometomannys.com/

Sprightly @ SF Public Library
Weekly hangout for LGBTQ youth, with crafts, snacks and activities. 12:30pm-2:30pm. James C. Hormel Center, 3rd floor, 100 Larkin St. www.sfpl.org

Various Exhibits @ Chabot Space & Science Museum, Oakland
Space, science and planetary exhibits, including planetarium shows and the Observatory; special nighttime events like meteor shower shows. Free-$18. 10000 Skyline Blvd., Oakland. www.chabotspace.org
MONDAY 29
All Poetry is Local @ Folio Books
Odd Mondays reading series features poets Helen Dannenberg and Jeff Kaliss. 7pm. 3957 24th St. www.foliosf.com

Dorian Katz @ Wicked Grounds
The illustrator's exhibit of queer comics and coloring books; thru April. 289 8th St. www.wickedgrounds.com

Lest We Forget @ Civic Center Plaza
Luigi Toscano's outdoor photo exhibit of 78 large-scale portraits of Holocaust survivors; thru May 19. https://bit.ly/2uSNrfO

Modern Art @ SF MOMA
Wayne Thiebaud, Etel Adnan, Alexander Calder, Donald Judd, Louise Bourgeois and many classic Modern works. The Sea Ranch: Architecture, Envioronment and Idealism (thru April 28). Vija Celmins: To Fix the Image in Memory, thru March 31. Free/$25. Fri-Tue 10am-6pm. 151 3rd St. www.sfmoma.org

Show Me as I Want to Be Seen
@ Contemporary Jewish Museum
Show Me as I Want to Be Seen, the work of groundbreaking French Jewish artist, Surrealist, and activist Claude Cahun (1894—1954) and her lifelong lover and collaborator Marcel Moore (1892—1972), thru July 7; In That Case: Havruta in Contemporary Art—Oxossi Ayofemi and Risa Wechsler, thru July. Lew the Jew and His Circle: Origins of American Tattoo, an exhibit of the prolific tattoo artist's work, tools and life; thru June 9. 736 Mission St. https://thecjm.org/

Various Exhibits @ SF Public Library
In Search of the Glass Slipper, Perci Chester's '70s gay community photo exhibit; thru May 16. Immigrant Girl, Radical Woman, an art exhibition of historical research and ephemera about early twentieth century immigrant and activist Matilda Rabinowitz; thru May 19. Portal: Group Show of Speculative Fiction, thru Feb. Art/Work: Art Created by the Staff at SFPL, thru Mar. 8. SF Wildlife: Photography by Jouko van der Kruijssen, thru Mar. 28. 100 Larkin St. www.sfpl.org

William Blake in Color @ William Blake Gallery
Exhibit of classic plates in the new gallery of historic art by the 18th- and 19th-century poet and illustrator. Mon-Fri 10am-5pm. Sat 11am-5pm. 49 Geary St. #205. www.williamblakegallery.com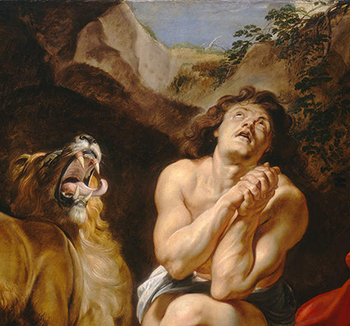 TUESDAY 30
Early Rubens @ Legion of Honor
Exhibit of epic massive paintings of biblical and mythical subjects by Peter Paul Rubens; Thru Sept 8. Also, Small Inventions: Artist's Books by Charles Hobson (thru July 14); Mummies and Medicine (thru April 14) and other exhibits of classical and modern art. Free/$30. Lincoln Park, 100 34th Ave. https://legionofhonor.famsf.org/

Hannah Gadsby Douglas @ Palace of Fine Arts
The Australian lesbian comic performs. $40-$60. 8pm. Also May 1-3. 3301 Lyon St. www.apeconcerts.com https://palaceoffinearts.org

Significant Other @ SF Playhouse
Joshua Harmon's witty romantic comedy about a gay men who endures all his friends' weddings. $20-$100. Thru June 15. 450 Post St. www.sfplayhouse.org

Survey Bay Area @ Montague Gallery
Group exhibit of Bay Area glass artists; 5:30pm-7:30pm; thru April 13. Tue-Fri 11am-6pm. Sat 11am-5pm. 445A Sutter St. http://montaguegallerysf.com/

Various Exhibits @ The Beat Museum
Enjoy exhibits, a bookstore and gift shop that celebrates the era of 'Beatnik' literature (Jack Kerouac, Allen Ginsberg, William S. Burroughs, etc.), with frequent readings, walking tours and other events in North Beach. $5-$8. Daily 10am-7pm. 540 Broadway www.kerouac.com

Weightless @ Strand Theater
American Conservatory Theatre's and Z Space present the Kilbanes' rock musical about sisterhood, love, betrayal and rebirth. $15-$65. Tue-Sat 7:30pm, thru May 12. 1127 Market St. www.act-sf.org

Westward @ City Hall
Exhibit of large-scale photos by women photographers focusing on West Coast communities, thru May. North Light Court, Ground Floor, 1 Dr Carlton B Goodlett
Place. www.sfartscommission.org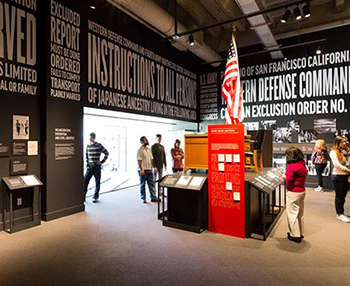 WEDNESDAY 1
Exclusion @ Presidio Officers Club
Exhibit documenting the Presidio's Japanese-American incarceration during World War II; other exhibits show the history of the former military base and the SF peninsula. Free, Tue-Sun 10am-5pm. Thru Spring 2019. 50 Maraga Ave. https://www.presidio.gov/officers-club/exhibitions/

Kour Pour @ Ever Gold Gallery
Exhibit of vibrant paintings combining historic and contemporary tapestry themes; thru May 4. Wed-Sat 12pm-5pm. Minnesota Art Project, 1275 Minnesota St. at 24th. www.evergoldprojects.com

SoMa Nights @ GLBT History Museum
SoMa Nights: 1980s-1990s Queer Club Photography, an exhibit of prints by prolific photographer Melissa Hawkins. Also, Two-Spirit Voices: Returning to the Circle, a Native American queer exhibit of the Bay Area organization on its 20th anniversary, including the annual Two-Spirit Powwow organized by BAAITS, indigenous medicine and responses to HIV/AIDS, and Two-Spirit meaning within indigenous communities. May 1 panel discussion with Two Spirit activists. $5. 7pm. 4127 18th St. www.glbthistory.org

Then They Came For Me @ Futures Without Violence
Incarceration of Japanese Americans During WWII and the Demise of Civil Liberties, a touring multimedia exhibit documenting the terrifying period in U.S. history when the government scapegoated and imprisoned thousands of people of Japanese ancestry, including photographs by Dorothea Lange and Ansel Adams, alongside works by incarcerated Japanese American artists Toyo Miyatake and Miné Okubo. Free. Wed-Sun 10am-6pm. 100 Montgomery St. https://thentheycame.org/

Uncertainty Principle @ The Marsh
Adam Strauss' new solo show grapples with OCD and life's big questions. $20-$100. Wed & Fri 8pm, thru Mar. 29. 1062 Valencia St. www.themarsh.org

Various Exhibits @ Asian Art Museum
Kimono Refashioned, thru May 5. Also, contemporary works by Kim Heecheon and Liu Jianhua; also, exhibits of sculpture and antiquities. Sunday café specialties from $7-$16. Free-$20. Tue-Sun 10am-5pm. 200 Larkin St. http://www.asianart.org/

Various Events @ Oakland LGBTQ Center
Social events and meetings at the new LGBTQ center include film screenings and workshops, including Bruthas Rising, trans men of color meetings, 4th Tuesdays, 6:30pm. Film screenings, 4th Saturdays, 7:30pm. Game nights, Fridays 7:30pm-11pm. Vogue sessions, first Saturdays. 3207 Lakeshore Ave. Oakland. https://www.oaklandlgbtqcenter.org/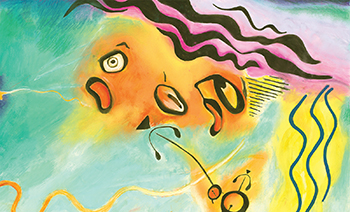 THURSDAY 2
48 Hills Spring Gala @ Oasis
The indie local progressive news & culture website's 6th annual fundraiser features food, drinks, entertainment and a smart crowd, guest-speaker Pulitzer-winning journalist Martin Espinoza and Latin jazz quartet The Turnaround. $50-$500 and up. 6pm-9pm. 298 11th St. www.48hills.org www.sfoasis.com

The Life and Times of Jo Mora
@ Cartoon Art Museum
New exhibit of drawing, maps, paintings and ephemera by the prolific illustrator of American culture (1876-1947). Thru April 28. 781 Beach St. www.cartoonart.org

Nancy and Beth @ Feinstein's at the Nikko
Megan Mullally (Emmy winner, Will & Grace) and Stephanie Hunt returns with their new comic music cabaret show. $65-$105 ($20 food/drink min.). 8pm. Also May 3 & 4. Nikko Hotel, 222 Mason St. https://www.feinsteinsatthenikko.com/

With(out) With(in) the Very Moment @ SF Arts Commission
Exhibit about LGBT lives, and surviving AIDS, with Elliot Anderson, Adam Ansell, Ed Aulerich-Sugai, Mark Garrett, Cliff Hengst, Nancer Lemoins, Mark Paron, Anton Stuebner, and featuring Alternate Endings, a series of video programs by Visual AIDS for Day With(out) Art. Thru June 22. 401 Van Ness Ave. www.sfartscommission.org


To submit event listings, email events@ebar.com
Deadline is each Thursday, a week before publication.
Comments on Facebook