Arts Events April 11-18 2019
Wednesday Apr 10, 2019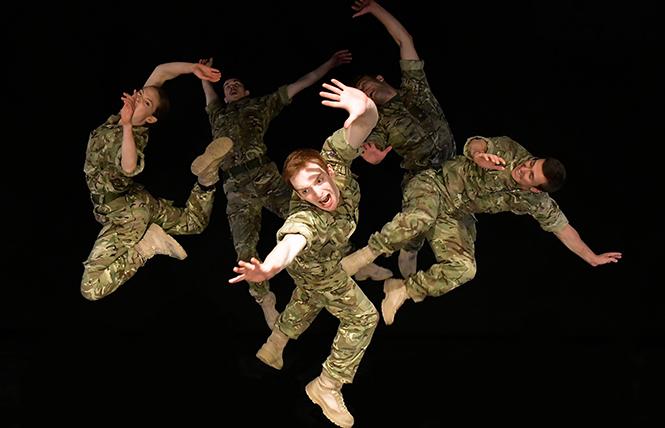 Whether it's free admission or VIP tickets, you can enjoy the arts in so many ways.


THURSDAY 11
Adiós Mamá Carlota @ San Jose Stage Company
World premiere of Luis Valdez' drama based on events during the French occupation of Mexico. $32-$72. Thru April 28. 490 South 1st St., San Jose. www.thestage.org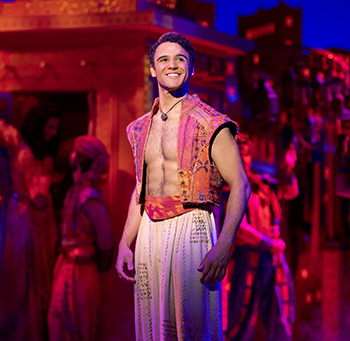 Aladdin @ San Jose Performing Arts Center
The stage adaptation of Disney's hit animated musical is performed by the national touring company. Thru April 21. 255 South Almaden Blvd., San Jose. www.AladdinTheMusical.com

Alvin Ailey American
Dance Theatre @ Zellerbach Hall
Annual residency and 4-program concert series by the acclaimed New York dance company. $38-$145. Thru April 14. Bancroft Way at Dana, UC Berkeley campus. www.calperformances.org

Annalee Newitz,
Charlie Jane Anders
@ SF Public Library
The two queer authors discuss their new books (Anders' The City in the Middle of the Night, Newitz' Autonomous. 6pm. 100 Lartin St., 3rd floor. www.sfpl.org

Border People @ The Marsh
Dan Hoyle's new solo show embodies multiple characters based around the U.S./Mexico border wall controversies; extended thru April 27. $25-$100. Thu & Fri 8pm, Sat 5pm. 1062 Valencia St. www.themarsh.org

Classic and New Films @ Castro Theatre
10-21: SF International Film Festival; opening night is the new Armistead Maupin's Tales of the City (7pm). Thru April 22. $8-$11. 429 Castro St. http://www.castrotheatre.com/

Comedy Night @ Ashkenaz
Pre-Tax Day comedy with Marga Gomez, Joseph Nguyen, Joe Klocek, and host Lisa Geduldig. $5-$20. 8pm. 1317 San Pablo Ave., Berkeley. http://www.ashkenaz.com/

Drunk Drag Broadway @ Oasis
The show-tune drag ensemble returns with Hairsprayed, a live-song parody-tribute show of songs from the musical Hairspray. $25-$50. 7pm. Also April 12 & 13. 298 11th St. www.sfoasis.com
Hershey Felder: A Paris Love Story @ Mountain View Center for the Performing Arts, Mountain View
The prolific playwright/pianist performs as composer Claude Debussy. $40-$120. Thru May 5. 500 Castro St., Mountain View. www.TheatreWorks.org

Mattachine: A Queer Serial @ GLBT History Museum
New three-part weekly series of talks about the history of the gay rights movement, with historian Joey Cain and podcast creator Devyln Camp. $5. 7pm. Thursdays thru April 18. 4127 18th St. www.glbthistory.org

Michelle Meow Show @ Commonwealth Club
Meow and cohost John Zipperer discuss LGBT issues with different prominent guests. Weekly, 12pm. 110 Embarcadero. www.commonwealthclub.org

La Ronde @ Exit Theatre
Cutting Ball Theater's production of Arthur Schnitzler's drama about romantic liasons (translated by Eric Bentley). Thru April 14. 277 Taylor St. http://cuttingball.com/

Rosie Kay Dance Company @ Taube Atrium Theater
San Francisco Performances presents 5 Soldiers: The Body is the Frontline, a riveting dance about the physicality of modern-day warfare. $65. Thru April 13 (April 12, also 2pm, free for veterans; call 415-677-0325.) War Memorial Veterans Bldg., 4th floor. https://www.sfwmpac.org/

SoMa Nights @ GLBT History Museum
SoMa Nights: 1980s-1990s Queer Club Photography, an exhibit of prints by prolific photographer Melissa Hawkins. Also, Two-Spirit Voices: Returning to the Circle, a Native American queer exhibit of the Bay Area organization on its 20th anniversary, including the annual Two-Spirit Powwow organized by BAAITS, indigenous medicine and responses to HIV/AIDS, and Two-Spirit meaning within indigenous communities. $5. 4127 18th St. www.glbthistory.org

Ten Fé @ Independent
Brit art pop concert; Madison Malone opens. $15. 9pm. 628 Divisadero. http://apeconcerts.com/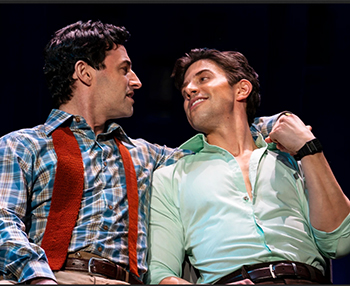 FRIDAY 12
Actually @ Aurora Theatre, Berkeley
Anna Ziegler's new play dives into race, gender and sex on college campuses. $35-$70. Tue, Wed, Sun 7pm, Thu-Sat 8pm. Sun 2pm, thru May 5. 2081 Addison St., Berkeley. www.AuroraTheatre.org

Alysha Umphress
@ Feinstein's at the Nikko
The talented Broadway singer-actres performs her new jazz-edged cabaret show. $35-$65. ($20 food/drink min.) pm. Also Also April 13. Hotel Nikko, 222 Mason St. www.feinsteinsatthenikko.com

April Fowls' Day @ PianoFight
Comedy show with the Chicken Scratch group, at the theater/restaurant & bar. $12-$15. 7pm. Also April 13. 144 Taylor St. www.pianofight.com

Deathtrap @ Gateway Theatre
Theatre Rhino's production of Ira Levin's classic '70s comedy thriller. $15-$45. Wed-Sat 8pm, Sat 3pm; thru April 14. 215 Jackson St. www.TheRhino.org

Falsettos @ Golden Gate Theatre
Touring production of William Finn and James Lapine's Tony-winning operetta about a gay couple facing AIDS, ex-wives, precocious kids and 'the lesbians next door.' $56-$256. Tue-Thu 7:30pm. Fri & Sat 8pm. Wed, Sat, Sun 2pm. Thru April 14. 1 Taylor St. at Market. www.shnsf.com

The Gentleman Caller @ New Conservatory Theatre Center
Philip Dawkins' play explores the relationaship between gay playwrights Tennessee Williams and William Inge. $28-$44. Thru May 5. 25 Van Ness Ave, lower level. www.nctcsf.org

Hamilton @ Orpheum Theatre
The mega-hit Tony-winning Broadway hip hop musical revision of American Revolutionary-era history. $111-$686. Thru Sept 8. 1192 Market St. www.shnsf.com

Helen @ NOHspace
Theatre of Yugen performs Ellen McLaughlin's updated contemporary tragicomic version of Euripedes' Helen of Troy. $15-$40. Fri-Sun thru April 27. 2840 Mariposa St. www.theatreofyugen.org
Home @ Berkeley Repertory
Geoff Sobelle's amazing immersive play, where a two-story house is constructed as its residents tell their stories. $30-$91; thru April 21. Roda Theatre, 2015 Addison St. www.berkeleyrep.org

The Importance of Being Earnest
@ Aurora Theatre, Berkeley
Oscar Wilde's classic "trivial comedy for serious people" gets an East Bay production. $35-$70. Thru May 12. 2018 Addison st., Berkeley. www.auroratheatre.org

Murder She Wrote (in Drag) @ PianoFight
Campy parody of the Angela Lansbury mystery show. $25-$30. 10pm. 144 Taylor St. www.pianofight.com

Older and Out
@ North Berkeley Senior Center
Weekly group discussion about problems for elders in the LGBT community. 3:15pm. 1901 Hearst Ave., Berkeley. www.pacificcenter.org

Pippin @ Julia Morgan Theater, Berkeley
The Stephen Schwartz musical gets a local production Berkeley Playhouse. $20-$40. Thu-Sat 7pm &/or 1pm, 2pm; thru May 5. 2640 College Ave. http://berkeleyplayhouse.org

Porchlight Storytelling @ CIIS
Stories exploring the understanding of self and the fluidity of identity, inspired by the Contemporary Jewish Museum exhibit Show Me as I Want to be Seen, with Kelly Beardsley, India Marie Chakraverty, Eddie Jen, Juliana Delgado Lopera, and Donna Persona. $20. 7pm. Caliofrnia Insiotute of Integral Studies, 1453 Mission St. http://www.porchlightsf.com www.ciis.edu

Queer Yoga @ Love Story Yoga
All-level weekly classes in an LGBT space. $11. 6:30pm-7:30pm. 473 Valencia St. at 16th. http://www.lovestoryyoga.com/

Ramon Pablo Vidali @ Strut
Castro on Canvas, the artist's historic portraits of the Sisters of Perpetual Indulgence. Thru April. 470 Castro St. www.ramonvidaliart.com www.strutsf.org

Time Sensitive @ Flight Deck, Oakland
Amy Sass' thoughtful contemplation of life and philosophical queries. $25-$75. Thru May 4. 1540 Broadway, Oakland. www.raggedwing.org

Yoga Play @ SF Playhouse
Dipika Guha's comic play about the conflict of commerical scandal and spiritual enlightenment. $35-$125. Thru April 20. 450 Post St., 2nd floor, Kensington Park Hotel. www.sfplayhouse.org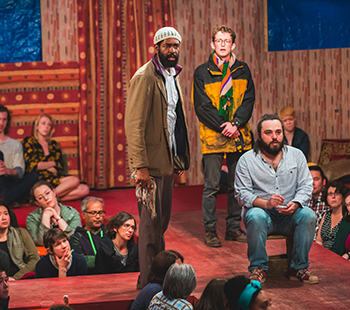 SATURDAY 13
Animation Exhibits @ Walt Disney Museum
Exhibit of animation art by the prolific artists. 104 Montgomery St, The Presidio. $5-$25. 10am-6pm. Closed Tue. http://wdfmuseum.org/

Beach Blanket Babylon @ Club Fugazi
The musical comedy revue celebrates its 45th year with an ever-changing lineup of political and pop culture icons, all in gigantic wigs. $25-$160. Beer/wine served; cash only; 21+, except where noted. Wed-Fri 8pm. Sat 6pm & 9pm. Sun 2pm & 5pm. 678 Beach Blanket Babylon Blvd. (Green St.). 421-4222. www.beachblanketbabylon.com

The Diary of Anne Frank
@ Lesher Arts Center, Walnut Creek
Frances Goodrich and Albert Hackett's dramatic adaptation, based on the world-famous diary of a young Jewish girl hiding with her family from Nazis, is performed by Center Repertory Theatre. $34-$56. Thru April 28. 1601 Civic Drive, Walnut Creek. http://www.lesherartscenter.org/

Films @ BAM/PFA
Artistic and award-winning films, including international features, and documentaries about artists; ongoing. 2155 Center St., Berkeley. www.bampfa.org

In Old Age @ Magic Theatre
Part of Nigerian playwright Mfoniso Udofia's Ufot Family Cycle trilogy is performed. $40-$100. Thru April 21. 2 Marina Blvd. www.ufotplays-sf.com

The Jungle @ Curran Theatre
Joe Murphy and Joe Robertson's acclaimed drama about French refugee camp immigrants, set in an up-close immersive and intimate staging. $79-$165. Thru May 19. 445 Geary St. www.sfcurran.com

LGBTQ Histories from the WWII Home Front
@ Rosie the Riveter Visitor Education Center, Richmond
Park indoor exhibit that showcases the lives of historic LGBT people. Open daily 10am-5pm. 1414 Harbour Way South, Suite 3000, Richmond. https://www.nps.gov/rori/index.htm

Maricela, Luis Mora @ Dance Palace
Art and photo exhibit of imagery and symbolism of Danza Azteca. 503 B St., Point Reyes Station. http://dancepalace.org

Mark Foehringer Dance Project @ Cowell Theater
Alice in Wonderland, the choreographer's dance adaptation of the classic children's book, is performed. 11am & 2pm thru April 14. Fort Mason, 2 Marina Blvd. https://fortmason.org/

Other Cinema @ ATA Gallery
Weekly screenings of wacky, unusual, short, documentary and animated films; free books, vinyl, VHS and wine. $7. 8:30pm. 992 Valencia St. www.othercinema.com

Queer California: Untold Stories @ Oakland Museum
Multimedia exhibition documenting California LGBT lives; thru Aug. 11. 1000 Oak St. http://museumca.org/

Skate Night @ Church on 8 Wheels
Wheeled fun at the former Sacred Heart Church-turned disco roller skate party space, hosted by John D. Miles, the "Godfather of Skate," including Saturday's Black Rock night (Burning Man garb encouraged). 7pm-10pm. Sat afternoon sessions 1pm-2pm and 3pm-5pm. $10. Kids 12 and under $5. Skate rentals $5. 554 Fillmore St at Fell. www.churchof8wheels.com

Soiree @ Terra
The LGBT Center's annual gala benefit, with dinner, dancing, a live auction, Juanita MORE! and drag crew, DJ Lady Rayan and Katya Smirnoff-Skyy, raffles and open bar. $95 and up. 5pm-11:30pm. 511 Harrison St. www.sfcenter.org

That Don Reed Show @ The Marsh Berkeley
The acclaimed local playwright/performer returns with his hit solo show that takes on Black stereotypes and show business bias. $20-$100. Sat 8:30pm, Sun 5:30pm; extended thru April 28. 2120 Allston Way, Berkeley. www.themarsh.org

Trade @ Spark Arts Gallery
Theatre Rhino's pop-up production of Mark O'Halloran's two-person play about an elderly gay Irish man who hires a companion. $10-$15. 8pm. Also April 14, 2pm & 8pm. 4229 18th St. www.TheRhino.org

Various Exhibits @ NIAD Art Center, Richmond
Exhibits of art by visiting professionals, and art made by developmentally disabled people. Mon-Fri 10am-4pm. 551 23rd St., Richmond. (510) 620-0290. www.niadart.org

Wild SF Walking Tours @ Citywide
Enjoy weekly informed tours of various parts of San Francisco, from Chinatown to the Haight, and a 'radical' and political-themed LGBT-inclusive tour. Various dates and times. $15-$25. www.wildsftours.com

Women's Open Mic @ Plymouth Jazz and Justice Church
Elaine C. Brown and Kelliane Parker are featured at the reading night. $7-$10. 424 Monte Vista, Oakland. http://plymouthoakland.org/

Writers With Drinks @ Make Out Room
Mike Chen, Peng Shepherd, Arkady Martine and host Charlie Jane Anders read and tell stories. $5-$20. 7pm-9:30pm. 3225 22nd St. http://www.makeoutroom.com/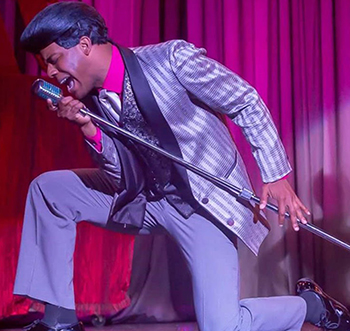 SUNDAY 14
Alan Cumming
@ Schultz Cultural Arts Hall, Palo Alto
The film and Broadway actor performs his witty new cabaret show full of pop mashups. $150-$250. 7:30pm. Oshmans Family JCC, 3921 Fabian Way, Palo Alto. https://www.paloaltojcc.org/

Amaranth Quartet @ Center for New Music
The women's strong quartet performs D. Riley Nicholson's Break and parts of Philip Glass's Bent. 2pm. $10-$20. 55 Taylor St. https://centerfornewmusic.com/

Cruisin' the Fossil Coastline
@ Oakland Museum
Cruisin' the Fossil Coastline, Ray Troll's colorful illustrations paired with paleontologist Kirk Johnson's research. Also, Take Root: Oakland Grows Food and other exhibits. Friday night events 5pm-9pm. Free/$15. 1000 Oak St. http://museumca.org

Ecstatic Dance @ Sacred Heart Church
Weekly group freeform dance with a spiritual flavor at the former church-turned event space. $15. 9am-12pm. Also Wed. and Fridays in Oakland and Fairfax. 554 Fillmore St. www.ecstaticdance.org

Expedition Reef @ California Academy of Sciences
Exhibits and planetarium shows with various live, interactive and installed exhibits about animals, plants and the earth; Deep Reefs, Giants of Land and Sea, Gems and Minerals, and more. $20-$35. Mon-Sat 9:30am-5pm. Sun 11am-5pm. 55 Music Concourse Drive, Golden Gate Park. 379-8000. www.calacademy.org

Magnificent Magnolias @ SF Botanical Garden
Visit the lush gardens with displays of trees, flowers and shrubs from around the world, including the annual Magnolia bloom. Monthly plant sales, plus art exhibits and gift shop; free entry with SF proof of residency. $5-$10 for others. 7:30am-closing. 9th Ave at Lincoln Way. https://sfbotanicalgarden.org/

Marks in Time @ Marin Center
Exhibit of the work of tattoo artists; thru May 31. 10 Ave of the Flags, San Rafael. www.marincounty.org

Monet: The Late Years @ de Young Museum
New exhibit of the French Impressionist's great later works, including Water Lilies; thru May 27. Also, modern and historic art, including embroidery, Maori portraits and installations. Free/$15. 50 Hagiwara Tea Garden Drive, Golden Gate Park. www.famsf.org

Plant Exhibits @ Conservatory of Flowers
Artfully arranged plant and floral exhibits. 100 John F. Kennedy Drive, Golden Gate Park. https://conservatoryofflowers.org

Queer Tango @ Finnish Hall, Berkeley
Same-sex partner tango dancing, including lessons for newbies, food and drinks. $5-$10. 3:30pm-6:30pm. 1970 Chestnut St, Berkeley. www.finnishhall.org

Remembering James @ Boxcar Theatre
Dedrick Weathersby plays the R&B king James Brown in this dramatic musical. $37-$63. 4pm & 7pm. (Also May 9, June 9). 644 Broadway. www.boxcartheatre.org

Sprightly @ SF Public Library
Weekly hangout for LGBTQ youth, with crafts, snacks and activities. 12:30pm-2:30pm. James C. Hormel Center, 3rd floor, 100 Larkin St. www.sfpl.org

Various Exhibits @ Chabot Space & Science Museum, Oakland
Space, science and planetary exhibits, including planetarium shows and the Observatory; special nighttime events like meteor shower shows. Free-$18. 10000 Skyline Blvd., Oakland. www.chabotspace.org
MONDAY 15
Dorian Katz @ Wicked Grounds
The illustrator's exhibit of queer comics and coloring books; thru April. 289 8th St. www.wickedgrounds.com

Modern Art @ SF MOMA
Wayne Thiebaud, Etel Adnan, Alexander Calder, Donald Judd, Louise Bourgeois and many classic Modern works. The Sea Ranch: Architecture, Envioronment and Idealism (thru April 28). Vija Celmins: To Fix the Image in Memory, thru March 31. Free/$25. Fri-Tue 10am-6pm. 151 3rd St. www.sfmoma.org

Show Me as I Want to Be Seen @ Contemporary Jewish Museum
Show Me as I Want to Be Seen, the work of groundbreaking French Jewish artist, Surrealist, and activist Claude Cahun (1894—1954) and her lifelong lover and collaborator Marcel Moore (1892—1972), thru July 7; In That Case: Havruta in Contemporary Art—Oxossi Ayofemi and Risa Wechsler, thru July. Lew the Jew and His Circle: Origins of American Tattoo, an exhibit of the prolific tattoo artist's work, tools and life; thru June 9. 736 Mission St. https://thecjm.org/

William Blake in Color @ William Blake Gallery
Exhibit of classic plates in the new gallery of historic art by the 18th- and 19th-century poet and illustrator. Mon-Fri 10am-5pm. Sat 11am-5pm. 49 Geary St. #205. www.williamblakegallery.com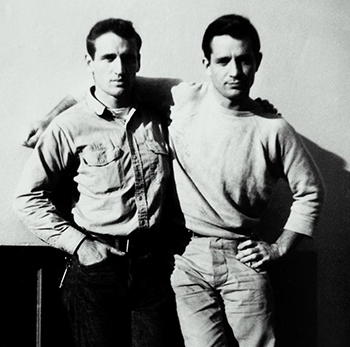 TUESDAY 16
Art Exhibits @ Legion of Honor
Small Inventions: Artist's Books by Charles Hobson (thru July 14); Mummies and Medicine (thru April 14)and other exhibits of classical and modern art. Free/$30. Lincoln Park, 100 34th Ave. https://legionofhonor.famsf.org/

Survey Bay Area @ Montague Gallery
Group exhibit of Bay Area glass artists; 5:30pm-7:30pm; thru April 13. Tue-Fri 11am-6pm. Sat 11am-5pm. 445A Sutter St. http://montaguegallerysf.com/

Various Exhibits @ The Beat Museum
Enjoy exhibits, a bookstore and gift shop that celebrates the era of 'Beatnik' literature (Jack Kerouac, Allen Ginsberg, William S. Burroughs, etc.), with frequent readings, walking tours and other events in North Beach. $5-$8. Daily 10am-7pm. 540 Broadway www.kerouac.com

Westward @ City Hall
Exhibit of large-scale photos by women photographers focusing on West Coast communities. Thru May. North Light Court, Ground Floor, 1 Dr Carlton B Goodlett
Place. www.sfartscommission.org
WEDNESDAY 17
Kour Pour @ Ever Gold Gallery
Exhibit of vibrant paintings combining historic and contemporary tapestry themes; thru May 4. Wed-Sat 12pm-5pm. Minnesota Art Project, 1275 Minnesota St. at 24th. www.evergoldprojects.com

Laugh the Night Away @ Oasis
Comedy showcase with Sergio Novoa, Paul Conyers, Ryan Thomas, Arturo Raygoz, Marcus Williams, Chelsea Bearce, Nicole Tran, Dhaya Lakshimarayanan & Marga Gomez. $10. 7pm. 298 11th St. www.sfoasis.com

Lest We Forget @ Civic Center Plaza
Luigi Toscano's outdoor photo exhibit of 78 large-scale portraits of Holocaust survivors. Opening 12pm; thru May 19. https://bit.ly/2uSNrfO

Looking Through the Lens
@ Diane Wilsey Center for Opera
The Glory of San Francisco Opera, Past and Present, an exhibit of historic productions photos from the San Francisco Opera's many productions. Free. Mon-Fri 9am-6pm. Veteran's Building, 401 Van Ness Ave. www.sfopera.com

Then They Came For Me
@ Futures Without Violence
Incarceration of Japanese Americans During WWII and the Demise of Civil Liberties, a touring multimedia exhibit documenting the terrifying period in U.S. history when the government scapegoated and imprisoned thousands of people of Japanese ancestry, including photographs by Dorothea Lange and Ansel Adams, alongside works by incarcerated Japanese American artists Toyo Miyatake and Miné Okubo. Free. Wed-Sun 10am-6pm. 100 Montgomery St. https://thentheycame.org/

Uncertainty Principle @ The Marsh
Adam Strauss' new solo show grapples with OCD and life's big questions. $20-$100. Wed & Fri 8pm, thru Mar. 29. 1062 Valencia St. www.themarsh.org

Various Exhibits @ Asian Art Museum
Kimono Refashioned, thru May 5. Also, contemporary works by Kim Heecheon and Liu Jianhua; also, exhibits of sculpture and antiquities. Sunday café specialties from $7-$16. Free-$20. Tue-Sun 10am-5pm. 200 Larkin St. http://www.asianart.org/

Various Events @ Oakland LGBTQ Center
Social events and meetings at the new LGBTQ center include film screenings and workshops, including Bruthas Rising, trans men of color meetings, 4th Tuesdays, 6:30pm. Film screenings, 4th Saturdays, 7:30pm. Game nights, Fridays 7:30pm-11pm. Vogue sessions, first Saturdays. 3207 Lakeshore Ave. Oakland. https://www.oaklandlgbtqcenter.org/

The Wolves @ Strand Theater
American Conservatory Theatre students perform Sarah DeLappe's Pulitzer Prize finalist play about the pressures of a girls' soccer team. $25. Thru April 20. 1127 Market St. www.act-sf.org
THURSDAY 18
Adam Pascal, Anthony Rapp @ Feinstein's at the Nikko
The two costars of the hit musical Rent share a cabaret concert. $70-$115. 8pm. Also April 19 & 20 (all sold-out). Hotel Nikko, 222 Mason St. www.feinsteinsatthenikko.com


Darious James, Val Jeanty @ Poetry Center, SF State
In Common Writers Series presents a workshop performance and conversation with James (Negrophobia: An Urban Parable) and Jeanty a.k.a. DJ Val-Inc. 7pm. Humanities Bldg., 1600 Holloway Ave. www.sfsu.edu

Exclusion @ Presidio Officers Club
Exhibit documenting the Presidio's Japanese-American incarceration during World War II; other exhibits show the history of the former military base and the SF peninsula. Free, Tue-Sun 10am-5pm. Thru Spring 2019. 50 Maraga Ave. https://www.presidio.gov/officers-club/exhibitions/

James Graham Dance Theatre @ Joe Goode Annex
The Grass is Sleeping, a new work by the Izzie Award-winning local chorographer. $18-$38. 8pm. Thru April 20. 401 Alabama St. http://jamesgrahamdancetheatre.com/

Lee Squared @ Oasis
An Evening with Liberace and Miss Peggy Lee; David Maiocco and Chuck Sweeney reprise their iconic performances as the music legends. $25-$35. 7pm. 298 11th st. www.sfoasis.com

The Life and Times of Jo Mora @ Cartoon Art Museum
New exhibit of drawing, maps, paintings and ephemera by the prolific illustrator of American culture (1876-1947). Thru April 28. 781 Beach St. www.cartoonart.org

Randy Rainbow @ Ruth Finley Person Theater
The snarky gay YouTube celebrity performs his new solo show. $39-$85. 7:30pm. 50 Mark West Springs Rd., Santa Rosa https://lutherburbankcenter.org

Show Us Your Spines @ SF Public Library
Writers Dan Lau, Ajuan Mance, Roberto Rodriguez-Estrada, and Shelley Wong discuss their research projects at the James C. Hormel LGBTQIA Center's archives. 6pm. 100 Lartin St., 3rd floor. www.sfpl.org

[title of show] @ SF State
Jeff Bowen and Hunter Bell's wacky musical about making a musical...about a musical. $18. Thru April 27. Creative Arts Bldg., 1600 Holloway Ave. www.sfsu.edu

Various Exhibits @ SF Public Library
In Search of the Glass Slipper, Perci Chester's '70s gay community photo exhibit; thru May 16. Immigrant Girl, Radical Woman, an art exhibition of historical research and ephemera about early twentieth century immigrant and activist Matilda Rabinowitz; thru May 19. Portal: Group Show of Speculative Fiction, thru Feb. Art/Work: Art Created by the Staff at SFPL, thru Mar. 8. SF Wildlife: Photography by Jouko van der Kruijssen, thru Mar. 28. 100 Larkin St. www.sfpl.org

With(out) With(in) the very moment @ SF Arts Commission
Opening reception for an exhibit about LGBT lives, and surviving AIDS, with Elliot Anderson, Adam Ansell, Ed Aulerich-Sugai, Mark Garrett, Cliff Hengst, Nancer Lemoins, Mark Paron, Anton Stuebner, and featuring Alternate Endings, a series of video programs by Visual AIDS for Day With(out) Art. 6pm; thru June 22. 401 Van Ness Ave. www.sfartscommission.org


To submit event listings, email events@ebar.com
Deadline is each Thursday, a week before publication.
Comments on Facebook