Arts Events Nov 15-22, 2018
Wednesday Nov 14, 2018
Spend the pre-holidays with some inspiration performing, visual and aural arts.


THURSDAY 15

Absolutely Fabulous Live @ Oasis
Edina (Terry McLaughlin) and Patsy (Michael Phillis) return in comic drag performances of episodes from the BBC comedy favorite. $27-$50. Thu 8pm, Fri & Sat 7pm, thru Dec. 1. 298 11th St. www.sfoasis.com

Between Life and Death @ Mission Cultural Center for Latino Arts
Harvey Castro's photo exhibit of Mexican peoples' traditional ways of honoring their dead. Thru Dec 13., Tue-Sat 10am-5pm. 2868 Mission St. http://missionculturalcenter.org

Classic and New Films @ Castro Theatre
Nov 15: Blue Velvet (7pm) and Twin Peaks: Fire Walk With Me (9:15). Nov 16: snowboarding documentary Face of Winter (7:30). Nov 17: Troop Beverly Hills; Peaches Christ and Trixie Mattel costar in a drag parody show before the film ($30-$75, 4pm & 8pm). Nov 18: The Wizard of Oz (2:30, 7pm) and The Red Shoes (4:30, 8:55). Nov 19: The Sisters Brothers (7pm) and Step Brothers (9:10). Nov 20: Green Book with Viggo Mortenson in-person (7pm, www.sffilm.org). Nov 21: Sing-along The Sound of Music, with hosts Sara Moore and Laurie Bushman (2pm, 7pm, thru Nov 25). $11-$16. 429 Castro St. http://www.castrotheatre.com/

Cirque du Soleil @ AT&T Park
The amazing acrobatic circus returns for an extended stay with their new show, Volta. $54 and up. various times and dates thru Feb 3. www.circquedusoleil.com

Dia de los Muertos @ SOMArts
Annual exhibit of dozens of lavish and intimate altars honoring the dead. Thru Nov. 9 (closing reception 6pm-9pm: $7-$10). 934 Brannan St. www.somarts.org

Dixie Longate @ Feinstein's at the Nikko
The comic drag performer (Kris Andersson) shares her Off-Broadway hit Tupperware Party, at the upscale nightclub. $41-$75. 8pm. Nov 16 & 17. Hotel Nikko, 222 Mason St. https://www.feinsteinsatthenikko.com/
Fog City Singers
@ St. Mark's Lutheran Church
Men's choral group performs classic and contemporary vocals, with the Stanford Fleet Street Singers and Stanford Mixed Company. $10-$20. 8pm. 1111 O'Farrell St. www.fogcitysingers.com

Gina Yashere @ PunchLine
The insightful British comic returns to the U.S. as part of her new tour. $18-$22. 8pm. Also Nov 16 & 17. 444 Battery St. http://www.punchlinecomedyclub.com/

A History of World War II @ The Marsh
Prolific playwright and director John Fisher's new solo show's subtitled The D-Day Invasion to the Fall of Berlin. $20-$100. Thu 8pm, Sat 8:30pm. Thru Dec. 15. 1062 Valencia St. www.themarshsf.com

Joan Baez @ The Masonic, Fox Oakland
The legendary folk singer-composer performs classic and new music with her band. $100 and up. 8pm. 1111 California St. http://sfmasonic.com/ Also Nov 17 & 18 at the Fox Oakland, 1807 Broadway. $55-$125. 8pm. www.apeconcerts.com www.joanbaez.com

Kudisan Kai @ Gregangelo Museum
The powerful vocalist performs and discusses her new book, Memoirs of a Backup Diva, about her amazing musical career. Food, drinks, museum tours, too. $65. 225 San Leandro Way. http://kudisankai.com www.velocityartssf.com

Michelle Meow Show @ Commonwealth Club
Meow and cohost John Zipperer discuss LGBT issues with different prominent guests. Weekly, 12pm. 110 Embarcadero. www.commonwealthclub.org

The Orb @ The Independent
The groovy "Little Fluffy Clouds" electronic music group performs; DF Tram opens. $25-$30. 8pm. 628 Divisadero St. https://www.theorb.com/ http://apeconcerts.com/

Ultimate Queen Celebration @ Montalvo Arts Center, Saratoga
Marc Martel, the amazing vocalist, performs Freddie Mercury vocals and Queen songs with his band. $64-$70. 7:30pm. 15400 Montalvo Road, Saratoga. www.montalvoarts.org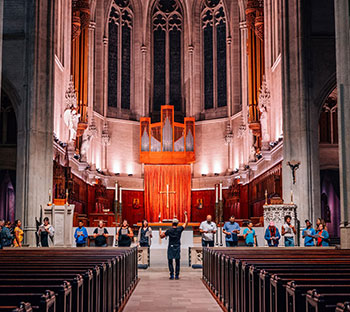 FRIDAY 16

Arturo Sandoval @ Yoshi's Oakland
The legendary jazz trumpet player performs with his band at the stylish nightclub-restaurant. $30-$70. 8pm & 10pm. Nov 17 7:30pm & 9:30pm. Nov 18 7pm. 510 Embarcadero West, Oakland. www.yoshis.com

Bakanal de Afrique
@ Dance Mission Theatre
The music-theatre company performs What Had Happened Was... An Afro Urban Musical, a vibrant work of dance, storytelling, video, afrobeats, soca, hip-hop, blues, dancehall, rumba, soukous and visuals. $30. 8pm. Also Nov 17. 3316 24th St. https://www.bakanaldeafrique.com/

Bohemian Rhapsody @ Bay Area Cinemas
Biopic about the rock band Queen and gay lead singer-composer Freddie Mercury. www.bohemianrhapsody.com

The Boy From Oz @ Gateway Theatre
Theatre Rhino's new production of Martin Sherman and Nick Enright's musical about the life of Australian gay singer-pianist-composer Peter Allen. Thru Nov. 17. 215 Jackson St. www.therhino.org

Cardboard Piano @ New Conservatory Theatre Center
Hansol Jung's moving drama about hope amid unrest and repression in Uganda; pre-show live Nigerian music Thursday nights (post-show conversations with Executive Director of the African Human Rights Coalition, Melanie Nathan on Nov 9, 16, 23). $25-$45. Wed-Sat 8pm Sun 2pm. Thru Dec. 2. 25 Van Ness Ave., lower level. www.nctcsf.org

Comedy Returns @ El Rio
The monthly gigglefest this time features Bernadette Luckett, Joe Klocek, Chey Bell, Priyanka Wali and host Lisa Geduldig. $10-$20. 7pm. 3158 Mission St. www.elriosf.com

Compagnie Käfig @ Zellerbach Hall
Brazilian urban dance and capoeira company combines hip-hop, modern dance, and circus arts in its new breakneck production, Pixel. $30-$85. 8pm. Also Nov 17. College ave. at Bancroft, UC Berkeley campus. http://calperformances.org/

Crazy for You @ Alcazar Theatre
Bay Area Musicals' intimate staging of the hopping George and Ira Gershwin musical. $20-$65. Thu-Sun, various curtain times thru Dec. 16. 650 Geary St. www.bamsf.org

Dracula @ La Val's Subterranean Theater, Berkeley
Theatre Lunatico's production of Steven Dietz's adaptation of Bram Stoker's classic vampire tale. $15-$25. Thu 7:30pm, Fri & Sat 8pm, Sun 7pm, thru Nov 18. 1834 Euclid Ave., Berkeley. www.theatrelunatico.org

Everything is Illuminated @ Aurora Theatre, Berkeley
Simon Block's stage adaptation of Jonathan Safran Foer's best-selling novel, about a young Jewish writer's quest to find his family history in the Ukraine. $35-$70. Tue-Wed 7pm. Thu-Sat 8pm. Sun 2pm & 7pm. Thru Dec 9. 2081 Addison St., Berkeley. www.auroratheatre.org

Flight of the Ancestors @ Mission Cultural Center for Latino Arts
Day of the Dead exhibition of multimedia works. Reg. hours Tue-Sat 10am-5pm. Thru Nov. 17. 2868 Mission St. www.missionculturalcenter.org

Hip Hop Dancefest @ Palace of Fine Arts
20th annual dance festival with many ensembles performing vibrant break-dancing, popping and locking, and freestyle group dances. $25-$55. Also Nov 17 & 18. 3301 Lyon St. www.sfhiphopdancefest.com

Marga Gomez @ The Marsh, Berkeley
Return engagement of the comic's hit show, Latin Standards. $25-$100. Fri 8pm, Sat 8:30pm. Thru Nov. 17. 2120 Allston Way, Berkeley. www.margagomez.com www.themarsh.org

Mary Poppins @ SF Playhouse
The popular Broadway adaptation of the P.L. Travers book and Disney film about a magical nanny gets a local production; music and lyrics by Richard M. Sherman and Robert B. Sherman; book by Julian Fellowes. $30-$55 and up. Thru Jan 12. 450 Post St. www.sfplayhouse.org

Men on Boats @ Strand Theater
American Conservatory Theater's new production of Jaclyn Backhaus's subversive retelling of 19th-century explorer John Wesley Powell's journey through Wyoming's waterways, with an all-women cast. $25-$55. Thru Dec 16. 1127 Market St. www.act-sf.org

Older and Out @ North Berkeley Senior Center
Weekly group discussion about problems for elders in the LGBT community. 3:15pm. 1901 Hearst Ave., Berkeley. www.pacificcenter.org

Queer Yoga @ Love Story Yoga
All-level weekly classes in an LGBT space. $11. 6:30pm-7:30pm. 473 Valencia St. at 16th. http://www.lovestoryyoga.com/

Requiem Mass: A Queer Divine Rite @ Grace Cathedral
Holcombe Walker's new choral work is performed at the beautiful cathedral; with ASL interpretation, supertitles in English & Spanish. $9.50-$32. 7:30pm. Also Nov 17. 1100 California St. https://www.gracecathedral.org

Twelfth Night @ Royce Gallery
Arabian Shakespeare Festival's production of Shakespeare's classic about unrequited lvoe and unattainable perfection. $15-$35. Thru Nov. 18. 2901 Mariposa St. www.ArabianShakes.org

The World of Charles and Ray Eames @ Oakland Museum
Exhibit of the innovative designers' works, including furniture, toys, and rare prototypes; thru Feb 17. Also, Cruisin' the Fossil Coastline, Ray Troll's colorful illustrations paired with paleontologist Kirk Johnson's research. Also, Take Root: Oakland Grows Food and other exhibits. Friday night events 5pm-9pm. Free/$15. 1000 Oak St. http://museumca.org

You Betta Work Comedy Fiesta @ San Mateo County Pride Center
Jesus U Betta Work's monthly night of queer stand-up. $5. 7:30pm. 1021 South El Camino Real, San Mateo. www.jesusubettawork.com
Hip Hop Dancefest @ Palace of Fine Arts
20th annual dance festival with many ensembles performing vibrant break-dancing, popping and locking, and freestyle group dances. $25-$55. Also Nov 17 & 18. 3301 Lyon St. www.sfhiphopdancefest.com

Marga Gomez @ The Marsh, Berkeley
Return engagement of the comic's hit show, Latin Standards. $25-$100. Fri 8pm, Sat 8:30pm. Thru Nov. 17. 2120 Allston Way, Berkeley. www.margagomez.com www.themarsh.org

Mary Poppins @ SF Playhouse
The popular Broadway adaptation of the P.L. Travers book and Disney film about a magical nanny gets a local production; music and lyrics by Richard M. Sherman and Robert B. Sherman; book by Julian Fellowes. $30-$55 and up. Thru Jan 12. 450 Post St. www.sfplayhouse.org

Men on Boats @ Strand Theater
American Conservatory Theater's new production of Jaclyn Backhaus's subversive retelling of 19th-century explorer John Wesley Powell's journey through Wyoming's waterways, with an all-women cast. $25-$55. Thru Dec 16. 1127 Market St. www.act-sf.org

Older and Out @ North Berkeley Senior Center
Weekly group discussion about problems for elders in the LGBT community. 3:15pm. 1901 Hearst Ave., Berkeley. www.pacificcenter.org

Queer Yoga @ Love Story Yoga
All-level weekly classes in an LGBT space. $11. 6:30pm-7:30pm. 473 Valencia St. at 16th. http://www.lovestoryyoga.com/

Requiem Mass: A Queer Divine Rite @ Grace Cathedral
Holcombe Walker's new choral work is performed at the beautiful cathedral; with ASL interpretation, supertitles in English & Spanish. $9.50-$32. 7:30pm. Also Nov 17. 1100 California St. https://www.gracecathedral.org

Twelfth Night @ Royce Gallery
Arabian Shakespeare Festival's production of Shakespeare's classic about unrequited lvoe and unattainable perfection. $15-$35. Thru Nov. 18. 2901 Mariposa St. www.ArabianShakes.org

The World of Charles and Ray Eames @ Oakland Museum
Exhibit of the innovative designers' works, including furniture, toys, and rare prototypes; thru Feb 17. Also, Cruisin' the Fossil Coastline, Ray Troll's colorful illustrations paired with paleontologist Kirk Johnson's research. Also, Take Root: Oakland Grows Food and other exhibits. Friday night events 5pm-9pm. Free/$15. 1000 Oak St. http://museumca.org

You Betta Work Comedy Fiesta @ San Mateo County Pride Center
Jesus U Betta Work's monthly night of queer stand-up. $5. 7:30pm. 1021 South El Camino Real, San Mateo. www.jesusubettawork.com
SATURDAY 17

50 Years of Fabulous @ Proxy
Outdoor screening of the documentary about the SF Imperial Court, with Marlena's Follies, after-party at Dobbs Ferry Bar. $10-$20. 6pm. 432 Octavia St. www.imperialcouncilsf.org

Beach Blanket Babylon @ Club Fugazi
The musical comedy revue celebrates its 45th year with an ever-changing lineup of political and pop culture icons, all in gigantic wigs. $25-$160. Beer/wine served; cash only; 21+, except where noted. Holiday show tickets now on sale. Wed-Fri 8pm. Sat 6pm & 9pm. Sun 2pm & 5pm. 678 Beach Blanket Babylon Blvd. (Green St.). 421-4222. www.beachblanketbabylon.com

Chekhov's Ward 6 @ Berkeley City Club
Gary Graves' stage adaptation of the Chekhov novella about an insane asylum in Russia. $15-$38. Thu-Sat 8pm, Sun 5pm. Thru Nov. 18. 2315 Durant Ave., Berkeley. www.centralworks.org

Contact Warhol:
Photography Without End @ Cantor Arts Center, Palo Alto
Exhibit of contact sheets and previously unseen images by Andy Warhol. Thru Jan 6, 2019. Stanford University campus, Palm Drive at Museum Way. https://museum.stanford.edu/visit

Fall Contemporary Art @ Harvey Milk Photo Center
Works by local artists in various media, plus a sneak preview of The Senior Portrait Project. Thru Dec. 1. 50 Scott St. http://harveymilkphotocenter.org

Films @ BAM/PFA
Artistic and award-winning films, including international features, and documentaries about artists; ongoing. 2155 Center St., Berkeley. www.bampfa.org

Gaugin: A Spiritual Journey @ de Young Museum
New exhibit of the French painter's Tahitian paintings, and works by artists who influenced him. Thru April 7. Also, Contemporary Muslim Fashions, an exhibit of stylish fashions in the Muslim world; thru Jan 6. Also, modern and historic art, including embroidery, Maori portraits and installations. Free/$15. 50 Hagiwara Tea Garden Drive, Golden Gate Park. www.famsf.org

It's a Wonderful Life @ War Memorial Opera House
Jake Heggie and Gene Scheer's innovative operatic adaptation of the Frank Capra film. $26-$370. 7:30pm. Also Nov 20, 24, 25, 29, Dec 1, 4, 7 & 9. 301 Van Ness Ave. https://sfopera.com/

Lauren Levin @ Alley Cat Books
Release party and reading for the poet's new pop culture-infused poetry collection, Justice Piece//Transmission. 7pm. 3036 24th St. http://alleycatbookshop.com/

LGBTQ Histories from the WWII Home Front
@ Rosie the Riveter Visitor Education Center, Richmond
Park indoor exhibit that showcases the lives of historic LGBT people. Open daily 10am-5pm. 1414 Harbour Way South, Suite 3000, Richmond. https://www.nps.gov/rori/index.htm

Michael Franti @ Nourse Theater
The celebrated local musician (Spearhead, Disposable Heroes of Hip Hoprisy) appears at the screening of Stay Human, the documentary covering his music and activism. $ pm. 275 Hayes St. https://www.michaelfranti.com/

Other Cinema @ ATA Gallery
Weekly screenings of wacky, unusual, short, documentary and animated films; free books, vinyl, VHS and wine. $7. 8:30pm. 992 Valencia St. www.othercinema.com

Pike St. @ Berkeley Repertory Theatre
Award-winning performer/playwright Nilaja Sun's new solo show portrays three generations of a Puerto Rican family's legacy and lives. $27-$80. Thru Dec 16. 2025 Addison St., Berkeley. www.berkeleyrep.org

Skate Night @ Church on 8 Wheels
Wheeled fun at the former Sacred Heart Church-turned disco roller skate party space, hosted by John D. Miles, the "Godfather of Skate," including Saturday's Black Rock night (Burning Man garb encouraged). 7pm-10pm. Sat afternoon sessions 1pm-2pm and 3pm-5pm. $10. Kids 12 and under $5. Skate rentals $5. 554 Fillmore St at Fell. www.churchof8wheels.com

Through-LINES: The Art of Ballet @ 836M
Exhibit of stunning dance photos by prolific photographer RJ Muna, with design and sound installations by Christopher Haas, Bernie Krause and Jim Campbell; presented by Alonzo King LINES Ballet as part of its 35th anniversary season. Thru Jan 7, 2019. 836 Montgomery St. www.linesballet.org www.836m.org

Troop Beverly Hills @ Castro Theatre
Peaches Christ's latest drag theatrical show includes a parody show of Troop Beverly Hills followed by the film ($20-$50, 8pm. 429 Castro St.), with an after-party at Beaux (10pm, 2344 Market St.) hosted Beverly Chills with DJ Freddy Fiers. www.peacheschrist.com

Various Exhibits @ NIAD Art Center, Richmond
Exhibits of art by visiting professionals, and art made by developmentally disabled people. Mon-Fri 10am-4pm. 551 23rd St. Richmond. (510) 620-0290. www.niadart.org

Wild SF Walking Tours @ Citywide
Enjoy weekly informed tours of various parts of San Francisco, from Chinatown to the Haight, and a 'radical' and political-themed LGBT-inclusive tour. Various dates and times. $15-$25. www.wildsftours.com
SUNDAY 18

Animation Exhibits
@ Walt Disney Museum
Exhibit of animation art by the prolific artists, including Walt Disney's Nine Old Men: Masters of Animation (Bambi, Peter Pan, Lady and the Tramp), and Home for the Holidays at Carolwood, thru Jan. 7. Other exhibits of Disney artifacts and film screenings. 104 Montgomery St, The Presidio. $5-$25. 10am-6pm. Closed Tue. http://wdfmuseum.org/

Ecstatic Dance @ Sacred Heart Church
Weekly group free-form dance with a spiritual flavor at the former church-turned event space. $15. 9am-12pm. Also Wed. and Fridays in Oakland and Fairfax. 554 Fillmore St. www.ecstaticdance.org

Mark Abramson @ Dog Eared Books
The prolific local author (Sex, Drugs & Disco and Beach Reading series) reads from and discusses his new book, Farm Boy, A Memoir with Recipes. 4pm. 489 Castro St. https://markabramson.net/ www.dogearedbooks.com

Painting is My Everything @ Asian Art Museum
Art From India's Mithila Region, thru Dec 30. Also, contemporary works by Kim Heecheon and Liu Jianhua; also, exhibits of sculpture and antiquities. Sunday café specialties from $7-$16. Free-$20. Tue-Sun 10am-5pm. 200 Larkin St. http://www.asianart.org/

Queer Tango @ Finnish Hall, Berkeley
Same-sex partner tango dancing, including lessons for newbies, food and drinks. $5-$10. 3:30pm-6:30pm. 1970 Chestnut St, Berkeley. www.finnishhall.org

Second Look, Twice @ MOAD
Exhibition of the work of 15 critically-acclaimed contemporary artists of African descent, including Glenn Ligon, Martin Puryear, and Kara Walker, who have used the medium of printmaking to create vivid and abstracted works. Thru Dec. 16. Free/$15. 685 Mission St. www.moadsf.org

Various Exhibits @ Chabot Space & Science Museum, Oakland
Space, science and planetary exhibits, including planetarium shows and the Observatory; special nighttime events like meteor shower shows. Free-$18. 10000 Skyline Blvd., Oakland. www.chabotspace.org
MONDAY 19

Connecting Threads @ JCCSF
Quilts From the Social Justice Sewing Academy, an exhibit of textile art by local youth, with political themes. Mon-Fri 8am-10pm, Sun 8am-8pm, thru Nov. SF Jewish Community Center, 3200 California St. www.jccsf.org

Looking Through the Lens
@ Diane Wilsey Center for Opera
The Glory of San Francisco Opera, Past and Present, an exhibit of historic productions photos from the San Francisco Opera's many productions. Free. Mon-Fri 9am-6pm. Veteran's Building, 401 Van Ness Ave. www.sfopera.com

The Posters of Rex Ray
@ GLBT History Museum
New exhibit, A Picture Is a Word: The Posters of Rex Ray, survey of the graphic works of internationally renowned San Francisco queer artist and designer (1956 - 2015). $5. 4127 18th St. www.glbthistory.org


Lew the Jew and His Circle: Origins of American Tattoo @ Contemporary Jewish Museum
Lew the Jew and His Circle: Origins of American Tattoo, an exhibit of the prolific tattoo artist's work, tools and life; thru June 9. 2019. Also, Veiled Meanings: Fashioning Jewish Dress, from the Collection of The Israel Museum, Jerusalem, an exhibit of detailed clothing from dozens of countries; thru Jan 6, 2019. Also, In That Case: Havruta in Contemporary Art—Oxossi Ayofemi and Risa Wechsler, thru July 2019. 736 Mission St. https://thecjm.org/

Westward @ City Hall
Exhibit of large-scale photos by women photographers focusing on West Coast communities. Thru May 2019. North Light Court, Ground Floor, 1 Dr Carlton B Goodlett
Place. www.sfartscommission.org

William Blake in Color @ William Blake Gallery
Exhibit of classic plates in the new gallery of historic art by the 18th- and 19th-century poet and illustrator. Mon-Fri 10am-5pm. Sat 11am-5pm. 49 Geary St. #205. www.williamblakegallery.com
TUESDAY 20

Community Meetings @ Strut
Meetings for harm reduction, cycling, book club and more, most weekdays. 470 Castro St. www.strutsf.org

Exclusion @ Presidio Officers Club
Exhibit documenting the Presidio's Japanese-American incarceration during World War II; other exhibits show the history of the former military base and the SF peninsula. Free, Tue-Sun 10am-5pm. Thru Spring 2019. 50 Maraga Ave. https://www.presidio.gov/officers-club/exhibitions/

Jaime Cortez @ Strut
Horned Up Now: The CL Drawings, an exhibit of the artist's works derived from the Golden Age of portraiture. Thru Nov. 270 Castro St. www.strutsf.org

The Life and Times of Jo Mora
@ Cartoon Art Museum
New exhibit of drawing, maps, paintings and ephemera by the prolific illustrator of American culture (1876-1947). Thru April 28, 2019. 781 Beach St. www.cartoonart.org

Modern Art @ SF MOMA
Wayne Thiebaud, Etel Adnan, Alexander Calder, Donald Judd, Louise Bourgeois and many classic Modern works. Free/$25. Fri-Tue 10am-6pm. 151 3rd St. www.sfmoma.org

Thanks to Hank Kickoff @ Tenderloin Museum
Reception for the fundraising campaign to assist the documentary about the late gay community activist Hank Wilson; presented by Cleve Jones and the Harvey Milk LGBT Democratic Club. $25-$500. 6pm-9pm. 398 Eddy St. https://www.kickstarter.com/projects/845108579/thanks-to-hank http://www.tenderloinmuseum.org

Trans Day of Resilience @ SF Public Library
Screening of the documentary about Washington D.C. trans youth. Free. 4pm, Koret Auditorium, lower level, 100 Larkin St. www.sfpl.org

Various Events @ Oakland LGBTQ Center
Social events and meetings at the new LGBTQ center include film screenings and workshops, including Bruthas Rising, trans men of color meetings, 4th Tuesdays, 6:30pm. Film screenings, 4th Saturdays, 7:30pm. Game nights, Fridays 7:30pm-11pm. Vogue sessions, first Saturdays. 3207 Lakeshore Ave. Oakland. https://www.oaklandlgbtqcenter.org/
WEDNESDAY 21

Deirdre Weinberg:
Living Memory in the TL
@ Tenderloin Museum
Exhibit of mini-portraits showing "beauty where it might be overlooked." 398 Eddy St. http://www.tenderloinmuseum.org/

East Meets West @ Legion of Honor
Jewels of the Maharajas from the Al Thani Collection, thru Feb 24. Also, Séraphin Soudbinine, Lynn Hershman Leeson, Framing the Body, Mummies and Medicine and other exhibits of classical and modern art. Free/$30. Lincoln Park, 100 34th Ave. https://legionofhonor.famsf.org/

Friendly Fire @ Wessling Gallery
Group exhibit of vibrant works in various media by 14 artists. 440 Brannan St. http://wesslinggallery.com/

Joey Wolf @ Ever Gold
Drinking Games, the LA artist's exhibit of realist group paintings. Wed-Sat 12pm-5pm. 1275 Minnestoa St. http://evergoldprojects.com

Peter Hujar: Speed of Life @ BAM/PFA, Berkeley
Exhibit of photos by the New York 1970s-'80s art/celebrity scene gay photographer who died of AIDS in 1987; thru Nov. 18. Cecelia Vicuna: About to Happen, thru Nov. 18. Ongoing film series at the Pacific Film Archive. Berkeley Art Museum, Pacific Film Archive, 2155 Center St. Berkeley. www.bampfa.org

Scott Fraser @ Jenkins Johnson Gallery
Earthly Delights, the painter's new exhibit of realist/surreal works. Thru Dec. 22. 464 Sutter St. http://www.jenkinsjohnsongallery.com

Taylor Mac @ Curran Theater
The dizzyingly talented super-queer singer-performer brings Holiday Sauce to SF, a rollicking celebration and calamitous critique of Christmas. $29-$469. Thru Dec. 1. 450 Geary St. https://sfcurran.com

Various Exhibits @ The Beat Museum
Enjoy exhibits, a bookstore and gift shop that celebrates the era of 'Beatnik' literature (Jack Kerouac, Allen Ginsberg, William S. Burroughs, etc.), with frequent readings, walking tours and other events in North Beach. $5-$8. Daily 10am-7pm. 540 Broadway www.kerouac.com
THURSDAY 22

Expedition Reef
@ California Academy of Sciences
Open Thanksgiving! Exhibits and planetarium shows with various live, interactive and installed exhibits about animals, plants and the earth; Deep Reefs, Giants of Land and Sea, Gems and Minerals, and more. $20-$35. Mon-Sat 9:30am-5pm. Sun 11am-5pm. 55 Music Concourse Drive, Golden Gate Park. 379-8000. www.calacademy.org

Plant Collections @ SF Botanical Garden
Open Thanksgiving! Visit the lush gardens with displays of trees, flowers and shrubs from around the world. Monthly plant sales, plus art exhibits and gift shop. Free entry with SF proof of residency. $5-$10 for others. 7:30am-closing. 9th Ave at Lincoln Way. https://sfbotanicalgarden.org/

Skating @ Safeway Holiday Ice Rink
Open Thanksgiving! The Union Square ice rink is open, with hourly rates, skate rentals, and special events through Jan. 21. $13-$18. 333 Post St. www.unionsquareicerink.com


To submit event listings, email events@ebar.com
Deadline is each Thursday, a week before publication.
Comments on Facebook