Arts Events Oct 25- Nov 1, 2018
Wednesday Oct 24, 2018
Autumnal events in the arts this week combine the frightful, the fantastic and the fabulous.


THU 25
Beyond Gravity @ CounterPulse
Queer and universal themes are explored by several artists (jose e. abad, Zulfikar Ali Bhutto, Gabriel Christian, Abby Crain, Rachael Dichter, and Mira Kautto) at the unusual performance event. $15-$30. 8pm. Thru Oct. 27. 80 Turk St. www.counterpulse.org

Bravo 25 @ The Marsh
Bravo 25: You're A.I. Therapist Will See You Now, Eliza Gibson's solo show about her work as a social worker and therapist. $20-$100. Thu 8pm, Sat 5pm, thru Oct. 27. 1062 Valencia St. www.themarsh.org

Buffy the Vampire Slayer Live! @ Oasis
Opening night of the popular drag parody of the vampire-hunting TV show, starring Michael Phillis and a cast of comic locals, including Kim Burly, Melanie Marshall, Flynn DeMarco and others. $27-$50. 8pm. Fri & Sat 7pm. Thru Nov 3. 298 11th St. www.sfoasis.com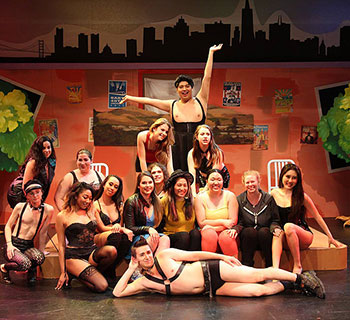 Classic and New Films @ Castro Theatre
Oct 25: The Last Movie (7:20) and Easy Rider (5:30, 9:20). Oct 26 & 27: John Carpenter's The Fog (5:30, 7:30) and the original Halloween (9:15).Oct. 27 & 28: Disney's Frozen sing-along (12pm, 2:30). Oct. 28: Dracula (original, 3pm, 7:30), The Wolf Man (4:30, 9pm) and The Mummy (6pm). Oct 29: Hereditary (7pm) and The Sixth Sense (9:20). Oct 30: Donnie Darko (7pm) and The Hollywood Knights (9:05). Nov. 1: SF Film Festival premieres They'll Love Me When I'm Dead, Morgan Neville's documentary about Orson Welles last unfinished film. $11-$16. 429 Castro St. http://www.castrotheatre.com/

Culture Talks @ T-Mobile San Francisco Signature Store
New weekly talks featuring emerging music talent and trailblazing innovators; Oct 4, innovators in Gaming and E-sports. Free. 5:30pm. 1 Stockton St. https://www.t-mobile.com/store/cell-phone-san_francisco-ca-6258.html

David Shrobe @ Jenkins Johnson Gallery
The artist's exhibit of symbolic painting/collage portraits. Thru Oct. 27. 464 Sutter St. http://www.jenkinsjohnsongallery.com/

Dracula @ La Val's Subterranean Theater, Berkeley
Theatre Lunatico's production of Steven Dietz's adaptation of Bram Stoker's classic vampire tale. $15-$25. Thu 7:30pm, Fri & Sat 8pm, Sun 7pm, thru Nov 18. 1834 Euclid Ave., Berkeley. www.theatrelunatico.org

The Happy Prince @ Landmark Theatres
Rupert Everett stars in his self-produced, written and directed biographical film about Oscar Wilde. Oct 21 Q&A with the star at 4:40pm & 7:25pm. Thru Oct. 25. www.landmarktheatres.com

Henry Rollins @ Herbst Theatre
The outspoken storyteller and former Black Flag singer shares a multimedia presentation of favorite photos from his world travels. $40. 8pm. 401 Van Ness Ave. https://www.henryrollins.com/ http://apeconcerts.com

Literary Speakeasy @ Martuni's
The monthly authors & cocktails night hosted by James J. Siegel takes on a 'Ghosts & Spirits" theme, with Laura Blackwell, Christopher Calix, Elizabeth Creely, Nick Mamatas, and Cliff Winnig. 7pm-8:30pm. 4 Valencia St.

Love and Pride @ LGBT Center
Theater on the Cusp's staged reading of Syren's LGBTQ musical about lived queer experiences. $18-$25. 7pm. Also Nov 1 & 8. 1800 Market St. https://www.loveandpridethemusical.com/

Lucy Jane Bledsoe @ Books Inc., Berkeley
The prolific local author reads from and discusses Lava Falls, her collection of fascinating short stories about families, partners and nature. 7pm. 1491 Shattuck Ave., Berkeley. www.booksinc.net

Men on Boats @ Strand Theater
American Conservatory Theater's new production of Jaclyn Backhaus's subversive retelling of 19th-century explorer John Wesley Powell's journey through Wyoming's waterways, with an all-women cast. $25-$55. Thru Dec 16. 1127 Market St. www.act-sf.org

Michelle Meow Show @ Commonwealth Club
Meow and cohost John Zipperer discuss LGBT issues with different prominent guests. Weekly, 12pm. 110 Embarcadero. www.commonwealthclub.org

Nancy Zoppi @ Feinstein's at the Nikko
The acclaimed local musical theatre actress perofrms her new cabaret show. $20-$45 ($20 food/drink min.). 8pm. Hotel Nikko, 222 Mason St. https://www.feinsteinsatthenikko.com

The Resting Place @ Magic Theatre
World premiere of Ashlin Halfnight's drama about a family in crisis. $15-$75. Tue 7pm, Wed-Sat 8pm. Sun 2:30pm. Thru Nov 4. Fort Mason, 2 Marina Blvd, 3rd floor. www.MagicTheatre.org

The Rocky Horror Show @ Victoria Theatre
D'Arcy Drollinger returns as Frank N. Furter in Ray of Light's glamorously hilarious production of the Richard O'Brien camp horror holiday classic. $30-$40. Most nights 8pm (Oct 27 at 7pm & 11pm). Thru Nov. 3. 2961 16th St. www.rayoflighttheatre.com
Henry Rollins @ Herbst Theatre
The outspoken storyteller and former Black Flag singer shares a multimedia presentation of favorite photos from his world travels. $40. 8pm. 401 Van Ness Ave. https://www.henryrollins.com/ http://apeconcerts.com

Literary Speakeasy @ Martuni's
The monthly authors & cocktails night hosted by James J. Siegel takes on a 'Ghosts & Spirits" theme, with Laura Blackwell, Christopher Calix, Elizabeth Creely, Nick Mamatas, and Cliff Winnig. 7pm-8:30pm. 4 Valencia St.

Love and Pride @ LGBT Center
Theater on the Cusp's staged reading of Syren's LGBTQ musical about lived queer experiences. $18-$25. 7pm. Also Nov 1 & 8. 1800 Market St. https://www.loveandpridethemusical.com/

Lucy Jane Bledsoe @ Books Inc., Berkeley
The prolific local author reads from and discusses Lava Falls, her collection of fascinating short stories about families, partners and nature. 7pm. 1491 Shattuck Ave., Berkeley. www.booksinc.net

Men on Boats @ Strand Theater
American Conservatory Theater's new production of Jaclyn Backhaus's subversive retelling of 19th-century explorer John Wesley Powell's journey through Wyoming's waterways, with an all-women cast. $25-$55. Thru Dec 16. 1127 Market St. www.act-sf.org

Michelle Meow Show @ Commonwealth Club
Meow and cohost John Zipperer discuss LGBT issues with different prominent guests. Weekly, 12pm. 110 Embarcadero. www.commonwealthclub.org

Nancy Zoppi @ Feinstein's at the Nikko
The acclaimed local musical theatre actress perofrms her new cabaret show. $20-$45 ($20 food/drink min.). 8pm. Hotel Nikko, 222 Mason St. https://www.feinsteinsatthenikko.com

The Resting Place @ Magic Theatre
World premiere of Ashlin Halfnight's drama about a family in crisis. $15-$75. Tue 7pm, Wed-Sat 8pm. Sun 2:30pm. Thru Nov 4. Fort Mason, 2 Marina Blvd, 3rd floor. www.MagicTheatre.org

The Rocky Horror Show @ Victoria Theatre
D'Arcy Drollinger returns as Frank N. Furter in Ray of Light's glamorously hilarious production of the Richard O'Brien camp horror holiday classic. $30-$40. Most nights 8pm (Oct 27 at 7pm & 11pm). Thru Nov. 3. 2961 16th St. www.rayoflighttheatre.com
FRIDAY 26

Acid Test @ The Marsh
Acid Test: the Many Incarnations of Ram Dass, Lynne Kaufman's spiritual exploration solo show, returns. $20-$100. Fri 8pm, Sat 8:30pm. Thru Nov. 4. 1062 Valencia St. www.themarsh.org

The Boy From Oz @ Gateway Theatre
Theatre Rhino's new production of Martin Sherman and Nick Enright's musical about the life of Australian gay singer-pianist-composer Peter Allen. Thru Nov. 17. 215 Jackson St. www.therhino.org

Cardboard Piano @ New Conservatory Theatre Center
Hansol Jung's moving drama about hope amid unrest and repression in Uganda; pre-show live Nigerian music Thursday nights. $25-$45. Wed-Sat 8pm Sun 2pm. Thru Dec. 2. 25 Van Ness Ave., lower level. www.nctcsf.org

Extravaganza @ Safehouse for the Performing Arts
Showcase performances in support of Proposition E (Arts funding), including the Compton Cafeteria Riots cast, plus dance and music acts. Free/donations. 8pm. 1 Grove St. www.artsforeveryonesf.com

Fairview @ Berkeley Rep
World premiere of Jackie Sibblies Drury's eccentric funny play about a family gathering, race and voyeuristic neighbors. $27-$80. Thru Nov. 4. 2025 Addison St., Berkeley. https://www.berkeleyrep.org

Flight of the Ancestors @ Mission Cultural Center for Latino Arts
Day of the Dead exhibition of multimedia works. Main celebration Nov 2, 6:30pm ($7). Reg. hours Tue-Sat 10am-5pm. Thru Nov. 17. 2868 Mission St. www.missionculturalcenter.org
Graveyard Shift @ Creativity Theater, YBCA
Korde Arrington Tuttle's new drama about a couple facing racism in Texas. $30. Thru Nov. 3. 221 4th St. www.sfplayhouse.org

It's Hard to Explain @ Exit Theatre
Local gay activist and storyteller Ed Wolf reprises his solo show. $20-$30. 8pm. Also Oct. 27. 156 Eddy St. http://www.theexit.org/its-hard/

Lisa Stansfield @ The Fillmore
The elegant vocalist performs with Fela Kutchii. $40. 8pm. 1805 Geary St. http://thefillmore.com/

Miss Saigon @ Orpheum Theatre
New touring production of Cameron Mackintosh's Broadway revivial of the 1989 hit musical about lovers torn apart amid the Vietnam War. $56-$256. Thru Nov. 4. 1192 Market St. www.miss-saigon.com www.shnsf.com

Older and Out @ North Berkeley Senior Center
Weekly group discussion about problems for elders in the LGBT community. 3:15pm. 1901 Hearst Ave., Berkeley. www.pacificcenter.org

Olympians Festival @ Exit Stage Left
Annual festival of short plays (27 plays, 28 writers) exploring themes of Roman gods and goddesses. $10-$12. Thru Oct. 20. 156 Eddy St. www.sfolympians.com

Queer Yoga @ Love Story Yoga
All-level weekly classes in an LGBT space. $11. 6:30pm-7:30pm. 473 Valencia St. at 16th. http://www.lovestoryyoga.com/

Rachel Bay Jones @ Feinstein's at the Nikko
The Tony-winning actress-singer (Dear Evan Hansen) bring her solo show, Something Beuatiful to the stylish cabaret. $49-$85. 8pm. Also Oct. 27. Hotel Nikko, 222 Mason St. www.feinsteinsatthenikko.com

San Francisco Gay Men's Chorus @ Various Venues
The Chorus celebrates its 40th anniversary with a performance of the AIDS-themed When we No Longer Touch, with soprano Ellie Dehn. $35-$60. 8pm. St. Ignatious Catholic Church, 650 Parker Ave. Oct. 27: groundbreaking ceremony at the National AIDS Memorial Grove (11am, Golden Gate Park); Oct 27 at 1pm, Fabulous at 40, a festive birthday party at the Sir Francis Drake Hotel Empire Ballroom; $60. Oct, 28: Sunday's a Drag brunch, 11am, also at the Sir Francis Drake Hotel ($50). https://www.sfgmc.org/

Terror Vault @ The Old Mint
Peaches Christ's new haunted house event's set in the classic old building, with multiple rooms and floors of creepy interactive fun; 45-minute tours of groups of 12. $60. 6:30pm-10pm. Cash bar. Thru Nov. 3. 88 5th St. https://www.intothedarksf.com/terror-vault/

Tosca @ War Memorial Opera House
San Francisco Opera's new production of Puccini's classic tragedy, sung in Italian with English supertitles. $26-$400. Oct. 26 & 30. 301 Van Ness Ave. www.sfopera.com

Waitress, The Musical @ Golden Gate Theatre
Sara Bareilles and Jessie Nelson's new hit musical about a woman's aspirations for more than restaurant work. $80-$256. Thru Nov. 11. 1 Taylor St. https://www.shnsf.com

Years & Years @ Warfield
The British pop band, led by gay singer Olly Alexander, performs. $28-$40. 8pm. 982 Market St. www.yearsandyears.com https://www.thewarfieldtheatre.com/

You Mean To Do Me Harm @ SF Playhouse
Award-winning playwright Christopher Chen's drama about two interracial couples, and an insult that starts an escalation of anger and paranoia. $35-$100. Thru Nov. 3. 420 Post St. www.sfplayhouse.org
SATURDAY 27

Alexander Hernandez @ Strut
The artist's exhibit of portraits questioning gender. Thru Oct. 470 Castro St. www.strutsf.org

Beach Blanket Babylon @ Club Fugazi
The musical comedy revue celebrates its 45th year with an ever-changing lineup of political and pop culture icons, all in gigantic wigs. $25-$160. Beer/wine served; cash only; 21+, except where noted. Holiday show tickets now on sale. Wed-Fri 8pm. Sat 6pm & 9pm. Sun 2pm & 5pm. 678 Beach Blanket Babylon Blvd. (Green St.). 421-4222. www.beachblanketbabylon.com

Body, Taboo, Defiance @ Shelton Theatre
Queer variety-burlesque show with performers (Vixen Noir, Uphoria, Pink Flamingo and many more) who explore queer-focused human issues. $20-$100. 11pm doors, 12am show. 533 Sutter St. www.SheltonTheater.org

Contact Warhol: Photography Without End @ Cantor Arts Center, Palo Alto
Exhibit of contact sheets and previously unseen images by Andy Warhol. Thru Jan 6, 2019. Stanford University campus, Palm Drive at Museum Way. https://museum.stanford.edu/visit

Dia de los Muertos @ SOMArts
Annual exhibit of dozens of lavish and intimate altars honoring the dead. Thru Nov. 9. 934 Brannan St. www.somarts.org

Films @ BAM/PFA
Artistic and award-winning films, including international features, and documentaries about artists; ongoing. Mark Morris Presents: In the Age of Pepperland, iconic 1960s films; thru Nov. 25. 2155 Center St., Berkeley. www.bampfa.org

Fun Home @ Mountain View Center for the Performing Arts
Lisa Kron and Jeanine Resori's Tony-winning adaptation of Alison Bechdel's acclaimed graphic novel about her family tragedies is performed by TheatreWorks Silicon Valley. $40-$100. Tue/Wed 7:30pm,. Thu-Sat 8pm. Sun 2pm & 7pm. Thru Oct. 28. 500 Castro St., Mountain View. www.theatreworks.org

Jason Brock @ Martuni's
The powerhouse vocalist performs his annual Halloween concert at the intimate martini bar. $25-$45. 7pm. 4 Valencia St. www.jasonbrockvocals.com

LGBTQ Histories from the WWII Home Front @ Rosie the Riveter Visitor Education Center, Richmond
Park indoor exhibit that showcases the lives of historic LGBT people. Open daily 10am-5pm. 1414 Harbour Way South, Suite 3000, Richmond. https://www.nps.gov/rori/index.htm

Marga Gomez @ The Marsh, Berkeley
Return engagement of the comic's hit show, Latin Standards. $25-$100. Fri 8pm, Sat 8:30pm. Thru Nov. 17. 2120 Allston Way, Berkeley. www.margagomez.com www.themarsh.org

N? Lei Hulu I Ka W?kiu @ Palace of Fine Arts
The award-winning Bay Area hula company performs I Mua: Hula in Unusual Places, a new concert of live dance and music, contemporary hula styles, with multimedia projections. $35-$90. Oct 27 at 8pm ($200 tickets include a Lu'au party) & 28 at 12pm (kid-focused show) & 3pm. 3301 Lyon St. www.naleihulu.org

Other Cinema @ ATA Gallery
Weekly screenings of wacky, unusual, short, documentary and animated films; free books, vinyl, VHS and wine. $7. 8:30pm. 992 Valencia St. www.othercinema.com

Plant Collections @ SF Botanical Garden
Visit the lush gardens with displays of trees, flowers and shrubs from around the world. Monthly plant sales, plus art exhibits and gift shop. Free entry with SF proof of residency. $5-$10 for others. 7:30am-closing. 9th Ave at Lincoln Way. https://sfbotanicalgarden.org/

Pumpkin Carving with Drag Queens @ Noe Valley Courts
Senator Scott Weiner hosts a fun pumpkin-carving contest with Mayor London Breed, Supervisor Rafael Mandelman, Mercedez Munro and BeBe Sweetbriar. Free/register. 1pm-4pm. 4320 24th St. www.eventbrite.com

Raw Design @ Museum of Craft and Design
Exhibit of modern sculptures. Also, Judy Kensley McKie: Cast of Characters, and Anchors in Time: Dominic De Mare; each thru Oct. 28. Free/$8. Tue-Sat 11am-6pm. Sun 12pm-5pm. 2569 3rd St. https://sfmcd.org/

Skate Night @ Church on 8 Wheels
Wheeled fun at the former Sacred Heart Church-turned disco roller skate party space, hosted by John D. Miles, the "Godfather of Skate," including Saturday's Black Rock night (Burning Man garb encouraged). 7pm-10pm. Sat afternoon sessions 1pm-2pm and 3pm-5pm. $10. Kids 12 and under $5. Skate rentals $5. 554 Fillmore St at Fell. www.churchof8wheels.com

Through-LINES: The Art of Ballet @ 836M
Exhibit of stunning dance photos by prolific photographer RJ Muna, with design and sound installations by Christopher Haas, Bernie Krause and Jim Campbell; presented by Alonzo King LINES Ballet as part of its 35th anniversary season. Thru Jan 7, 2019. 836 Montgomery St. www.linesballet.org www.836m.org

Various Exhibits @ NIAD Art Center, Richmond
Exhibits of art by visiting professionals, and art made by developmentally disabled people. Mon-Fri 10am-4pm. 551 23rd St. Richmond. (510) 620-0290. www.niadart.org

Wild SF Walking Tours @ Citywide
Enjoy weekly informed tours of various parts of San Francisco, from Chinatown to the Haight, and a 'radical' and political-themed LGBT-inclusive tour. Various dates and times. $15-$25. www.wildsftours.com
SUNDAY 28

Animation Exhibits @ Walt Disney Museum
Exhibit of animation art by the prolific artists, including Walt Disney's Nine Old Men: Masters of Animation (Bambi, Peter Pan, Lady and the Tramp), thru Jan. 7. Other exhibits of Disney artifacts and film screenings. 104 Montgomery St, The Presidio. $5-$25. 10am-6pm. Closed Tue. http://wdfmuseum.org/

The Campaign @ Roxie Theatre
Christie Herring's documentary about the historic 2008 Proposition 8 bill against same-sex marriage, and its after-effects. $8-$12. 4pm. 3117 16th St. https://www.roxie.com/

Curvy Cabaret @ Oasis
All-women cabaret show (which sold out in San Jose) with Juanita Harris and Karyn Rondeau, Jessica Coker, Elizabeth Curtis, and Glenna Murillo celebrating body-positivity and jazz, R&B and classic songs. $20. 7pm. 298 11th St. www.sfoasis.com

East Meets West @ Legion of Honor
Jewels of the Maharajas from the Al Thani Collection, thru Feb 24. Also, Séraphin Soudbinine, Lynn Hershman Leeson, Framing the Body, Mummies and Medicine and other exhibits of classical and modern art. Free/$30. Lincoln Park, 100 34th Ave. https://legionofhonor.famsf.org/

Ecstatic Dance @ Sacred Heart Church
Weekly group freeform dance with a spiritual flavor at the former church-turned event space. $15. 9am-12pm. Also Wed. and Fridays in Oakland and Fairfax. 554 Fillmore St. www.ecstaticdance.org

The Life and Times of Jo Mora @ Cartoon Art Museum
New exhibit of drawing, maps, paintings and ephemera by the prolific illustrator of American culture (1876-1947). Thru April 28, 2019. 781 Beach St. www.cartoonart.org

Mitsuye Yamada, Nellie Wong @ New Valencia Hall
Screening of the documentary about the two Asian American feminist poets, with post-screening discussion (Wong in attendance). $2-$7. 2:30pm. 747 Polk St. www.socialism.org

Oaxacan Day of the Dead @ Gregangelo Museum
Exhibit of 13 earthly and cosmic altars to the dead, with food and live music by Liliana Herrera. $95. 12pm-3pm. 225 San Leandro Way. http://www.velocityartssf.com/ https://bit.ly/2NMRhxY

Painting is My Everything @ Asian Art Museum
Art From India's Mithila Region, thru Dec 30. Also, Traces of the Past and Future, Fu Shen's painting and calligraphy, thru Sept., plus exhibits of sculpture and antiquities. Sunday café specialties from $7-$16. Free-$20. Tue-Sun 10am-5pm. 200 Larkin St. http://www.asianart.org/

Queer Tango @ Finnish Hall, Berkeley
Same-sex partner tango dancing, including lessons for newbies, food and drinks. $5-$10. 3:30pm-6:30pm. 1970 Chestnut St, Berkeley. www.finnishhall.org

Second Look, Twice @ MOAD
Exhibition of the work of 15 critically-acclaimed contemporary artists of African descent, including Glenn Ligon, Martin Puryear, and Kara Walker, who have used the medium of printmaking to create vivid and abstracted works. Thru Dec. 16. Free/$15. 685 Mission St. www.moadsf.org

Various Exhibits @ Chabot Space & Science Museum, Oakland
Space, science and planetary exhibits, including planetarium shows and the Observatory; special nighttime events like meteor shower shows. Free-$18. 10000 Skyline Blvd., Oakland. www.chabotspace.org

Contemporary Muslim Fashions @ de Young Museum
Exhibit of stylish fashions in the Muslim world; thru Jan 6. Also, modern and historic art, including embroidery, Maori portraits and installations. Free/$15. 50 Hagiwara Tea Garden Drive, Golden Gate Park. www.famsf.org
MONDAY 29

Ben Iliili @ McClaren Lodge
Exhibit of the photographer's diverse subjects (boxers, portraits); thru Nov 2. Mon-Fri 9am-4:30pm. 501 Stanyan St. http://harveymilkphotocenter.org

Cast members from Waitress @ Feinstein's at the Nikko
Actor-singers from the touring production of Waitress perform a benefit concert for Broadway Cares/Equity Fights AIDS. $19-$40. 7pm. Hotel Nikko, 222 Mason St. https://www.feinsteinsatthenikko.com

Connecting Threads @ JCCSF
Quilts From the Social Justice Sewing Academy, an exhibit of textile art by local youth, with political themes. Mon-Fri 8am-10pm, Sun 8am-8pm, thru Nov. SF Jewish Community Center, 3200 California St. www.jccsf.org

Lea Michele & Darren Criss @ The Masonic
The two Glee stars perform together on their U.S. tour. $45-$125. 8pm. 1111 California St. http://sfmasonic.com

Looking Through the Lens @ Diane Wilsey Center for Opera
The Glory of San Francisco Opera, Past and Present, an exhibit of historic productions photos from the San Francisco Opera's many productions. Free. Mon-Fri 9am-6pm. Veteran's Building, 401 Van Ness Ave. www.sfopera.com

Odd Mondays @ Folio Books
Authors Mary Jo McConahay, Susanne Jonas and Trebor Healey discuss 'Central America: Why the Surge in Asylum Seekers?' 7pm. 3957 24th St. http://foliosf.com/

Veiled Meanings @ Contemporary Jewish Museum
Veiled Meanings: Fashioning Jewish Dress, from the Collection of The Israel Museum, Jerusalem, an exhibit of detailed clothing from dozens of countries; thru Jan 6, 2019. Also, In That Case: Havruta in Contemporary Art—Oxossi Ayofemi and Risa Wechsler, thru July 2019. Lew the Jew and His
Circle: Origins of American Tattoo, thru June 9. 2019. 736 Mission St. https://thecjm.org/

Westward @ City Hall
Exhibit of large-scale photos by women photographers focusing on West Coast communities. Thru May 2019. North Light Court, Ground Floor, 1 Dr Carlton B Goodlett
Place. www.sfartscommission.org

William Blake in Color @ William Blake Gallery
Exhibit of classic plates in the new gallery of historic art by the 18th- and 19th-century poet and illustrator. Mon-Fri 10am-5pm. Sat 11am-5pm. 49 Geary St. #205. www.williamblakegallery.com
TUESDAY 30

Community Meetings @ Strut
Meetings for harm reduction, cycling, book club and more, most weekdays. 470 Castro St. www.strutsf.org

Exclusion @ Presidio Officers Club
Exhibit documenting the Presidio's Japanese-American incarceration during World War II; other exhibits show the history of the former military base and the SF peninsula. Free, Tue-Sun 10am-5pm. Thru Spring 2019. 50 Maraga Ave. https://www.presidio.gov/officers-club/exhibitions/

Peter Hujar: Speed of Life @ BAM/PFA, Berkeley
Exhibit of photos by the New York 1970s-'80s art/celebrity scene gay photographer who died of AIDS in 1987; thru Nov. 18. Cecelia Vicuna: About to Happen, thru Nov. 18. Ongoing film series at the Pacific Film Archive. Berkeley Art Museum, Pacific Film Archive, 2155 Center St. Berkeley. www.bampfa.org

René Magritte: The Fifth Season @ SF MOMA
New exhibit of 70 artworks by the master Surrealist painter; thru Oct. 28. Sublime Seas: John Akomfrah and J.M.W. Turner, a captivating video installation (thru Sept. 16). Also, Nothing Stable under Heaven (thru Sept. 16) and Alexander Calder: Scaling Up (thru Aug. 19). Free/$25. Fri-Tue 10am-6pm. 151 3rd St. www.sfmoma.org

Various Events @ Oakland LGBTQ Center
Social events and meetings at the new LGBTQ center include film screenings and workshops, including Bruthas Rising, trans men of color meetings, 4th Tuesdays, 6:30pm. Film screenings, 4th Saturdays, 7:30pm. Game nights, Fridays 7:30pm-11pm. Vogue sessions, first Saturdays. 3207 Lakeshore Ave. Oakland. https://www.oaklandlgbtqcenter.org/

Will Durst @ The Marsh
The erudite political comic returns with yet another updated version of his show, Durst Case Scenario: Midterm Madness. $20-$100. Tuesdays, 8pm Thru Oct. 30. 1062 Valencia St. www.themarsh.org
WEDNESDAY 31

The B-52s @ The Fillmore
The fun pop band returns for a night of favorite tunes, with Frankie & The Studs; themed costumes encouraged. $80. 8pm. Also Nov 1. 1805 Geary St. http://thefillmore.com/

Deirdre Weinberg: Living Memory in the TL @ Tenderloin Museum
Exhibit of mini-portraits showing "beauty where it might be overlooked." 398 Eddy St. http://www.tenderloinmuseum.org/

Expedition Reef @ California Academy of Sciences
Exhibits and planetarium shows with various live, interactive and installed exhibits about animals, plants and the earth; Deep Reefs, Giants of Land and Sea, Gems and Minerals, and more. $20-$35. Mon-Sat 9:30am-5pm. Sun 11am-5pm. 55 Music Concourse Drive, Golden Gate Park. 379-8000. www.calacademy.org

Friendly Fire @ Wessling Gallery
Group exhibit of vibrant works in various media by 14 artists. 440 Brannan St. http://wesslinggallery.com/

Halloween Flamenco Fiesta @ Ashkenaz, Berkeley
Miguel Infante, Melissa Cruz, Ricardo Diaz, Senen Sentio, and LoCura perform flamenco music and dance, with an audience costume contest. $20-$25. 8:30pm. 1317 San Pablo Ave., Berkeley. www.ashkenaz.com

The Rocky Horror Picture Show @ UC Theatre, Berkeley
Enjoy a holiday participatory screening fo the Richard O'Brien camp rock musical classic, with the Barely Legal shadow cast. $16.50-$26.50. 8pm. 2036 University Ave. https://www.theuctheatre.org/

Scary Story Open Mic @ Dog Eared Books
Tony Vaguely hosts a reading night for Halloween-themed stories, with featured readers Kathy Queer and Connie Champagne (sign up 6:45, 5-minute limit). 7pm. 489 Castro St. www.dogearedbooks.com

Various Exhibits @ The Beat Museum
Enjoy exhibits, a bookstore and gift shop that celebrates the era of 'Beatnik' literature (Jack Kerouac, Allen Ginsberg, William S. Burroughs, etc.), with frequent readings, walking tours and other events in North Beach. $5-$8. Daily 10am-7pm. 540 Broadway www.kerouac.com
THURSDAY 1

Amanda Curreri @ Romer Young Gallery
Country House, an exhibit of the artists' fabric-tapestry "queer feminist response" to the current political morass. Thu-Sat 11am-5pm, and by appointment. Thru Oct. 27. 1240 22nd St. www.romeryounggallery.com

Goapele @ Yoshi's Oakland
The local R&B singer performs at the stylish nightclub-restaurant for a four-night residency; two shows nightly thru Nov 4. $39. 510 Embaracdero West, Oakland. https://goapele.com/ https://www.yoshis.com

Megan Hilty @ Marines' Memorial Theatre
The Broadway star performs a special concert celebrating the 15th anniversary of the musical Wicked, plus some Smash songs as well. $85-$115. 8pm. 609 Sutter St. www.feinsteinsatthenikko.com

The Posters of Rex Ray @ GLBT History Museum
New exhibit, A Picture Is a Word: The Posters of Rex Ray, survey of the graphic works of internationally renowned San Francisco queer artist and designer (1956 - 2015). $5. 4127 18th St. www.glbthistory.org

Scott Fraser @ Jenkins Johnson Gallery
Earthly Delights, the painter's new exhibit of realist/surreal works. Thru Dec. 22. 464 Sutter St. http://www.jenkinsjohnsongallery.com

Sundance Stompede @ Various Venues
The annual country-western line-dancing, two-stepping weekend draws folks from around the world for lessons & workshops, a kickoff dance, a welcome dance, Hoedown and Stompede Ball with line-dancing troupes performing. $12-$60. Thru Nov. 4. Holiday Inn, 1500 Van Ness Ave, Regency Ballroom, 1300 Van Ness ave and Space 550, 550 Barneveld Ave. www.stompede.com

Ten Percent @ Comcast
David Perry's online and cable interviews with notable local and visiting LGBT people, broadcast through the week. Wed 7pm, Thu-Tue 11:30am & 10:30pm. www.ComcastHometown.com

Troy Sivan @ The Masonic
The gay pop singer performs. $46 and up. 8pm. Also Nov 2. 1111 California St. www.sfmasonic.com

Walking the Line @ GearBox Gallery, Oakland
Group exhibit of works. Thu-Fr 12pm-6pm. Sat 11am-5pm. 770 West Grand Ave., Oakland. www.gearbocgallery.com

With Care @ ODC Theater
American Modern Opera Company and OCT Theater's commissioned dance by Bobbi Jene Smith and Keir GoGwilt's newest project explores ideas of care and caregiving through music, dance, and spoken word. $30. Nov 1-3, 8pm. 3153 17th St. http://odc.dance/withcare


To submit event listings, email events@ebar.com
Deadline is each Thursday, a week before publication.
Comments on Facebook