The Besties give us an opportunity to visit some longtime favorite watering holes, to visit some of the newer venues in town and unfortunately to note the passing of one venue.
They love the nightlife, they love to boogie. And this year, our creatures of the night like to mix it up. We've got all new winners in the bartending category, a ladies rout in the comedy club, and a wake-up call in the gogo guys competition.
"We are everywhere!" may be a queer community rallying cry, but once again, Bestie voters don't seem to eat anywhere but the Castro and the Mission.
From drag shows to dancing bears, game nights and beer busts, cubcakes, mangos and other treats, your choices for Best Nightlife Events truly represents a diverse menu of options.
Divas, the Polk district bar and nightclub that had long been a safe haven for the transgender community, will be closing its doors on March 30. The bar will celebrate its many years of service to the community with a closing night party.
On some level, creating community is a numbers game. The more times you try, the more times you succeed. Sometimes you have to throw lots of stuff against the wall to see what sticks.
The recent news of the two-year lease extension to historic LGBTQ bar The Stud had fans cheering. To help pay their rent and bills, the bar's collective owners are competing in a $50,000 grant opportunity funded by Federal Express.
The New York dance party Brüt returned to the Bay Area at The Great Northern (119 Utah St.), thanks to Brian Kent Productions. Hotties of all kinds showed up to dance, flirt and enjoy St. Patrick's Day weekend.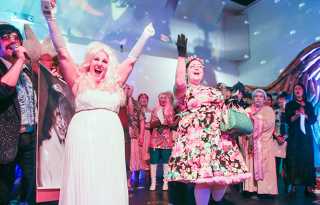 Costumes are encouraged on March 23, when Congregation Shaar Zahav, San Francisco's synagogue for LGBTQ Jews, families and friends, celebrates Purim, a joyous holiday which is Judaism's answer to Halloween.
One of the annual projects of the San Francisco Bay Area Leather Alliance is producing the Leather Alliance Weekend, which took place February 28 through March 3. The weekend included the San Francisco Bootblack and Mr. San Francisco Leather 2019 contest.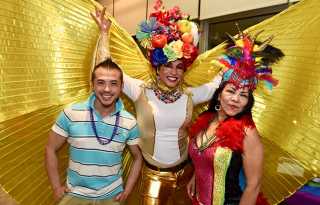 Aguilas El Ambiente, the local organization dedicated to creating a supportive, culturally sensitive environment for gay/bisexual Latinos, hosted a festive Carnival party at the LGBT Center on February 28.
Spring into nightlife fun as hunks, punks, drags, kings and DJ queens entertain your every eve.