We care less about the royal them than we do about the royal you. Are you doing right? Would you like some music, dance, theatre, drag or DJed grooves to help you get through the days and nights? Then ye shall have it. We proclaim fun.
Patrons of Harvey's enjoyed outdoor dining and drinks on Sunday March 7, and photographer Steven Underhill was there. 500 Castro St. at 18th.
In what will undoubtedly be recalled as the biggest drag fundraiser in local history, Oasis nightclub's 12-hour three-camera marathon telethon more than doubled the initial goal by raising more than $253,000 through the club's March 6 online event.
March madness? No, not basketball, but the confusion we're all experiencing a year into the pandemic. Indoor? Outdoor? Keep calm, watch a play, listen to music new or classic, and tip a drag queen. The new normal's not known.
Beaux's Sunday Big Top Brunch entertained outdoor patrons on Feb. 28 as glam drag performers strutted their lip-synching stuff, and photographer Steven Underhill caught some fun moments.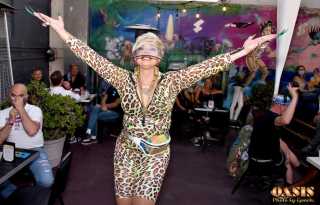 Despite a year of providing entertainment through the pandemic, the drag-focused nightclub Oasis still needs fan support to remain open. So owner D'Arcy Drollinger will host a 12-hour telethon with dozens of performers on March 6.
Now that the San Francisco Board of Supervisors has unanimously passed District 6 Supervisor Matt Haney's Music and Entertainment Venue Recovery Fund, his legislative aide is hopeful that beleaguered venues can start getting help next month.
Sometime it feels like being the DJ on the Titanic II, part desperate distraction, part solemn duty, working to bring you entertainments and the strange dispiriting online version of community. Sometimes it doesn't.
Names like Mo B. Dick and Sexy Galexy will grace your computer screens when Drag King Legends takes to Zoom on Feb. 21 at 5pm. Kings with 25 years or more experience will be honored in a show that promises to be informative, exciting, and entertaining.
Castro nightlife is back, sort of, including brunch drag shows outside The Edge bar.
The annual Bare Chest Calendar is out, and raising funds for Positive Resource Center. Find out how the calendar men raised money without the usual year of bar events.
Shake off the pandemic blues and get some virtual entertainment and connection with online -and a few in-person- arts, nightlife and community events.