Despite inclement weather, some solid stand-by nightlife events are still standing. Shake it off, get indoors to get wet.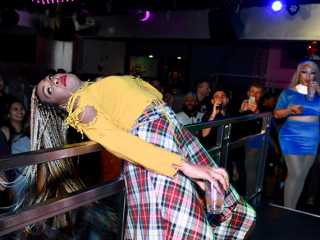 The Café, the Castro's dance nightclub with a view, hosted its first iCandy Friday night of 2019, and some amateur booty-shakers took to the platform as well.
Continue into the new year with annual favorites, visiting celebrity acts, and lovely local hangouts.
The new year brings on some new entertainments in nightlife, including New Year's Eve parties. But mostly it's more of the same, kind of like Groundhog Day, but with booze.
This week, we feature a dozen-plus photos from the best of prolific photographer Steven Underhill's Shining Stars albums. See you next year!
Jolene's, the new queer bar in SoMa, opened last weekend to much local appreciation. A soft opening on Dec. 15 included a ribbon-cutting ceremony, and the return of Uhaul, now each Friday, marked the first week of events.
Whether your gifts are under a tree or under mistletoe, the holidays are an odd mix of nightlife; festive escapees from family gatherings, or completely dormant venues, but some are open Christmas Eve and Day. Toys or coal; your choice.
It's been a while, and it may be a while longer before Connie Champagne returns, but her subtle, witty and endearing portrayal of Judy Garland takes place to Oasis on December 15.
2018 was a rough year for almost everyone I know, even if there were hopeful moments sprinkled along the way. You might have noticed that we had an overwhelming number of success stories, too.
Chalk up all the fun you had, and add a few more week's merriment to round off the year of nightlife fun, because the newest club is opening up!
It's been 18 years since Aaron Lazar last passed through San Francisco on a Broadway tour. He's in 'Dear Evan Hansen' at the Curran through December 30, and has a solo engagement at Feinstein's at the Nikko on December 17.
Whether you're lighting candles, perching under mistletoe, or glugging eggnog, the holidays in all their forms approach. Cheer up or simmer down, but enjoy the festivities.