Have you hauled out the holly? That stuff's poisonous, you know. No matter how you celebrate Solstice, Christmas, Hanukkah or Festivus, figure out how to celebrate safely with so many arts, nightlife and community events to choose from.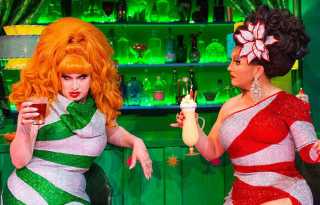 Make the holidays a drag, in a good way, as BenDeLaCreme and Jinkx Monsoon offer up 'The Jinkx and DeLa Holiday Special,' a one-hour musical extravaganza, now available online.
This year's Santa Skivvies Run, the SF AIDS Foundation's fun fundraiser, is an online Challenge, and you can still have fun on Dec. 13 (Sign up at www.sfaf.org). Here's an album of Steven Underhill's best photos from past events.
While it's not exactly 'the most wonderful time of the year,' you can still get a bit of holiday cheer with online arts, nightlife and community events.
In the much-needed spirit of buying local, check out and fill your cart with Glitter Worthy's fun array of gifts created with local drag performers, illustrators and photographers, including new works by Gooch.
Settle in for autumn's end and December's arrival, as arts, nightlife and community events thaw out.
Friends are mourning the death of Randall "Randy" Schiller, a gay man and longtime community leader who died October 4.
Autumnal fun may not include large gatherings over dinner (hey, your decision), but you can burn of some calories by dancing or singing along to some arts, nightlife and community events.
Now that we're done dancing in the streets, settle back and watch some professionals dance, and sing and act, and even lip-synch, because queens gotta perform, too. Arts, Community and Nightlife events are the new normal.
Miss Faye Caro will perform with Poet Avotcja & Youth A Cappella Ensemble Vocal Rush, in a concert celebrating Black LGBTQ+ music pioneers like Billy Strayhorn, Little Richard and Sylvester.
People started gathering in the Castro by 10am on Saturday Nov. 7 as election results were announced, with Joe Biden and Kamala Harris getting enough electoral and popular votes to clinch the presidential election.
Enjoy a round-up of several video clips of celebrations in the Bay Area and across the U.S. following the announcement of Joe Biden and Kamala Harris' winning the presidential/vice-presidential election of 2020.