A San Francisco 49ers football Pride watch party at The Detour in the Castro District featured the 49ers vs. Bengals game, which was shown Sunday Sept. 15 at The Detour.
Viewing 1 thru 12 of 486 Stories
Fun is where the heart is, and musicians, cabaret acts and queens all over the bay gear up to entertain your nightlife desires.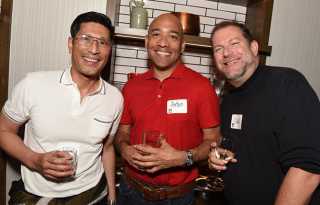 MAX held a First Friday cocktail meet & greet at Eclipse Bar in the Hyatt Regency San Francisco on Sept. 6. The social group for gay men and their friends goes back to 1988, and continues to welcome new members at frequent social events.
We haven't had a good wedding announcement in a while, and the betrothal of Carlos Diaz and Joseph Copley included seaside views, and dance and nightlife community fabulousness.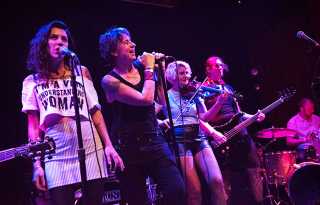 With any luck, your Friday (13th!) will be full of fun, not fear. Superstitious? Plan nightlife fun on other nights.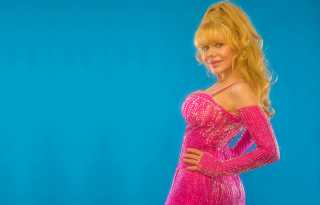 On Friday September 20 the incomparable legendary Charo returns to San Francisco for an evening of music and 'cuchi-cuchi' at the Herbst Theatre.
Yummy beats, tasty drinks, delicious dancers, are all on your nightlife menu.
Morgxn appears at the Rickshaw Stop on September 12. That "x" marks the spot on his lifeline when he decided to own his vulnerability as part of his creativity, just a few years ago.
On Sunday, September 8 comic Gina Yashere returns to Freight and Salvage in Berkeley for a hilarious night of gay comedy. Yashere will be joined by fellow funny people Sampson McCormick, Karinda Dobbins, and Lisa Gedudig.
"The First Time Ever I Saw Your Face," is one of those songs that's pretty much guaranteed to swell the emotions. Natalie Douglas sings it next weekend during her Roberta Flack tribute shows at Feinstein's at the Nikko, with a renewed family connection.
It's back to old school, with groovy retro nights, surf-psychedelic and prog-rock bands, solid house DJs and classic cocktail nights.
Cirque du Runway, the Gay Asian Pacific Alliance Foundation's 31st annual pageant and fundraiser, showcased a festive array of drag and male talents at the Herbst Theater on August 24.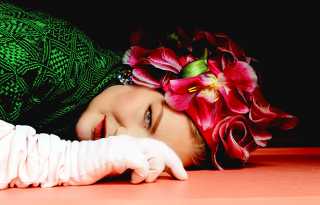 It's been several years since singer Veronica Klaus, for many years a fixture on the San Francisco cabaret scene, departed these shores for new adventures in upstate New York. But on August 31 and September 1, Klaus returns to the city where it all began.
Viewing 1 thru 12 of 486 Stories