Queer bars' extraordinary fund list
Sunday Jan 10, 2021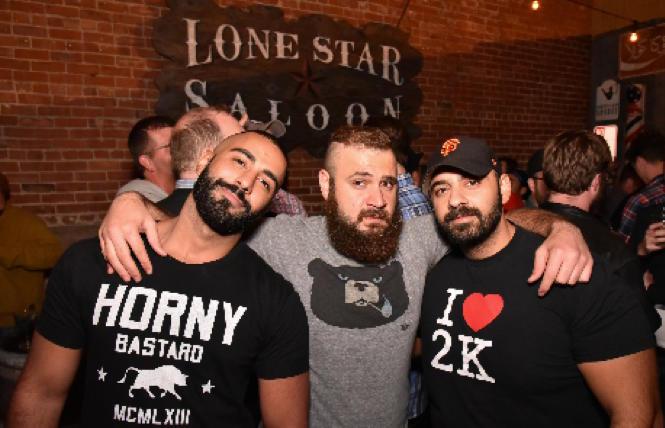 Despite our astoundingly difficult times, fans and patrons of LGBTQ Bay Area bars and nightclubs were extraordinarily generous to multiple fundraising efforts in 2020, donating nearly $400,000. This is in addition to the SF Queer Nightlife Fund's more than $300,000 raised. You can still donate to help your favorite venues survive.

440 Castro 440 Castro St.
The popular bar —a frequent B.A.R. Bestie winner, is not just for bears, but welcome to all— participated in the outdoor dining and drinks experience, with a terrific-hand-built parklet, before the second shutdown. They're currently offering artwork by Pete Doolittle as part if their fundraiser.

"It has been a difficult year to say the least and it fills us with gratitude that you've been there for us these last few month," said the owners in their fundraiser statement. "It has reminded us that 440 isn't just another bar but a staple in the LGBTQ community. It's shown how we can all come together and adapt to change."

The bar has raised more than $4,200 of its $7,500 goal.
GoFundMe
www.the440.com
www.facebook.com/440Castro
Aunt Charlie's Lounge 133 Turk St.
Tiny in space yet big in history, the Tenderloin bar's known for old school drag shows, and the much-missed DJ Bus Station nights, where sweaty dancing cuties packed the intimate dance floor. The bar's fans have raised $105,400, passing their $100,000 goal.
B.A.R. on Aunt Charlie's
GoFundMe

Badlands 4121 18th St.
The bar is closed and has no updates on its website or Facebook account. What a surprise.
www.sfbadlands.com
www.facebook.com/SF-Badlands

Beaux 2344 Market St.
The spacious nightclub with a big dance floor is closed. Their Facebook page has no updates since July, when their happy patrons enjoyed outdoor parklet revelry on the sunny side of Market Street.
www.beauxsf.com
www.facebook.com/beauxsf

The Café 2369 Market St.
Although they have not started a fundraiser, the bar, closed for now, hopes you'll follow their DJs, linked on their Facebook page.
cafesf.com
www.facebook.com/TheCafeSF
The Cinch Saloon 1723 Polk St.
In 2013, the neighborhood bar in the Upper Polk district celebrated its 40th anniversary. Let's keep it going to 50 and beyond. So far, they've raised $15,800 of their $20,000 goal.
B.A.R. on The Cinch's anniversary
GoFundMe

Club 1220 1220 Pine St., Walnut Creek
"Back in early March, Holotta Tymes and I took a leap and decided to buy Club 1220," wrote co-owner Robert Carstensen in East Bay bar's fundraiser statement. "We wanted to make sure that this bar stayed open for the LGBTQ+ community and continue to provide the safe place it has been the last 44 years with the Crovo family. Together with family and friends, we came up with the funding and made an offer.

"Even after COVID-19 hit, shutting down bars across the Bay Area and throughout California, we knew they could not back out. The community needs this bar to be around to make sure there is a place for individuals to just be themselves."

The bar has raised more than $18,700 of its $30,000 goal.
GoFundMe
club1220.com

The Edge 4149 18th St.
We can't decide what we miss most about this 20+-year-old Castro bar; The Monster Show drag-stravaganzas, Musical Wednesdays (with Broadway touring company actors popping in), the weekend sports team fundraisers, or the sexy Code leather nights. Their outdoor days with drinks, and food from their neighbors El Capitan Taqueria, even included outdoor projected videos.

The bar currently has no fundraiser listed, but follow them on Facebook for a fun queer feed of videos and LGBT history and musical theatre profiles.
www.facebook.com/EdgeSF
www.edgesf.com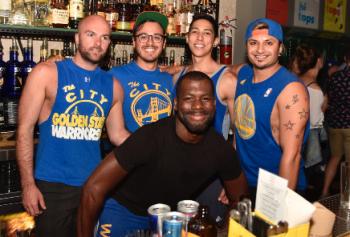 Hi Tops 2247 Market St.
Sports and super snacks rule the straight and gay bar with multiple video screens showing seasonal sporty programming. The popular venue's employee fundraiser has raised $16,500, a bit more than its $14,000 goal.

"A huge thank you to everyone who was able to donate," wrote owner Jesse Woodward in the GoFundMe statement. "We are truly humbled and appreciative! I will be making sure that the crew will get the money as soon as it is available."
GoFundMe
www.hitopsbar.com

The Hole in the Wall Saloon 1369 Folsom St.
The décor, the drinks, the divey daring and the DJs make us miss the rock and roll biker bar. They have no fundraiser, but you can tune in to their rockin' DJs and send a tip.
Hole in the Wall

Last Call 3988 18th St.
It's intimate, to be sure, but clearly a local favorite, as Last Call fans have donated $16,400 of their $30,000 goal.

"It's heartbreaking not seeing you all and hearing your laughter, hearing you play your favorite songs on the jukebox, or watch a cheesy old movie," wrote team fundraiser Bob Hoffman. Donations will help with their rent, insurance, utilities and upkeep of the bar.

Wrote donor Sean Tracy, "This place has been there for me during good times and the hard ones too. If I were more religious, this would be my church. When this is over, let's gather for a "prayer."
GoFundMe
www.thelastcallbar.com

Lone Star Saloon 1354 Harrison St.
The world-famous bear bar innovated to form a membership club with charming swag key chains and other merchandise. Who doesn't miss a night at Cubcake or a crowded huddle on the back patio with terrific rock grooves?
B.A.R. coverage of Lone Star memberships
www.lonestarsf.com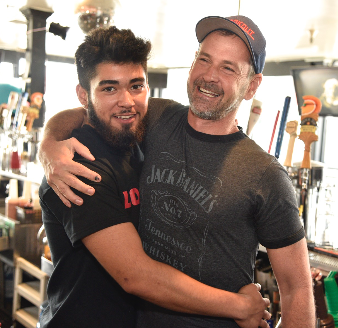 Lookout 3600 16th St.
The bar with a balcony view at the epicenter of our famous six-way intersection offers an innovative approach to its staff-supporting fundraiser; gift cards. 50% of your donation goes to staff, the remainder pays for food, drinks and more once bars are allowed to reopen. While closed to the public, the bar still offers margarita deliveries through their colleagues Casements Bar, Thursdays through Saturdays. As the management stated in looking out for the reopenings, "We all can agree we will need a drink by then."
www.lookoutsf.com

Mac's Club 39 Post St., San Jose
The intimate San Jose bar has raised more than $1,100 of its $2,500 goal, which all goes to employees.
GoFundMe
www.facebook.com/Macs-Club

Martuni's 4 Valencia St.
While the popular martini bar known for countless cabaret concerts, literary events and delicious cocktails isn't raising funds, they are selling wines, spirits and Martuni's merchandise from their portico almost daily, and several of their veteran performers host online concerts, like Russell Deason, Joe Wicht and Suzanne 'Kitten on the Keys' Ramsey's online cabaret show, paired with Oakland's Alley Bar.
www.facebook.com/TheAlleyPianoBar
www.facebook.com/russell.deason
Kitten on the Keys
B.A.R. on Martuni's shop

Midnight Sun 4067 18th St.
Along 18th Street, the recent weekend outdoor drinks & dining fun included the popular bar known for its video nights (and hella sexy gogo guys). They even recently renovated the bar's front area with a big open window before those, like others, had to be boarded up.

"We hope that this temporary closure will be short-lasting so that we can once again serve our amazing customers and friends who have stood by us during this difficult time," said the bar's owners. The bar's new fundraiser, started in December, just passed $700 of its $11,000 goal.
www.midnightsunsf.com
GoFundMe

The Mix 4086 18th St.
With its low ceilings and intimate back patio, plus a pool table, The Mix has long been a Castro favorite. Their staff emergency fund has raised nearly all of its $10,000 goal, but more is appreciated.
GoFundMe
www.facebook.com/mixsf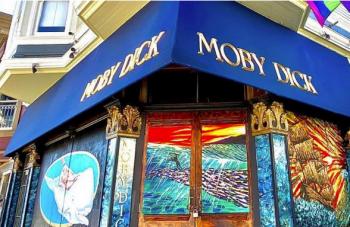 Moby Dick 4049 18th St.
Closed since the first shutdown, the favorite neighborhood bar known for its beautiful fish aquarium started its fundraiser for staff and other expenses in July.

Co-owner Joe Cappelletti said at the time, "The reason we aren't opening and partnering is, it doesn't make business sense to do so. We wouldn't be able to cover the costs of opening the doors. We would be losing money. In order to open at a later date we need to conserve what money we have to sit through this horrible pandemic."

So far the bar's two fundraisers have raised $10,000 of its $15,000 goal for the employee fund, and $20,500 for its general business fundraiser.
B.A.R. on Moby Dick's fundraiser
Staff GoFundMe
Bar GoFundMe

Pilsner Inn 225 Church St.
With a history going back four decades, including sponsorships of the 1970s gay softball teams, The Pilsner Inn has been a neighborhood hangout for many fans who enjoy the beer selection, the pool table, and the outdoor patio. They're so far raised $3,250 of their $8,000 goal.
GoFundMe
www.pilsnerinn.com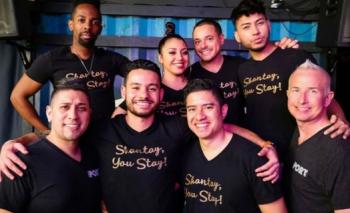 The Port Bar 2023 Broadway, Oakland
With its nautical shipyard décor, The Port Bar became an Oakland favorite from its opening. Their recent outdoor drag shows, Bingo and Taco Tuesdays were popular before the second shutdown. Through the bar's fundraiser, organized by Sean Sullivan, patrons have donated $5,600, surpassing their $5,000 goal. Hello, sailors!
GoFundMe
B.A.R. coverage of Port Bar's 2016 opening.

Renegades 501 W Taylor St., San Jose
The popular San Jose bar has so far raised $18,300 of its $35,000 goal. Said organizer Luis Sarmento, "The rent for June is paid, but we need to raise funds for July & August, and the bills that are piling up and due during this time of no income. Its embarrassing having to turn to the community, but its what we must do if we are to survive this pandemic."
GoFundMe
www.portbaroakland.com

El Rio 3158 Mission St.
So many parties, such good times. El Rio's outdoor concerts, comedy shows and soul dance parties kept the neighborhood hopping.

"100% of the money we receive will be split among all of our staff - bar, sound, door, as well as the cleaning crew," said organizers. "This is a tough time for everyone and we know that we are all dealing with added stress, but if you're able to donate, every dollar will go a long way in helping our crew."

The bar's fans showed their love by donating $21, 600 of their $20,000 goal.
GoFundMe
www.elriosf.com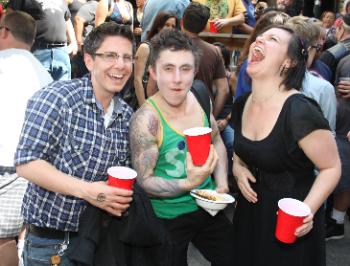 SF Eagle 398 12th St.
Although we're still not sure what's happening with the sale of the historic leather bar, we know we can't wait to enjoy the famous beer busts, dance nights and of course, leather events. And the staff is being helped out with $21,400, surpassing their $20,000 target.
GoFundMe
www.thesfeagle.com

SF Oasis 298 11th St.
If you're as big a fan of Oasis as we are, you've lost count of all the laughs you had at the fab nightclub's shows (Mother, The Golden Girls Live, Shit & Champagne, Star Trek Live), guest stars (The B-52s' Cindy Wilson, Varla Jean Merman, even Cher!).

From classy (Frameline galas), to wild (cosplay nights) to raunchy (Big Fat Dick) and drag king royalty (Dandy), it's been the place to be in SoMa. Help out the club and its staff to ensure that this 'Oasis of civilization' returns. Join their Patreon, buy some merch, and tip generously on Venmo.
B.A.R. on Oasis
www.sfoasis.com

Toad Hall 4146 18th St.
Surprisingly spacious, with a dance floor and back bar and patio, the former Pendulum is not doing a fundraiser at this time.
www.toadhallbar.com

Trax 1437 Haight St.
Known for its "gay vibe in the Haight," the historic gay/straight-friendly bar has no fundraisers listed, but keep up on their Facebook page. www.traxbarsf.com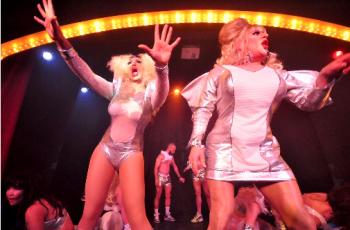 Twin Peaks Tavern 401 Castro St.
In December 2020, the historic Twin Peaks Tavern, a landmark gay bar on Castro and Market streets, currently $106,600 in its campaign to keep the struggling bar open and pay its staff. The bar, which opened in 1973 at 401 Castro Street, was the subject of the recent documentary Through the Windows, which covers its history in tandem with the growth of the Castro district as an LGBT neighborhood. Twin Peaks is known historically for being one of the first gay bars to have open windows, marking a change to the then-hidden and dark structures of previous gay bars.
B.A.R. on Twin Peaks fundraiser
GoFundMe

The White Horse Bar 6551 Telegraph Ave., Oakland
Since the new shutdown in November 2020, owners of the super-historic bar (a century or more?) said in a recent Facebook post, "We are and will be ready once the restrictions loosen and we are able to have everyone back safely. Please be on the lookout for our reopening soon." Although they have no official fundraiser listed, keep in touch on how to help out.
www.whitehorsebar.com
B.A.R. on the White Horse's role in LGBT Bay Area history

Also, Lazy Bear Weekend was cancelled last year, but is still scheduled for July 27 to August 2. We can hope for the Guerneville bearfest's return, considering that the Lazy Bear Fund has raised millions for Bay Area charities.
www.lazybearweek.org

Queer Nightlife Fund
Before most bars dealt with the sudden shutdown back in March 2020, the SF Queer Nightlife Fund organized to raise funds for employees and other people who make a living in the bar scene. The QNF was formed by a quickly gathered group of DJs, performers, and longtime nightlife personalities, with the aid of Spencer Watson of the Center for LGBTQ Economic Advancement & Research.

More than 250 nightlife workers applied for funds. By December, they collected more than $300,000 in donations. The QNF has also hosted online Quaran-Tea Dances, as well as online forums to figure out how to enact changes in inclusivity in the community.
B.A.R. on Queer Nightlife Fund
sfqueernightlifefund.org

Help keep the Bay Area Reporter going in these tough times. To support local, independent, LGBTQ journalism, consider becoming a BAR member.
Comments on Facebook