Nancy And Beth - The girls in the band
Wednesday May 1, 2019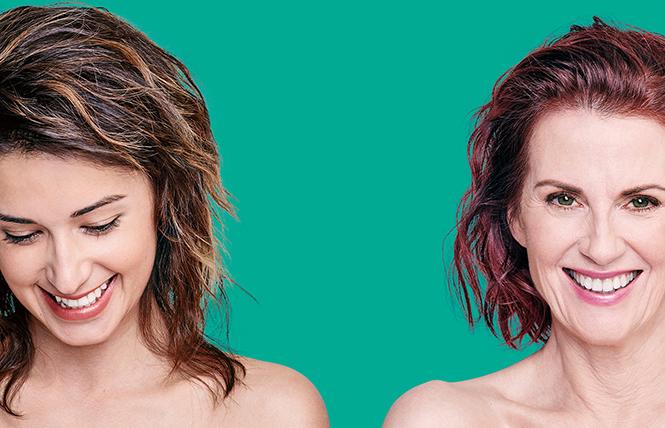 Growing up in Oklahoma City in the 1960s, Megan Mullally performed in the local ballet company, where she heard plenty of classical music. But her primary exposure to contemporary genres came through AM radio.

"There was really only one station: WKY; just three call letters. But they had to be all things to all people," Mullally recalls fondly, describing a listening experience longtime San Franciscans will recognize as akin to vintage KFOG. "So they'd play everything from the Rolling Stones to Willie Nelson to Nina Simone. I think that's part of why I have such broad taste."

Mullally, best known for playing Karen on Will & Grace, but also a Broadway musical veteran, discovered that her eclectic musical perspective was shared by fellow singer-actress Stephanie Hunt (Friday Night Lights, The Resident) when the pair was shooting an indie film in Austin, Texas back in 2011. Hunt whipped out her ukulele for an impromptu sing-along and a partnership was sparked.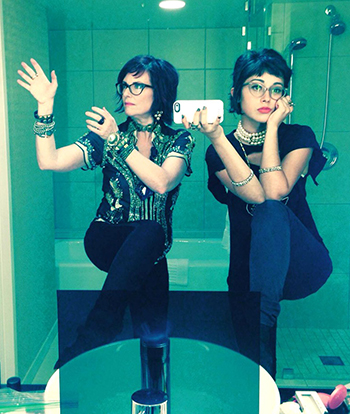 Today, alongside their film and television careers, the twosome lead the band Nancy And Beth (upper case A, thank you!), which returns to Feinstein's at the Nikko for three shows this weekend following a sold-out gig in 2013. (Only Saturday 10pm tickets remain for this weekend).

Since then, the septet has recorded two albums (the second will be released next year) and performed their unique mix of jazz- and Americana-inflected covers at venues ranging from dive bars to the Grand Old Opry.

Later this month, they'll have their second residency at Manhattan's soignée Café Carlyle, better known for presenting the late likes of Bobby Short and Eartha Kitt.

"They called us the most avant-garde act that's played there," says Hunt of the Carlyle, but the Nancy And Beth repertoire includes plenty of tunes that aren't inherently out of place in such a tony venue. Their take on "Harbor Lights," which has been recorded by artists from Bing Crosby to Elvis Presley, is inspired by the Dinah Washington version; and "Everybody Loves A Lover" was popularized by Doris Day.

Still, the quirky choreography that Mullally has created for every song in their sets certainly distinguishes the combo from most old-school cabaret acts.

"Our selections come out of the ether and intuition," says Hunt, in regard to a repertoire that also includes songs originally performed by PM Dawn and Gucci Mane. "A lot of what's magical about the band is rediscovering musical gems."

Mullally points to Rickie Lee Jones' classic covers albums Girl at Her Volcano and Pop Pop as curatorial inspirations, while Hunt, who grew up in Texas, says she's a big admirer of Willie Nelson's fluid late-career movement between country and standards.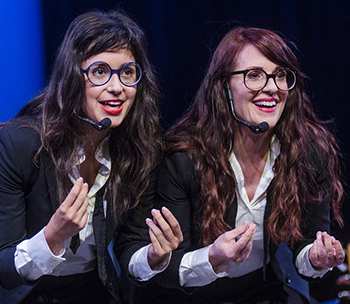 "We're not looking for songs that are obscure," adds Mullally. "We look for songs that we find compelling. They also need to have a good melody and good lyrics. That's surprisingly hard to come by. There are a lot of songs that have one or the other."

While understanding that Mullally's television celebrity helps attract ticket buyers, Hunt says that audiences don't necessarily know what to expect from a Nancy And Beth show. (The capitalization of 'And' is their half-hearted attempt to avoid Blondie syndrome).

"One of the magical things about the band is that it tends to attract people who are curious. So they're open to what we do. I feel like most everybody leaves the shows feeling happy."

"I think people can feel our enthusiasm," says Mullally. "This isn't a lark at all. It has humor in it, but the music is really serious to us. Honestly, it's my favorite thing to do. I love doing Will & Grace, and obviously Nick [Offerman, her comedian husband] and I work together a lot, which is great.

"But there's something about having this band that's so much more satisfying in a weird way. We have complete autonomy. We're in control of how we sound and what we wear. And I love doing the choreography. When we're working on it, I'm not aware of the passage of time. I feel the childlike joy of two little girls playing."


Nancy And Beth perform May 3, 8pm; May 4, 7pm & 10pm, at Feinstein's at the Nikko. $95-$115. Hotel Nikko, 222 Mason St. www.feinsteinsatthenikko.com
Comments on Facebook