Business Briefing: Queer co-owned coworking space opens in downtown SF
Wednesday May 12, 2021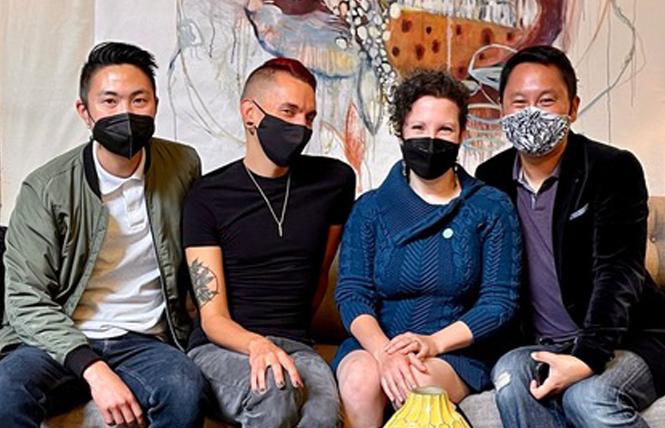 A new queer and female co-owned coworking space has opened its doors in downtown San Francisco just as the city begins to reopen due to declining rates of COVID cases and deaths. And with vaccinations now widely available for adults, anyone using the space as of June 1 will need to show proof they have been inoculated against the virus.

Trellis welcomed its first users Saturday, May 1, at its 981 Mission Street location. The South of Market space had formerly been home to a different coworking space called Covo.

"Trellis is the workspace I wish I had every day I was stuck at home during the pandemic. A beautiful, calm oasis where I can stretch out my legs, be productive, caffeinate, and safely connect with real human beings," said founder Rebecca Pan.

Joining Pan and her husband, Jason, in launching Trellis are queer co-founders Beau-Robert Metcalfe, the company's strategy manager, and Brandon King, its operations manager. It takes its name from a garden trellis, as the co-founders envision it is a space that encourages growth and where ideas can "flourish in a post-pandemic world."

"I think the diversity and creativity on our team embody that welcoming, San Francisco vibe that brought us all here in the first place. That's the kind of community we look to foster at Trellis," stated Metcalfe.

Its three-level brick-and-timber building provides private meeting rooms and office space, as well as communal areas and a cafe and wine bar. For that reason, anyone not in a private area at Trellis is required to wear a mask, a policy that will be reexamined as public health officials revise their recommended mask-wearing protocols for indoor spaces.

"We are hoping that will shift in the not too distant future," Rebecca Pan told the Bay Area Reporter.

Pre-pandemic Trellis expected to be able to have 200 members, and 30 people already have signed up to use its space. Its capacity limits continue to change as the city adjusts the regulations for how businesses can operate during the pandemic.

It was at the suggestion of its members that Trellis adopted its vaccination requirement.

"The reason we are implementing that policy is because our members really pushed for it," said Rebecca Pan.

The Trellis staff is fully vaccinated, and there is a full health and safety policy posted to its website for members or prospective members to download.

"While many universities and hospitals have started to implement vaccination requirement policies, corporate and retail businesses have been more tentative, wary of putting a stake in the ground," noted Metcalfe. "Given the feedback from members, Trellis believes the policy will increase inclusion and reach."

Access costs $5 an hour, or monthly passes that come with various benefits can be purchased. An open seating pass runs $440 per month, a dedicated desk monthly pass costs $560, and a private office is priced at $840 a month.

Asked how things have been going as it nears its two-week mark of being opened, Pan told the B.A.R. May 11, "I have to say, they are going well."

To learn more about Trellis, visit its website at https://www.trellis.social/
App aims to diversify workplace recruitment
A new app that is currently in beta mode and plans to launch publicly this fall is aiming to diversify the hiring process among technology firms and other companies. Siimee, pronounced as "see me," aims to connect prospective employees with hiring managers in an inclusive manner.

One of its co-founders is Rhett Lindsey, who is queer and bisexual and previously worked for a Bay Area-based gaming studio. He and his husband, Michael Perez, a digital imagining technician in TV and films, now live in Pasadena.

"We want to eliminate equality biases that historically occur in the recruiting process," Lindsey told the B.A.R. during a recent phone interview. "What we stand for is inclusion is the connecter between diversity and opportunity."

Lindsey, whose father is Irish and mother is African American, grew up in a suburb of Atlanta. After earning a degree in social work from the University of Kentucky, he made his way to Southern California in 2015 after landing a job as a recruiter for the think tank Applied Minds.

From there Lindsey has had a peripatetic career, landing jobs with such varied companies at the Walt Disney Studios, Facebook, Tinder, and the Redwood City-based video game developer Crystal Dynamics Inc. He helped recruit talent for each of his employers, and was often focused on improving the company's diversity and inclusion hiring.

Oftentimes Lindsey found himself to be the only person of color in the corporate settings, or one of just a few employees who were not white. Late last year he joined William Mehserle Jr. and Shazan Ashroff, both straight allies, to co-found Siimee with the goal of connecting more people of color and women with the recruiting and hiring directors of major companies.

"We created it because of my six-plus years working in recruitment and human resources and the challenges I faced within that," said Lindsey.

He and Ashroff had worked together at Tinder, while he first met Mehserle in college. Although the knew the need for a more diverse workforce is acute, Lindsey said the trio also didn't want their app launch to be perceived as piggybacking off the Black Lives Matter movement and the protests that erupted last summer across the country in response to the police killings of unarmed African Americans.

"I would say as challenging as the last year was, the biggest hurdle we had to get over was really making sure this was the right time," said Lindsey. "I think the launching of an app that has a specific mission like Siimee does, because of the climate of racial injustice and police brutality, it addresses that need for change."

The co-founders have designed their app to address the conscious and unconscious biases people bring with them to the workplace and hiring process. Emulating the ease of making a connection via a dating app, Siimee allows users to swipe right on the profiles of people they want to engage with or swipe left for those they do not.

But what information they are initially shown is purposefully limited so that a hiring manager at first will not see the photo or full name of the people seeking employment. The app grays out people's photos and only uses the initials of their names until there is a match. Then both parties are allowed full access to each other's profile.

"The profiles are focused on their background," explained Lindsey. "When it comes to job searching or reviewing resumes, a lot of biases happen. And not just with a person of color, it can happen with anyone no matter what their race, gender, nationality, or professional background is. We are trying to address it head on."

The app is intended to be free for those seeking employment, while companies will be able to purchase different subscription tiers for their hiring and recruiting managers to use. At the moment they are focused primarily on getting people in the tech sector to sign up as early users, though others in different professions are also welcome to submit an application.

When it launches Siimee's creators hope it will foster a more inclusive hiring process, said Lindsey.

"We are giving everyone an opportunity to get their foot in the door," he said. "We are eliminating barriers around diversity and redefining what it means to do diversity recruiting."

To learn more about Siimee and to sign up as an early user of the app, visit https://siimee.com/

Got a tip on LGBTQ business news? Call Matthew S. Bajko at (415) 829-8836 or e-mail m.bajko@ebar.com


Help keep the Bay Area Reporter going in these tough times. To support local, independent, LGBTQ journalism, consider becoming a BAR member.