News Briefs: OFC celebrates 25 years with virtual gala
Wednesday May 5, 2021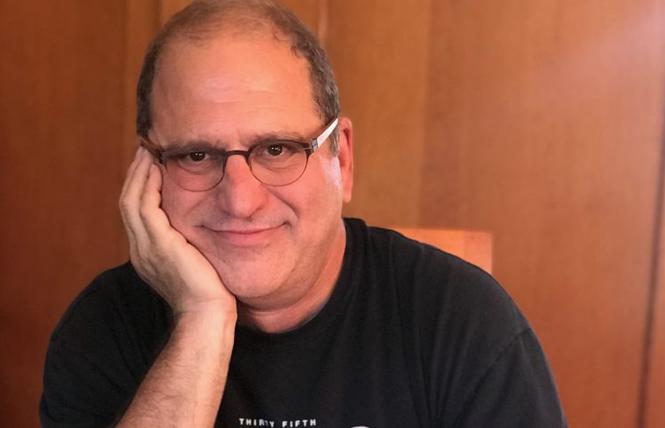 Our Family Coalition will celebrate its 25th anniversary with a virtual gala honoring its past and embracing its future.
Night Out Goes All In takes place Friday, May 14, from 6 to 7:30 p.m.
Longtime LGBTQ-equality activist Jonathan Logan, president and CEO of the Jonathan Logan Family Foundation, will receive the agency's Legacy Award. Logan founded Our Family, an East Bay organization that merged with San Francisco's All Our Families Coalition to create OFC in 2002.
OFC's History Maker Award will go to the ONE Archives Foundation in Los Angeles. It is one of the agency's partners and has created innovative education programs and resources to tell inspiring stories about LGBTQ history, an OFC news release noted. Erik Adamian, associate director of education at the archives, will accept the award.
Finally, the National Center for Lesbian Rights will receive OFC's Visionary Award for its decades at the forefront of advancing the civil and human rights of the LGBTQ community, the release stated. Executive Director Imani Rupert-Gordon, who just marked her first year leading the agency, will accept the award.
OFC also has an online auction to help raise funds. Previews begin May 7 and bidding concludes at the end of the gala.
According to OFC's website, it is staffing its San Francisco office Mondays through Thursdays from 9 a.m. to 2:30 p.m. People interested in visiting the office should call 415-981-1960 or email staff directly in advance to make arrangements.
Tickets for the virtual gala range from $20-$50, with a free option for low-income or working class people. For more information and to RSVP, go to https://ourfamily.org/
SF Zen Center presents healing workshops
The San Francisco Zen Center will present an online workshop series "A Time to Heal: Insights on the Path to Healing Racialized Trauma" beginning Thursday, May 6, and continuing on Thursdays through May 27, from 4 to 5:30 p.m. Pacific Time.
Led by Jenée Johnson, the course will provide participants the opportunity to gather in community to explore the challenges of racialized trauma and heart-centered practices to foster resilience and healing.
The cost is $108 for current San Francisco Zen Center members and $120 for non-members. To register, click here.
SF redistricting task force seeks members
The San Francisco Elections Commission invites city residents to apply for appointment to three seats on the nine-member redistricting task force. The body is comprised of three appointees by the Board of Supervisors, three by the mayor, and three by the commission, which is seeking these applicants.
Following each decennial census, San Francisco redraws the lines of the 11 supervisorial districts to account for population changes. The task force works with an outside consultant to rebalance the population counts in each district. It then makes decisions on district lines based on the federal census and in accordance with the law and criteria established in the city charter. The task force will convene no earlier than August 1 and must complete its work by April 15.
Those interested in applying for one of the three seats appointed by the elections commission must be 18 or older; have not been a candidate for political office or paid by a San Francisco candidate campaign in the last five years; have general knowledge of San Francisco's neighborhoods and geography; have no conflict of interest as defined by city guidelines; and is not a direct hire employee of an elected official in San Francisco.
The application can be found here.
The deadline is June 1 at 5 p.m.
Surrogacy confab for future gay dads
Men Having Babies, a conference for gay men considering fatherhood through surrogacy, will hold its virtual event May 15-16.
Unique programs at the event include a panel on COVID-19's impact on surrogacy, guidance on new financial assistance options for gay men, and how to attain surrogacy benefits from employers. Additionally, the popular personal stories panel returns, featuring community-known YouTuber gay dads.
Men Having Babies, a nonprofit, has been holding an in-person conference on the West Coast for the past seven years in collaboration with Our Family Coalition. Due to the virtual format, attendees are expected from around the world. The conference will utilize a specialized platform that will enable general presentations, breakout sessions, expo "tables," and effective interaction.
The upcoming conference will include interactive sessions with medical, legal, and financial experts, as well as practical advice on what gay men need to know when considering surrogacy.
Registration is $20 per "seat" (single computer access). For more information, click here.
Presidio photo contest
The Partnership for the Presidio, in collaboration with the nonprofit Photoville, has announced a call for entries to its My Park Moment photo contest, an opportunity for anyone to submit a photo of their favorite park experience anywhere in the world. According to a news release, amateur and professional photographers are welcome to submit images that show personal experiences in local and national parks: from a family picnic to a walk in the Presidio to a visit to Alcatraz or a trip to Yosemite.
A selection committee of artists, educators, and nonprofit leaders will choose 400 photos to display outdoors in a dynamic, large-format show in the Presidio of San Francisco, part of the Golden Gate National Recreation Area, the release stated. The free show will start in September as a lead-up to the opening of the Presidio Tunnel Tops next spring. The show will take place at locations surrounding the future Tunnel Tops area, where visitors can see progress on the new trails, overlooks, and play areas.
The deadline to enter is May 28. For more information, click here.
Help keep the Bay Area Reporter going in these tough times. To support local, independent, LGBTQ journalism, consider becoming a BAR member.