Larkin Street benefit Thursday will premiere film
Tuesday Apr 27, 2021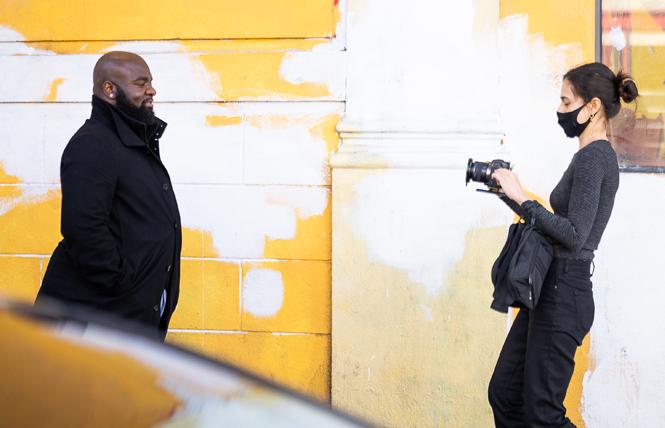 Larkin Street Youth Services, the largest comprehensive service provider for youth experiencing homelessness, will debut the film "Paving a New Way," hosted by Renel Brooks-Moon, the San Francisco Giants announcer, at its annual fundraising event Thursday, April 29 at 6 p.m.
The film features the stories of Attakai Yazzie, Darlington Ikwuemesibe, and Leilani Sabugo, and how each of them successfully exited homelessness through the support of Larkin Street Youth Services. "Paving a New Way" was directed by nonprofit film director Natasha Florentino, who utilizes her platform to capture the strength and resilience of communities who have come up against enormous odds, a news release stated.
"Attakai, Darlington, and Leilani are resilient, unique young people, and I feel honored to have had the chance to document a piece of their lives. I've learned so much about what it means to be unhoused and that homelessness comes in various forms." Florentino stated.
Larkin Street Youth Services provides housing, health care, wellness support and access to educational and employment opportunities to over 2,000 San Francisco youth on an annual basis. Since 1984, Larkin Street has helped over 75,000 young people permanently exit homelessness by providing them with critical resources and empowering them to live to their fullest potential.
"I've learned how to be my authentic self," stated Yazzie. "At Larkin Street, I've been given the tools to use my voice, and I've learned that if I'm honest and open, the world will have my back."
Larkin Street has remained open throughout the pandemic, but historically available resources, like emergency shelters, have been closed or have had additional barriers hindering accessibility for many. This has resulted in more young people without a safe place to shelter. A recent study by California Coalition for Youth showed that 32% of youth respondents had slept in three or more different locations over the past week. Not only does it make this population more difficult to reach, this cohort then becomes more likely to contract and spread the coronavirus.
In light of the unique challenges facing youth experiencing homelessness, Larkin Street decided that this year's annual fundraiser needed to be different; a deeply interpersonal experience engineered to bring awareness and attention to the individual stories.
"What makes our event so special this year is that after a very challenging year for all, this is an opportunity to hear directly from young people and to be inspired," said Larkin Street Executive Director Sherilyn Adams. "'Paving a New Way' is about witnessing and paying tribute to the incredible strength, resilience, and leadership of three remarkable young people who have so much to teach us."
Thursday's event will also include a panel discussion with Yazzie, Ikwuemesibe, and Sabugo, as they are interviewed by Larkin Street alumni Zak Franet and Philip Jones. During this conversation, Franet and Jones will explore the commonalities in all their stories, discuss their experiences navigating the COVID-19 pandemic, and share more about their lives and goals.
Tickets for the virtual event are $20 and sales close Wednesday, April 28, at 5 p.m. For more information, go to https://donate.larkinstreetyouth.org/event/2021-paving-the-way/e313357
Help keep the Bay Area Reporter going in these tough times. To support local, independent, LGBTQ journalism, consider becoming a BAR member.