NCLR ED takes helm amid health crisis
Wednesday Apr 22, 2020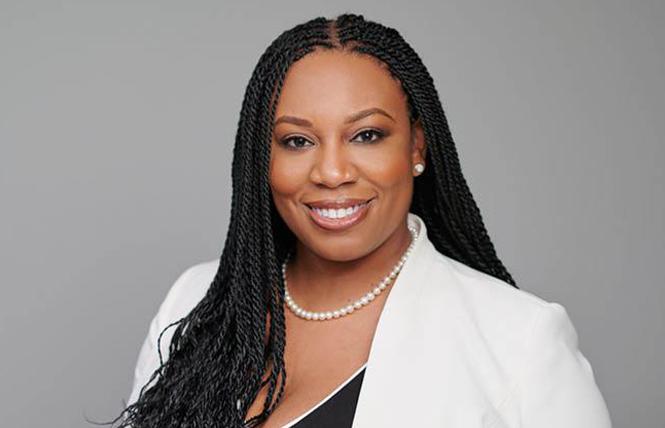 Usually the first month for a nonprofit's incoming chief executive is spent meeting one-on-one with staff and hosting get-togethers with board members and donors of the agency as part of an introductory tour. That playbook had to be jettisoned by Imani Rupert-Gordon, the new executive director of the National Center for Lesbian Rights, due to the novel coronavirus outbreak.
Since starting in the position March 16, Rupert-Gordon has been sequestered in her Oakland home she and her wife, Derah Rupert-Gordon, moved into after relocating to the Bay Area from Chicago due to her being hired to lead one of the nation's most prominent LGBT rights groups.
"There is no rule book on how to step in to an organization and become an amazing executive director and certainly not one during a global pandemic. I am trying to be as authentic as possible," said Rupert-Gordon in a recent interview with the Bay Area Reporter about her first four weeks on the job.
The day prior to her succeeding Cindy L. Myers, Ph.D., who had served in an interim capacity following the 2018 departure of Kate Kendell after leading NCLR for 22 years, Rupert-Gordon had called her management team to inform them they were likely going to have to close NCLR's San Francisco office for the time being.
"We were having most folks working from home already. The day before I started we had decided not to have anyone in the office and the next day we had the shelter-in-place order issued," said Rupert-Gordon, who turned 41 April 16. "It was definitely not the first decision one thinks you will make on your first day."
Her first 30 days have been a whirlwind of online video conferences and phone calls instead of in-person meetings. The agency has continued its advocacy efforts and legal work remotely, and it recently learned two of its immigration clients had been granted asylum in the U.S.
It joined with GLBTQ Legal Advocates & Defenders to file a lawsuit March 18 in federal district court in Massachusetts on behalf of an anonymous transgender U.S. Navy officer, referred to as Jane Doe, facing involuntary discharge due to her gender identity. The case, known as Doe v. Esper, is the first challenge to President Donald Trump's ban on transgender service members since it went into effect last April.
"Everything we are doing is being done telephonically," noted Rupert-Gordon. "All the work we are doing is still obviously going on."
Despite being unable to leave their home other than to run errands for food and supplies or get out for a bit of exercise, Rupert-Gordon said she and her wife are happy to be living again in California. The women, married five years, initially met a decade ago in the Bay Area when Imani Rupert-Gordon was living in Santa Cruz and Derah was in San Francisco.
"It is great to be back in the Bay Area," said Imani Rupert-Gordon, who grew up in Southern California and whose straight sister, Maya Rupert, formerly was a policy director at NCLR.
Reaching out
To reach NCLR supporters and LGBT community members directly Rupert-Gordon released a video message March 30 that she recorded inside her East Bay house. In it she alerted people to a FAQ sheet the agency had created about different resources available to LGBT individuals impacted by the health crisis and to let them know that the agency was continuing to fight for their rights. She urged people to call NCLR's legal help line if they were encountering problems.
"For a lot of reasons our community is feeling really alone right now. I wanted to let people know we are still doing our work at NCLR and thinking about folks," she said about her reasoning for taping the video. "I wanted people to know we are concerned about them and want to know if they are doing well."
More unsettling news hit NCLR's staff the morning of April 9 when they learned that celebrated lesbian rights pioneer Phyllis Lyon had passed away at the age of 95. Lyon and her late partner, Del Martin, had a long history with the agency and were the lead plaintiffs in the lawsuit NCLR filed to secure marriage rights for same-sex couples in California.
Their June 2008 victory in the case was followed that fall by the voter approved Proposition 8 that once again banned marriage equality in the state. It led to NCLR's involvement in the successful federal lawsuit that resulted in the overturning of Prop 8 in June 2013.
"That was an incredibly sad day and sad time; we were all reeling from that. She is an icon in our movement," Rupert-Gordon said of Lyon. "NCLR has a huge affinity for her. The work we did together was literally life changing."
The agency is now deciding how to honor Lyon and Martin at its upcoming annual gala set for May 30. The event, like so many fundraisers for LGBT groups, is being reimagined this year due to the health crisis. NCLR now plans to livestream its 43rd Anniversary Celebration that Saturday and is also planning to hold "the most epic dance party ever" November 21 at the Metreon City View.
"A lot of people are saying no to postponing things. Our supporters have been appreciative that we are being creative and finding new ways to engage folks," Rupert-Gordon said about reaction to the decision to split the yearly fundraising dinner and dance party into two events. "This is a really popular event and something we look forward to. Overwhelmingly people are happy we are finding a way to reimagine how this works and we can all celebrate together. So that is really exciting."
The agency, with an annual budget of $5 million, isn't looking at furloughing any staff in light of the current crisis, said Rupert-Gordon, whose salary is in the range of $225,000 to $250,000. It's close to meeting a $100,000 matching donation challenge within the deadline to do so Monday, April 20.
"We are very fortunate our community has really looked out for us and come through for us," she said. "We are trying to be as thoughtful as we can. We are doing a deep dive into ways we can use our funds most efficiently."
Among NCLR's top priorities is ensuring LGBT people impacted by the coronavirus outbreak are not left out of the relief efforts at the local, state, and federal levels. Rupert-Gordon sounded optimistic that the LGBT community will rise to the challenge it's confronting from the health crisis.
"I am feeling very confident our community is going to get through this," she said.
Editor's note: If you liked this article, help out our freelancers and staff, and keep the B.A.R. going in these tough times. For info, visit our IndieGoGo campaign.
Comments on Facebook