Online Extra: 2020 SF Dyke March canceled
Monday Apr 20, 2020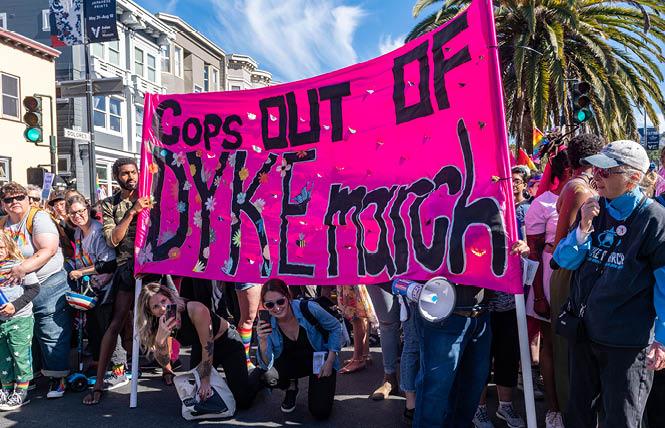 The annual Dyke March, which has occurred annually the day before San Francisco's LGBT Pride parade since 1993, is one of the latest in a long line of Pride-related events canceled due to the novel coronavirus outbreak.
The San Francisco Dyke March Organizing Committee made the decision. The Bay Area Reporter reached out to the committee last week to ask the status of the event following the cancelation of the Market Street Pride parade April 14.
"Given the current pandemic, we cannot in good conscience plan for an in-person event in 2020," Dyke March co-chair Christine Graham stated. "We must acknowledge our community's higher risk and protect the vulnerable amongst us. The economic impact to local businesses is significant, and we regret our need to cancel yet another event. The Dyke March remains grateful for the many local businesses, artists, venues, organizations, and individuals whose generosity and support have been essential to past marches.
"While we all organize separately, but in the same spirit, Dyke March is in agreement and supportive of Trans March and SF Pride's decisions to also cancel their in-person events. Everyone's health must be prioritized given the pandemic and uncertainty ahead, but we are already looking forward to a great Dyke March in 2021," the statement continues.
The Dyke March, intended to showcase queer women's visibility, traditionally draws thousands of participants from Mission Dolores Park through the Mission district. The march then makes its way west on 16th street, ending in the city's LGBT Castro district.
It is unclear if there will be an online component to the 2020 Dyke March, as there will be for this year's Trans March and SF Pride parade.
As the B.A.R. previously reported, the Trans March that occurs the Friday evening of Pride weekend will also not be occurring in physical form this year.
"Due to the novel coronavirus SARS-CoV2, which causes the disease COVID-19, Trans March 2020 will not be a physical gathering. The leadership met and has decided to make some kind of virtual event," states a note on that event's website.
Nicky "Tita Aida" Calma, one of the organizers, told the B.A.R. last week that "I would be more than happy to speak with you perhaps next week once a few ideas have been talked about."
The B.A.R. will update this story as more information becomes available.
Editor's note: If you liked this article, help out our freelancers and staff, and keep the B.A.R. going in these tough times. For info, visit our IndieGoGo campaign.
Comments on Facebook