News Briefs: Openhouse to hold virtual panel on two-spirit life
Wednesday Apr 8, 2020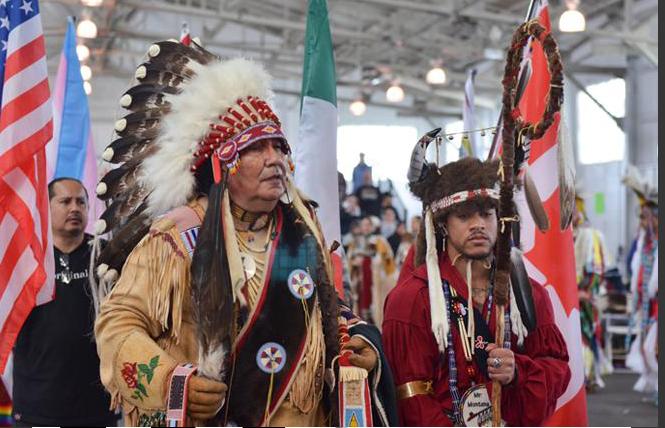 Openhouse, the LGBT senior agency in San Francisco, will host a virtual panel discussion where two-spirit First Nation people will share stories of life on the reservation and in the city's queer community.
"Two spirit" is a Native American term for people with both female and male energies. Two spirits may or may not also identify as LGBTQ. Traditionally, two-spirit people often held — and many still hold — honored positions in their Native American and First Nations communities.
The online panel will be held Saturday, April 18, from 1 to 3 p.m.
The panel is being done in partnership with Bay Area American Indian Two-Spirits, the Native American Health Center, and the San Francisco LGBT Community Center.
To RSVP, contact Ephraim at (415) 535-0927.
SF launches volunteer match program
San Francisco Mayor London Breed has announced the creation of a citywide volunteer network to support seniors and people with disabilities during the coronavirus pandemic and throughout the duration of the stay-at-home order.
In a news release, Breed noted that during the shelter-in-place order, many older people and adults with disabilities need support with tasks they used to be able to do on their own. Additionally, these people are at greater risk of social isolation and would benefit from social interactions with other neighbors and family by phone or video call.
The city has created a centralized volunteer page for those who are interested in helping seniors and adults with disabilities. It partnered with Shanti Project to develop the COVID-19 Emergency Response Volunteer program, which leverages existing infrastructure and vetting volunteers and matching to community members in need of help.
The city is also working with Mon Ami to do volunteer matches. Mon Ami typically coordinates in-person visits to isolated seniors using its app. With in-person visits on hold, the app has been repurposed to enable volunteers to call isolated seniors for friendly check-ins and to coordinate errand runs. Mon Ami will provide free access to the smartphone app during April. The match program is currently being piloted by Openhouse, the aforementioned LGBT senior agency.
For more information about volunteer opportunities, visit www.sf.gov/covid19volunteer
Asian Americans deliver with Masks for Life
A community-led group of Asian American activists has launched Masks for Life in an effort to get protective face masks to community organizations, health care workers, and essential workers on the front lines of COVID-19 support services.
Team members have been working in the health field for decades, according to a news release. So far, many of the essential organizations that are receiving help target marginalized populations including the LGBTQ, disabled, homeless, and the elderly populations, as well as Asian & Pacific Islander and Native American local health care organizations, HIV/AIDS service organizations, and many other essential organizations, hospitals, and clinics.
Since the launch of its GoFundMe page March 23, Masks for Life has raised over $48,000, ordered 51,000 masks, and is placing another order for 50,000 more. It has already shipped 8,000 masks to numerous organizations, including San Francisco Community Health Center, Meals on Wheels San Francisco, and Russian River Health Services in Guerneville.
Many more groups are on a waiting list. To donate, go to https://bit.ly/3bUczq0
Golden Gate Park photos moved online
A photography exhibit of San Francisco's Golden Gate Park has been moved online due to the coronavirus pandemic.
"Golden Gate Park 150th Anniversary: A Photographic Collection" was curated by Dave Christensen, director of the Harvey Milk Photo Center, located at 50 Scott Street. It was done in honor of the park's sesquicentennial this year. (An April 4 community day at the park was previously postponed.)
"The call for art was to capture unique sources of inspiration within this beautiful haven — a favorite spot, place, time of day, motif — that spoke to each photographer on a very personal level," Christensen wrote on the exhibit's website. "As a result, the images created in this incredible collection give us a diverse visual tour from this fount of inspiration, Golden Gate Park."
To check out the photos, which are arranged by photographer, visit http://harveymilkphotocenter.org/ggp-150/
San Mateo County Fair canceled
Add the San Mateo County Fair to the growing list of events that won't take place this year because of the coronavirus pandemic.
Fair officials said April 3 that it's "with a heavy heart" that the June 13-21 event won't take place this year. It was to have included a Pride Family Day, concerts, and other activities.
Officials said that this would be the second time in its 86-year history that the fair was canceled. (The other time was one year during World War II, according to a news release.)
Right now, the fairgrounds and event center in San Mateo are designated as a county Office of Emergency Services resource, fair officials said.
Editor's note: If you liked this article, help out our freelancers and staff, and keep the B.A.R. going in these tough times. For info, visit our IndieGoGo campaign.
Comments on Facebook