News Briefs: Sonoma County Pride canceled
Wednesday Mar 25, 2020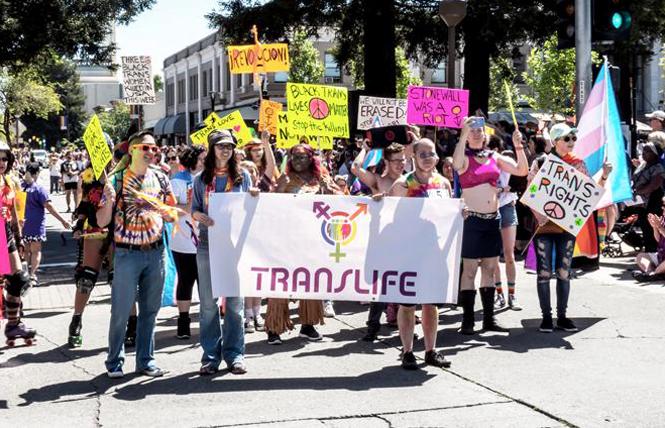 The board of directors of Sonoma County Pride has announced that the LGBT parade and festival scheduled for early June has been canceled due to the coronavirus pandemic.
In a news release, organizers said that they have been watching the "deteriorating" situation caused by the global outbreak of the virus.
"The Sonoma County Pride Board of Directors met on March 20, and made the difficult decision to cancel the 2020 Pride festival and parade scheduled for June 6, and focus our efforts on helping those in need as a result of this terrible pandemic," the release stated.
"With so many headwinds and unknowable factors before us, we have determined that the best for Sonoma County Pride and for our community is to align with public health policy and official health agency guidelines and take a proactive, responsible stance in support of those efforts," it continued.
Board members acknowledged the economic strain this decision puts on local businesses, some of which are still recovering from flooding in February 2019.
"We are saddened by the fact that our community is forced to endure yet another emergency and realize that many of our Sonoma County friends and neighbors are facing unemployment and many of our local businesses are temporarily forced to close and may never reopen," stated the release.
Silicon Valley and SF prides are on — for now
The board of directors of Silicon Valley Pride is monitoring the coronavirus situation but has not yet made a decision on whether to pull the plug on this year's parade and festival, which is scheduled for August 29-30 in San Jose.
In a March 21 email to community members, officials wrote that two events leading up to the parade have been canceled: The March 27 Hey Girl Anniversary Party and a drag brunch on April 5.
"As the situation evolves, we will change our plans and let everyone know," the board wrote.
In a related matter, San Francisco Pride officials are continuing to monitor the situation, as the Bay Area Reporter previously reported.
On Tuesday, officials wrote on the SF Pride Facebook page that no decision has been made about the 50th Pride parade and festival scheduled for June 27-28.
"At the same time, we at SF Pride are realistic that this year's historic anniversary may look very different from what we had hoped for, and all options are on the table," officials wrote. "As we enter the second full week of social distancing in San Francisco, we are working very closely with our partners at City Hall to continually assess the outlook for gatherings like ours in the months to come."
Give OUT Day postponed
Horizons Foundation has announced that after a survey of participants, it has postponed the annual Give OUT Day until June 30. The online fundraising day for LGBTQ nonprofits had been scheduled for April 23. The foundation said that the "early giving" period would begin June 1.
According to a letter sent to participants, the majority of those surveyed preferred that the event be postponed.
In another matter, Horizons has announced that it has established an LGBTQ COVID-19 Response Emergency Fund for Bay Area LGBTQ organizations to receive emergency grants. The foundation has contributed $200,000 and already another $70,000 has been raised. All funds raised will go to the community. To donate, go to https://bit.ly/2Ja4v83
To apply, go to https://www.horizonsfoundation.org/covid19/
Chung reappointed to SF health panel
Mayor London Breed has informed the San Francisco Board of Supervisors that she is reappointing Health Commissioner Cecilia Chung to a four-year term.
Chung, a trans woman living with HIV, is a nationally recognized civil rights leader, advocating for HIV/AIDS awareness and care, LGBT equality, and prisoner rights. She is the senior strategist of Transgender Law Center and has served on a number of planning bodies, including the San Francisco HIV Health Services Planning Council, Transgender Community Advisory Board for UCSF TRANS, and the Visioning Change Initiative of the California HIV/AIDS Research Program.
She was first appointed to the panel in 2012 and serves alongside one other out commissioner, current President Dan Bernal, a gay man living with HIV who is the local chief of staff to House Speaker Nancy Pelosi (D-San Francisco).
Chung did not immediately respond to a request for comment.
Breed announces arts relief program
San Francisco Mayor London Breed announced March 23 the formation of an arts relief program to invest directly in working artists and arts and cultural organizations financially impacted by COVID-19.
The investment is a combination of funding strategies designed to help the arts and culture community through grants and low-interest loans to organizations and working artists most impacted by this crisis, according to a news release.
An initial $2.5 million from the city will kickoff the arts relief program.
"Our artists and cultural institutions are at the heart of who we are as a city and a community," Breed stated. "This community is also getting hit hard right now as people are suffering from job loss, business closures, and economic disruption during the COVID-19 outbreak. We need to do everything we can to stabilize our arts community now. I hope our public investment will encourage private donors to join us in supporting our vulnerable artists during this challenging time."
According to the release, $1.5 million will be used for grants to individual artists, teaching artists, and small- to mid- budget sized arts and cultural organizations administered by the Center for Cultural Innovation.
The remaining $1 million will go toward low-interest loans to small- to mid-budget sized arts and cultural organizations administered by the Arts Loan Fund of Northern California Grantmakers. ALF is a revolving loan program, which already makes low-interest loans to support arts and cultural organizations.
City arts officials praised the move.
"We appreciate the mayor's leadership in recognizing the urgent need and acting quickly to provide financial assistance to the artists and cultural nonprofits who need our city's support," stated Roberto Ordeñana, a gay man who's president of the San Francisco Arts Commission and deputy executive director of the San Francisco LGBT Community Center.
In addition to the arts relief fund, San Francisco has also launched the Give2SF Fund at www.give2sf.org, which allows the city to accept tax-deductible monetary contributions.
Meals on Wheels SF gets Wells Fargo grant
Meals on Wheels San Francisco was one of several nonprofits that received a portion of $100,000 from the Wells Fargo Foundation to support food delivery for seniors and people with chronic health conditions.
The money was part of up to $6.25 million the bank announced earlier this month to help support COVID-19 efforts.
"All of us at Meals on Wheels San Francisco are extremely grateful for the Wells Fargo Foundation's generous support during the COVID-19 crisis," Ashley McCumber, a gay man who is the San Francisco agency's CEO, stated in a news release. "With Wells Fargo Foundation's help, Meals on Wheels San Francisco will continue to deliver for the thousands of COVID-19 vulnerable seniors that rely on us for daily nutritious meals and safety checks."
In addition to Meals on Wheels, other organizations receiving a portion of the grant include Health Trust (Santa Clara County), SOS Meals on Wheels (Alameda County), and WhistleStop (Marin County).
Additionally, four organizations will receive part of a $125,000 grant for support services for people experiencing homelessness. They are: Episcopal Community Services (San Francisco), Housing Matters (Santa Cruz County), LifeMoves (San Mateo and Santa Clara counties), and Shelter Inc. (Contra Costa and Solano counties).
"In times of community need, it's important that we work together," said Erica Trejo, community relations senior manager for Wells Fargo. "We're grateful for the leadership of local leaders and nonprofits like Meals on Wheels San Francisco for its ability to act quickly in caring for our seniors and those who are most vulnerable. We hope our support provides a measure of relief as we stand with the community during this challenging situation."
Comments on Facebook