UPDATED: Online Extra: Gay Sacto councilman Hansen concedes in reelection race
Tuesday Mar 10, 2020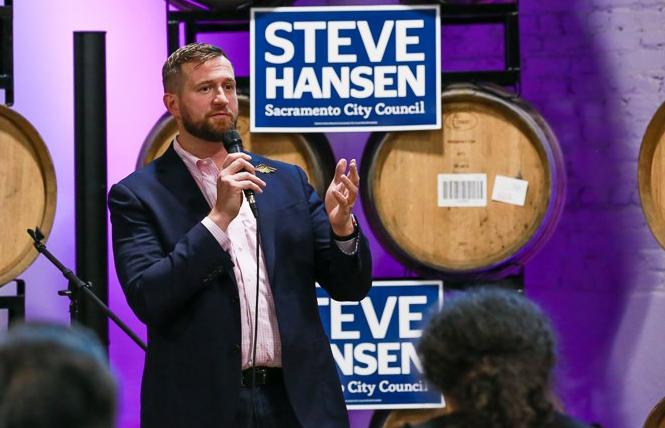 After county elections officials posted an updated tally late Tuesday afternoon, gay Sacramento City Councilman Steve Hansen conceded that he had lost his bid for election to a third term as the new vote count showed he had fallen further behind his opponent.
Political newcomer Katie Valenzuela, an environmental policy adviser, increased her lead for first place to 970 votes, according to the unofficial returns. That is an increase of 272 votes since Friday, but the candidates' percentage of the total vote has remained the same at 53% for Valenzuela and 46% for Hansen.
The county registrar reported it still had roughly 149,982 ballots to count, and Hansen disclosed in an email to supporters that there were about 7,000 left to tally from voters in his council district. The next update will come at 4 p.m. Friday, March 13, but Hansen wrote there was little chance he would be declared the winner.
"I love Sacramento and its people so much, yet everything has a season. Today, the County Elections update didn't bring the news we hoped to get," wrote Hansen. "While we are still waiting for an estimated 7000 votes to still be counted, it seems like we will come up short in this race after an unprecedented negative campaign against me by my opponent and her allies."
He added that despite his support from myriad communities and groups, "ultimately, more voters want something different, and I respect their voice."

Reacting to the latest numbers on Twitter, Valenzuela stopped short of declaring victory.
"New vote count is in and we're still ahead! I'm so incredibly grateful for everyone's support," she tweeted.
New vote count is in and we're still ahead! I'm so incredibly grateful for everyone's support ?? Next update is Friday at 4pm pic.twitter.com/A1GzAz87xX— Katie Valenzuela (@katie4council) March 10, 2020

Hansen did not immediately respond to the Bay Area Reporter's request for comment Tuesday afternoon. He was first elected in 2012 to his District 4 seat, which covers the city's downtown and LGBT neighborhood of Lavender Heights.
His victory marked the first time an out LGBT community member had won election to the Sacramento City Council. His failing to win re-election means the council will no longer have LGBT representation on it come 2021, as no other LGBT candidate sought the even-numbered council seats on the March 3 primary ballot.
The council race had turned ugly in the final days ahead of Election Day, with door hangers comparing Hansen to President Donald Trump due to his endorsing the reelection of Republican Sacramento District Attorney Anne Marie Schubert, a lesbian, in 2018. The local Democratic Party had kicked Hansen and several other council members out of the party due to their support of Schubert and had endorsed Valenzuela in this year's council race.
Someone also created a fake profile for Hansen on the gay hookup app Grindr that accused him of being against people of color and renters. Local LGBT leaders and Sacramento Mayor Darrell Steinberg, who easily won re-election Tuesday, had called out the smear campaign against Hansen, while Valenzuela disavowed it and said her campaign was not behind it.
Rising rents and home prices in Sacramento had been a focal point of the race, with Hansen criticized for not doing enough to protect renters or fight for affordable housing to be built. He had argued that he was the strongest voice for such issues on the council and had told the B.A.R. that tackling homelessness was currently one of his highest priorities.
In his emailed note, Hansen thanked his my partner, Michael, and, their son, Henry, "for their love and support." He also thanked his "amazing staff at City Hall, our whole city staff, and my colleagues without whom none of our accomplishments would be possible. I sincerely appreciate all of the heartfelt support from so many corners of our city and beyond during this process."
He pledged to continue to work hard representing his constituents until his term ends in December.
"While this moment is a tough one for so many of us who believe in responsive and responsible leadership, we must press on and continue giving back for the sake of our city, fight for the best future for our kids, and foster a resilient city government to meet the needs and aspirations of our people," wrote Hansen.
Comments on Facebook