Ads feature man prosecuted in elder abuse case
Wednesday Mar 11, 2020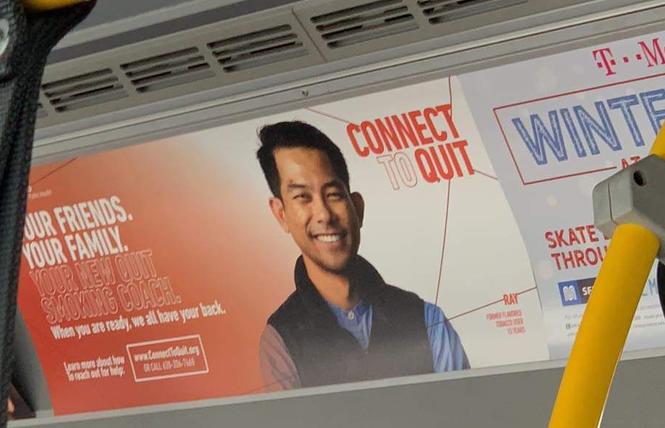 A man who pleaded guilty last year to misdemeanor counts of vandalism and false imprisonment stemming from an elder abuse case is featured in an ad campaign from the San Francisco Tobacco-Free Project.
Natthakarn Laohacharoensombat, 34, who goes by "Ray," is a model in the ads encouraging people to stop smoking featured on Muni buses. Laohacharoensombat's face was also featured on the project's website (https://sanfranciscotobaccofreeproject.org/) as recently as March 5.
An individual once acquainted with Laohacharoensombat, who asked to remain anonymous because of safety concerns, said he finds his image on Muni buses to be offensive.
"That is totally disrespectful to his victims," the individual said. "That person left a wake of destruction in San Francisco. It's jarring to see those ads."
As the Bay Area Reporter previously reported, the charges Laohacharoensombat pleaded guilty to involved damaging the victim's eyeglasses with graffiti, causing damages of less than $400, and falsely imprisoning the elder he was allegedly caring for, according to a copy of the criminal complaint against him.
Laohacharoensombat currently is the subject of two stay-away orders. One is from the victim in the false imprisonment case. The second is from a former lover, according to court documents reviewed by the B.A.R.
As the B.A.R. previously reported, Laohacharoensombat violated the stay-away order in the false imprisonment case by attempting to enter the elderly man's home shortly after the indictment. The man called the police and Laohacharoensombat fled.
In June 2016, Laohacharoensombat filed a lawsuit in which he alleged he was not compensated properly during his time as an employee of Entour Castro, a clothing store at 3600 16th Street, according to court documents.
However, Laohacharoensombat's attorney moved that the action be dismissed and it was dismissed with prejudice in October 2016, according to court documents.
Laohacharoensombat left the United States in December 2019 and is now in Thailand, according to posts on his Facebook page. A San Francisco Superior Court judge subsequently ruled that Laohacharoensombat had completed his sentence.
The San Francisco Tobacco-Free Project is part of the San Francisco Department of Public Health. A DPH representative listed as one of two contacts on the project's website said she "has no info at all."
"If it's an outside ad or vendor then there's no background check at all," DPH communications director Rachael Kagan said in a phone call with the B.A.R. March 5. "It's a surprise to me. I have no info and I am 100% on coronavirus. Our entire health department is dedicated to coronavirus response.
"You don't have to write about it right now," she added.
Erica Kato, a spokeswoman for the San Francisco Municipal Transportation Agency, said SFMTA can let the contractor know. While the SFMTA ad policy bans offensive material, Kato said that "offensiveness is a community standard, not an individual one."
"There is nothing in the ad policy that disqualifies this ad," Kato wrote in an email to the B.A.R. March 6. "The advertiser doesn't need to go beyond the face of the ad to figure out who is in it, the background, etc."
Laohacharoensombat is featured on the homepage of www.connecttoquit.org, a DPH-run website, which identifies him as a "former flavored tobacco user, 15 years."
Responding to a B.A.R. request for comment, Laohacharoensombat wrote he didn't "have any criticism" about himself being in the ads.
Comments on Facebook