News Briefs: Artists explore queer culture as part of SF Pride 50
Wednesday Mar 11, 2020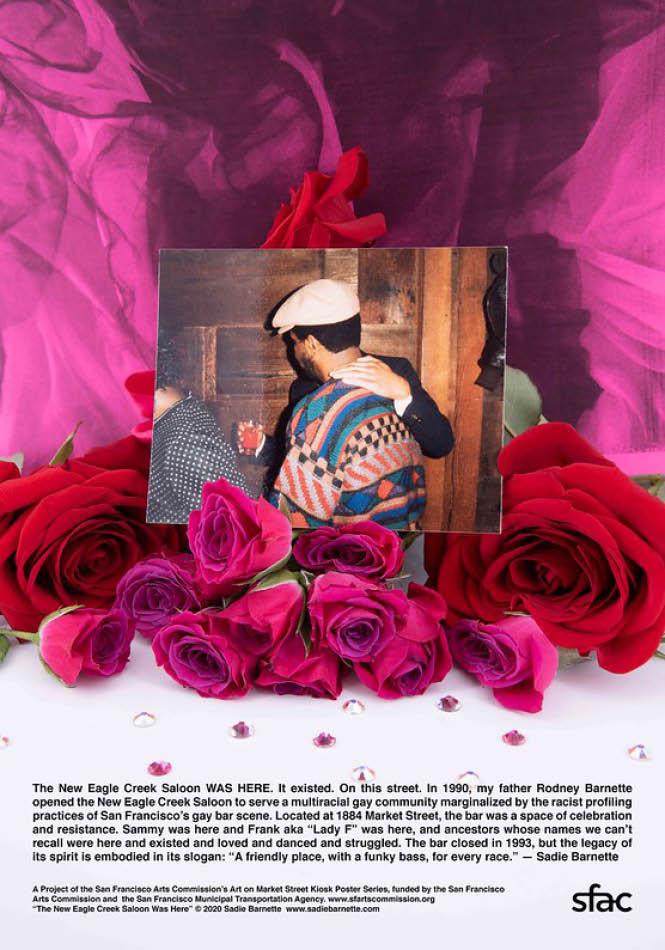 The San Francisco Arts Commission's 2020 Art on Market Street series has kicked off with Sadie Barnette's "The New Eagle Creek Saloon Was Here," a reimagining of her father's bar that was the first black-owned gay bar in San Francisco.
The New Eagle Creek Saloon catered to a multi-racial clientele at 1884 Market Street when it operated between 1990 and 1993.
A news release noted that the arts commission invited artists to explore and honor the diverse people, places, and events of San Francisco's rich queer culture for this year's Market Street art project.
For Barnette's posters, she mined the archival materials from the bar, then created and photographed six tableaus that celebrate and honor the characters, artifacts, politics, and style of the saloon. The posters are on display along Market Street through April 30.
"San Francisco is world-renowned for its celebration of gay Pride, which makes this year's theme so fitting for the Art Commission's Art on Market Street poster series," stated Rebekah Krell, acting director of cultural affairs. "It is beautiful to see Sadie Barnette's poster series paying homage to this inclusive establishment. Her visuals represent the diversity of San Francisco's gay movement reflected through a personal lens."
Barnette's poster series is an extension of a larger project that reimagined her father's bar and was installed at the Lab from May-June 2019. Following that installation, the bar was turned into a float for last year's LGBT Pride parade.
GAPA Foundation changes name
The GAPA Foundation has announced that it has rebranded and is now known as the Prism Foundation.
The grassroots philanthropic organization provides funds and leverages resources to empower the Asian and Pacific Islander LGBTQ+ community. Its mission and work will remain the same, including the popular Runway competition show, but will now operate under the new name, logo, and brand.
According to a news release, the foundation started its rebranding process in January 2018. The two-year discovery, research, and design process included interviews with API LGBTQ+ organizations, founding GAPA Foundation board members, and major donors. That process led to more than 65 name ideas, two crowdsourcing contests, and 10 additional API LGBTQ+ designers, resulting in more than 150 logo designs.
As for why the foundation rebranded, officials said it was to better represent the richness of the diverse API LGBTQ+ community.
"Over time, we felt that 'GAPA,' originally standing for the Gay Asian Pacific Alliance, did not accurately represent the full spectrum of identities, communities, and causes in the students and organizations that our scholarship, grants, and programs have historically funded," Bernie Wong, foundation vice president, stated.
In explaining the new name, the foundation pointed out that prisms reflect light into a spectrum of colors, much like how the scholarships and grants highlight diverse identities; as geometric shapes, they represent the structural challenges that the API LGBTQ+ community has and continues to face; and prisms represent building blocks for change.
The Prism Foundation is planning a launch party for May, during Asian and Pacific Islander Heritage Month.
For more information, visit http://www.theprismfoundation.org
LGBT Asylum Project partners with Parivar
The LGBT Asylum Project announced that it is partnering with Parivar, the South Asian queer trans organization.
The move was done to make the asylum project's services accessible to more transgender and gender-nonconforming people, agency officials said in a news release.
"I've seen first-hand how some asylum officers are still confused by GNC people and, as a result, their cases suffer," Okan Sengun, co-founder and executive director of the asylum project, stated. "I am determined to change this, so I'm very proud of our new partnership with Parivar. We're working to make sure that the transgender and GNC community know that our services are available to them, because if they're represented in their asylum cases, there's a good chance that they could win their case."
Last year, the asylum project directly served 169 LGBTQ+ immigrants. According to Brooke Westling, the project's co-founder and legal director, to date, "We've had a 100% success rate in acquiring asylum for our clients."
Parivar (meaning "family" in Hindi) was founded in 2018 and currently has over 300 members.
"Parivar has a simple tagline: 'Our South Asian Queer Trans Family,'" Anjali Rimi, co-founder and board president, said in the release. "Parivar uplifts South Asian trans and GNC people and welcomes all queer, gay, lesbian, intersex, and bisexual people and allies."
Rimi added that Parivar works closely with Aravani Art Project based in Bangalore, India, and holds Roobaroo, a peer-support group, at the San Francisco AIDS Foundation, 1035 Market Street, every first and third Wednesday of the month from 6:30 to 8 p.m.
For more information about the LGBT Asylum Project, visit https://www.lgbtasylumproject.org/
For more information about Parivar, go to the Facebook page, "Parivar SA."
Comments on Facebook