Online Extra: Political Notes: Sacramento City Councilman Hansen remains in 2nd place
Friday Mar 6, 2020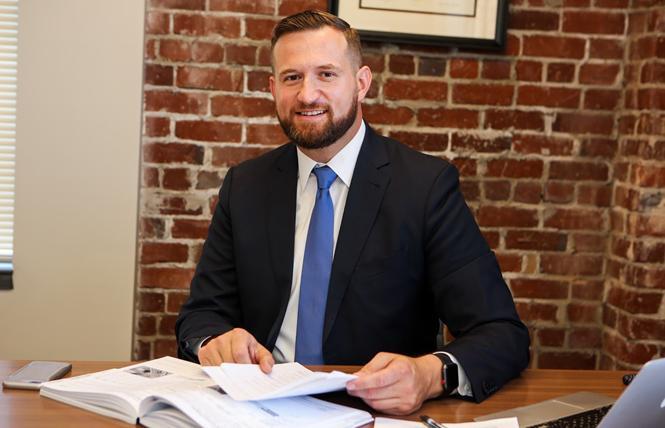 After county elections officials posted an updated tally late Friday afternoon, gay Sacramento City Councilman Steve Hansen remains in second place in his bid for election to a third term.
Political newcomer Katie Valenzuela, an environmental policy adviser, remains in first place with a 698-vote lead, according to the unofficial returns. That is an increase of 142 votes since Wednesday morning, but the candidates' percentage of the total vote has remained the same at 53% for Valenzuela and 46% for Hansen.
The county registrar reported it still had roughly 164,196 ballots to count, though it was not clear how many of those were from voters in Hansen's council district. The next update will come at 4 p.m. Tuesday, March 10.
"New results are posted and we're still in the lead! There are still a lot of ballots to be counted but this is pretty exciting," tweeted Valenzuela.
New results are posted and we're still in the lead! There are still a lot of ballots to be counted but this is pretty exciting ?? Another update is due Tuesday at 4pm! pic.twitter.com/LmTQwOCOAp— Katie Valenzuela (@katie4council) March 6, 2020

Hansen did not immediately respond to the Bay Area Reporter's request for comment Friday afternoon. He was first elected in 2012 to his District 4 seat, which covers the city's downtown and LGBT neighborhood of Lavender Heights.
His victory marked the first time an out LGBT community member had won election to the Sacramento City Council. Should he fail to win re-election, it would mean the council would no longer have LGBT representation on it, as no other LGBT candidate sought the even-numbered council seats on the March 3 primary ballot.
In a post on Facebook late on election night, Hansen had noted there are upwards of 20,000 ballots still to be counted and urged his supporters to remain positive.
"Let's let the votes be counted and rest up because there is much work still to do," wrote Hansen, who brought his newly adopted son, Henry, with him to vote Tuesday.
The council race had turned ugly in the final days ahead of Election Day, with door hangers comparing Hansen to President Donald Trump due to his endorsing the re-election of Republican Sacramento District Attorney Anne Marie Schubert, a lesbian, in 2018. The local Democratic Party had kicked Hansen and several other council members out of the party due to their support of Schubert and had endorsed Valenzuela in Tuesday's contest.
Someone also created a fake profile for Hansen on the gay hookup app Grindr that accused him of being against people of color and renters. Local LGBT leaders and Sacramento Mayor Darrell Steinberg, who easily won re-election Tuesday, had called out the smear campaign against Hansen, while Valenzuela disavowed it and said her campaign was not behind it.
Rising rents and home prices in Sacramento had been a focal point of the race, with Hansen criticized for not doing enough to protect renters or fight for affordable housing to be built. He had argued that he was the strongest voice for such issues on the council and had told the B.A.R. that tackling homelessness was currently one of his highest priorities.
Lesbian Assemblywoman takes the lead
In Riverside County, lesbian Assemblywoman Sabrina Cervantes (D-Corona) jumped to first place Friday after trailing behind her gay Republican opponent, Peace officer Chris Raahauge, as of Wednesday morning. According to the unofficial returns posted Friday, Cervantes now leads by 979 votes.
Her total vote count now stands at 28,224, while Raahauge now trails with 27,245 votes.
If he can pull out an upset come November in their race for the 60th Assembly District seat, Raahauge would become the first out gay Republican to be elected to the state Legislature. The GOP has wanted to oust Cervantes ever since she flipped the district blue four years ago.
In December, Cervantes gave birth to triplets, two boys and one girl, making her the first openly LGBT California state legislator, and fourth California state legislator, to give birth while serving in office. She is also one of the seven current members of the Legislative LGBTQ Caucus.
Palm Springs CA Senate race
In the special election for the open 28th Senate District seat, which includes Palm Springs, lesbian aging policy expert Joy Silver continues to trail in third place behind fellow Democrat Elizabeth Romero.
According to the latest vote count released late Friday, Romero was 1,924 votes ahead of Silver. That was an increase of 425 votes from Wednesday morning.
Republican former state Senator Jeff Stone resigned in November to work for the Trump administration in the Department of Labor, leading to the special election to succeed him being scheduled to coincide with the primary election. A candidate needed to secure more than 50% of the vote to avoid a runoff with the top two vote-getters May 12.
Assemblywoman Melissa Melendez (R-Lake Elsinore) continues to be short of that goal but maintains a strong lead for first place. As of Friday her total vote count stood at 64,665. Romero, a county education official, was holding on to second with 35,502 votes.
Silver, who came close to ousting Stone in 2018 and had planned to run for his seat in 2022, was close behind in third with 33,578 votes. According to Riverside County election officials, they still have 81,000 Vote-by-Mail and 50,000 Provisional ballots to count.
They will post the next vote count at 6 p.m. Tuesday, March 10.
Keep abreast of the latest LGBT political news by following the Political Notebook on Twitter @ http://twitter.com/politicalnotes.
Got a tip on LGBT politics? Call Matthew S. Bajko at (415) 829-8836 or e-mail m.bajko@ebar.com.
Comments on Facebook