Online Extra: Vote to ban Google, Alameda sheriff's office from Pride 'not binding,' lawyers say
Thursday Jan 30, 2020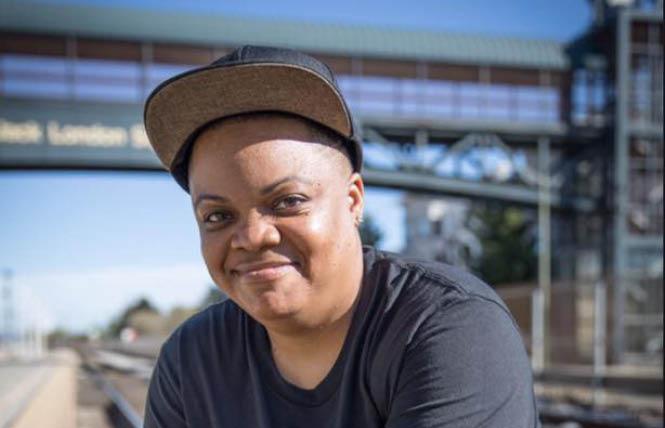 As the board of San Francisco Pride prepares to decide the fate of a nonbinding vote by some members to ban some tech companies from this year's parade, the organization's president said she thinks most people don't share that view.
As the Bay Area Reporter previously reported, seven members voted at their meeting this month to ban Google and its affiliates, including YouTube, and the Alameda County Sheriff's Office from the parade. The paper reported at the time that the vote was nonbinding, something that board President Carolyn Wysinger reiterated during a phone interview January 29.
Wysinger, a lesbian who became board president last fall, said that the vote wasn't legally binding because there was not a quorum of the members - there were seven 'yes' votes on the amendments, and 326 total Pride members - present at the meeting. SF Pride's attorneys informed the board that the members' vote was nonbinding.
"The board of directors is going to review the vote of the seven members," Wysinger said. "It was a small group, so it was determined to not be legally binding."
The San Francisco LGBT Pride Celebration Committee typically holds monthly meetings for members, and monthly board meetings.
Pride spokeswoman Allison Ortiz said that the board of directors will take up the issue at its next scheduled meeting Wednesday, February 5.
Pride members voted January 15 on their proposed ban.
Two activists - Tyler Breisacher, a gay man and former software engineer with Google who left in April 2018 over Google's corporate sponsorship of the Conservative Political Action Conference, and Laurence Berland, another former Google employee who had been fired - started spearheading efforts to get Google and its affiliates banned from Pride last year after YouTube did not remove the account of a conservative comedian accused of harassing queer commentator Carlos Maza with homophobic and anti-Latino slurs.
YouTube's hate speech policies were changed in June 2019, following the Maza affair, and its harassment policies were changed last month. Claiming that LGBTQ+ people are mentally ill is no longer allowed on the video platform, a Google spokesperson confirmed to the B.A.R.
In a January 28 email to the B.A.R., Breisacher declined to comment for this story "on the record, until I get a chance to discuss things directly with some board members."
He did, however, point to a Twitter thread from Berland's account, in which Berland states that if a quorum was necessary for membership votes then a majority of the current board was elected without a quorum.
SF Pride has declared that the votes on our motions are invalid, but not because the members can't make such changes! Instead, they are claiming we don't have a quorum. https://t.co/kLIQgmrgP0 1/6— Laurence ¯_(?)_/¯ Berland (@laurenceb) January 27, 2020
Wysinger disagreed.
"There are other stipulations in our bylaws that would have to be met to make it a binding vote," she said of the members' action.
When the B.A.R. asked to see a copy of the bylaws (they are not available publicly), Wysinger said it would be made available to the B.A.R. through Pride staff.
At press time, Pride staff had not responded to the request to see the bylaws.
The Alameda County Sheriff's Office was included among the groups that the members wanted banned from the parade and festival due to its role in evicting homeless women and their children who'd been occupying a vacant house in Oakland before dawn January 14.
Sergeant Ray Kelly, a spokesman for the sheriff's office, said that he spoke with Pride interim Executive Director Fred Lopez on the phone and Lopez told him not to worry.
"My understanding, when I talked to Pride, is that it was a fringe group of members who brought this up and we expressed to Pride we did not want to be excluded from the event," Kelly said in a phone interview with the B.A.R. January 28. "The parade is about inclusivity and it seems like they agree with that sentiment. I don't think it's going anywhere."
Lopez has not responded to multiple requests for comment for this story.
Wysinger said she doesn't think the vote reflects the position of most Pride members.
"We believe the group that brought these resolutions - mostly former Google employees - don't speak for the larger community," she said. "We received a lot of phone calls with differing opinions."
In another matter, Lopez told the B.A.R. January 10 he would be in touch with Chuck Ramsey, a co-founder of Sonoma County Pride, who expressed in a January 2 email to both SF Pride and the B.A.R. that he thought Facebook should be prohibited from the event for its decision that a comment equating the Confederate and LGBT flags did not violate its community standards.
Ramsey said that Pride sent an emailed response to him January 17 to set up a phone call, but as of January 29 he had not received that call.
Berland and Facebook officials have not returned requests for comment from the B.A.R.
The Pride board of directors is scheduled to meet Wednesday, February 5, at 7 p.m. at its office, located at 1663 Mission Street, Suite 560
Comments on Facebook