Concord LGBT center hires trans man as new ED
Wednesday Jan 29, 2020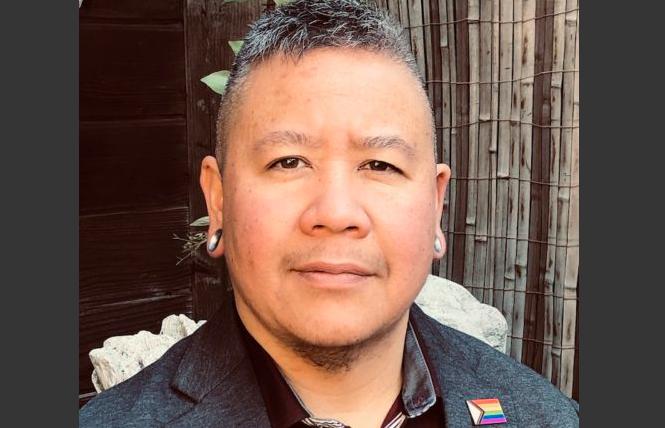 The Rainbow Community Center in Concord has hired Kiku Johnson, a transgender man of color, as its next executive director. The Oakland resident will start February 10.
The Contra Costa County LGBT community center's board of directors announced the hiring decision Tuesday night. In an email to the center's members, board President Dorann "Dodi" Zotigh wrote that they had found the "magical unicorn" they were looking for in Johnson.
She noted that Johnson in his talks with the board about taking on the leadership position "had shined with his presence; sharing his supportive, collaborative leadership style, outlining concrete steps to sustainability, and bringing forward innovative fundraising plans."
Johnson was unavailable for an interview Wednesday morning when reached by the Bay Area Reporter. In a message he said he was busy assisting the center with a grant application, one of his areas of expertise, that is due in a few days and was then planning to take a trip out of town and wouldn't be available until he started the job.
He has worked as a content strategist at the Oakland-based Gender Lenz LLC, which helps women find jobs in the fields of venture capital, philanthropy, and technology, since October 2017 and had been associate director of the One Circle Foundation in San Rafael for nearly four years until last November, according to his LinkedIn profile.
In the email about his hiring to lead the Rainbow center, Johnson stated, "I'm deeply honored and my heart is full and motivated to join the Rainbow Community at large and the center itself as the next Executive Director! I'm proud and able to be a trans male advocate of color. I bring with me to share, an intersectional social justice lens centered in our lived experiences as queer, gender expansive, and all the dynamic identities folx are within our community."
The rainbow center has been without an executive director since November, when Jack Rednour-Bruckman, who identifies as nonbinary and a butch queer, left to take a new job in Southern California. They had been hired as the center's consulting interim director in April following the resignation of former executive director Kevin McAllister less than a year in the job.
His leaving was sparked by an outcry over the sudden firing last February of most of the center's counseling staff. Impressed by Rednour-Bruckman's handling of the job, the center's board hired them as the executive director officially as of May 1.
The center has churned through three leaders since Ben-David Barr, Ph.D., citing health reasons, retired in December 2017 as the center's executive director after 10 years. An interim person was brought in while the center's board conducted a search for a permanent executive director, which led to the hiring of McAllister in June 2018.
As the B.A.R. noted in a profile about Rednour-Bruckman in August, they had received praise for their handling of the job and reaching out to longtime supporters of the center who had been worried about its management and future. Rednour-Bruckman hired a number of new staff at the center and recruited new members to serve on its governing body while addressing the fallout from the decisions made by their predecessor and former board president Ken Carlson, who stepped down from the oversight body in the spring.
In the fall, following Rednour-Bruckman's departure, the center's staff officially formed a union with Teamsters Local 856.
"We look forward to representing the staff at Rainbow and helping them negotiate a strong Teamster contract so they may continue to focus on the important and crucial work they do for the Contra Costa County community," Local 856 Representative Corey Hallman stated at the time in a news release that noted who he would lead negotiations for the Rainbow staff's first union contract.
The center's annual budget had been $1.2 million last year and is set at $1.3 million this fiscal year. Its last two executive directors had been paid roughly $93,000.
Comments on Facebook