PRC to co-produce SF AIDS Walk
Wednesday Jan 8, 2020
Nonprofit PRC will co-produce this year's AIDS Walk San Francisco and be the primary beneficiary, hoping to reverse the trend of declining revenue from the event.

PRC is partnering with San Francisco-based MZA Events, which originated the HIV/AIDS fundraiser in 1985 in Los Angeles.

AIDS Walk San Francisco is an annual 10K walkathon that in 2019 raised $1.5 million (before administrative costs) for organizations that benefit people with HIV/AIDS, Brett Andrews, a gay man who is CEO of PRC, said in a phone interview with the Bay Area Reporter.

The 2020 walk will be held July 19, according to the AIDS Walk website.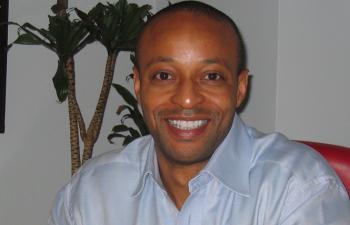 Financial background
This is the first year that PRC will be the primary beneficiary of the walk, the San Francisco version of which was founded in 1987, according to Andrews. PRC is an outgrowth of AIDS Benefits Counselors, which also started in 1987.

Each city's version of the AIDS Walk has a primary beneficiary, Andrews said. The Los Angeles walk primarily benefits nonprofit APLA Health, according to Andrews and the LA walk's website, which promotes health care equity for LGBTs, HIV-positive people, and other historically marginalized groups. The New York City walk primarily benefits the Gay Men's Health Crisis, according to its website.

The B.A.R. had questions about who gets money from AIDS Walk San Francisco and the costs associated with it. In recent years revenue from the walk has decreased, while administrative expenses continue to be high, according to figures reviewed by the paper.

Andrews wrote in a Wednesday, December 18, email that there is a licensing agreement whereby PRC can use the AIDS Walk logo and name, and also a "separate contract and schedule of MZA fees to produce and market the event."

Andrews said that he could not say how much PRC is going to pay MZA. When asked why, he said that nondisclosure was a term of the contract. When asked why it's a part of the contract, Andrews said, "It's pretty standard," citing mortgage and employment agreements.

Andrews had initially said on the phone that PRC must pay money to MZA to use the AIDS Walk logo and name. He later said he conflated the fee schedule and the licensing agreement.

"If we are going to use that name we have to pay a fee and we go out on our own for corporate and community fundraising," Andrews initially said.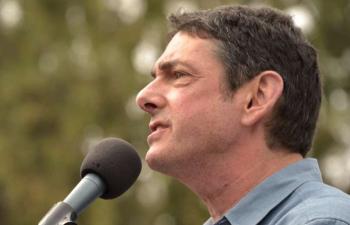 But when asked in a Monday, December 16, phone call, MZA Events CEO Craig Miller said that there is a licensing agreement but no licensing fee and that MZA has allowed PRC to use the name and logo free of charge.

"PRC is not paying anything to be able to use the name," Miller said. "The licensing agreement enables PRC to produce materials."

In June 2012, when the San Francisco AIDS Foundation was the primary beneficiary, it paid $212,000 to MZA, as the B.A.R. previously reported.

Project Inform, which produced the event after SFAF, paid $137,000 to MZA for what is listed as "AIDS Walk services," This text will be the linkaccording to its IRS Form 990 for 2014.

Miller has declined to be specific about fees and other costs associated with the AIDS Walk. When asked in a Monday, December 23, email, Miller could not specify how much of the money raised will be used for charities and how much will be used for administration and the expenses associated with putting on the event.

The most recent year for which the breakdown of administrative expenses to charity is available is 2017, Miller wrote in a Monday, January 6, email. In 2017, the walk raised $1,814,637 and $1,053,860 went to expenses (58%), leaving net proceeds to charity at only $586,277, according to figures Miller sent the B.A.R. the same day.

When asked if there was a plan to reduce administrative overhead, Andrews wrote in an email to the B.A.R. that "I will say that PRC commits to distributing a minimum of $50K (equal to 2019), and grant increases will be based on the overall performance of the walk."

Miller said that having PRC as primary beneficiary will lead to improved cost efficiency for the event.

"We expect with PRC at the helm, expenses will be reduced. Here are a couple concrete examples. The office space expense experienced by (AIDS Walk San Francisco) will go down in 2020 thanks to PRC being able to accommodate the AWSF fundraising staff and related operations within its building," Miller wrote in an email. "Likewise, PRC's existing year-round staff will be taking on a number of the event's fundraising responsibilities, creating still more cost efficiency."

Andrews said that PRC client services will not be impacted by AIDS Walk San Francisco using office space and PRC staffers working on AIDS Walk-related items.

PRC receives a base amount of money for co-producing the walk, Andrews said, but he would not say what that figure is. Miller said that PRC makes "all determinations regarding the distribution of net proceeds from the 2020 event."

When asked how PRC will make those decisions and if organizations have to submit grant requests, Andrews stated, "We are in the process of developing the community grants program. We want this to be a thoughtful process."

AIDS Walk San Francisco has seen a dip in money raised. In 2016 and 2017, the event brought in $2 million. That decreased to $1.8 million in 2018. Last year's event saw it raise only $1.5 million. (Those figures do not take into account the money spent on administrative costs.)

When asked if the 2020 walk had a goal amount in mind, Andrews said "there's no particular number in mind but we certainly understand what's needed to make those dollars."

When asked how PRC plans to increase participation and revenues, Andrews said that "we have significant reach in the corporate and business community," specifically in the tech world.

He touted a $200,000 commitment from sponsoring partner Gilead Sciences Inc., the company that makes PrEP.

A Gilead representative confirmed the donation commitment Wednesday.

"We're in partnership with so many organizations," Andrews added. "We want to make sure our organizations are as responsible as they possibly can."

PRC rebranded in 2017, following its merger with the AIDS Emergency Fund and Baker Places. (It had been known as Positive Resource Center.) It has expanded its focus from the HIV-positive community to also include people with substance abuse disorders and other mental illnesses, according to its website.

As the B.A.R. previously reported, last May PRC moved to its new $6 million integrated service center at 170 Ninth Street. It serves 5,000 people annually.

PRC provides legal and housing services, emergency financial assistance, and workforce training and development, according to its website.

PRC's expanded focus is the result of changes in the HIV/AIDS epidemic over the past three decades, and who the disease impacts, Andrews said, and that's one reason PRC is now partnering with MZA to produce the event.

History, future
MZA has licensed the AIDS Walk in several cities, including New York and Los Angeles. In San Francisco, the AIDS foundation was the main beneficiary through 2013.

In 2014 and 2015, Miller said the main beneficiary was Project Inform. That agency terminated its staff and dissolved in March 2019, reduced in its final days to operating out of WeWork office space in downtown San Francisco.

Miller said that in 2016 and 2017, the main beneficiary was the AIDS Walk San Francisco Foundation and in 2018 and 2019, it was Acria, formerly the AIDS Community Research Initiative of America, which is based in New York City but has a presence in San Francisco.

Miller said that the change to PRC is not because Acria was not doing a good job.

"(Acria) did a really great job and their leadership was of great benefit to the community," Miller said. "Every lead co-beneficiary did really well during two years of leadership. They had a strategic change within their own organization; it wasn't due to any unhappiness on their part or the community's part."

When asked why Acria was no longer the main beneficiary of AIDS Walk San Francisco, a spokeswoman for the agency said that it was "particularly gratified" by the amount of money it raised for charity, but acknowledged it had an organizational change in mission.

"Acria is very proud to have successfully led AWSF for two years," spokeswoman Krishna Stone wrote in an email to the B.A.R. "Organizational change on Acria's part, and the merit of PRC's mission and work is at the root of PRC now leading the event."

When asked why a New York-based nonprofit was the main beneficiary, Stone said that Acria was responsible for a needs assessment of HIV and aging in San Francisco and Alameda counties. The money it received from the 2018 event — around $150,000 — helped it finish the research.

"With those studies complete, and consistent with the AIDS Walk San Francisco Foundation board's requirement that all net proceeds from the event continue to be focused entirely on serving the Bay Area, and consistent with Acria's commitment to adhere to the AWSF requirement, Acria received no net proceeds from the 2019 event," Stone wrote.

Acria wouldn't comment on how much it had paid MZA Events in either year.

In addition to being the primary beneficiary, PRC will be responsible for outreach and for distributing the revenues generated by the AIDS Walk to other nonprofits, Andrews said.

"PRC takes on the responsibility of the community ground program," he said.

Typically, the AIDS Walk includes teams from businesses or nonprofits that participate and gather pledges from their friends, family, and co-workers. Individuals can also take part.

Individual and team registration are both free, Miller and Andrews said, respectively.

Miller said that three organizations received $50,000 or more in grants in 2019: PRC, Ward 86 at Zuckerberg San Francisco General Hospital, and Project Open Hand.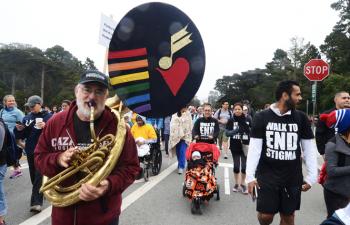 However, an official with Ward 86 said that the organization received $37,516 from AIDS Walk in 2019, after first giving two lower estimates.

"Last year (2019), we received funds from AIDS Walk SF to help launch our innovative POP-UP clinic, which is a special wrap-around care program for marginally housed patients with HIV," Ward 86 medical director Dr. Monica Gandhi wrote in an email to the B.A.R. Thursday, December 26. "We plan to have a major presence at AIDS Walk 2020 from Ward 86 and to help drum up enthusiasm from the entire San Francisco General Hospital community for this year's walk."

PRC received $72,160 from AIDS Walk 2019, according to Marvin Morris, executive administrator and board liaison of PRC, in an email to the B.A.R. Friday, January 3.

Project Open Hand did not respond to requests for comment as of press time.

The National AIDS Memorial Grove got a grant of $25,000 but it raised more money ($90,792, according to the AIDS Walk website) with its own walkathon team, according to Miller.

Miller said that PRC has taken on a larger role this year because it can "provide the grounding, leadership and stability for the event that will promote growth. It does the best job of following the epidemic and being involved with the programs that will best meet the current needs of the epidemic — homelessness, mental health, addiction, and poverty."

The LGBT Asylum Project, which raised money in last year's AIDS Walk, praised the partnership through a spokesperson.

"The LGBT Asylum Project congratulates PRC and SF AIDS Walk on their partnership," the statement says. "We believe this will be great for our community. We were able to raise over $5,000, which will help us support LGBTQ+ asylum seekers through the asylum process."
Comments on Facebook