Gay man confirmed as 9th Circuit judge
Wednesday Dec 11, 2019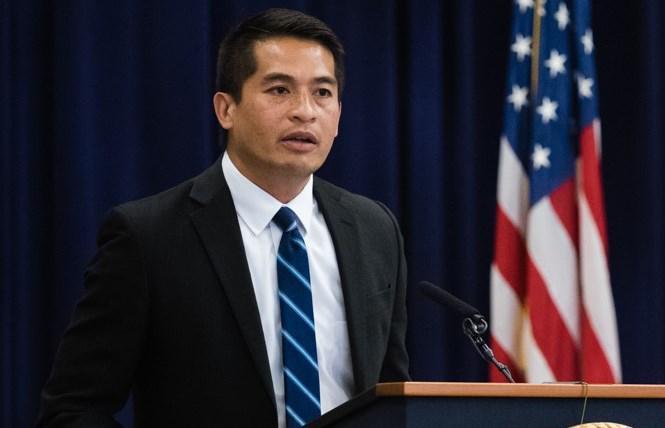 The Senate voted 53-40 Tuesday afternoon to confirm a gay man to the nation's largest federal appeals court.
Patrick Bumatay's confirmation December 10 to the 9th U.S. Circuit Court of Appeals makes him the second openly gay man to be appointed to a federal appeals bench seat. The first was Todd Hughes, appointed by President Barack Obama to the U.S. Circuit Court for the Federal Circuit and confirmed by the Senate in 2013 by a 98-0 vote.
Charles Moran, managing director of the national Log Cabin Republicans, said the group was "heartened" by Bumatay's confirmation, adding that it makes him "the highest-ranking LGBT jurist in the nation."
"He is an accomplished prosecutor with solid experience, and we're thankful to President Trump for pushing forward with Patrick's nomination and the Senate confirming him," said Moran. "I know all Americans will welcome Patrick's arrival on the 9th Circuit, bringing some sanity back to the circuit most known for being out of the mainstream."
The vote on Bumatay, 41, was along strict party lines, with 53 Republicans voting for confirmation, 40 Democrats and independents voting against, and seven senators not voting. The Senate's two out members — lesbian Tammy Baldwin (D-Wisconsin) and bi woman Kyrsten Sinema (D-Arizona) — voted against confirmation.
The sprawling 9th Circuit is the nation's largest federal appeals court, with 29 seats and jurisdiction over 20% of the nation's population, covering California and eight western states.
The U.S. Court of Appeals for the Federal Circuit, which has 12 judges, deals specifically with disputes involving international trade, government contracts, and federal personnel, among other things.
Bumatay's nomination was opposed by California's two Democratic senators, Dianne Feinstein and Kamala Harris. During Bumatay's October 31 confirmation hearing, Feinstein said she appreciated the diversity Bumatay would bring to the bench but that she did not think he has the experience necessary for the job. Feinstein voted against confirmation; Harris was not present for the vote.
Bumatay worked in the White House Office of Legal Counsel under President George W. Bush and has worked as a federal prosecutor in San Diego since 2012. He graduated from Yale University and Harvard Law School.
Civil rights groups were opposed to Bumatay.
Lena Zwarensteyn, fair courts campaign director at the Leadership Conference on Civil and Human Rights, said Bumatay's confirmation is part of the president's "shameless effort to reshape the 9th Circuit."
"The confirmed nominee's record on civil rights is beyond troubling," Zwarensteyn said in a statement. "He has served as a political operative in the Trump administration and has pushed a far-right agenda. For example, Bumatay played a central role in reinstating policies that perpetuate the mass incarceration of communities of color. He also played a key role in vouching for the nominations of anti-civil rights nominees Neil Gorsuch and Brett Kavanaugh during their Supreme Court confirmation fights."
During his opening statement at his confirmation hearing, Bumatay introduced the committee to his parents, his sister, his brother-in-law, two nephews, and Alex, "my husband." He noted he and Alex also had with them their two daughters, who were born in April. The daughters prompted a remark from Louisiana Republican Senator John Kennedy, who called them "precious."
Bumatay is replacing Judge Carlos Bea, who will step away from full-time duties and go on senior status, a San Diego Union-Tribune story reported. While the court is based in San Francisco, Bumatay is expected to maintain chambers in San Diego, the 9th Circuit said Tuesday, according to the paper.
Bumatay's confirmation hearing and the vote were overshadowed by controversy surrounding another Trump nominee to the 9th Circuit: U.S. Deputy Assistant Attorney General Lawrence VanDyke. LGBT groups opposed VanDyke's nomination and the American Bar Association expressed concern that VanDyke might not be "fair to persons who are gay, lesbian, or otherwise part of the LGBTQ community." During his confirmation hearing, VanDyke said he was shocked by that criticism but later he implied that he had worked to help an LGBT group when, in fact, he had represented a group that sought to bar LGBT members.
The Senate took up debate on the VanDyke nomination after it confirmed Bumatay. The Senate took up debate on the VanDyke nomination after it confirmed Bumatay. VanDyke's confirmation was approved on Wednesday afternoon by a vote of 51-44.
Lambda Legal Defense and Education Fund strongly opposed VanDyke's nomination. In a statement issued shortly after he was confirmed, the LGBT legal group said it was the "latest affront" to the community.
"Lawrence VanDyke's confirmation represents the latest affront to the LGBT community by an administration that appears to revel in its disdain for LGBT people and our families," Sasha Buchert, senior attorney at Lambda Legal, said in a statement. "As outlined in our letter of opposition, Mr. VanDyke's long history of working to diminish the civil rights of the LGBT community renders it wholly implausible that he is capable of administering fair and impartial justice. In fact, it is precisely this concern that led the American Bar Association to rate him as 'not qualified' for this lifetime position of public trust."
People For the American Way slammed VanDyke's ABA rating and added that the association found that he may be biased against LGBT individuals who appear before him.
"This confirmation is shameful and harmful, and the senators who voted for it are going to have to explain it to constituents who are increasingly aware of their elected representatives' role in filling the courts with extreme right-wingers like VanDyke," said PFAW Executive Vice President for Policy and Program Marge Baker in a statement.
Feinstein ws unsparing in her criticism of VanDyke.
"Mr. VanDyke's temperament and integrity have been called into question by his colleagues and the American Bar Association, which rated him 'not qualified' for the federal bench," she said in her floor remarks.
"And Mr. VanDyke's record — including his opposition to rights of LGBT individuals and commonsense gun control — is far outside the mainstream," the senator added.
Updated: 12/11/19: This article has been updated to include comments related to Mr. VanDyke's confirmation vote.
Comments on Facebook