News Briefs: SJ groups gather for 'Big' party
Wednesday Dec 11, 2019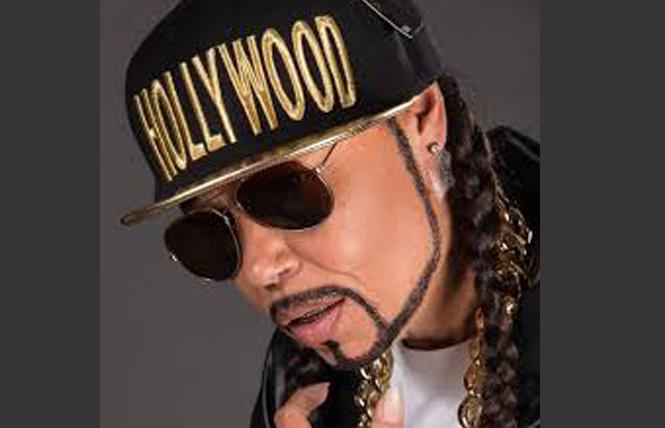 For what is believed to be the first time, several South Bay LGBTQ organizations will gather for a Big LGBTQ Holiday Party Thursday, December 19, from 6 to 10 p.m. at the Doubletree Hotel, 2050 Gateway Place in San Jose.
Participating organizations include the Bay Area Municipal Elections Committee, or BAYMEC; Billy DeFrank LGBTQ Community Center; Human Rights Campaign Silicon Valley; Rainbow Chamber Silicon Valley; the Silicon Valley Rainbow Rotary Club; the Silicon Valley Stonewall Democrats Club; and Silicon Valley Pride.
The evening will start with networking until 7, followed by speeches and entertainment.
Performers scheduled to appear include drag king Madd Dogg 2020, drag queens Betty Fresas and Shriel Deogracias, comedians Chris Ryan and Timothy Morigeau, dancer Viva Mi Tierra, singer Nina Fong, and DJ music by Sean Bassett.
Attendees are asked to bring donated items for Stand Up for Kids Silicon Valley's wish list, which is available at https://www.standupforkids.org/siliconvalley/wishlist.
The party is free and all ages are welcome. Advance registration is required; to RSVP, go to https://bit.ly/38cTgqJ
Updated, 12/11/19: This item has been updated to remove a reference to door prizes, which organizers initially said would be offered, but have since found out cannot be done.
Castro Cares launches donation drive
Just in time for the holidays, Castro Cares, a project of the Castro/Upper Market Community Benefit District, has launched an online giving campaign.
Castro Cares provides homeless outreach and added patrols to the Castro and upper Market areas, according to the website. It contracts with the San Francisco AIDS Foundation for homeless services and the San Francisco Patrol Special Police for public safety services. It relies on donations from neighbors, local merchants, and grants. Castro Community on Patrol, a volunteer safety organization, is one of more than 12 groups helping with Castro Cares, noted Greg Carey, chief of patrol.
Three videos help explain why the program is needed and how it helps. The first, "Helping Hands," launched on YouTube this week at https://bit.ly/340UP89. The other two will go live later this month. To view the videos or make a donation, visit http://castrocbd.org/how-castro-cares-works/
Maitri open house
Maitri Compassionate Care will hold its annual holiday open house Saturday, December 14, from 2 to 5 p.m. at 401 Duboce Avenue in San Francisco.
The hospice welcomes community members to stop by and enjoy food, warm drinks, and entertainment.
There will also be guided tours of the facility.
Organizers suggested a $10 donation or gifts of toiletries for residents.
For more information, visit the Facebook page at https://bit.ly/2P3kXeg; to RSVP email tmoreno@maitrisf.org
Relax with free yoga
CorePower Yoga NoPa and Soothe massage are teaming up to offer a relaxing evening for weary holiday shoppers Saturday, December 14, starting at 5 p.m. at 621 Divisadero Street in San Francisco.
According to a flier, attendees can sign up for an evening filled with wellness, kicking off with a unique mashup class. The class will begin with a 45-minute relaxation-themed candlelit yoga followed by a 15-minute meditation. Soothe will provide massage therapists on-site to offer individual chair massages following class. Additionally, attendees will walk away with discounts to nearby wellness and spa businesses that will further help them relax throughout the weekend.
To sign up, and for more information, visit https://bit.ly/2sTTCT9
Comments on Facebook