HIV specialist named medical officer at SF health center
Wednesday Nov 20, 2019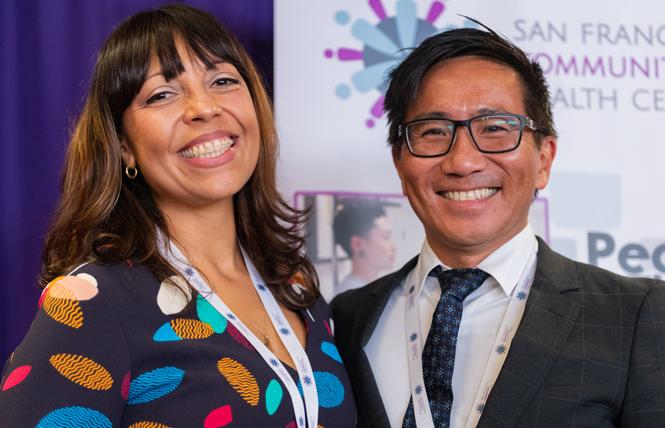 The San Francisco Community Health Center has named an HIV specialist as its new chief medical officer.
Dr. Alisson Sombredero, who was introduced at a news conference Tuesday, November 19, said she remembers the moment she decided to go into HIV care. She was a 20-year-old medical student in Colombia.
"I had a patient who was my age and he was dying from an opportunistic infection, and he was a gay man and had a partner," Sombredero, a straight ally, said. "I needed to test the partner and when I came back to the patient's room to give the news that the partner was positive, I thought to myself that I would not be able to forgive somebody for infecting me.
"But what I saw was two beautiful men, in love, promising to be together and taking care of their disease together — and that made me realize that I always wanted to be surrounded with people like them," she added.
Sombredero, 38, headlined a meet-and-greet at the health center's main office on Polk Street. Formerly known as the Asian and Pacific Islander Wellness Center, which was founded in 1987, SFCHC has grown from focusing on API clients to the LGBT community more generally, particularly transgender and HIV-positive people. SFCHC also has a clinic on the fourth floor of the San Francisco LGBT Community Center on Market Street.
District 6 Supervisor Matt Haney was at the event, and highlighted the importance of the health center for the community.
"This is a place where people can feel at home, be seen and understood and that's critically important for health and wellness," Haney said. "Dr. Sombredero has exactly the kind of background, knowledge, and commitment that the (health center) has long had."
After graduating in Colombia, Sombredero completed an internship in HIV and infectious diseases in Spain and worked at both Highland Hospital in Oakland and Zuckerberg San Francisco General Hospital. She was most recently the chief of the HIV division of the Alameda Health System.
Sombredero said she hopes to use her Oakland background to strengthen connections between medical resources and organizations in San Francisco and the East Bay.
"Fortunately, I have worked for six years in Alameda County and have very strong relationships," Sombredero said. "I know that we can definitely strengthen this more and streamline it more with our communities; not only with people living with HIV but also for transgender medicine too."
Lance Toma, a gay man who's CEO of SFCHC, said that Sombredero is the choice to help the center move forward on its trajectory of trying to keep up with "our city's twists and turns, our prosperities and our crises."
"What it takes to provide the highest quality health care for the most vulnerable is to have a workforce that mirrors our clients," Toma said. "We've built an exceptional and intentional clinic team who are trans-identified, who are immigrants, who have experienced homelessness, who are lesbian and gay, who are people of color and all at their cores every one of them is committed to our communities with their hearts and souls."
Brian Ragas, a gay man who is the communications manager of SFCHC, said that it's this background that made Sombredero the perfect pick after a long search. Haney noted that the health center's clients are three-quarters people of color, over half are LGBT, and 30% are transgender.
The center has 6,140 clients per year, according to the San Francisco Community Clinics Consortium.
"Her background in internal medicine in vulnerable populations, particularly in Colombia and the East Bay in Oakland and in the HIV unit — that's the population we serve here," Ragas said of Sombredero.
Dr. Royce Lin, a gay man who is the outgoing chief medical officer, said that after two years with him working part-time the health center (he has a full-time position with the Department of Public Health) was in need of someone to take the job full-time.
"This center is very close to me. I got to know it in 2000 as a client, and what is always amazing is when you come to a place thinking you're going to be judged but instead it's pure love and acceptance," Lin said, adding, "I'm thrilled. I couldn't be happier with the choice."
Ragas said he could not disclose the Sombredero's salary but said that the annual budget of SFCHC is $8.5 million. According to the agency's 2016 IRS Form 990, it had paid former chief medical officer Dr. Tri Do, $185,400.
Comments on Facebook