Political Notebook: CA Dems back queer San Diego congressional candidate
Wednesday Nov 20, 2019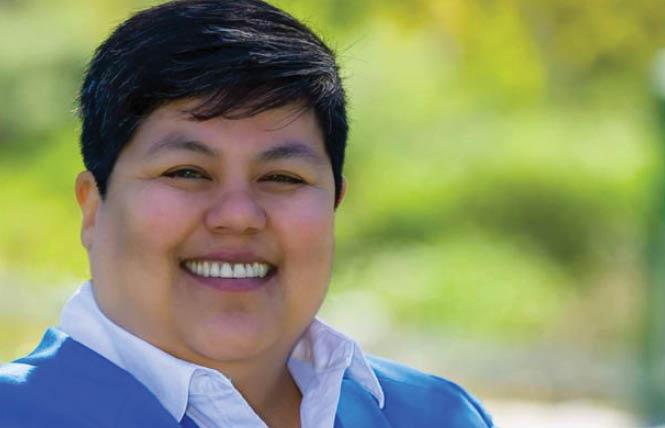 The California Democratic Party is throwing its support behind queer San Diego City Councilwoman Georgette Gomez's bid for an open House seat. If she wins, Gomez would be only the third LGBT community member elected to Congress from California.
At the state party's convention held in Long Beach last weekend, Gomez easily blocked her main intraparty opponent, former Hillary Clinton campaign adviser Sara Jacobs, from winning the endorsement. They are both seeking the 53rd Congressional District seat as Congresswoman Susan Davis (D-San Diego) opted not to run for re-election in 2020. Also in the race is political newcomer Janessa Goldbeck, who is queer and a military veteran.
"Earning the endorsement of the California Democratic Party is a huge moment for our campaign," Gomez wrote in a Facebook message thanking convention delegates for their support. "I'm ready to go to Congress and fight for the change our communities need — health care for all, a Green New Deal, affordable housing."
The only other LGBT Democratic congressional candidate known to be running in 2020, gay Congressman Mark Takano (D-Riverside), also picked up the state party's support. Takano is seeking a fourth term representing the 41st congressional district.
(The first out woman among California's congressional delegation, bisexual Congresswoman Katie Hill, resigned last month following reports of an improper sexual relationship with a staffer, which she has denied, and the publication of nude photos of her. No out candidate is running in the special election March 3 for her 25th Congressional District seat north of Los Angeles.)
As expected, gay state Senator Scott Wiener (D-San Francisco) also won the state party's endorsement for his 2020 re-election campaign. Wiener first won election to his 11th Senate District seat in 2016 and is seeking another four-year term next November.
"I'm honored to be endorsed by the Democratic Party," Wiener told the B.A.R. "During these dangerous times, the Democratic Party is — and must be — the defender of our democracy and progressive values. I'll always fight for key progressive priorities, such as housing, public transportation, criminal justice reform, environmental protection, and civil rights."
His district includes all of San Francisco, Colma, Daly City, a part of South San Francisco, and the unincorporated community of Broadmoor. To date, no other Democrat has pulled papers to challenge Wiener, who is likely to have a cakewalk of a campaign next year.
Former state Senator Quentin Kopp, an independent moderate who served three terms in the Senate, had indicated in the summer interest in running. But he was recently told he could not do so due to the state's term limit rules for legislators, which now bar them from serving in the statehouse for more than 12 years.
According to elections officials, no Republican has filed to run against Wiener. The only person to do so is Green Party member Barry Hermanson, who at this point seems assured of nabbing second place in the March 3 primary where the top two vote-getters regardless of party will advance to the November 3 general election.
Wiener is the current chair of the seven-member Legislative LGBTQ Caucus, and his re-election next November is seen as key to helping maintain or possibly expand the caucus's membership during the 2021-2022 legislative session. He and lesbian Senate President pro Tempore Toni Atkins (D-San Diego) are both up for re-election next year, while lesbian state Senator Cathleen Galgiani (D-Stockton) will be termed out of office.
In the Assembly, gay Assemblyman Evan Low (D-Campbell) and lesbian Assemblywoman Sabrina Cervantes (D-Corona) will both be seeking re-election to two-year terms. Their colleagues gay Assemblyman Todd Gloria (D-San Diego) and lesbian Assemblywoman Susan Talamantes Eggman (D-Stockton) will both be departing from the Legislature's lower chamber.
Eggman is a leading candidate to succeed Galgiani in the state's 5th Senate District, while Gloria is the frontrunner in the 2020 San Diego mayor's race. Gay San Diego City Councilman Chris Ward is the heavy favorite to succeed Gloria in the 78th Assembly District, while queer single mom and midwife Sarah Davis is also running for the seat.
The state party endorsed Atkins, Cervantes, Low, Eggman, and Ward last weekend, as well as gay former Assemblyman John Laird (D-Santa Cruz) in his bid to succeed state Senator Bill Monning (D-Carmel), who is termed out of his 17th Senate District seat along the Central Coast. Running against Laird is fellow Democrat Maria Cadenas, a lesbian single mother and nonprofit leader, while two Republicans have also pulled papers for the race.
Monning endorsed Laird to be his successor Wednesday. It followed endorsements in recent days from Governor Gavin Newsom and his predecessor, Jerry Brown, who appointed Laird to be his secretary of natural resources.
"I am pleased to get the endorsement of the California Democratic Party," Laird told the B.A.R. "The recommendation was on a 126-1 vote — and with the endorsements of (Newsom and Brown) in the last few days, I have great momentum heading into the primary election."
Tiffany Woods, the Northern California co-chair of the state party's LGBT caucus, told the B.A.R. that she was "excited" to see all of the current LGBT lawmakers and Laird be endorsed by the party, as well as the endorsement for Gomez.
"Maintaining our current LGBTQ elected seats, as well as increasing current numbers, is critical in adding and strengthening LGBTQ protections in California," noted Woods.
Two out candidates who lost in 2018 and are running again next year also secured the state Democratic Party's endorsement at the convention. Lesbian former San Jose resident Jackie Smith is trying to unseat Assemblyman Kevin Kiley (R-Granite Bay) from his 6th Assembly District seat in Placer County.
Gay Mission Viejo Realtor and grandparent Scott Rhinehart is aiming to unseat Assemblyman William Brough (R-Dana Point) in the 73rd Assembly District. Brough is fighting accusations of inappropriate behavior by four women and already has one Republican opponent for his Orange County seat in addition to Rhinehart.
Snubbed by their party were the three other known out Democratic legislative candidates running in 2020. In the 23rd state Senate District race to succeed termed out Senator Mike Morrell (R-Rancho Cucamonga), the party endorsed journalist Kris Goodfellow. Unable to win the party's backing was San Bernardino City Unified School District board member Abigail Medina, who identifies as both queer and lesbian.
The party also went with two incumbent Los Angeles area Assemblymen who are facing gay opponents next year. Assemblyman Mike Gipson (D-Carson) was endorsed; running against him for his 64th Assembly District seat is David Cunningham, who would be the first openly gay African American to serve in the Legislature.
Assemblyman Miguel Santiago (D-Los Angeles) also was endorsed. Seeking his 53rd Assembly District seat is Godfrey Santos Plata, who was born in the Philippines and would be the first out immigrant elected to the state Legislature.
At the convention, the state party did not consider an endorsement in the race for the open 28th Senate District seat. Former state Senator Jeff Stone (R-La Quinta) resigned this month to take a job with the Trump administration.
The special election to fill his seat and Hill's vacant House seat will be held on the March 3 primary ballot. If no candidate secures more than 50% of the vote then a runoff with the top two vote-getters will be held May 12.
Lesbian aging policy expert Joy Silver, who narrowly defeated Stone last year, is seeking the seat. And transgender Palm Springs City Councilwoman Lisa Middleton left LGBT convention attendees with the strong impression that she would also seek the seat. If she does, she could become the first trans person elected to the state's Legislature and be the first transgender state senator in the country.
Web Extra: For more queer political news, be sure to check http://www.ebar.com Monday mornings for Political Notes, the notebook's online companion. This week's column reported on election news in Palm Springs.
Keep abreast of the latest LGBT political news by following the Political Notebook on Twitter @ http://twitter.com/politicalnotes
Got a tip on LGBT politics? Call Matthew S. Bajko at (415) 829-8836 or e-mail m.bajko@ebar.com
Comments on Facebook